Here is the list of the best inverter batteries in the market. I've compiled the best battery inverters that you could find online so that you don't have to look for it yourself. These are also based on the customer reviews of the top review websites.
Luminous inverter battery SMF 100AH/12v
This Inverter Battery SMF 200AH/12V Luminous have a more rugged construction that delivers much longer battery life and far superior performance. You get better deep discharge recovery and extended cycles of use.
The Inverter Battery SMF 200AH/12V Luminous maintains the Luminous tradition of superior product quality, meaning that you have solid assurance of quality performance and don't require maintenance they seem easier to use. If you want an inverter battery that will deliver extended value, this top-performing tubular battery is where to place you money.
Luminous offers a range of inverter batteriess, including these SMF batteries, designed to meet the varying power backup needs of users. For your inverter or any other power backup use, the Luminous Sealed Maintenance Free (SMF) batteries are designed provide reliable, consistent and low maintenance power backup. When you want quality batteries for your power solution, Luminous battery is one of top brands to choose from.
Technical Specifications of Inverter Battery SMF 200AH/12V Luminous
Colour Navy Blue
Dimensions (H x W x D) 217X239X522
Weight (kgs) 62.5
Nominal voltage 12v
Design Life 4 – 5 years
Nominal Capacity 20 Hour Rate 200Ah
Nominal Capacity 1 Hour Rate 120Ah
Internal Resistance Fully Charged Battery 4mΩ
Self Discharge 3% of Capacity/Month @20°C
Operating Temperature Range -20 ~ 60°C
Max. Discharge Current 80.6°F (27°C) 1700A(5s)
Short Circuit Current 1550A
Charge Methods Constant Voltage Charge
Cycle Use 14.10 – 14.40V
Maximum Charging Current 58A
Temperature Compensation -5mV/°C
Standby Use 13.60 ~ 13.80
Temperature Composition -3mV/°C
Luminous RC 18000 150 AH Tall Tubular Battery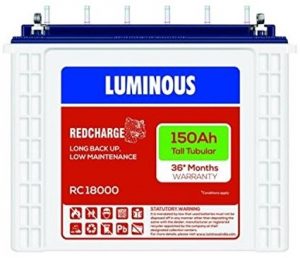 Yes, another model from the Luminous company! The company is known as one of the best manufacturers of inverters throughout India. This battery has a unique patented alloy composition which protects it from corrosion. This was also designed to withstand longer power cuts.
Features/ Pros:
Charges faster and last longer
Is a pure sine wave type
Can also power up to three tube lights, three ceiling fans and one LED television
Has 900VA and its maximum bulb load is 685 watts
Corrosion-resistant, oxidation-resistant, and puncture-resistant
Cons:
The 900VA is insufficient for bigger appliances
Product Dimensions: 52 x 23 x 32 cm ; 53.3 Kg
Planning to buy the model? Check out the following link:
Luminous ExtraCharge EC18036 150Ah Tall Tubular Battery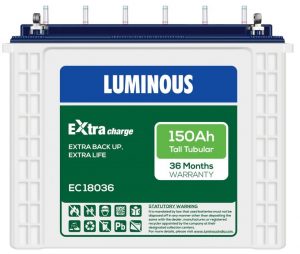 The Luminous ExtraCharge EC18036 150Ah Tall Tubular Battery is designed to have life cycles which will be efficient for communities with frequent power interruptions and outages. It is designed to have a long lifespan that can reach 1250 cycles. The inverter has 600VA with a warranty of 36 months.
Features/Pros:
Has a balanced plate design to improve charging
Resistance and charge acceptance is protected by inter-partition connection
The battery's lead part is protected for instances of high voltage
Corrosion-resistant
Cons:
Leakage is possible and acid has the risk of overflowing
Not affordable
Product Dimensions: 23 x 32 x 52 cm