The unmanned helicopter that does the hard work. The Alpha 800 is simply the best in its class. It is the most reliable and durable unmanned helicopter available for a multitude of monitoring tasks.
Utilizing a UAV platform that flies in fully autonomous and/or manual mode — or both — the Alpha 800 does much of the same work as a manned helicopter but with far lower maintenance requirements and overall costs.
Very light and easily maneuverable at less than 14kg, it is not affected by regulations that severely limit the use of heavier UAV's. Its light weight enhances versatility in a wide range of missions.
View Product Brochure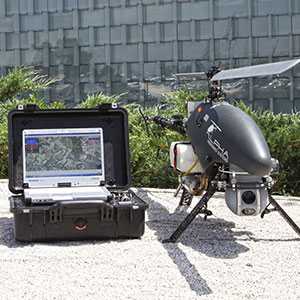 Key Features
2.5 hours endurance
3 Kg of payload capacity
Up to 30 Km range
On-board alternator/generator
Redundant power supply
High variety of payloads available and integrated
All on-board electronics are IP64 or higher rated
Patent pending technologies
Designed for efficiency, built to last
The sturdy Alpha 800 UAV is designed to perform the most demanding applications over many years.
In compliance with the strictest aeronautic design requirements, each component is created and assembled using 2D and 3D CAD tools. The airframe is constructed with aeronautical grade aluminum and carbon fiber, and the 2-stroke engine is small and efficient.
The industrial grade belt transmission system drives the power from the engine to the rotors and to the on-board alternator, ensuring low maintenance and high reliability.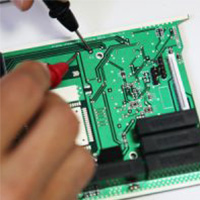 Protected electronics systems
The electrical systems of the Alpha 800 UAV are individually isolated from vibrations and comply with IP64 as minimum rating. The main wiring uses MIL-SPEC connectors and is protected against abrasion, vibration and corrosion.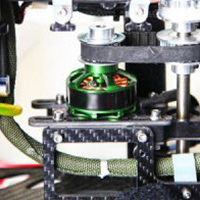 Ensured safe landing
The alternator provides redundancy to the system, and in the unlikely event of generator failure, the backup battery takes over. Payload and servos power supply parts are protected by fuses which can be reset, ensuring that the remaining systems continue working in the event of a subsystem failure.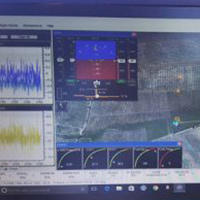 Interconnected systems improve communication
The camera, autopilot and the engine monitor are interconnected, providing the operator with important information on one screen, in real-time. This includes CHT, fuel quantity, flight plan, telemetry, payload details, and video.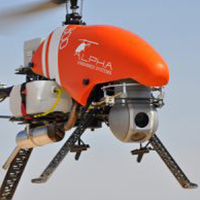 A reliable autopilot for a dependable UAV
The powerful VECTOR autopilot from UAV Navigation serves as the Autonomous Flight Control Unit of the Alpha 800 UAV. The VECTOR has been used to convert manned aircrafts into unmanned, and its technology has accumulated over 50k hours of flight. Custom-fitted for the Alpha 800, the autopilot is integrated with highly effective sensors, including high precision GPS antenna, proximity sensor as weight on wheels (WOW) or rpms sensor.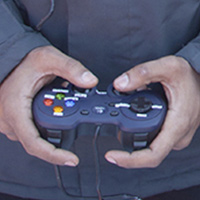 Easy to fly and maintain
Every Alpha 800 UAV is delivered with a full set of documentation:
Pilot operating handbook
Platform logbook
Pre-flight checklists
Maintenance manual
All materials ensure easy performance of all tasks and are written to aeronautic standards.
Complete System Includes
The complete system is based on the Alpha 800 UAV Airframe and includes all systems and subsystems to carry out the most typical UAV missions. Delivered in rugged cases and with maintenance and operator's manuals, users will be able to operate whenever and wherever they wish.
1 x Alpha 800 with selected payload
1 x Ground Control Station (GCASE + GTRACK)
1 x Spare parts package
1 x Training program
The Alpha 800 is small enough for transport in a small van and deploys very quickly.
About Alpha Unmanned Systems
Alpha Unmanned Systems, SL is a privately held, independent company based in Madrid, Spain. Founded in 2014, the Alpha team includes aeronautical engineers, electronic engineers, mechanical engineers, UAV pilots, and business professionals. Alpha Unmanned Systems designs and manufactures helicopters for reconnaissance, surveillance and inspections.