Pressure washing is a great small business model for individuals, franchise builders or simply for running a cleaning crew in a high-demand area. Pressure-washing services are often required for business parking lots, driveways, business structures and homes. The model works as a standalone business, with some seasonality in cold weather areas. It also combines well with other outdoor services like landscaping. The built-in customer base for a landscaping service makes it a natural upsell. Pricing the service, however, is not always easy. The pricing model largely depends on competition, demand and existing customer loyalty. You can price high when demand is high and competition is low. Competitive markets tend to use level or cap pricing, and you will likely need to meet the market average. Loyal customer purchasing, in addition to an existing service, may pay a higher price for the convenience of a bundled package. For example, if you include pressure washing in the overall cost to re-stain a deck, the price is bundled.
Pricing Strategies
The prices used are determined by your strategy and position within the market. A new business can choose any pricing option, but starting at or slightly below the market average is a good approach for securing customers out of the gate. Or, offer a one-time discount to gain new customers, and then follow up with a regular service plan. Another strategy is premium pricing. Position yourself as the best service provider with the most experience and best equipment. Premium pricing is attractive to other business owners and nicer homes that are focused on a quality outcome. Adding a satisfaction guarantee to the price will also help convert new customers.
Pricing Types
Several methods of pricing are used by power washing services. You can choose a single model or you can adjust your strategy, based on the individual job. Pricing by the hour is consistent and ensures that you are paid for the time worked. Pricing by the square foot is common, and makes it possible to bid on different sizes and shaped structures or lots. Flat rate pricing is also an option that requires experience in knowing the time and effort required on different job types. For example, you may approach a building with chipped and peeling paint that will require extra time. Based on your experience with jobs of this nature, you will do a rough square-footage pricing calculation, and then add an additional 20-percent to that figure in anticipation of the effort required. Flat rate pricing means that you can potentially earn more, but it requires the experience to know how to price each job.
High and Low Pricing Figures
According to Home Advisor, the typical power-washing job costs is $220 to $380 dollars for a house siding; $130 to $220 dollars for a driveway; and $250 to $420 dollars for a deck or patio. Thumbtack estimates the average cost of pressure washing in 2018 at 16 to 22 cents per square foot. That falls closely inline with the Home Advisor estimates.
The Cost of Power Washing Your Home Yourself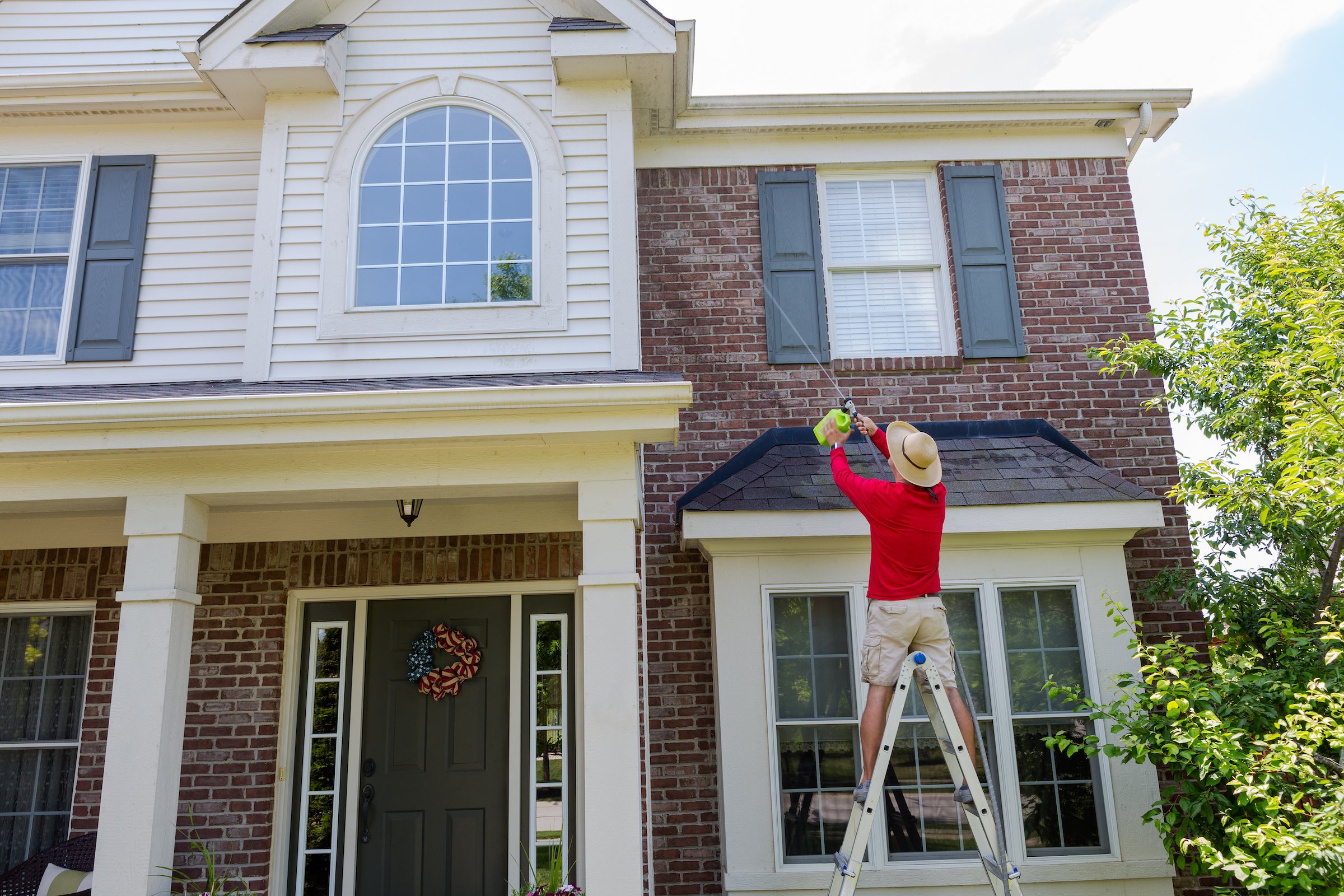 Power washing isn't exactly rocket science, so it's very easy for even the un-savviest DIYer to handle this project. If you don't already own a power washer, you can rent one from a hardware store like Home Depot and expect to pay around $76-$99 per day. 
If you think you'll want to pressure wash your home multiple times per year, then it may be worth it for you to buy your own power washer. A simple pressure washer costs around $150. 
Power washing can get tricky, however, if you have a two-story house. This will require that you use a ladder to reach every inch of the exterior. Because you'll be using a high-powered hose, you need to ensure that safety precautions are taken so that you don't accidentally fall backwards and injure yourself.
There are a few exterior materials that you should not pressure wash. Stay away from lead paint, wood siding, crumbling mortar, and of course, windows. 
Should you choose to DIY the power washing of your home, don't forget to protect doors, windows, and landscaping so that you don't accidentally break a window or put large holes in your plants. This is especially important if you are power washing in plans to put your house on the market. The last thing you want to do is create more projects for yourself before you show it to prospective buyers.
Professional Pressure Washing Prices Per Hour for Your Home's Exterior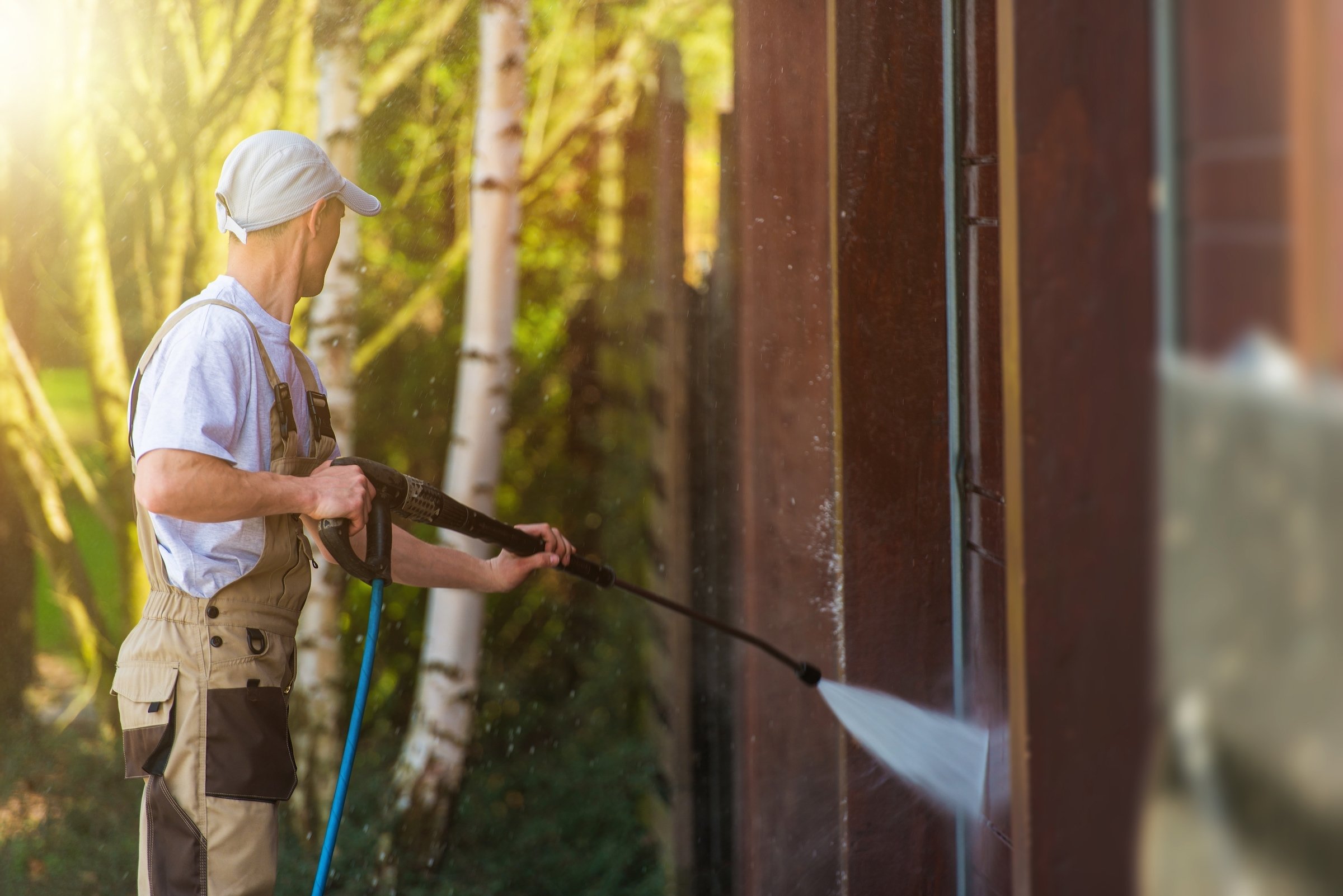 Broken down, pressure washing prices per hour are generally $60-$100. It will take a pro anywhere between two and six hours to complete the job on a 1,200 square foot house, depending on the severity of grime.
At the low end, the cost to power wash your house ranges from $360-$600. The reason the range is so broad is because prices vary for each city, and every home has details that a pro will take into consideration when she quotes you for the job. 
Usually, pressure washing costs more if you have a two story home. You can also expect to pay a little extra if the pro uses mold and mildew solutions to remove caked on grime.
Pressure Washing Services Prices: Deck and Driveway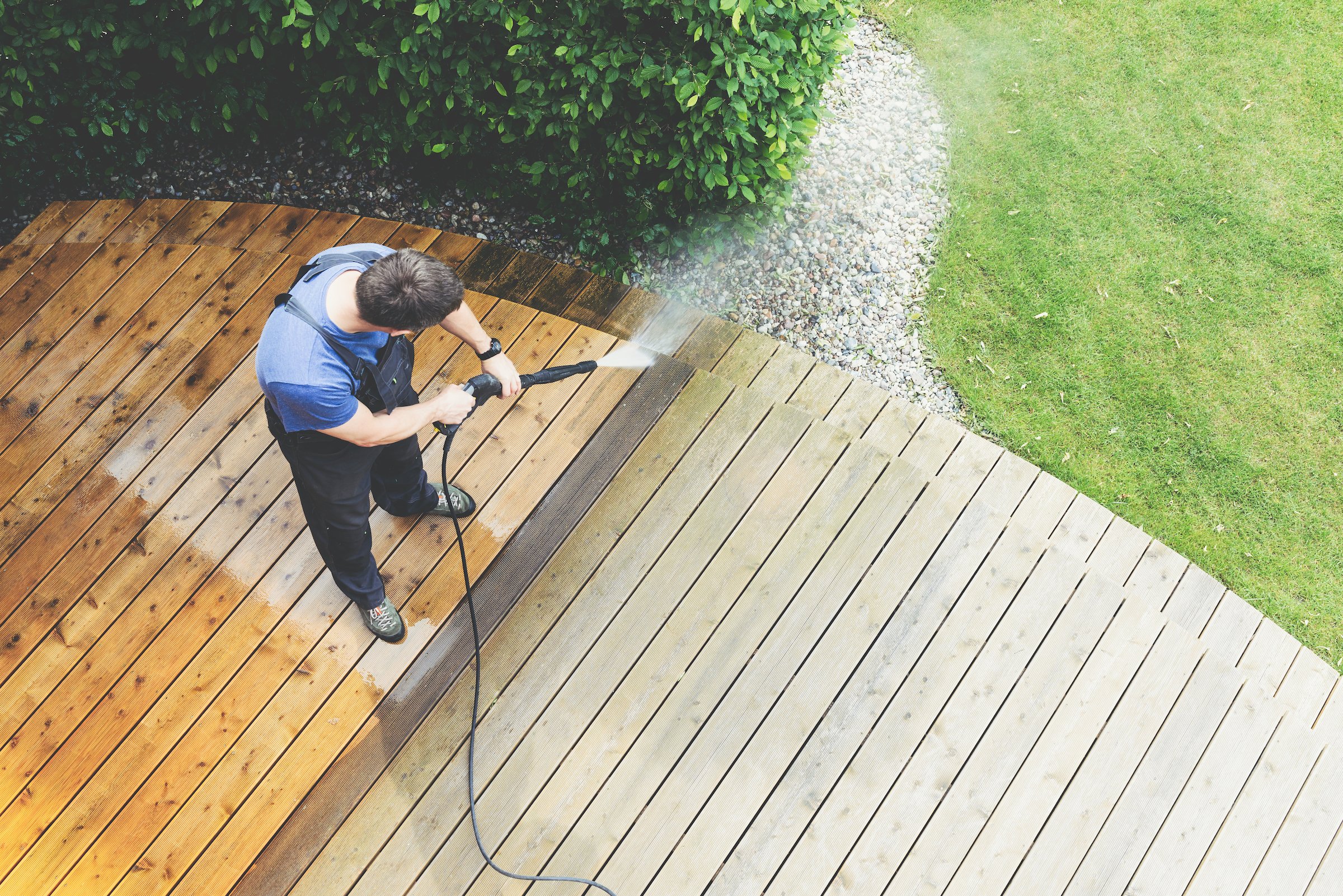 Remember, your house isn't the only thing that you can power wash. If you plan on hiring a professional team to power wash your house, you should also inquire about how much they charge for washing the driveway, sidewalks, or your deck.
The average cost to have a professional power wash your driveway ranges from around $160 to around $200. For a deck or a patio, you can expect to spend anywhere from $60 (simple, quick job) to $250 (including deck stain and additional cleaning solutions). 
The Benefits of Pressure Washing Your House
Power washing your house is not only a good way to make it sparkle and shine once again, but it's also a crucial first step if you plan to repaint the exterior. In addition to pressure washing the house itself, you can use a power washer to spruce up sidewalks, the driveway, the front entrance, and fencing.
This is especially important if you're selling your home, as a clean and polished exterior is essential to impress buyers and to convince them to commit to purchase.