The Best 30-inch Gas Cooktops For 2020
Jenn-Air JGC7530BS – $1,899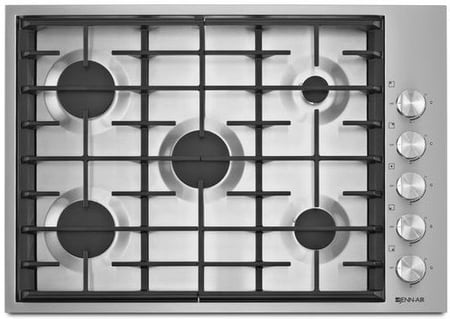 Features:
Electronic Ignition and SureFlame Ignition Protection – SureFlame ignition protection prevents the burner flame from being extinguished by a sudden draft.
Cast Metal Knobs – These sleek controls offer substantial heft and precision while complementing the cooktop's surface.
Low-Profile Design – With an extremely low profile, you can have a minimal look —nearly flush with the countertop – for an integrated transition to the cooktop.
20,000 BTU Dual-Stacked burner- Power burner can sear, rabid boil, or achieve high heat for wok cooking and can reach ultra-low 700 BTU to melt the butter without scorching.
12,000 BTU Burner – Experience a sturdy burner that's ideal for everyday cooking but can also be used for sautéing or pan-frying.
9,000 BTU Burner- A burner that reaches a maximum power level of 9,000 BTUs and fulfills most everyday cooking functions.
6,000 BTU Simmer Burner – Melt chocolate and butter or simmer sauces just below boiling with a high-precision burner that offers a wide range of power.
May Be Installed Over Jenn-Air 30″ Electric Single Oven – This luxury electric radiant cooktop can be installed over a Jenn-Air® electric single oven, offering additional design flexibility
Fisher & Paykel CG305DLPX1N – $1,299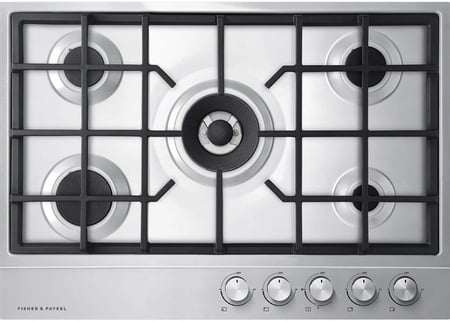 Features:
Precise control – Simply turn the dials to ignite the flame quickly and safety. Innovalve technology allows you to adjust the flame with 180° gas valve rotation for super accurate temperature control.
Easy handling – With flat cast iron grates, pots and pans can easily be slid across elements, coming in handy in busy cooking environments.
Safe and sound – The Auto-reignite system means you don't have to hold down a dial while burners ignite – if a burner goes out it is automatically relit at the original flame setting.
Designed to match – The brushed stainless steel and polished metal trim has been designed for durability but also provides a modern, stylish finish, matching the Fisher & Paykel family of kitchen appliances.
Easy cleaning – The stainless steel component is easily accessible and quick to clean. Cast iron trivets provide a durable and stable cooking platform. Their rubber feet prevent them from scratching the cooktop.
Handy accessories – This cooktop comes with a small pan support and wok stand to complement different cooking styles.
Samsung NA30N6555TS – $999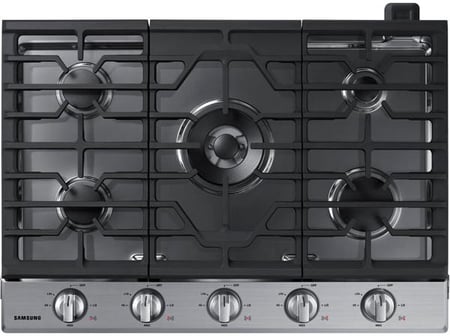 Features:
19K BTU power burner has two rings – allows for two heating options: quickly bring water to a boil and maintain a simmer.
Blue LED illuminated knobs when the cooktop is on
Wi-Fi connectivity allows you to monitor the operating status and the power level settings of the cooktop elements as well as change the timer settings.
Griddle feature is great for cooking breakfast, making sandwiches, sauteing vegetables, to name a few.
Cast iron 3- piece grates
Sealed burners make the cooktop easy to clean
Wolf CG304PS – $1,940
Features:
Stainless steel top construction
Four dual-stacked, sealed burners with automatic reignition on all settings
One large 18,000 BTU burner, one medium 12,000 BTU/Hr sealed burner and two small 9,200 BTU burners
True Simmer setting on all burners – dual-stacked burners that keep the simmer flame a little further from the pot to maintain the precision in heat
Illuminated control panel with two-tiered control knobs
Low-profile cast iron continuous burner grates with a matte porcelain finish
Signature red, black or stainless steel control knobs – coordinates with an array of Wolf wall ovens
Thermador SGSX305FS – $1,799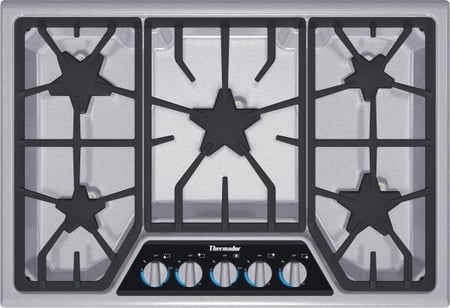 Features:
Overall 52,000 BTU output
Powerful 16,000 BTU Center Burner – provides substantial power for boiling water, searing foods or any high heat cooking such as stir-frying
Single point ignition – only burner that is being used is ignited
Exclusive 200 BTU ExtraLow burners for perfect simmering – great for melting chocolate, butter or maintaining the right consistency of delicate sauces
Exclusive, patented Star Burner provides superior performance – giving you more even heat distribution
Continuous grates allow pots and pans to glide smoothly across the cooktop
Progressive illuminated control panel with metal knobs – illuminates to indicate what level each burner is powered by
High-grade, quality die-cast metal knobs
The sleek control panel features glass and stainless steel – the durable composition of this cooktop can withstand the use of even the less than careful chef
Knobs feature a safety "push to turn" system