Buying the Best Beginner Oboe is a difficult journey to start so before looking at these best oboe brands, oboe for sale and oboe reviews, here are some things to look for in your oboe search.
Whilst there are many well-known brands and reputable oboe manufacturers, the best way to know if the brand is suited for your needs is to play it before buying.
This can often be done at your local music supplier.
Each model can vary drastically in its playability, tone and projection. Our brand guide and oboe reviews will help you to slim down your choices and give you the basics in helping you make your decision whether you are looking for the best student oboe or the best professional oboe.
An Oboe's Features
All oboes come with different parts that can vary in quality and have a profound effect on the way the instrument plays. This is a quick guide to understanding the materials, variations of oboe parts and what will suit you best.
Oboes have 5 main parts: reed, staple, upper joint, lower joint and bell.
The reed
This part sits between your lips as you play, a slight variation on playing the clarinet, the reed is not played against the mouthpiece but against your top lip.
Reeds for oboes are made from cane and can be bought in many variations. It is often heard of that professional oboists will make their own reeds to the exact specification that suits them best. The reed enters the main body of the oboe at the staple.
The staple or bocal
Whilst this part of the oboe seemingly only attaches the reed to the body of the instrument, variations on this can make a significant difference to the sound quality and its production.
The staple should fit into the body of your oboe, it should be made of unbroken natural cork and the metal part should be made out of nickel silver or brass.
The upper and lower joints
These two parts form the main part of the body and include all the holes and keys for fingering.
The bell
The bell is final part of the body of the oboe before the sound leaves the instrument. It can affect projection, tone and overall sound quality.
Most manufacturers offer a variety of narrow and wider bell types all of which can suit different players for different reasons.
The bell is a part of the oboe which has been adapted by many players and manufacturers to change the sounds produced by the oboe. Some oboes have a metal rim seemingly to protect the bottom of the instrument but this can mean a major variation in the sound production due to the reverberation created on the metallic material.
best beginner oboe
1) Yamaha YOB-441 Series Intermediate Oboe YOB-441 – All Grenadilla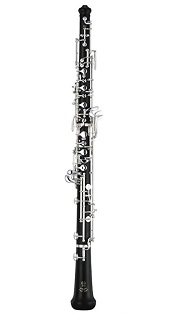 Are you moving towards the professional stage gradually? This is the best intermediate oboe for you. This oboe possesses a modified conservatory system with semi automatic octave keys, and for an intermediate oboe, that is quite fascinating.
Playing oboe could not get any better! With the left-hand F key, fork F resonance keys and the unique semi-automatic octave keys, the sound produced from this modern oboe is delightful and will put all other natural sounds to shame.
The sound is the major purpose of an oboe. However, class and style cannot be separated from an oboe's specification. The YOB-441 series is made from the finest seasoned grenadilla wood which has been aged to perfection. Crowning the class of this oboe is the silver-plated nickel keys running along the intermediate oboe. So, now you can enjoy beautiful sounds while fingering on skilfully crafted keys.
This F key intermediate oboe is suitable for any performance. The sound produced from the oboe and the craft can meet up with your artistic expectations. Whether it is a solo, playing with a rock or jazz band or in an orchestra or chamber scene, the intermediate YOB-441 series oboe is a great choice for you.
2) Schiller Elite Conservatory Oboe
The craft of this oboe is exquisite, and it is affordable. Do you want to reach a professional scale at the very beginning of your oboe learning journey? The Schiller elite has you covered.
The features on this oboe are out of this world. The oboe is designed with several keys such as; the resonance keys, the low Bb, Ab to Bb trill keys, left-hand F key, and the shocking left-hand C to D trill. The left-hand C to D trill keys are shocking because these keys are normally on the right and this twist creates an alternative.
Schiller Elite comes with a case to preserve the oboe and elongates the life span of the instrument. The twist in the oboe design might seem to make the instrument hard to handle, however, with the alternative the oboe is easy to play. This makes it fasters to master keys which improve performance.
A wonderful musical piece can be played beautifully with this instrument. The Schiller Elite is not dependent on what level you have gotten to in playing the oboe. It is ideal for professionals and even better for a student who aspires to become world-class oboists.Read User Reviews & Check Price On Amazon
3) Buffet Crampon Model 3613G Green Line Oboe
Did you decide to go green? Do you want an oboe to fit that status? Your search is over. The buffet crampon 3613G model is what you need.
The 3613 model is a green line musical instrument. These instruments are made from wood that is recovered and recycled. The recycled wood has a peculiar composition which makes the oboe resistant to temperature and humidity.
Buffet crampon 3613 model is could be regarded as a gold medal, it is the holy grail of most Greenline musical instruments, and it has maintained this reputation over the years. The oboe is a full conservatory system, and if you do not know what it entails, here it is.
It possesses a low Bb key, left F key, forked-F resonance, third-octave key, Bb and articulated B-C#, split ring D#-E trill, a Bb-B trill, and G#-A trill. The instrument stands to last for several years, and the pitch and tune are accurate. Every played piece on the 3616 model is an experience, and it is not one to be missed. Read User Reviews & Check Price On Amazon
4) Ammoon Oboe
For all aspiring oboist, this Ammons oboe comes with the most amazing starter pack. The C-key oboe with a Bakelite wood body and cupro-nickel keys plated with silver comes with its stylish leather carrier. In the beginning phase of learning to play the oboe, you are thought the proper care for your instrument, and this oboe package makes it much easier.
The oboe comes with a reed which has the gentlest feel on your skin. This user-friendly Reed makes it easy to play the Ammon oboe. Still in the pack are; cleaning swabs, lubricant, a pair of gloves, a screwdriver, a leather case, and a comprehensive instruction manual. With all these available to you, you can enjoy the oboe learning experience and care for your oboe with ease.
Ammoon oboe was created with a metallic mouth piece, a needle spring of high quality, and a solid rock system. The joining parts of the Ammon oboe are made from soft wood, and the oboe has a great leather packing. All these features ensure the longevity of the oboe. The brilliant sound of this student oboe is magical. You will fall in love with the instrument over and over after playing this oboe.Read User Reviews & Check Price On Amazon
5) Selmer Model 122F Intermediate Oboe
Grenadilla wood is used in making most oboe, just like this intermediate oboe. However, the makers of the Selmer model 122F took this into consideration and created an oboe of the high-quality. The density of the wood is great making the instrument easy to handle. The 122F model is recommended for an oboist transitioning from the student phase. For upcoming oboist in middle school or high school, this is the right oboe.
The modified conservatory system of this oboe is ranged down to a low Bb dispensing the most joyous sounds you can ever imagine. The Selmer model 122F was crafted with, Ab to Bb and left-hand C to D trill keys and each key is plated with silver giving it a more sophisticated look compared to normal high-density resin student oboe.
Keep everyone's eyes on you at the next middle or high school musical formal with this breath-taking piece. Looks matter but the sound from your 122F model will be distinctive from another oboe, and you can trust that sound to be enchanting. You do not have to be in high school to get this oboe; it is suitable for all age types if you are prepared to become a master oboist. Read User Reviews & Check Price On Amazon
6) OBOE – Bulgheroni (091/3)
Starting your oboe journey is best done with the Bulgheroni 091/3 and there is is a reason. The craftsmanship displayed in this oboe is impressive for a student oboe. The oboe is very easy to handle, and with it, you can create some of the finest sounds in the woodwind family.
The Bulgheroni 091/3 is a marvelous piece made with the same materials used to create the professional models. The ebony bod gives it a spectacular look, and the keys are cupro-nickel with silver plating. This oboe earns you bragging rights among even the professional oboist with its fine architecture and excellent sound.
Having a Bulgheroni 09/3 is like wielding the crown jewel of all beginner oboes. Some of the keys are 3rd-octave keys, and the stunning piece was formed with other semi-automatic keys making it, all round, a musical wonder. This oboe can even compete with some intermediate oboes, and it is highly durable.
Learning to play oboe should not be done with low quality and this oboe is one of high quality besting other student oboes. Why settle for less when there is a Bulgheroni 091/3 for you? Get this oboe today to enjoy music at its prime.Read User Reviews & Check Price On Amazon
7) Jupiter JOB1000 Modified Conservatory System Oboe
It's hard to get a student oboe that is reliable and will stand the test of time. Most student oboes do not last long, and the high price of this oboes make this more unbearable. You can conquer the fear of purchasing a bad beginner's oboe with a Jupiter JOB1000.
This Jupiter series is forged with ABS resin, and the body bears semblance to that of a wooden oboe. The wood-like plastic body of this oboe makes it not just resilient but also unique. The JOB1000 series is built as a modified conservatory system, and it is also a low Bb system.
With this, you can explore much more with your beginner oboe.The keys, which extend to a low Bb, is silver-plated. The JOB1000 is easy to handle, and it is convenient to dismantle and carry around because of its light weight. You can put your mind to rest especially when you go through harsh conditions with the JOB1000.
The ABS molded case makes it rugged and hard to crack. You can always depend on your Jupiter JOB1000 oboe for all your music classes and even your debut performance. Read User Reviews & Check Price On Amazon
8) RS Berkeley ob425 Signature Series Oboe
The RS Berkeley OB425 is an oboe for beginners which has all the perks of a professional oboe. The oboe can also be used for intermediate and professional purposes.
The added features in this RS Berkeley series makes the best start up kit for an oboe rookie. The wow factor of this oboe pack is that it comes with an oboe care and cleaning kit, band folder, music stand, essential element book 1 for oboe, a tuner and a metronome. The presence of the elements makes it easy to start the oboe learning process and rehearse on your own with little guidance from a music director.
The songs embedded in the essential element book 1 are popular songs which are easy to play, and there are also aspects which exposed students to the oboe features. With an OS425 series pack, mastery of the oboe is made less stressful; you can learn new things, enjoy the quality and durable features and produce marvelous tune at the same time.Read User Reviews & Check Price On Amazon
oboe for sale
9) Simonnet Oboe Ob425 Signature Series
Rose are red. The sky is blue; RS Berkeley is here for you! The simonnet OB425 signature series couldn't be any better. Like other RS Berkeley models, this series has lived up to the RS name.
The resonite body of the oboe makes for a solid piece, and this full conservatory system possesses a left-hand F key, and it runs down to a low Bb key. This gives players an opportunity to flex all their artistic skill. The keys are plated with silver, and the quality of the plating is so solid that it will not chip off even after a long time of use.
This professional oboe is one of the best around the world and has an excellent reputation amongst oboists and tutors. Sound and class are what makes a good oboe, and those are words you can use to describe the simonnet OB425 series.
Being a signature series, the name speaks a lot for the looks of the oboe. The crisps sound that falls from this exceptional instrument at every note is noticeable even amidst a mariachi band. Grab on to your music sheets, after you try out this awesome oboe you will be blown away.Read User Reviews & Check Price On Amazon
10) C Key Oboe with Grenadilla Wood Body Silver Plated Keys
A C-key oboe is always the best for a beginner. The little tail c-key model is not an exception, and in this case, it is even better than most student oboe. If you are a style lover and you want to begin a process of learning the oboe, this is the best instrument for you.
Crack is normal in oboes after a while, and they are enhanced by water. However, the body of this oboe is made from a unique African grenadilla wood and can last in storage for more than ten years if the area is not moist.
The simple design of this oboe is complemented by its white copper keys which appear to be silver. The fitting of the keys to the body is resilient and with adequately light feel. The oboe all together is a not heavy, making this instrument easy to handle even by a toddler. It also has an adjustable thumb care, which makes it easy to play with getting easily tired.
The pitch accuracy is top-notch due to the strategic position of the sound holes. The oboe is back with a shockproof compact fit case and a built-in card slot. This makes transportation of the oboe less burdensome, and no damage can be done to it even in bumpy situations.