A pressure washer is a machine that is made to utilize the power of pressurized water and aim it towards cleaning. If you are having a hard time imagining the system, just think of a standard backyard hose, but immensely more powerful. Now, finding a correct usage for a powerful machine such as this should be easy enough, especially when we are talking about commercial grade pressure washer models.
The distinction between a regular residential model and a commercial pressure washer is in the performance and endurance. Commercial units are made to handle bigger loads, and the intricate machinery parts come with longer-lasting materials. Now, we are not saying that residential models do not perform well, no, we just want to point out that commercial pressure washers can withstand longer cleaning sessions and can tackle harder stains in your backyard.
Even if you are not a commercial shop owner, and you like to have a tidy backyard, you might consider getting a commercial unit for its water consumption, power, and longevity. But, what can you clean, and what kind of stains and dirt can you defeat using such a device?
1. Backyard Cleaning
Of course, the very first thing everyone thinks about when a pressure washer is mentioned is their backyard, or front yard, depending on your household. The situation in which a commercial pressure washer excels at is spring cleaning. Just imagine having the power to remove all that residual dirt from last years' rains and snows.
Besides cleaning concrete and fences, you will be able to wash all the metalwork around the house. Gullies, gutters, garage doors and many more are fair game if you want to get that old, same-as-new shine out.
2. Washing Boats and Cars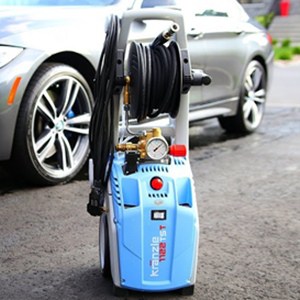 Ah yes, one of the most frequently asked questions regarding commercial pressure washers: Will I be able to clean my car/boat with this? Well, as it turns out, pressure washing is the best way to go, especially when we are talking about boats.
Different materials are made to endure different elements and weather conditions, and that is why an adjustable pressure washer will be the best assistant in cleaning them. Boats and cars are not prone to water damages, and if you adjust the pressure to match the surface, nothing can stop you.
3. Patio and Yard Furniture Cleaning
If you have a larger backyard, especially one full of grass and soil, you are aware of the dirt that sticks to the furniture. With a pressure washer, you will be able to clean it very fast, and with utmost efficiency. Cleaning patio furniture is one of the main reasons why people decide to get a powerful pressure washer in the first place. If left unattended and dirty, any kind of outdoor furniture will suffer irreparable damages, so think ahead!
4. Washing Decks, Stables and all Sorts of Outdoor Floors
Outdoor floor surfaces can be a hassle to clean. These surfaces are usually much larger than the surfaces we have inside, and no one wants to spend all day every day holding the hose and a steel brush. Pressure washers are designed to tackle this kind of problem with ease. Just make sure to test out the strength on a smaller surface and adjust the pressure accordingly.
5. Grills and other Greasy Surfaces
Lastly, having a pressure washer will help you degrease the old grill and return it to its former glory. The best thing is: you will only need water to get the job done. Grills, griddles, and fireplaces can all be washed with pressurized water, due to material endurance and resilience. You can also pressure wash greasy tools and old traffic signs.
How to Choose Your Commercial Power Washer 
Which Commercial Pump Type?
Direct Drive Pump
A direct drive pump is connected with a hollow shaft to the engine drive shaft. This means the pump runs at the same speed as the engine. It also means the pump sits very close to the hot engine. Both these factors cause the pump to run hotter, decreasing life span of the bearings and other parts.
However, due to the simplicity of the connection between pump and motor a direct drive pressure washer is less expensive and more compact compared to belt drive.
A direct drive is for you if: Pressure washing is part of your job but not the only part. Your pressure washer is a secondary tool not the main tool you use to earn money.
The good: Lower purchase cost, take up less space, more efficient.
The bad: Shorter pump life and prone to overheating and vibration. Also pump runs too fast to suction water from a tank reliably.
Belt Drive Pump
A belt drive pump is connected via a belt(s) and pulleys to the engine drive shaft. This system allows for the pump to turn at 1/3 the speed as the direct drive pump. It also allows the pump to sit further away from the hot engine. Both these factors allow the pump to run cooler, increasing the lifespan.
However, because of the added friction of the belt and pulleys it is not as efficient. And the added parts increase the maintenance requirement.
A belt drive is for you if: You're a full-time pressure washer and spend most of most days pressure cleaning.
The good: Longer life (pump runs cooler because lower rpm), belt absorbs vibration instead of the pump shaft.
The bad: More maintenance and less efficient (added belt friction).
Top Pump Brands
CAT – Their motto is "The Pumps With Nine Lives" and it could be true. CAT Pumps are the most sought after brand and you will pay the most for them. They specialize in positive displacement high pressure pumps (…they specialize in pressure washer pumps).
AR (Annovi Reverberi) – An Italian pump manufacturer with long history in providing piston pumps for industrial washing. Very well respected. Brands like Black + Decker, Michelin, Stanley and DeWalt trust AR pumps in their electric machines.
Comet – Comet is the North American arm of the Italian plunger pump brand, Comet Spa. They offer hundreds of different pump models of triplex and axial types for all industry applications.
General Pump – In the business of developing high quality plunger pumps since 1982, General Pump continues to provide the industry dependable long lasting pumps
AAA – Simpson Cleaning's home brand of triplex plunger pump. The premium Simpson machines will have CAT, Comet, AR or General Pump brand pumps.
Gas or Electric Powered?
Electric. If you will always be pressure washing near an electric outlet (like at a warehouse or factory) get electric. It requires less maintenance, is quieter and you can safely use it indoors. You also won't have to worry about refuelling. The downside is that it will have a higher acquisition cost for the cleaning power.
Gas. If you want the most portability get gas. So if you're a mobile contract cleaner then gas will be more practical because you won't have to go inside the customers house/establishment looking for electrical outlets. Gas also offers more power for less cost.
Hot Water or Cold Water?
Hot water definitely cleans faster because it "excites" the dirt and grime particles to get off the surface. Soap "pulls" the dirt and grime off the surface. The combination of exciting the dirt particles and pulling the dirt particles allows for the fastest most thorough clean.
However, sometimes dealing with the burner and burner fuel is a hassle. The hot water generating aspect of a pressure washer will also cost $1000 more (compared to the same cold water machine) because of the schedule 80 heating coil and other components.
Now have a look at the 5 best in detail:
Best DIRECT DRIVE GAS Commercial Pressure Washer
Simpson PowerShot 4200 PSI 4.0 GPM With Honda GX390 Engine
The best direct drive gas powered commercial pressure washer is the Simpson Powershot with the Honda GX390 commercial series engine and the AAA by Comet industrial triplex plunger pump with forged brass head and ceramic pistons. (See graphic of engine and pump details here).
As you can see from the image the unit has a wheelbarrow stance to make it easy to push or pull. It also has never flat pneumatic tires to make moving over uneven surfaces and around a job site a cinch.
The price hover around the high $900 mark and comes with free shipping for that cost. For the quality, cleaning power and price you will not find a better value direct drive gas commercial power washer.
BELT DRIVE GAS Commercial Pressure Washer
Mi-T-M CW3004-4MGH 3000 PSI 3.5 GPM With Honda GX390 Engine
Mi-T-M is an abbreviation for "mighty 1000" in reference to the first pressure washer they made in 1971 being 1000 PSI (M = 1000 in roman numerals). Now they sell all types of different pressure washers, generators, air compressors, industrial vacuums, heaters and pumps.
Their belt drive gas commercial pressure washer is best in class and comes with the same GX390 engine as the direct drive Simpson above. It has a belt drive General Pump with a 10-year warranty attached to it.
You can add-on a roll cage to the machine that acts as protection (and a secure chain up point) as well as a lifting frame to lift it to height. If you pressure wash all day every day or run a pressure washer rental company then this is a great option to buy.
Best DIRECT DRIVE ELECTRIC Commercial Pressure Washer
Pressure Pro 3000 PSI 3.5 GPM With 35 Amp 230 Volt Motor and General Pump
This heavy-duty Pressure Pro is great value for the money. It is constructed on a lifetime warranty aluminium frame, and the whole machine only weights 150 pounds.
It has a 7.5 horsepower induction motor that draws 35A at 230V. If you're working indoors and sound and fumes are the buying criteria this is your best option.
BELT DRIVE ELECTRIC Commercial Pressure Washer
Out of all the commercial pressure washers, finding a belt drive electric is the hardest. They are basically only made by Pressure Pro in their Eagle Series. I guess the demand isn't high?
The Pressure Pro belt drive electric has 3000 PSI and 4 GPM at max. This is huge for an electric. It has a Baldor 7.5 hp motor and General Pump. Both are what you want in a commercial electric machine!
If you're in the market for this machine then look to pay upwards of $5000.
Best HOT WATER Commercial Pressure Washer
Easy-Kleen 4000 PSI 3.5 GPM With Kohler Engine
If you want a hot water power washer this one by Easy-Kleen should be the first one you look at. Why? Because it hits all the sweet spots: It has a direct drive General Pump with 5 year warranty, a 14 HP Kohler engine with 3 year warranty and a diesel burner for the schedule 80 coils with stainless shell for the hot water "tank".
When you add hot water to this kind of cleaning power you get a machine that clean anything. Graffiti is now easy to remove, caked on grease at restaurants now easy and tough to clean semi-trucks now easy to clean.
You can see the pressure washer comes on a 4-wheel frame to make moving its 400-pound-self around not too hard. All this comes at a cost though. It varies in price between the high $3000s to the mid $4000s.