best deodorant for women
best deodorant for odor
best deodorant for hyperhidrosis
best deodorant for heavy sweating
best deodorant for hairy armpits
Your Guide to the Best Deodorants for Sweaty Women
There's nothing worse than feeling embarrassing sweat stains seep through your clothes.
Everyone sweats. But some of us sweat a little more than others, and not all deodorants can hold up under pressure.
In this post, we share the best deodorants for women who sweat a lot and offer tips on how to choose a deodorant that'll keep you cool, calm and collected.
BEST DEODORANTS FOR SWEATING
EXCESSIVE SWEATING IN WOMEN
Sweating is normal and healthy. How much you sweat depends on a wide range of factors, including gender, weight, genetics, environment and diet. Men and women both sweat, but men sweat 40 percent more than women, on average.
Some sweat much more than others, and with good reason. There are two causes of excessive sweating: hyperhidrosis and diaphoresis.
Hyperhidrosis is a medical condition that makes you sweat more than you should to regulate your body temperature. Nearly 5 percent of the population suffers from hyperhidrosis. While there are treatments for hyperhidrosis, there is no cure.
Diaphoresis, on the other hand, is extreme, all-over sweating due to a specific underlying cause. Common causes of diaphoresis include pregnancy, menopause, specific medical conditions and taking certain medications. Once the cause is treated, the excessive sweating stops.
There are many remedies to prevent underarm sweat. For most sweaty women, an effective deodorant or antiperspirant is an optimal starting point for reducing sweat.
WHAT TO LOOK FOR IN DEODORANT
There are two types of products that control odor and sweat: — deodorant and antiperspirant.
Deodorant and antiperspirant are actually two separate products. Deodorants combat body odor, while antiperspirants block sweat. Most of what is referred to as "deodorant" today is actually an antiperspirant/deodorant combination.
In this article, we'll use "deodorant" to refer to antiperspirant/deodorant products.
When you're choosing a deodorant, keep these questions in mind:
Sweating levels: Always dealing with pit stains? If you use deodorant daily and still struggle with sweat stains, try clinical or prescription-strength products.
Scent: Do you want something that smells good? Whether you like fruity, fresh, or natural, there are great smelling deodorants that actually work.
Skin sensitivity: Is your skin sensitive to chemicals? Do you develop rashes? You'll want a deodorant that is unscented or includes moisturizers to lessen irritation.
Ingredients: Are you vegan, or looking for something with natural ingredients? While many concerns about toxins in antiperspirants have been disputed, you may still prefer natural options.
BEST DEODORANT FOR SWEATY WOMEN
What's the best deodorant for women? Check out these top-rated options and see how they stack up.
STANDARD DEODORANTS
Maybe you sweat occasionally, like during a good workout. If you experience a few sweating bouts here and there, start with a standard over-the-counter product.
1. Dove Advanced Care Antiperspirant Deodorant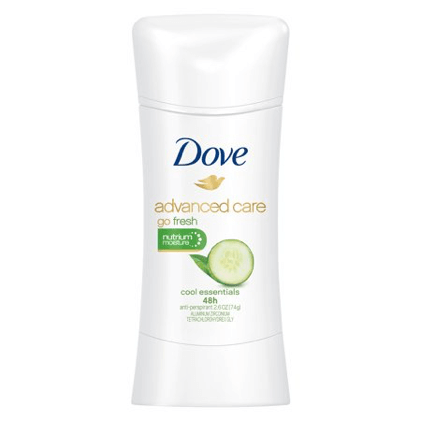 0% alcohol formula
48-hour protection
Unique ¼ moisturizers help underarm skin recover from shaving irritation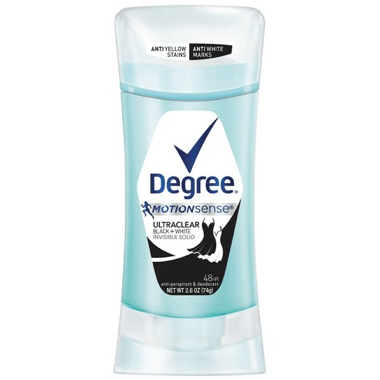 Antiperspirant/deodorant
48-hour protection
Clear – leaves no white stains on clothing
CLINICAL-STRENGTH DEODORANTS
Clinical strength deodorants contain higher concentrations of active ingredients. Try a clinical strength deodorant if regular strength products don't keep you dry enough.
3. Secret Clinical Strength Smooth Solid Women's Deodorant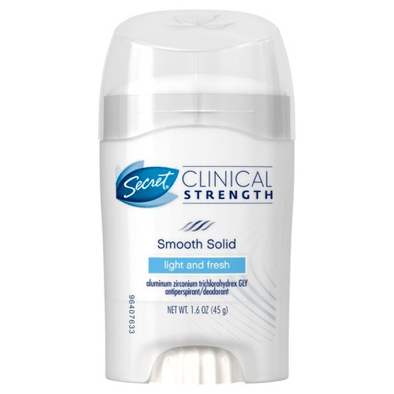 Antiperspirant
48-hour protection
Available in invisible solid, clear gel and soft solid formulas
#1 selling clinical antiperspirant brand and winner of Allure's 2018 Best Of Beauty Expert Award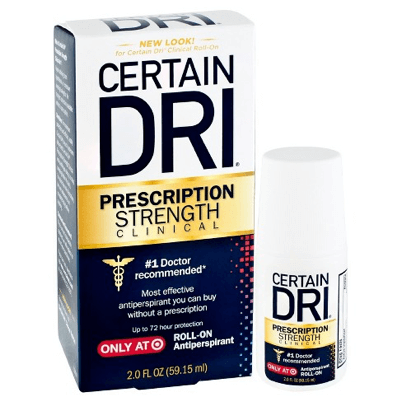 Antiperspirant
Up to 72-hour protection
One of the most potent antiperspirants you can buy without a prescription
Doctor-recommended hyperhidrosis treatment
Want to learn more? Read: How to Choose the Right Prescription Antiperspirant
SENSITIVE SKIN DEODORANTS
Red, irritated skin under your arms can be a nuisance. Products that contain aluminum or other chemicals are the leading cause of irritated skin in your armpits. For those with sensitive skin, consider using products that are fragrance-free and alcohol-free.
5. Dove Advanced Care Sensitive Antiperspirant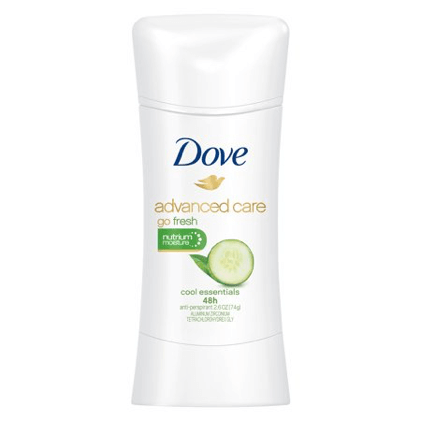 Fragrance-free antiperspirant/deodorant
Hypoallergenic
48-hours of protection that also moisturizes and smooths your skin
6. Almay Sensitive Skin Clear Gel, Antiperspirant & Deodorant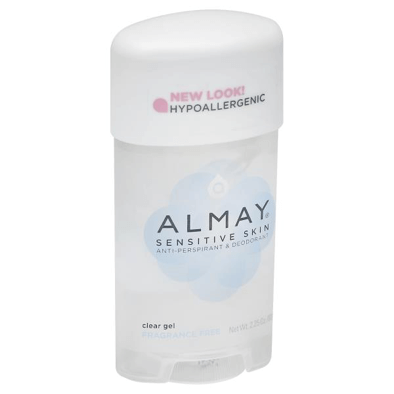 24-hour protection
Quick-drying formula
Dermatologist and allergy tested
NATURAL DEODORANTS
If you're trying to limit your exposure to chemicals, natural deodorants are an excellent choice. Natural deodorants don't block sweat, but they help control body odor and keep bacteria at bay with a combination of natural ingredients like oil, clay and baking soda.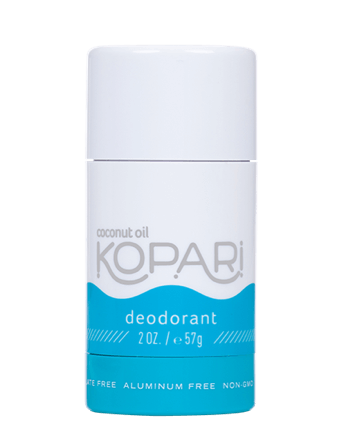 Deodorant
Plant-based and aluminum-free
Dermatologist tested
8. Underarmed Active Botanical Luxury Deodorant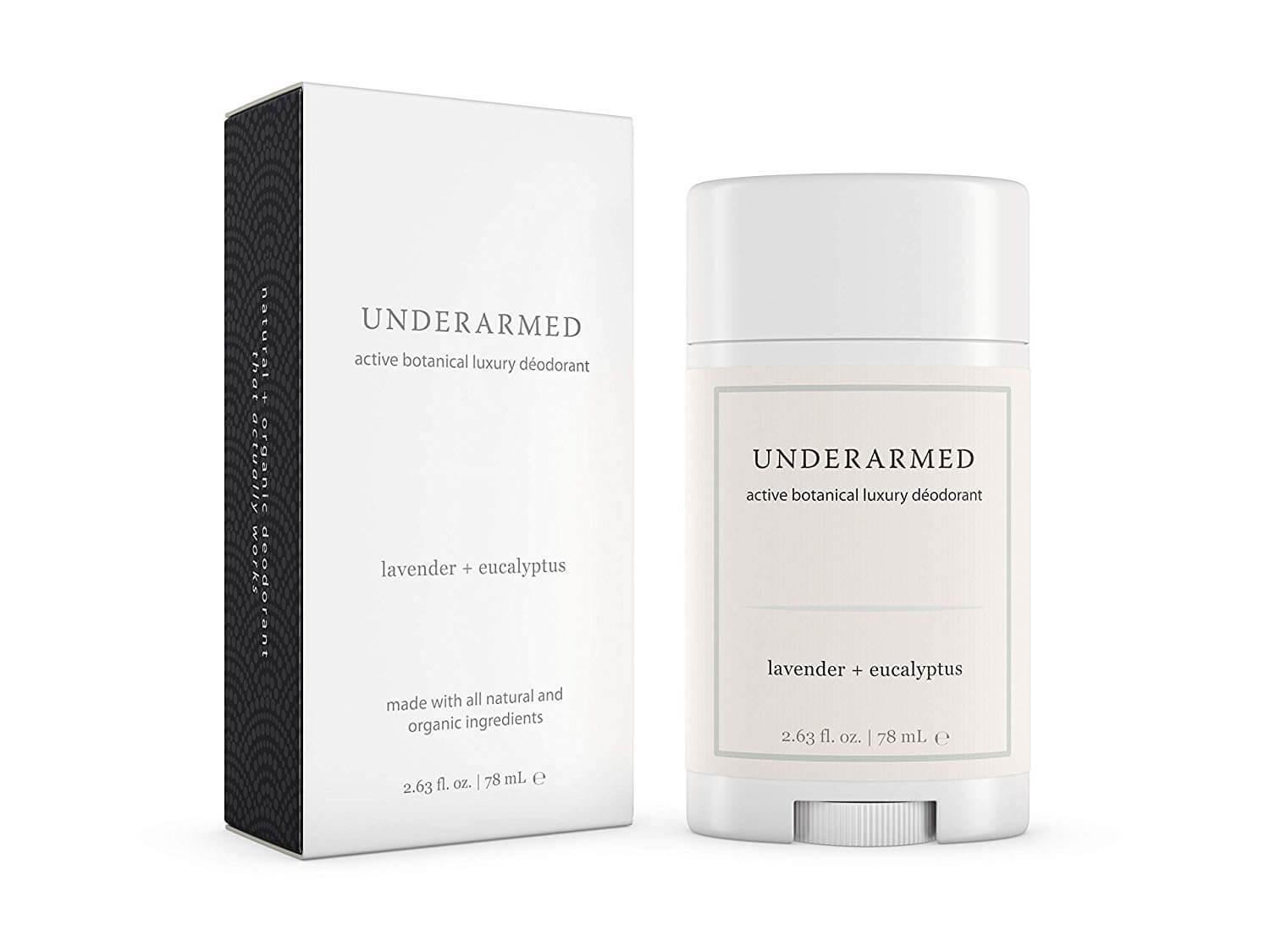 Gluten and cruelty-free
All organic ingredients
Recyclable BPA-free container
You can also check out our favorite natural deodorants here.
SPRAY DEODORANTS
9. Dove Dry Spray Antiperspirant Deodorant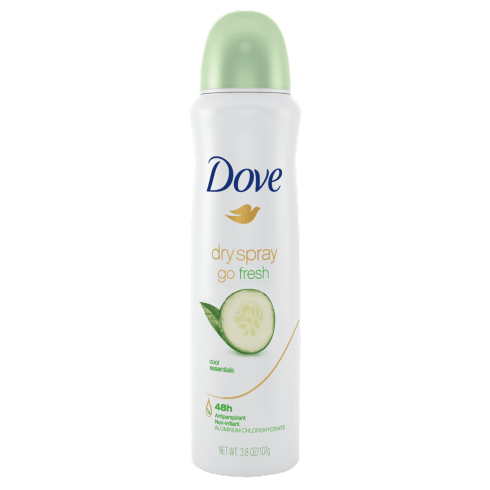 48 hours of protection
Sprays on dry
0% alcohol formula helps reduce skin irritation
DEODORANT WIPES
10. Pacifica Underarm Deodorant Wipes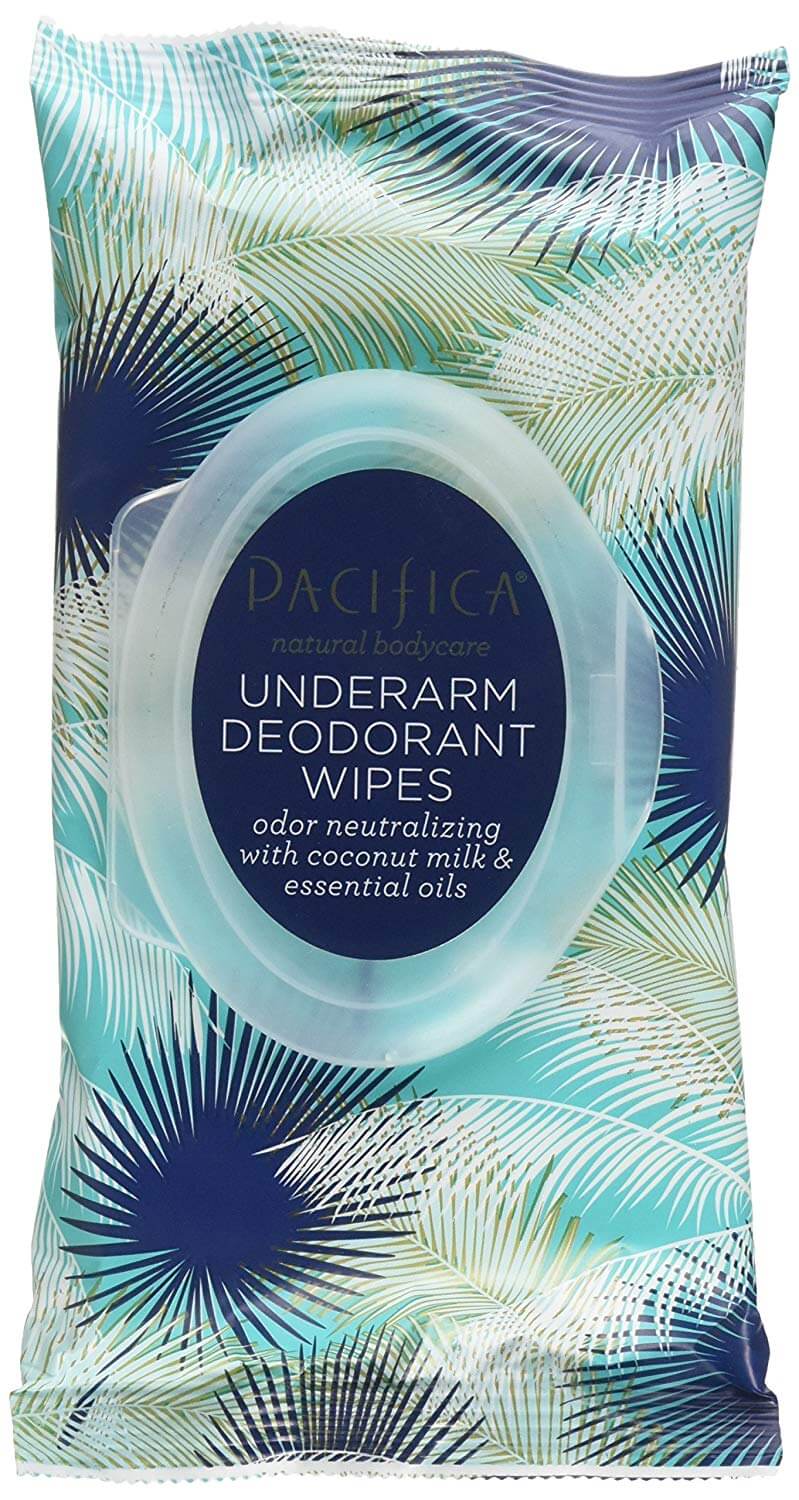 100% vegan & cruelty-free
Lightly scented towelettes infused with coconut milk and essential oils
Natural deodorizing blend
DOUBLE UP YOUR PROTECTION WITH A THOMPSON TEE
Sweat is completely natural – but sweat marks and yellow stains can be stressful and embarrassing.
A great sweat proof undershirt is the perfect sidekick to a reliable deodorant. The women's Thompson Tee is one of the most versatile sweat proof shirts on the market — wear it as a stylish shirt on its own, or as an undershirt to stop sweaty pits in their tracks.
The patented sweat proof technology protects your favorite shirts from sweat stains, deodorant and antiperspirant marks and body odor. Save money on dry-cleaning bills and keep your clothes fresh!
The Best Deodorant for Women
Stop sweat and beat body odor ​We recommend products and services based on unbiased research from our editorial team. We may receive compensation if you click on a link. Read More.
9 experts interviewed
32 deodorants tested
4 top picks
Philip PalermoLead Senior Editor – For the Home
Philip Palermo leads the For the Home category at Reviews.com, including smart home and home security services. Since November 2015, he's worn a number of hats at Reviews.com, but these days, Philip helps manage the day-to-day editorial content workflow. He's worked at Engadget, The Unofficial Apple Weblog, Big Think, and several local/regional newspapers. Philip's also been known to use a lot of spreadsheets to gauge how much value he's getting out of his various services and subscriptions.
The Best Deodorant for Women
If you're looking for the best deodorant for women, you've got two options: an antiperspirant that stops sweat, or a deodorant that neutralizes BO. We researched ingredients, talked to dermatologists, and tested 32 finalists to find products that applied smoothly and left little residue.
The 4 Best Deodorants for Women
The Best Deodorant for Women: Summed Up
Secret Invisible Solid Antiperspirant Deodorant
Best Antiperspirant
Secret Invisible Solid
Secret Invisible Solid Antiperspirant Deodorant
Check price
Pros
Long-lasting application
Subtly in scent
Cons
Noticeable residueReturn to top
Why we chose it
Long-lasting application
Of Secret, one tester commented, "This went on perfectly. It didn't feel wet or liquidy." And Dove was lauded as "smooth, not chalky." Where Secret pulled slightly ahead was its long wear. At the end of the day Secret still left no clumps in our underarms. Dove, by comparison, seemed to "get flakier throughout the day," according to one tester.
Subtly in scent
Our testers found Secret's fragrances the most pleasant out of the competition, and unlike some, it didn't increase in intensity throughout the day. It smelled subtle and clean, the sort of scents our testers said they would be happy to have on all day. The formulas contains bacteria-fighting C12-15 alkyl benzoate and aluminum zirconium.
Points to consider
Noticeable residue
Though it left less white marks than other contenders in our T-shirt test, it's residue was far from invisible. A long day in dark clothes will be marked by this deodorant. If you want a truly incognito deodorant, both of our natural picks left nothing more than a light dust.
Speed Stick Power Unscented Solid Antiperspirant and Deodorant
Best Unscented Antiperspirant
Speed Stick Power Unscented
Speed Stick Power Unscented Solid Antiperspirant and Deodorant
Check price
Pros
Balanced application
Truly scentless
Cons
Some residue leftReturn to top
Why we chose it
Balanced application
Speed Stick earned a slight edge when it came to application. It's domed surface was pretty standard, but it went on dryer than most. Ban, by comparison, felt a little too wet, like it was melting into our skin, while testers described Speed Stick as "just moist enough for a smooth glide." The deodorant will go on soft and dry quick.
Truly scentless
Based solely on the packaging, you might assume the Speed Stick is for men. But — as we learned — the main difference between men's and women's antiperspirants is scent. When you're looking at unscented products, that difference becomes moot: We just wanted something that would work. And this deodorant is certainly scentless. Where other "unscented" antiperspirants had faint hints of musk or soap, the Speed Stick was waxy (if you really stuck a nose to it).
Points to consider
Some residue left
While it wasn't the worst offender, the Speed Stick certainly left its mark during our T-shirt test. You'll be hard pressed to find an antiperspirant that is truly invisible, and natural picks will be a better bet for that feature.
Sam's Natural Deodorant
Best Natural Deodorant
Sam's
Sam's Natural Deodorant
Check price
Pros
15 pleasant scents
Circular shape
Cons
A bit costlyReturn to top
Why we chose it
15 pleasant scents
Of its 15 available scents, Sam's offers one marketed specifically for women, with lavender and clary sage essential oils. (The type of oil was the only difference between the men's and women's formulas.) Our testers loved the faintly herbal, faintly citrusy aroma and were pleased to find it lingered even after two hours of wear.
Circular shape
As for application, we liked Sam's circular stick. After trying an assortment of natural deodorants — some circular sticks, some ovals, and some creams — we tended to prefer the rounder ones. They fit more snugly into our pits than ovals, and as a result left less gooey excess on our skin and on the rim of the stick (an especially important consideration for natural deodorants, which can have a creamier, softer texture than traditional antiperspirants). And compared to the creams — which required dipping your fingers into a jar, rubbing the product into your skin, and then washing your hands — sticks were much less messy and time-consuming.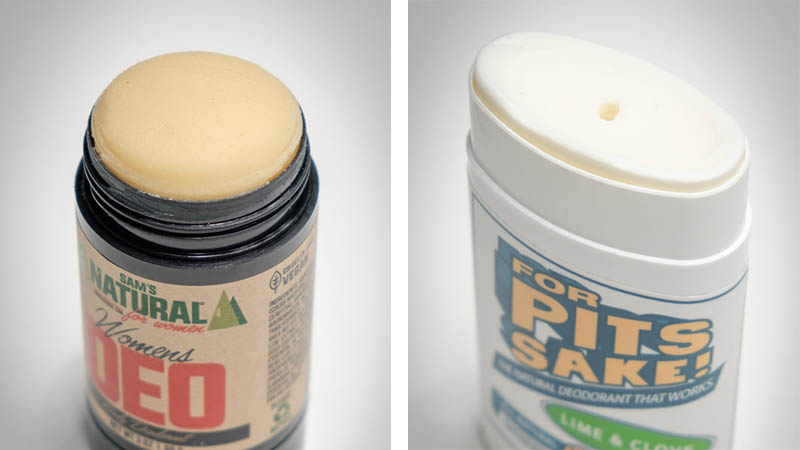 Points to consider
A bit costly
Natural deodorants typically run at a higher price point — its ingredients and manufacture process are more expensive. Sam's costs about $10 for 3 oz., it's triple the cost of our antiperspirant picks.
Green Tidings All-Natural Deodorant
Best Organic Natural Deodorant
Green Tidings
Green Tidings All-Natural Deodorant
Check price
Pros
Organic through and through
Gentle in scent and application
Cons
ExpensiveReturn to top
Why we chose it
Organic through and through
On the hunt for an organic deodorant? Look no further than Green Tidings. The rigors of sourcing organic ingredients (as well as manufacturing the product in a solar-powered facility) are impressive. It's also vegan and cruelty-free. The deodorant uses baking soda and coconut oil to battle sweat and stink, with shea butter for moisturizer.
Gentle in scent and application
The gentle lavender fragrance of Green Tidings appealed to testers' noses, especially when compared to AC Nature, which some of our testers likened to Play-Doh — and reported wore off entirely after two hours, revealing body odor. As for application, Green Tidings' round stick felt perfectly sized for our underarms. Unlike products from North Coast Organics and Bubble and Bee, excess gooey product didn't accumulate in our armpits or smear onto the edge of the tube's rim.
Points to consider
Expensive
Green Tidings is our most expensive deodorant pick, at about $8 for a one-ounce tube. It's a costly product to make because of its sustainability standards. But if buying organic is a priority, Green Tidings can't be beat.
How We Chose The Best Deodorant for Women
We started with a list of more than 200 antiperspirants and deodorants — we wanted to look at as many brands as we could find (although we did limit ourselves to products that could be easily found and purchased either online or in-person).
Then we began scrutinizing ingredient lists. Worthy underarm protection should fight body odor without causing irritation — but the best antiperspirant ingredients are going to be different than the best natural deodorant ingredients. So we created a wishlist for each category.
Ingredients for antiperspirant
The most effective, least irritating aluminum
Namely, aluminum zirconium. Five dermatologists all told us this was the best type. "Newer antiperspirants which contain both aluminum and zirconium are most effective," said Dr. Pariser. And we found a 2015 study that backs this up and still rings true. Not only that, aluminum zirconium is "less irritating to the skin" than other forms like aluminum chloride and aluminum chlorohydrate, according to Dr. Whitney High, associate professor of dermatology at the University of Colorado.
A formula free of irritants
Underarms are delicate, especially if you shave regularly, so harsh irritants were a no-go. This includes hydrogen peroxide, which Dr. Adam Friedman, associate professor of dermatology at George Washington School of Medicine and Health Sciences, (sarcastically) told us is "great if you are looking to cause an irritant contact dermatitis." Simple alcohols like isopropyl alcohol can lead to similar issues, so we nixed them too. And to find an antiperspirant suitable for women with sensitive skin, we looked for products with no fragrance or perfume: These two words can mask a slew of potentially irritating chemicals.
Antimicrobial benefits
Remember how it's bacteria that cause body odor? Just in case any sweat should sneak past the aluminum zirconium, we wanted a bacteria-fighting ingredient in our arsenal. Triclosan, banned by the FDA in 2016, is no longer an option. That left us with C12-15 alkyl benzoate. "It's generally considered to be safe and provides emollient and antimicrobial benefits," said Dr. Audrey Kunin, dermatologist and founder of DERMAdoctor.The antiperspirants we tested
Ingredients for natural deodorant
Absolutely no aluminum
Since so many natural deodorants were developed in response to concerns about aluminum, we decided to avoid the ingredient altogether. This also meant weeding out potassium alum, a mineral form of aluminum used in some "natural" products, including Tom's of Maine and Crystal.
Devoid of harsh irritants
As with antiperspirants, we excluded products that contained simple alcohols, benzoyl peroxide, and fragrance/perfume. To be extra careful, we also weeded out products with propanediol and propylene glycol, which "are no longer being used regularly due to some data that they might be harmful," according to Ron Robinson.
Powerful odor-blockers
Our experts referred us repeatedly to three key odor-neutralizing ingredients. So we looked for deodorants that contained at least two of the following: coconut oil, baking soda, and zinc oxide.The natural deodorants we tested
Tested for smell, application, and residue
Subtle scents that last all day
Scent is subjective — so what were we looking for? Aromas that were subtle and fresh, not overpowering or cloying. We sought input from a dozen test users and struck out any products that were overwhelmingly unpopular. Of course, the way a product smells on your body is more important than how it smells in its packaging, so we also applied each product, let it set for two hours while we went about our day, and then came back for a second sniff test.
Smooth application
When it came to application, we felt a little like Goldilocks: we wanted a product that struck just the right balance between wet and gooey versus dry and crumbly. After applying each solid, gel, and cream, we took notes and gave preference to the products that glided on smoothly with a satiny finish.
No residue
We also created a residue test to see which formulas were more prone to rub off on our clothes rather than stick to our skin. After two hours of wear, we rubbed a swatch of dark t-shirt fabric across our underarms and nixed products that left the most vivid, chalky white streaks.
The Difference Between Antiperspirants and Deodorants
Sweating needs an antiperspirants
Aluminum forms a gelatinous plug that stops up your sweat glands, preventing more perspiration from seeping out. Without sweat, bacteria have nothing to dine on — hence, no body odor.
Even over-the-counter antiperspirants are regulated by the Food and Drug Administration (FDA). In its final monograph, the FDA states that products marketed as antiperspirants must reduce sweating by at least 20 percent in user tests that the FDA has verified (Section IIC, Comment 9).
Odor is neutralized by deodorants
A deodorant, in the strictest sense, will not contain aluminum or prevent perspiration. Instead, deodorants mask and neutralize the odors that bacteria emit. The masking part is fairly simple: synthetic fragrances and plant-based essential oils can be used to cover up smell. As for neutralizing, products can rely on everything from the modern-day antimicrobial C12-15 alkyl benzoate to good old baking soda. Many products are labeled antiperspirant and deodorant, in which case they're relying on a combination of both processes.
Some people fear that regularly applying aluminum to the underarms could cause it to accumulate in the bloodstream, leading to Alzheimer's disease and cancer. The National Cancer Institute and American Cancer Society have examined the issue and concluded that aluminum-based antiperspirants are safe. But many consumers still opt for aluminum-free deodorants — often marketed as "natural" deodorants.
Men's and women's products are the same
Ad campaigns make it easy to believe that the sweat coming out of a man is different than what comes out of a woman. But according to a study led by Sean Notley, Postdoctoral Research Fellow at the University of Ottawa, that's not the case."We found that sex could explain a maximum of about 5% of individual variations in sweating," Notley told us. "A more active female may need a stronger antiperspirant than a male who sits at a desk all day."
Notley's research had us wondering: do men and women really need different deodorants? Dr. David Pariser, Senior Physician at Pariser Dermatology, told us, "in terms of active ingredients, there's no difference between men's and women's products. The main difference is scent." Cosmetic chemist Ron Robinson, of BeautyStat.com, seconded the notion. "It's really about personal preference for scent and application style," he said.
So consider our top picks for the best women's antiperspirants and deodorants your starting point. We've narrowed a field of hundreds down to a handful of options. If you don't like one, try another — and don't rule out the possibility of going for a "men's" product.