While the mania for food photography may be quite recent, it has become more popular thanks to Instagram and other social media sites. Presenting food in an appealing style is key for food photographers, as the average person is constantly being inundated with images of food (many of which are low-quality images). But if you want to capture beautiful and mouth-watering food images, you'll definitely need a solid camera. Luckily, we've listed down some of the best dslr camera for food photography and best camera for food vlogging to help you take more technically skilled shots.
Factors to Consider When Choosing a dslr Camera for Food Photography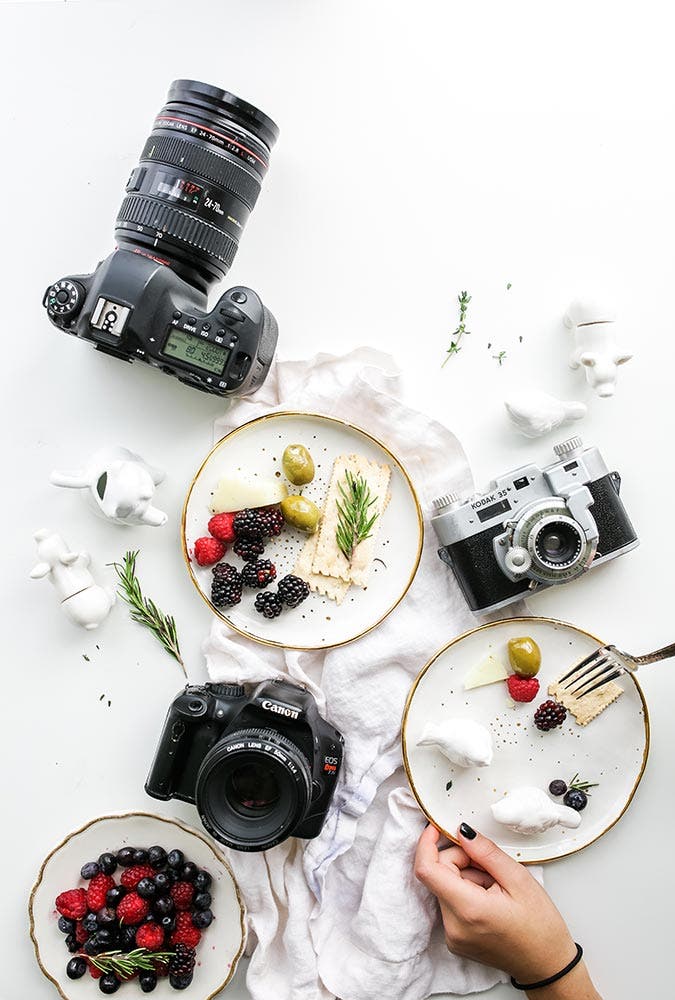 Whether you're a beginner or pro, knowing which camera and lens you should buy for food photography can be hard. Here are some factors that you should consider before getting your very own food camera:
Sensor size: This boils down to whether you're purchasing one with a cropped sensor or a full-frame model. Cameras with cropped sensors will let you capture great food photos, but the resulting images will look different from those taken with full-frame models. On the other hand, full-frame cameras have a bigger sensor size (24mm x 35mm) than those with cropped sensors.
File size: Most digital cameras today feature big file sizes. Cameras with large file sizes are ideal for those who want to write cookbooks or license their images. You should pick a model that can capture RAW files as well.
ISO level: ISO is an extremely crucial factor when shooting handheld. In this case, a camera that can handle relatively high noise is your best bet.
Number of focus points: You might not get a focus point to a necessary area if your camera has fewer focus points. That's why it's important to choose one with many focus points.
Best dslr Cameras for Food Photography
Sony a7III ($1998)
Buy Now
The first best camera for food photography on our list is a full-frame model with a standard ISO 100-51200 (ISO 50-204800 for still images) range. It also features 16-bit image signal processing for smoother, more natural gradation and a 14-bit RAW output in silent or continuous shooting. The Sony a7III even has a 24.2-megapixel, back-illuminated CMOS sensor and the BIONZ X image processing engine for two times faster data readout.
This Sony camera lets you achieve greater focus, as well, with its autofocus features. It has 693 phase-detection AF points that cover around 93% of the image area. The a7III enhances focus using 425 contrast-detection AF points. Additionally, professional food photographers will appreciate the fact that there are individual AF points in every inch of the camera's screen.
Key Specifications:
24.2 MP Full-Frame CMOS Sensor
BIONZ X Image Processor
24.2 MP Photos / UHD 4K Video at 30p
ISO 100-51200 (ISO 50-204800) Range
Continuous Shooting Rate of up to 10fps in RAW format
3.0" 922k-Dot Tilting Touchscreen LCD
Nikon D810 ()
Buy Now
Deemed as a versatile camera for versatile shooters, the D810 boasts a 36.3-megapixel FX-format sensor without a no-pass optical filter. This feature lets it resolve remarkable details, making it suitable for macro and wedding cake photography. The sensor also achieves perfect detail retention alongside Nikon's EXPEED 4 image processing engine. The EXPEED 4 engine offers you low noise throughout an ISO 64-12800 range and 25% faster frame rates.
If you want to capture more detailed food images, the camera lets you shoot in full resolution or any of its crop modes at multiple frame rates. These frame rates range from 5fps to 7fps in DX-crop mode. The D810 features an Advanced Multi-CAM 3500FX AF sensor as well. It has 51 focus points and 15 cross-type sensors for sharper focus on your subject.
Key Specifications:
36.3 MP Full-Frame CMOS Sensor
EXPEED 4 Image Processing Engine
36.3 MP Images / Full HD 1080p Video up to 60fps
ISO 64-12800 (ISO 32-51200) Range
Continuous Shooting Rate of up to 5fps
3.2" 1,229k-Dot LCD Monitor
best camera for food vlogging
Canon EOS 5D Mark IV ($2499)
Buy Now
Photographers worldwide deem the EOS 5D Mark IV as one of the most common food cameras, and it's not hard to see why. This camera presents stunning image quality, performance, and versatility enhancements all in one package. It features a 30.4-megapixel full-frame sensor that gives you fine image quality. An enhanced 61-point AF system is also present for enhanced focus accuracy while you shoot.
The 5D Mark IV's full-frame sensor delivers incredibly high resolution, making the camera perfect for various uses. It even delivers high light sensitivity through an enhanced S/N ratio and noise processing algorithm. Additionally, this Canon camera is ideal for low-light photography as it offers an ISO 100-32000 range.
Key Specifications:
30.4 MP Full-Frame CMOS Sensor
DIGIC 6+ Image Processor
30.4 MP Images / DCI 4K Video at 30fps
ISO 100-32000 (ISO 50-102400) Range
Continuous Shooting Rate of up to 7fps
3.2" 1.62m-Dot Touchscreen LCD Monitor
Canon EOS 80D ($999)
Buy Now
Known as Canon's leading prosumer camera, the EOS 80D boasts a powerful 24.2-megapixel APS-C CMOS sensor that delivers improved camera performance. It also has a 1.6x crop factor to ensure that you won't have to use the super wide end of your lens as you shoot food photos. The camera even offers a field of view that's similar to an 80mm lens when you use a 50mm prime lens for food photography.
But the 80D's APS-C sensor and crop factor are just the tip of the iceberg when it comes to features. This Canon camera offers you a clear view and comprehensive image data through its Intelligent Viewfinder. The feature covers around 100% of the camera's image area. And to top it all off, the 80D also supports built-in Wi-Fi and Full HD 60p videos.
Key Specifications:
24.2 MP APS-C CMOS Sensor
DIGIC 6 Image Processor
24.2 MP Images / Full HD 1080p Video at 60fps
ISO 100-16000 (ISO 100-25600) Range
Continuous Shooting Rate of up to 7fps in RAW Format
3.0" 1.04m-Dot Vari-Angle Touchscreen
Sony a6300 ()
Buy Now
With the Sony a6300, autofocusing, imaging speed and performance have reached amazing new heights. The camera boasts the world's fastest autofocus and the most number of phase-detection AF points for greater focus. It densely positions 425 AF points throughout the image's full area, ensuring that your subject doesn't escape the camera's attention.
The a6300 also boasts an Exmor CMOS sensor and the BIONZ X image processing algorithm, just like the a7III. You can shoot high-quality images using a broad ISO range with both features. The camera's sensitivity levels can reach up to ISO 51200.
Key Specifications:
24.2 MP APS-C CMOS Sensor
BIONZ X Image Processor
24.2 MP Images / UHD 4k30 & 1080p120 Videos
ISO 100-25600 (ISO 100-51200) Range
Continuous Shooting Rate of up to 11fps in RAW Format
3.0" 921k-Dot Tilting LCD Monitor
Canon EOS 6D Mark II ($1399)
Buy Now
The EOS 6D Mark II offers stunning results with its 26.2-megapixel full-frame sensor. That's why it's an excellent choice for challenging low-light conditions and other photography niches. The camera even gives you greater focus through 45 cross-type AF points on its viewfinder.
For crisp and detailed food images in almost any lighting situation, the 6D Mark II has a broad ISO 100-40000 range. It also features the DIGIC 7 image processor, which helps produce high-quality images. The processor boosts camera operation as well.
Key Specifications:
26.2 MP Full-Frame CMOS Sensor
DIGIC 7 Image Processor
26.2 MP Images / Full HD Video at 60fps
ISO 100-40000 (ISO 50-102400) Range
Continuous Shooting Rate of up to 6.5fps
3" 1.04m-Dot Vari-Angle Touchscreen LCD
Canon EOS 5DS ($3499)
Buy Now
If you want to capture detailed food photos, the 5DS might just be the perfect camera for you. This Canon EOS camera delivers greater resolution and sharpness to help you capture more detailed images. It boasts a 50.6-megapixel full-frame sensor — the highest resolution in the EOS series. This results in realistic photos that are ideal for commercial printing, especially food photography.
The 5DS is also perfect for low-light shooting as it features a wide ISO range up to ISO 6400. It even offers an expanded ISO 50-12800 range. 61 AF points are featured in the camera, ensuring quick, accurate AF and sophisticated tracking performance.
Key Specifications:
50.6 MP Full-Frame CMOS Sensor
Dual DIGIC 6 Image Processors
50.6 MP Images / Full HD 1080p Video at 30fps
ISO 100-64000 (ISO 50-12800) Range
Continuous Shooting Rate of up to 5fps
3.2" 1.04m-Dot ClearView II LCD Monitor
Nikon D850 ($2996.95)
Buy Now
For good food close-ups, the D850's 45.7-megapixel full-frame sensor gives you enough cropping space for your photos. It even lets you play with your photos during editing, since you'll get plenty of space. The sensor achieves remarkable image quality, more efficient light gathering, quicker data readout, and truer color without possible moire.
Additionally, you can get lower noise, wider dynamic range, and subtle tones and textures with the D850's EXPEED 5 image processor. It helps deliver a 9fps continuous shooting rate as well. Lastly, the camera features ISO 64, the lowest base ISO that a DSLR can have. This can reach ISO 32 when it expands.
Key Specifications:
45.7 MP Full-Frame CMOS Sensor
EXPEED 5 Image Processor
45.7 MP Images / UHD 4K Video at 30fps
ISO 64-256000 (ISO 32-102400) Range
Continuous Shooting Rate of up to 7fps in RAW Format
3.2" 2.36m-Dot Tilting Touchscreen LCD
Canon PowerShot G9 X Mark II ($429)
Buy Now
The PowerShot G9 Mark II may be the last camera on this list, but many food photographers love it for the functionality that it offers. This stylish and lightweight compact camera features a large 20.1-megapixel sensor that produces photos with DSLR-like image quality. It also uses Canon's DIGIC 7 image processor to capture images with less noise in low light. These images include indoor shots and night streetscapes.
The G9 Mark II produces excellent food photos through its 31-point autofocus and contrast-detection system. You can even get quick, precise AF and release the camera's shutter by touching your subject on its LCD screen. Lastly, it boasts a 3x optical zoom that starts from a 28mm wide-angle end.
Key Specifications:
20.1 MP 1" CMOS Sensor
DIGIC 7 Image Processor
20.1 MP Stills / Full HD 1080p Video at 60fps
ISO 125-6400 (ISO 125-12800) Range
Continuous Shooting Rate of up to 8.2fps in RAW Format
3.0" 1.04m-Dot Touchscreen LCD Monitor
How to Buy a Digital Camera
1. Determine what you need
A mistake I see some digital camera buyers making is that they get sucked into buying cameras that are beyond what they really need. Some questions to ask yourself before you go shopping:
What do you need the camera for?
What type of photography will you be doing? (portraits, landscapes, macro, sports)
What conditions will you be largely photographing in? (indoors, outdoors, low light, bright light)
Will you largely stay in auto mode or do you want to learn the art of photography?
What experience level do you have with cameras?
What type of features are you looking for? (long zoom, image stabilization, large LCD display etc)
How important is size and portability to you?
What is your budget?
Ask yourself these questions before you go to buy a camera and you'll be in a much better position to make a decision when you see what's on offer. You'll probably find the sales person asks you this question anyway – so to have thought about it before hand will help them help you get the right digital camera.https://da360a56a245c0803c5da779cd8113ff.safeframe.googlesyndication.com/safeframe/1-0-37/html/container.html
2. Megapixels are NOT everything
One of the features that you'll see used to sell digital cameras is how many megapixels a digital camera has.
When I first got into digital photography, a few years back, the megapixel rating of cameras was actually quite important as most cameras were at the lower end of today's modern day range and even a 1 megapixel increase was significant.
These days, with most new cameras coming out with at least 5 megapixels, it isn't so crucial. In fact at the upper end of the range it can actually be a disadvantage to have images that are so large that they take up enormous amounts of space on memory cards and computers.
One of the main questions to ask when it comes to megapixels is 'Will you be printing shots'? If so – how large will you be going with them? If you're only printing images at a normal size then anything over 4 or so megapixels will be fine. If you're going to start blowing your images up you might want to pay the extra money for something at the upper end of what's on offer today.
3. Keep in mind the 'extras'
Keep in mind as you look at cameras that the price quoted may not be the final outlay that you need to make as there are a variety of other extras that you might want (or need) to fork out for including:
Camera Case
Memory Cards
Spare Batteries/Recharger
Lenses (if you are getting a DSLR)
Filters (and other lens attachments)
Tripods/Monopods
External Flashes
Reflectors
Some retailers will bundle such extras with cameras or will at least give a discount when buying more than one item at once. Keep in mind though that what they offer in bundles might not meet you needs. For example it's common to get a 16 or 32 megabyte memory card with cameras – however these days you'll probably want something at least of 500 megabytes (if not a gigabyte or two).
4. Do you already own any potentially compatible gear?
Talking of extra gear – one way to save yourself some cash is if you have accessories from previous digital cameras that are compatible with your new one.
For example memory cards, batteries, lenses (remember that many film camera lenses are actually compatible with digital SLRs from the same manufacturers), flashes, filters etc.
5. DSLR or Point and Shoot?
While digital SLRs are getting more affordable they are not for everyone. Keep in mind that they are usually bigger, heavier, harder to keep clean (if you're changing lenses) and can be more complicated to operate than point and shoot. Of course there are some upsides also.
If you're trying to make a decision between a point and shoot and DSLR you might want to read my previous posts titled Should you buy a DSLR or a Point and Shoot Digital Camera? and it's companion piece How to Choose a DSLR.
6. Optical Zooms are King
Not all 'zooms' are created equal.
When you're looking at different models of digital cameras you'll often hear their zooms talked about in two ways. Firstly there's the 'optical zoom' and then there's the 'digital zoom'.
I would highly recommend that you only take into consideration the 'optical zoom' when making a decision about which camera to buy. Digital zooms simply enlarge the pixels in your shot which does make your subject look bigger, but it also makes it look more pixelated and your picture 'noisier' (like when you go up close to your TV).
If you're looking for a zoom lens make sure it's an optical zoom (most modern cameras have them of at least 3x in length – ie they'll make your subject three times as big – with an increasing array of 'super zooms' coming onto the market at up to 12x Optical Zoom).
7. Read reviews
Before buying a digital camera take the time to do a little research. Don't JUST rely upon the advice of the helpful sales person (who may or may not know anything about cameras and who may or may not have sales incentives for the camera they are recommending).
Read some reviews in digital camera magazines or online to help you narrow down the field. There are some great websites around that give expert and user reviews on virtually every camera on the market – use this wonderful and free resource.
A little self promotion here – one such site is my Digital Photography Blog which is a site that collates the reviews of many sites from around the web. To use it best enter the camera's model name that you're looking for a review on in the search feature in the top right side bar. It'll give you a link to a central page that has information on the camera as well as links to any reviews published online on that camera from around the web.
8. Hands On Experience
Once you've narrowed down your search to a handful of cameras head into your local digital camera shop and ask to see and play with them. There's nothing like having the camera in your hands to work out whether it suits your needs.
When I shop for a camera I generally use the web to find reviews, then I head into a street in my city with 4 camera shops side by side and I go from shop to shop asking for recommendations and seeing the cameras live in the flash. In doing this I generally find the same camera or two are recommended in most shops and I get to see them demonstrated by different people (this gives a more well rounded demo). I also get to play with it and get a feel for which one I could see myself using.https://da360a56a245c0803c5da779cd8113ff.safeframe.googlesyndication.com/safeframe/1-0-37/html/container.html
9. Negotiate
After you've selected the right digital camera for you it's time to find the best price.
Once again, I generally start online (on a site like our store) and do some searches to find the most competitive prices on the models I'm interested in. With these in hand I'm in a good position to be able to negotiate in person with local stores and/or with online stores. I generally find that retail stores will negotiate on price and will often throw in freebies. Online stores are more difficult – most bigger ones don't give you the ability to negotiate but smaller ones often will if you email them.
Don't forget to ask for free or discounted bonuses including camera cases, memory cards, extra batteries, filters, free prints, cases etc. I even know of a couple of stores that offer camera lessons that you can ask to be included. Some stores will also consider giving you a trade in on older gear.
I generally do negotiating from home on the phone and only go into a store to pick up the camera after a price is agreed upon.