Good cooks know that an oven or stovetop isn't what makes a meal or baked dessert delicious, but having a quality range can make preparing meals easier. Uniform heating and responsive temperature controls allow for a headache-free cooking experience.
A dual fuel range, with a stovetop powered by gas and an oven powered by electricity, offers the best of both worlds for amateur home chefs and bakers.
Below, you'll find answers to your questions and discover the benefits of owning a dual fuel appliance. We also outline the features you're most likely to see in ranges on the market and discuss pricing for this type of appliance.
A dual fuel range is a premium appliance, so you can expect to pay between $2,000 and $8,000 and more for one. Also add the cost of installing an electrical outlet or gas line if this is required.
Generally, a larger range with more burners will cost more. Specialized features like double ovens or wireless connectivity also add to the cost.
Dual fuel ranges with double ovens cost at least $3,000.
Larger side-by-side oven units can cost $8,000 and up.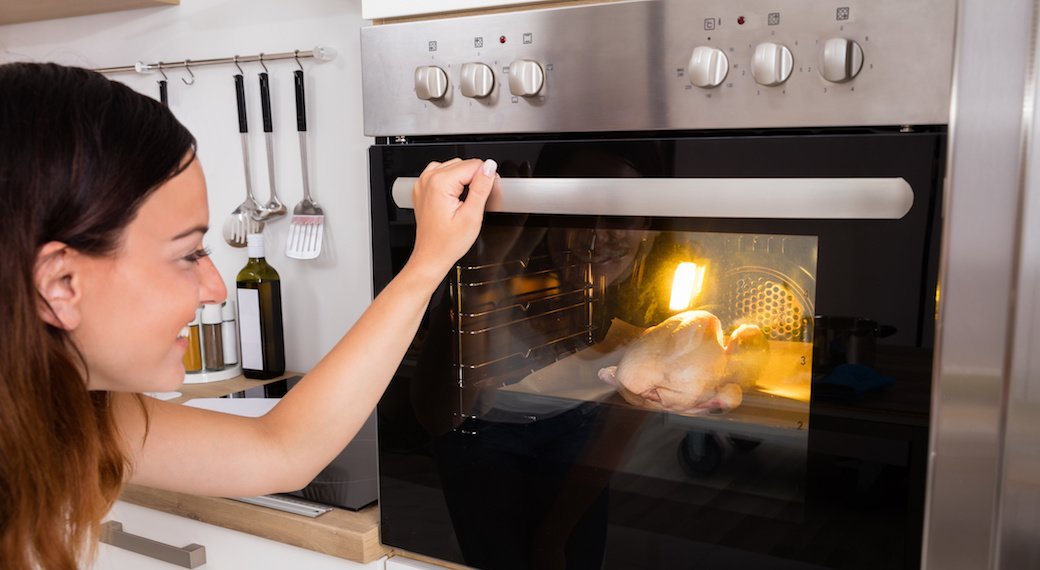 Our 6 Best Dual Fuel Range Models
Cafe C2S950P2MS1Best Double Drawer$3599 from Home Depot$3233 from Designer Appliances
Cafe appliances are GE's high-end answer to luxury competitors, and it has quickly become one of the most revered appliance brands on the market. Cafe C2S950P2MS1 shows you why, with a dual oven design, six individual burners capable of adapting to a wide range of uses, plus that gorgeous slide-in design that perfectly integrates into any kitchen. Other features include an integrated griddle, edge-to-edge cooktop design, and absolutely stunning visual style available in multiple finishes—including brushed gold control knobs. There's a reason this dual fuel range is at the top of our list.
---
Samsung NY58J9850WSBest Style$2698 from Home Depot$2964 from Designer Appliances
Samsung range entered the appliance market only recently. So how does it stack up against the more established competition?
To put it simply? Quite well. Samsung has quickly become a brand to beat when it comes to luxury appliances, and this slide-in dual fuel range is a great example of why. It doesn't just feature the high-tech features like WiFi connectivity and smart home control that Samsung is known for, it also backs them up with real cooking power. You'll love the dual power burners, true convection, and dual oven design that can cook with multiple temperature configurations.
---
GE Profile P2B940SEJSSBest Value$2299 from Home Depot$2063 from Designer Appliances
Another brand owned by GE, the Profile series is known for great mid-range and high-end models. This standalone unit balances luxury and affordability fairly well, boasting a dual purpose center burner that can be used in a traditional circle or oval configuration for large/long pans and skillets. It also boasts WiFi connectivity, an edge-to-edge cooktop, and True European Convection with Precise Air technology that gets you perfect cooking results without turning the pan.
With a max burner output of 20,000 BTU, you'll have everything you need to handle any cooking task.
---
Wolf DF304Best High-End$NaN from Designer Appliances
Wolf range is an established name when it comes to stove design. Their trademark red knobs making them an instantly recognizable product in any kitchen. This Wolf creation represents the highest of the high-end, with an eye-popping price tage to match. But if you're willing to pay the premium, you'll be rewarded with a world-class cooking experience from top to bottom. Burners are capable of heat output ranging from 300 BTU to 20,000 BTU, and the sealed black porcelan-coated burner pans make cleanup easy. Dual convection allows you to easily control heat and airflow in the oven, while a built-in temperature probe lets you leave nothing to chance. The control panel blends into the stainless steel finish when not in use, and automatic flame reignition improves temperature control and peace of mind. Overall, this is a stunningly designed dual fuel range that would be at home in the highest-end kitchens around the world.
---
Thermador PRD366WHUBest Power$8399 from Best Buy$8399 from Designer Appliances
Speaking of ultra-high-end, meet this stunner from Thermador range. Featuring a slide-in design, stunning stainless steel finish, and sturdy front-panel control knobs, you certainly can't miss this beauty. But does it have the cooking power to match? Absolutely. It features six Star Burners. Thermador range's patented star-shaped burners that increase heat distribution and even cooking power. It also boasts the world's lowest simmer capabilites, able to reduce burner heat to 100F. As for the oven, you'll enjoy full convection cooking, precise temperature control, and a wide range of bake and broil options for even the most specific cooking needs. Plus, six rack levels and a lareg oven door make placing and monitoring your food incredibly easy. Plus, it's all packed into a design that's made from the world's best materials and built to last.
---
Miele HR19342DFGBest Oven$9599 from Designer Appliances
Keeping the high-end theme going, meet the Miele HR19342DFG. This Miele range boasts everything you've come to expect from luxury ranges, including six sealed burners, a wide range of BTU output options, true convection, continuous grates, included temperature probe, TwinPower convection fans, 21 operating modes, MasterChef automatic cooking programs, and a clean touch stainless steel front to avoid smudges. The Miele HR19342DFG is an excellent choice.
---
Conclusion
Dual fuel ranges are a great way to get the best of both worlds when it comes to your range, and the models we've listed above are among the best of the best. Whether you choose one of these or pick another option not listed here, make sure you do your research and understand exactly what you're buying (and what you aren't.) And remember—no two kitchens are the same. What's right for you may not be right for someone else. Happy range shopping!