You have three choices when it comes to pressure washing your grimy outdoor surfaces: hire a professional, rent a unit, or buy one. Purchasing your own top-performing electric pressure washer can save you money down the road, especially if you'll use it more than once or twice a year. Gas pressure washers are another option, but for most homeowners, a top-rated electric power washer will perform just as well as an average gas model.
Why Electric over Gas*? Here are the PROS: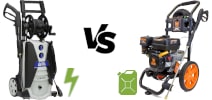 Quieter
Cheaper
Smaller and lighter
Easier storage
Can be used indoors (depends on cleaning surface)
* Like all pressure washers, they can be dangerous if not used correctly. We'll talk about safety tips that will prevent surface damage as well as injury to you, your family, pets and plants.
View the Best Electric Pressure Washer, Below.
1.Sun Joe SPX3000 Pressure Washer
CLICK HERE FOR PRICERead Customer Reviews Here »
The Sun Joe SPX3000 is built to deal with all kinds of cleaning jobs around your home and garden, whether it's part of the house itself or some outdoor furniture that needs to be sprayed down.
It can create and maintain a water pressure of up to 2030 PSI, enough to strip the dirt straight off most surfaces, and has two built-in detergent tanks that you can switch between on the fly: this lets you carry up to 1.8 liters of up to two different cleaning agents, adding some extra versatility to an already easy-to-adjust washing tool.
Five interchangeable spray nozzles offer five different levels of pressure, each being useful in a range of different situations, while the built-in Total Stop System prevents accidental sprays of water when you're trying to move the electric pressure washer around or make adjustments to it.
The 20-foot hose and 14-inch extensions wand included in the box help you reach further, while the 35-foot power cord gives you a much larger range of movement while using it.
Why We Like It
Extremely wide reach
Two different detergent tanks
Powerful 2030 PSI spray with adjustable pressure
Automatic stop system
Durable metal parts for longer life
PSI2030Dimensions15.6 x 13.5 x 33.9 inWeight31 pounds
Our Verdict
The SPX3000 is great for cleaning larger areas, especially big porches or house roofs that need a long-reaching, high-pressure spray to wash effectively.Editor Rating
2.Karcher K5 Premium Pressure Washer
CLICK HERE FOR PRICERead Customer Reviews Here »
The Karcher K5 is a 2000 PSI electric pressure washer that can deliver up to forty times the power of a standard garden hose, but still produces a thin spray that can be used to target specific locations and patches of dirt, letting you concentrate on each dirty area with powerful, precise blasts of water.
The durable, compact pump design makes it robust and easy to store away, so you won't need to worry about it breaking or taking up space if you haven't needed to use it for a while.
The electric motor has a built-in water cooling system to improve its performance and lifespan, and the upper part of its body uses an easy-to-access detergent tank with its own flow adjustment dial, giving over more control over how much detergent you apply to each surface and how fast you use up a full tank.
Why We Like It
25-foot high-pressure hose
Durable design and engine
Adjustable spray wand for faster pressure switching
Detergent tank with flow dial
Two different spray wands
PSI2000Dimensions34.3 x 13.1 x 16.8 inWeight32 pounds
Our Verdict
The robust design of the Karcher K5 makes it one of the best electric pressure washer models we've seen when it comes to operational lifespans and long-term performance.Editor Rating
3.Greenworks GPW1501 Pressure Washer
CLICK HERE FOR PRICERead Customer Reviews Here »
The Greenworks GPW1501 is a compact yet powerful electric pressure washer that's designed to deliver consistent bursts of soapy water, regardless of where you're using it or what material you're trying to clean.
Although 1500 PSI might seem low on paper, it forces the water out through a tiny nozzle at the end of a 20-foot-long, high-pressure hose, letting it completely obliterate dirt at closer distances.
The inline GFCI plug at the end of its 35-foot power cord means that you won't need to run it through the inside of your home, and you can safely plug it into outdoor outlets without needing to worry about permanent damage to either the appliance or the plug itself.
The design of the washer's main body keeps it stable on bumpy or uneven ground, and it won't suddenly stop working if it's turned sideways or falls onto its back – Greenworks have specifically stated that its performance is meant to stay the same.
Why We Like It
Controlled high-pressure spray
Excellent results as short ranges
Plugs into external power outlets
Stable, functions at any angle
Compact design that's easy to carry
PSI1500Dimensions11.4 x 17.1 x 9.4 inWeight16.45 pounds
Our Verdict
The PGW1501 is a good mix of small size and high power, delivering a solid spray of water directly into any dirty you're trying to get rid of.Editor Rating
4.Sun Joe SPX4000 Electric Pressure Washer
The Sun Joe SPX4000 is a powerful 2030 PSI electric pressure washer that's built for maneuverability first and foremost, using a pair of slick wheels to let you easily wheel it around on almost any surface, whether it's solid wood and stone or bare dirt and grass.
It can be switched to a lower 1450 PSI setting for simpler cleaning jobs, letting you preserve water and power while still getting rid of small patches of dirt, mud, and grease – switching between the two is easy and can be done in a matter of seconds, essentially making it two tools in one.
The 20-foot hose on this electric pressure washer and optional extension wand make it easy to reach dirt in difficult places. On top of this, there are also five different spray tips that allow different levels of pressure, essentially giving you ten different ways to tackle unwanted dirt depending on the situation.
Why We Like It
Large range of settings
Relatively lightweight
Long hose and wand for awkward spots
Five different spray tips for different pressure levels
Two PSI settings
PSI2030 (can be reduced)Dimensions22 x 18 x 36.6 inWeight27.8 pounds
Our Verdict
The sheer amount of versatility and adjustability this electric pressure washer provides makes it great for all kinds of situations, no matter what kind of dirt it's dealing with.Editor Rating
5.Ryobi RY141612 Pressure Washer
CLICK HERE FOR PRICERead Customer Reviews Here »
The RY141612 electric pressure washer is extremely compact, portable and lightweight, offering a much more mobile solutions to your dirt problems. The simple, semi-angular design makes it easy to store away in nearly any situation, whether it's in a cupboard at home or in a car when you're out on the road.
The built-in carrying handle means that you'll still have your other hand free while you're carrying it. At 1600 PSI, it packs a lot of power into a small frame, and you'll be able to blast dirt off most surfaces without needing to bring any extra tools or equipment.
Speaking of extra tools, this electric pressure washer comes with three distinct nozzles, which allow for different types of cleaning that can be switched between on the fly. Despite weighing only around 16 pounds, it's fairly durable and can take a lot of punishment before showing signs of damage.
Why We Like It
Extremely portable
Compact design
Powerful water spray
Three nozzles
Easy to store
PSI1600Dimensions12.5 x 10 x 9.5 inWeight16.75 pounds
Our Verdict
This electric pressure washer is great if you need something that you can easily carry with you, and it doesn't sacrifice much power despite being more compact than other models.Editor Rating
6.Schafter ST5 Pressure Washer
The Schafter ST5 is a simple, easy-to-use electric pressure washer that doesn't throw too many gimmicks at you, but still offers plenty of variety and versatility. Its 3000 PSI water spray is able to strip dirt straight off of almost any surface, especially at close range, and the automatic total stop system means that you won't accidentally spray half of your tank into the ground while you're trying to get it into position.
The 33-foot-long power cord can be plugged into external outlets, giving you a huge range of movement without needing to rely on a cable that's running inside the house.
This electric pressure washer comes with four nozzles in a variety of different degree settings, meaning that you can choose to have a concentrated spray for tough dirt, something wider to wash away big clumps or a huge 40-degree shower of water to get rid of light stains and thin layers of dry dirt.
Why We Like It
Powerful 20-foot-long hose
3000 PSI
Four different nozzles
Can wash almost any materials
Comes with various other attachments and tools
PSI3000Dimensions11.7 x 10.5 x 29.6 inWeight22 pounds
Our Verdict
The ST5 maybe one of the best electric pressure washer models we've seen when it comes to large-scale cleaning, especially with its widest nozzle attachment.Editor Rating
7.Ryobi RY141900 Pressure Washer
The RY141900 is a powerful, efficient electric pressure washer that's built to function consistently for all kinds of urban and suburban cleaning jobs, whether that's washing windows or hosing down an entire house.
The 13-amp motor has a long lifespan and provides plenty of power, while the high-pressure hose makes it easy to keep up a constant stream of water without running into pressure drops or performance issues on longer cleaning jobs.
This electric pressure washer's body also contains a removable detergent tank that can be easily filled up with soap, letting you do more than just wash the dirt away with plain old water and a hose winder that keeps everything neatly packed together when you aren't using it, making storage much easier.
Why We Like It
Fairly compact design
Powerful high-pressure hose
Reliable electric motor
Removable detergent tank that you can fill with the soap of your choosing
2000 PSI water output
PSI2000Dimensions16.5 x 19.2 x 34 inWeight32 pounds
Our Verdict
The simple design of the RY141900 makes it a great choice for anybody who needs a basic, reliable electric pressure washer around the house.Editor Rating
8.PAXCESS Electric Pressure Washer
This powerful electric pressure washer can generate up to 1250 PSI of pressure almost immediately, letting you clean up any kind of surface with a powerful directed blast of water and soap.
The built-in total stop system lets you instantly switch off the motor as soon as you're done washing a spot, so you won't need to worry about wasting water or losing control of the hose – you can turn it off at the press of a button, keeping all of the washers' important components safe from harm.
The hose reel mounted below the carrying handle makes it easier to store the pressure washer away without the hose being crushed under other objects, and keeps everything neatly tied up for faster carrying.
Although it only has a single nozzle, it can be adjusted to alter the pattern, width, and intensity of the spraying water, meaning that you don't need to waste time replacing it if you need a different type of spray to deal with another dirty spot.
Why We Like It
Total stop system
Adjustable nozzle
1800 watt motor
2150 PSI sprays
Simple, durable design
PSI1800Dimensions35.1 x 13.5 x 63 cmWeight10.3 kg
Our Verdict
The high pressure generated by this electric pressure washer makes it an excellent tool for quick bursts of intense cleaning, and its simple design makes it easy to take out and put away on a whim.Editor Rating
9.Stanley SHP2150 Electric Pressure Washer
The SHP2150 is a powerful 2150 PSI electric pressure washer that includes it's very own foam cannon, allowing it to double as a high-pressure foaming tool for difficult stains and dirty areas that can't be cleaned with water alone.
The powerful spray can clean a variety of surfaces, even things that can easily attract dirt through natural means, but the washer's design ensures that it's both durable and leak-proof to ensure that it'll withstand constant use.
It comes boxed with an extended wand and a 25-foot-long high-pressure hose, letting you easily reach far-away or awkwardly-placed walls and piece of furniture to hose them down without needing to stand at an uncomfortable angle, and the four different quick-connect nozzles let you quickly swap to a slightly different type of spray when you need it.
Why We Like It
High-pressure hose
Multiple easy-to-swap nozzles
Foam cannon
Garden hose connection adaptor
Extended wand for easier long-distance spraying
PSI2150Dimensions14.6 x 13.6 x 26.8 inWeight25.6 pounds
Our Verdict
The SHP2150 electric pressure washer offers a surprising amount of flexibility while also being reliable and durable enough to handle heavy use over long periods of time.Editor Rating
10.Briggs & Stratton 20680 Electric Pressure Washer
The Briggs & Stratton 20680 is incredibly durable and tough electric pressure washer, using a carefully-designed metal frame to keep it safe from physical damage and a plastic casing to protect it from weather-related damage. The flexible 20-foot hose allows it to spray water at a variety of different angles without needing to be balanced in unstable or awkward ways.
It's 900 PSI spray is able to clean most surfaces without slowly wearing out the hose or causing any damage to the nozzle – however, it's still a strong enough flow of water to strip away any dirt it hits, especially if you hold it close by, and the detachable turbo nozzle helps increase the speed of the water without pushing its pressure any higher. The built-in detergent tank lets you mix in soap and other cleaning agents without needing to permanently add it to the main water supply.
Why We Like It
Long, flexible hose
Stable water PSI to reduce wear and tear
Turbo nozzle
Integrated detergent tank
Durable frame for better protection
PSI1800Dimensions15.5 x 18.8 x 34.5 inWeight26.5 pounds
Our Verdict
This electric pressure washer is incredibly strong and safety-focused, boasting a long lifespan and high level of physical durability.