When comparing pressure washers, consumers tend to fixate on the PSI. But to determine a pressure washer's true cleaning capacity, you need to factor in both PSI and GPM. If you're unclear about what these two specs say about a unit's cleaning ability, this article is for you. Also check for the Best gpm for pressure washer below
An average garden hose allows water to flow at a rate of 5 – 10 GPM (gallon per minute) at a pressure of 30 – 50 PSI (pounds per square inch). A light duty residential pressure washer uses 1.6 GPM at a pressure of 1750 PSI. This gives the pressure washer between 5 – 18 times more cleaning power, using 68% less water.
Common uses for a residential pressure washer are cleaning your wooden deck, washing your car, cleaning your driveway/sidewalks, or cleaning your house siding/windows. Garden hoses do not generate the power necessary to clean effectively. A pressure washer makes cleaning a variety of areas around the house faster and easier and using a pressure washer is often the best method for cleaning hard to reach areas.
Why are PSI and GPM important?
To effectively clean a surface, a pressure washer needs to be able to do two things: separate dirt and grime from the washing surface, and rinse it away. A unit's ability to do the first action is partially measured by PSI; its ability to do the second action is measured by GPM.
What is PSI?
PSI stands for pounds per square inch. It refers to the intensity of the pressure with which the machine sprays. Think of PSI as the brute force of the water stream. When a pressure washer boasts a high PSI, you can count on it to lift the stickiest and most stubborn gunk. The PSI of effective commercial pressure washers ranges from about 2,000 to 3,000.
What is GPM?
GPM stands for gallons per minute. It refers to the flow rate or the volume of water that moves through the pressure washer's nozzle every minute. Think of GPM as rinsing power. The higher a pressure washer's GPM, the quicker you can wash a surface clean. The GPM of effective commercial pressure washers ranges from 2.2 to 10.
Which spec is more relevant?
Now that you understand what PSI and GPM refer to, you can appreciate why both these specs are important in determining a pressure washer's cleaning capacity. That said, very often contractors and professional cleaners pay particular attention to the GPM. They typically use powerful detergents in their pressure washers, which effectively dissolve dirt and grime in order to lift the debris from the surface more easily.
Moreover, it's important to know that when a machine has a high PSI (in particular, in excess of 3,500), the water pressure can damage certain surfaces. If you require extra stripping power for stubborn dirt and grime, generally it's better to use a detergent or to increase the water temperature.
Finally, note that the more pressure a machine delivers, the more physically demanding it is on the operator who has to offset the force of the water stream. Pressure washers with a high PSI can be more difficult and taxing to use.
What are cleaning units?
The cleaning unit (CU) is the figure obtained when you multiply the PSI by the GPM. This spec gives you a fairly good idea of the cleaning power of a specific pressure washer. However, this number doesn't tell the whole story. Two pressure washers can have the same CU without having the same cleaning chops.
For example, say one pressure washer has a PSI of 3,000 and a GPM of 2.0, and a second pressure washer has a PSI of 2,000 and a GPM of 3.0.
Both have a CU of 6,000, but the second pressure washer with the higher GPM will deliver the faster clean, as it can rinse away dirt more efficiently.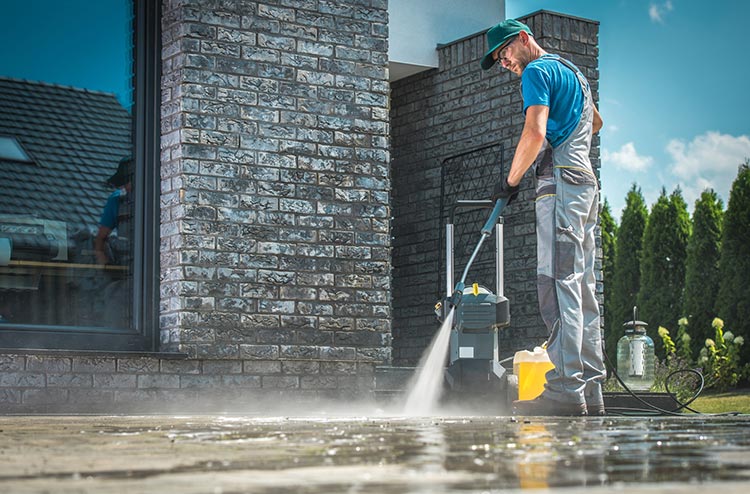 Best gpm for pressure washer
I'll get straight to the point for those looking for answers to specific situational pressure washer GPM requirements. Use the table below for quick reference if you're shopping for a pressure washer for a particular type of job.
Type of Job GPM Amount
| | |
| --- | --- |
| Washing a car or light cleaning | 1.5 |
| Cleaning sections of your home- home siding, porch or deck, etc. | 2 |
| Washing off the driveway or cleaning harder to wash parts of the house | 2.3 |
| Commercially cleaning wood or concrete | 2.5 |
| Commercially cleaning larger jobs or stripping paint from buildings or houses | 3 to 7 |
The Terminology
I briefly talked about PSI and GPM. Let me expand on each. Knowing what each term means will help you better understand their relationship with each other and with how they are used with a pressure washer. Keep these definitions in mind when looking at a washer's product specifications and feature set.
Gallons Per Minute (GPM)
When people are referring to a pressure washer's GPM, they're usually talking about the number of gallons of water that is used when the pressure washer is being operated. This is measured per minute.
The reason why a pressure washer's GPM is so important is because a large amount of water needs to be released from the hose in order to effect certain surfaces. This is because this large amount of water can easily grab the dirt and grime forming on the area you're cleaning.
Pounds Per Square Inch (PSI)
Similar to the importance of the GPM, pounds per square inch is another term you'll want to be aware of when purchasing a pressure washer. It indicates how much water pressure is actually being discharged from your pressure washer's hose. If the water pressure in combination with the amount of water you're using is high, then you should see the best cleaning results from the washer.
As water is powerfully released using high amounts of pressure, you'll notice the dirt disappear at a quick and intense pace.
Combining GPM And PSI
Keeping both the GPM and PSI in mind when purchasing a pressure washer is vital to finding one that can perform the most amount of cleaning on the surface. If you have a weak PSI, but strong GPM, or vice versa, you'll see unimpressive results. For a deeper, more effective clean, try to search for GPM and PSI amounts that go hand in hand.
Cleaning Units (CU)
The final term to keep in mind when you're finding the best GPM for your pressure washer purchase is cleaning units. In order to find out how effective a pressure washer cleans, you'll need a way to determine how well GPM and PSI are working together to provide a strong cleaning level. You can measure the power of both the PSI and GPM by multiplying them to get the CU amount.
This is normally used when deciding what kind of strength you want your pressure washer to have. For the best heavy duty pressure washer cleaning effect, you'll want to purchase a pressure washer with high cleaning units. If you are tackling smaller residential duties, you only need a pressure washer with lower cleaning units.
What Type of GPM Do I Use On Concrete Like My Driveway?
Your driveway and other concrete areas can build up various types of dirt, grime, and stains throughout the day. This makes a large majority of the dirt and stains located on your driveway extremely tough to remove. Many people find little to no luck removing these stubborn particles from the concrete areas using a basic residential pressure washer. 
This is why many people will purchase a pressure washer with a GPM of around 1.5 to 2 in order to tackle this giant amount of dirtiness on their concrete area. Many people see more success using these pressure washer types as they will be more effective on harder surfaces such as concrete.
Your driveway will look as good as new after you've used a washer with the appropriate amount of GPM levels. To add some extra clean, sparkle and shine, you can add a pressure washer-safe soap or detergent in the water. This can better help remove mildew or other unclean spots off your driveway.
What GPM Should I Use To Pressure Wash My House?
It's important when properly cleaning your home that you make sure you're using the appropriate amount of PSI and GPM levels. If these levels are too intense, it could result in potentially breaking a window or part of your door. 
More dirt than you may realize can collect alongside your house. This is why a lot of people turn to pressure washers to give a more quick and efficient cleaning experience. You can see your house looking spotless and free after using a pressure washer to clean your home.
Make sure you're not using the pressure washer on lead paint. These toxic chemicals can be extremely harmful if ingested by you or the other residents of your home.
If it's only dirt you're trying to remove from the side of your home, wash it with a power washer that has 2.3 GPM. Any pressure washers with a GPM lower than that won't be able to successfully remove the dirt from the home. Instead, you'll just see the dirt merely be moved around rather than completely removed.
If you'd like to increase your chances of removing tougher spots of mildew or dirt, you can add pressure-safe detergent to the water. This helps provide more of a deeper clean on the house. Don't just add regular dish soap to the pressure wash water. It's not safe for a pressure washer and won't provide any type of clean look to your home.
Staying Safe With A High-Pressure GPM
As I've mentioned earlier, pressure washers are very strong and contain a bit of a kick when using them. It can end up harming or injuring someone who has never used a pressure washer before. There are several other ways a pressure washer containing a high-pressure GPM can possibly harm someone. Here are a few tips to follow in order to remain safe while using a pressure washer.
Turn off electricity when using a pressure washer.
When operating a power washer, a large amount of water will be used. This is why you'll want to keep this away from different electrical outlets, power lines, and any other type of electric source nearby. If the electricity and water touch, the intense shocks could critically injure you.
Place both feet firmly on the ground when operating a pressure washer
Depending on the GPM and PSI levels in your pressure washer, there can be a great deal of pressure coming out of it.

To prepare for this, keep both feet on the ground and stand tall. Get ready for a large amount of pressure to come exploding out of your washer. Use both hands while operating.
Stand a safe distance from your target
When using the pressure washer, you'll want to prepare yourself for a lot of pressure. If too much pressure and water hit all at once, your target area could become damaged.

Stand far away and point the power washer at the section you want to clean. Once you get used to the flow and distance, you can keep inching forward more and more for a more targeted clean.
Pressure Washer Categorization
Now that you know what goes into finding the best pressure washer and GPM, we can dive into the different types of pressure washers that are available. They are all separated and categorized according to the amount of PSI and GPM they both contain.
Electric pressure washer
This pressure washer will contain a fairly low PSI, so it is considered the best pressure washer to use on smaller objects or lighter tasks. Here are a few of the items that can be best cleaned with an electric pressure washer with a lower PSI and GPM:
Furniture on your porch or patio
Car tires
Grilling equipment
Inside of your garage
This type of pressure washer is usually smaller than most. Many find that little to no maintenance or upkeep needs to be completed on these pressure washers. This is because they are known to last a long time and don't often break easily. They're quieter than most of the other pressure washers available. So, you won't have any worries about disturbing the neighbors.
Since this is an electric pressure washer, it requires an extension cord. Constantly plugging and unplugging this cord may make it more difficult for you to move about and wash various areas at a time. This is also why people will prefer to use this pressure washer primarily for smaller tasks.
It will take a lot longer to complete various larger tasks if you decide to use this pressure washer for anything other than residential cleaning.