Looking for the best hair clippers for fades, best professional hair clippers or best cordless clippers for fades 2020? the tapered fade has been popular in the barber and haircut community. It is clean, yet trendy and is compatible with just about any hair type, texture, or thickness. While the style is undoubtedly popular, it is nearly impossible to achieve without the right clippers. Unlike other haircuts and styles, creating a fade
Best hair clippers for fades
requires superb precision and clippers with blades that can deliver a cut that is smooth and seamless. Clippers should be easy to handle and control to avoid errors or injuries. Read on our ultimate for best professional hair clippers for fades.
The Wahl Professional 5 Star Cord/Cordless Magic Clip is the total package. Designed to deliver a professional quality cut at home, this hair clipper kit comes with everything you'd need to perform a barber quality cut at home. The kit includes blade guard, 8 attachment combs, cleaning brush, recharging transformer and oil. These clippers are recommended for skilled, professional barbers as opposed to beginners. The features are that of an elite barber tool. Whal Magic Clip features a sharp precision zero overlap 2161 blades which creates a supreme speed and smooth usage. The Whal Magic Clip makes blending, tapering and fading simple and professional with a useful taper lever. The cordless feature allows for a seamless cutting, fading, and trimming experience without tripping over a cumbersome cord. Each of the 8 attachments provides necessary versatility for the product making it compatible with various hair types, textures, and thickness. Wahl Professional is a trusted brand in the barber industry and their products deliver beyond customer expectations consistently. However, one of the downsides of this clipper is that the battery is not replaceable which means it has to be sent to the company to be replaced. This can be inconvenient but is minuscule in comparison to the benefits.
Pros

Easy to use taper lever
Full kit included
Professional quality
Cons
2
Conair Lithium Ion Cord/Cordless 20pc. Professional Clipper
A kit created for the barber or professional that wants an effective tool with everything included, the Conair Lithium Ion Cordless 20pc Professional Clipper kit fits the bill. The 20 piece kit comes complete with 10 guide combs, barber scissors and combs, barber cape, cleaning brush and oil, styling clip, storage case, and blade cover. These clippers are not designed for beginners as they are better suited for professional barbers with experience working with a high powered tool. The professional stainless steel technology creates sharp, neat, and precise results every single time. The Conair clippers run on lithium ion technology which provides quick charging, long lasting power that continues for over an hour for consistent cordless cutting. Custom taper settings make creating unique fades and tapers simple and smooth. Clippers can be used with or without the cord for more versatile options.
Pros
20 piece kit included
High powered motor
Cord or cordless
Cons
Smaller than other clippers
best professional hair clippers
3
OSTER Classic 76 Universal Motor Hair Clipper
A simple, yet powerful professional tool created for expert styles; the Oster Classic 76 Universal Motor Clipper packs a big power in a smaller package. The Oster Classic is a simplistic tool created for use at home. The unit comes with a lubricating oil, blade guard, detachable blade 000 and 1, clipper grease, and cleaning brush which is every piece needed to maintain the clippers and ensure that they are running well over the years. The star feature of these clippers is most definitely the mighty, hard working motor. The motor that provides the punching power is the heart of clippers and this professional clipper is well respected for its powerful motor and workhorse performance. The powerful single speed motor makes the clippers easy to use which aids in creating smooth, flawless fades and tapered cuts. The motor offers lends to a trimming and fading experience that is effortless and continuous. The smooth, precision blade can create smooth fades and sharp trims whether the hair is dry or wet. While the Oster Classic 76 is simplistic, effective, and high powered; the simplicity can be a downside for users that want a more complex tool.
Pros
Strong motor
Can use on wet and dry hair
Cons
4
Andis Professional Fade Master Clipper with Adjustable Fade Blade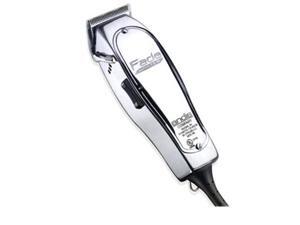 A single product without all of the bells and whistles, the Andis Professional Fade Master Hair Clipper is an all in one tool that delivers in every way possible. The lightweight, durable aluminum housing makes it a durable tool without being overly heavy. It is able to handle the more difficult or complex fade styles and trims. The powerhouse magnetic motor runs at 14,000 strokes per minutes which creates a sharp, precise fade while also running smoothly and quietly. The ceramic blades help to keep the tool cooler than other clippers for a more comfortable and safer experience. The clipper has a single lever on the side to control blade switching. This creates a versatile tool that can work with hair of different textures, lengths, and thickness. The lever can be easily switched using the thumb for quick changes and easy access. While the Andis Professional Fade Master clippers doesn't come with an entire kit, it is a powerful tool that can create the ideal fade in a single product.
Pros
Magnetic motor
Single lever for blade switching
Cons
5
Sminiker Professional Cordless Rechargeable Hair Clippers Set
Designed for luxury, created for precision; the Sminiker Professional Cordless Rechargeable Hair Clippers Set is all that you'd need to create a professional and pristine fade and trim. The Sminiker Professional Cordless Set comes complete with 4 comb attachments, stainless steel scissors, a cleaning brush, 2 rechargeable batteries, and an AC adapter. The heavy duty clippers create a smooth and steady speed for a precise fade. The Sminiker Professional Cordless Clippers has a R shaped rounded edge to help guide the tool during use and prevent accidental injuries. Creating the perfect fade starts with reliable clipper blades that can hold up in varying textures, thickness, and hair types. The dual titanium and ceramic blades of the Sminiker clippers work together for both efficient cutting and long term use. The high quality materials are rust resistance and the blades maintain a razor sharp edge to ensure a tool that will last through the years. The robust motor creates a steady yet powerful experience with low vibration and a quiet noise. The Sminiker Cordless Clippers are a great choice, however, the kit does not come with lubrication oil as it has to be purchased separately.
Pros
2 rechargeable batteries
Dual titanium and ceramic blades
Cons
Kit does not include lubrication oil
6
Wahl Professional Senior Clipper #8500
Professionals and experts need high-quality products that are going to deliver consistently. As a brand, Wahl is well respected in the barber industry because of years of delivering tools and products that are effective, efficient, and reliable. The Wahl Professional Senior Clipper #8500 is no different. The original clipper to utilize the electromagnetic motor technology, the V9000 motor runs smoothly, quietly, and is cooler throughout the cutting process. The motor streamlines the cutting process making the clipper ideal for intricate, complex, more involved haircuts that require more time. The Senior Clipper comes with all of the necessary accessories including 3 attachment combs, lubricating oil, cleaning brush, and a blade guard. The durable metal that houses the clipper is smooth and feels sturdy without being overly heavy during use. Using a Wahl Senior Clipper is using a tool that has a lengthy history of quality, effectiveness, and reliability. Although the kit comes with, essentially, all that is needed to get started, it is designed for professional use only and is not suitable for a beginner or novice barber.
Pros
Electromagnetic motor technology
Includes accessories
Cons
Designed for professionals
7
How to Fade Hair With Clippers At Home
Properly creating a fade will differ when it comes down to the specifics like hair types and textures. However, the basics are going to be consistent. These are the basic steps to creating a fade haircut and can be customized depending on the head of hair.
Spray your hair lightly with water.
Comb or brush the hair according to the grain
Starting with a number 2, or comparable type, guide comb and begin the haircut behind the ears moving the clippers upwards.
Using the next size up in guide combs, start working on the top of the head moving the clippers front to back.
Utilize your own personal skill set to polish the overall look. The above are the basics and a place to begin.
8
Mistakes to Avoid When Fading Hair With Clippers
Creating faded haircuts is a skill and it is a style that can easily be done incorrectly. What makes faded haircuts alluring and attractive is how smooth and neat they look. Avoid these mistakes to achieve the smooth and tight fade.
– Don't trim the sides too high. Fades are supposed to be like a gradient haircut. As the name suggests, the haircut should smoothly transition from one length to the next. When the sides are cut too high or too low, a noticeable
fine line is created at each length, creating more of a faux hawk as opposed to a tapered cut.
– Cut the hair with the thought of how it will grow out. As the fade grows out, it should still look neat until the next haircut. However, if it is not done right, the top of the hair will be drastically longer than the rest and appear more like an awkward undercut rather than a fade.