If you love to cook, want a kitchen that reflects your passion, and have big bucks to spend on a statement piece, consider a high-end range. They are more versatile than cheaper stoves and do more to increase the value of your home. It's impossible to pick one model that will fit well in every kitchen, but we've highlighted a few brands that most experts agree are worth a close look.
Our pick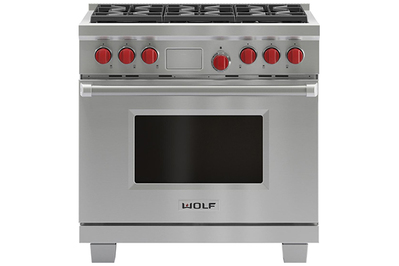 Wolf DF366 36-Inch Dual Fuel Range
Powerful, reliable, commercial style
This is the first brand that comes to mind for most people when they think about pro-style ranges. Its reputation and performance are excellent, and it's known for its versatile cooktop.Buy from AbtBuy from Appliances Connection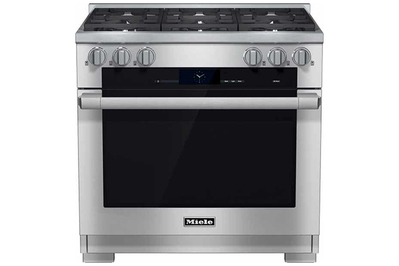 Miele HR1934DF M-Touch Series 36-Inch Dual Fuel Range
Contemporary look, lots of tech
A brushed stainless steel finish and black glass doors lend a modern, luxurious look. It's tech-heavy, with touchscreen oven controls, a steam option for baking bread, and preprogrammed settings for specific foods.Buy from Appliances Connection
May be out of stock
*At the time of publishing, the price was $9,000.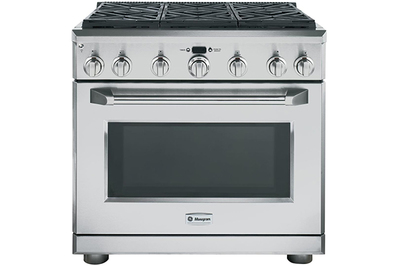 While it doesn't have the same pedigree as our other picks, it performs like other high-end ranges. It's particularly great for bakers, with a huge oven that holds very consistent temperatures.$9,720* from Best Buy$7,800 from Abt
*At the time of publishing, the price was $7,800.
If you want a commercial or pro-style range, you will probably gravitate toward Wolf. For a sleeker, more contemporary look, Miele is an excellent choice, particularly the M-Touch models. While its styling isn't as striking as that of the other brands, Monogram makes an impressive, high-performance range for a bit less money.
The research
Who should get this
High-end ranges are for people with big budgets who want a heavy-duty stove that makes a bold design statement.
While they won't automatically make you a better cook, they will usually have more cooking power, precision, and versatility than lower-cost ranges. That can make it easier to pull off some tasks like getting a great sear on meat or melting chocolate without much of a risk of scorching it.
These ranges are also more solidly constructed and made of heavier materials, and will improve the look of your kitchen—and often the resale value of your entire home—more than lower-cost ranges.
To make sure you're getting a range that works in your kitchen for your needs, you'll probably want to work with a designer or a contractor, or at least a sales consultant at a high-end showroom. You can use this guide as a jumping-off point for your conversations with those pros. We're confident that we're recommending some of the best ranges that money can buy, but other brands can be great, too. You can use the criteria in the How we picked section to evaluate any model you're interested in.
And, of course, plenty of other, more affordable cooking appliances are available, including slide-in ranges, cooktop and wall-oven combos, or just basic freestanding ranges.
How we picked
Brand reputation
We made sure that at least a few chefs, designers, and dealers vouched for the quality (and pedigree) of our picks. We're leaning on the word of the experts because there's not much objective data available about these ranges' performance, reliability, or customer service. And we don't have a facility where we can test these ranges ourselves. That said, our writer Sharon Franke has decades of first-hand experience testing ranges, including models from all of the brands that we recommend in this guide. She made sure to check out all of our current picks in person at showrooms around New York.
Even with our research and collective knowledge, we still don't really know which brands last the longest, how many years they'll actually last, or how much service they'll need. However, we're confident that most high-end ranges will last longer than cheaper ranges because they're made out of higher-quality, heavier-duty materials. As for warranties, some brands offer just one year of coverage, like any lower-cost range, while others offer three or more years of full coverage. But we didn't make this a big part of the selection process.
Power source
We focused on dual-fuel models. They combine the fast response and visual cues of a gas cooktop with the even, consistent heat of an electric oven. Most of the experts we spoke with consider this the ideal combination of power sources. We also found that many dual-fuel models have better (or at least flashier) specs than their gas-only counterparts, like stronger power burners or extra oven controls.
One downside to dual-fuel is that these ranges tend to cost thousands of dollars more than all-gas models. They have more parts and therefore may be more repair prone. You'll also need hookups for both gas and 220-volt electric. And unless you're a serious baker, you probably won't notice the difference between a gas and an electric oven.
Our picks are all available in all-gas versions (both natural gas and propane) if that's what you prefer. These are still great ranges and cost less than their dual-fuel models, but they're all missing some features compared with the dual-fuel versions—you may or may not miss them.
You can find some high-end ranges with induction cooktops (and electric ovens). Induction is an excellent technology for several reasons and seems to be gaining favor with high-end buyers. These ranges, made by only a handful of brands, are expensive and come only in sizes up to 36 inches. Since they're so uncommon, we know less about their performance and longevity than we do about the all-gas or dual-fuel models.
If you really want one, you can get a high-end range with a conventional, radiant-electric cooktop. But these aren't very common, probably because most people would prefer not to cook this way. If all-electric is your only option, we'd recommend a model with an induction cooktop instead. It's a much better cooking experience.
Aesthetics
Commercial-style ranges, sort of like what you'd see in a restaurant, are still popular. However, designs are now "moving towards a more refined, contemporary look," according to Richard Anuszkiewicz, the kitchen and bath director for Alt Breeding Schwarz Architects. Our picks fall into these two most-popular styles.
Stainless steel has been the dominant finish for appliances over the past 20 years, and it's still the most common finish for high-end ranges. But brighter colors are gaining popularity, along with some darker metallic finishes. Rustic European-style ranges are another somewhat common option.
Price
The models we recommend start around $4,500 for the 30-inch versions and $8,000 for the 36-inch versions, and the 48-inch versions can reach as high as $14,000.
Ranges below those thresholds don't quite have the same build quality and styling, or at least not the same pedigree. (Though in the future we'll take a closer look at brands like Bertazzoni or Thor, which are styled a lot like our picks but can cost significantly less.)
You could easily spend a lot more on a range, if you're after a certain style and pedigree. The La Cornue Grand Palais 180, for example, can cost almost as much as a Tesla Model S.
Size
Range width is one of the first things you'll decide on during a remodeling project, and most people want the biggest one that fits their space and budget. "The range dictates the layout of the kitchen," said kitchen designer Elle H-Millard.
Most brands sell their ranges in 30-, 36-, and 48-inch configurations. Fewer brands make other sizes, but you can find some as small as 24 inches or as wide as 66 inches.
Narrower ranges have fewer cooktop burners and less oven capacity than wider models. The width of 36 inches seems to be a happy medium for most people, typically offering six burners and an oven that's at least 5 cubic feet. Ranges 48 inches and larger usually have a second oven, and often a grill or griddle built into the cooktop.
Performance
To be clear, we did not test any of these ranges specifically for this guide. However, Sharon tested many ranges over her career at the Good Housekeeping Institute, including many models from the brands we recommend. We also referenced test results from Reviewed where we could, and we relied on word of mouth from experts around the industry. Where there were still gaps, we leaned on the spec sheets.
In a cooktop, versatility is the most important thing.
You'll want at least two power burners with an output of 18,000 Btu or greater for high-temperature cooking and speedy boil times. Each burner should be able to hold moderate temperatures to keep foods like stews or tomato sauces at a steady simmer (about 190 °F). And it's useful to have at least one burner capable of maintaining extremely low temps for tasks like melting butter or keeping a sauce like béarnaise warm—without scorching it.
Some high-end ranges have cooktops comprised entirely of identical, versatile burners. But most rely on specialized burners for the highest- and lowest-temperature tasks and tend to reach more extreme temperatures on either end. Either design can work fine—it's a matter of personal preference.
Wider ranges usually come in versions with a grill or griddle in place of some of the burners. Again, it's up to you if you want these. (Though if you're a neat freak, you should know that both of these tend to be extremely difficult to keep pristine.)
In high-end ranges, you'll always find ovens with a convection option. This means that you can turn on a fan that circulates heat around the cavity to promote a uniform temperature. Ranges will offer slightly different convection techniques, and some have loads of convection-mode sub-settings. But we didn't worry about all those minor variations when we made our picks.
As for oven size, most will easily hold an enormous turkey, though many are too narrow to fit a full-size sheet pan. If you're concerned about whether your favorite cookie sheet or roasting pan will fit, just bring it to the appliance showroom with you and see for yourself. This is especially important if you want a 48-inch range: They usually have two side-by-side ovens, in different sizes, and even the big one tends to be narrower and have less capacity than the single oven in a 36-inch or even 30-inch range. (As Steve Sheinkopf of Yale Appliance put it to us, the split-oven design sometimes means "you get half of nothing.") As for the smaller, second oven in the 48-inch ranges, sometimes it's actually a specialized appliance like a steam oven or a speed oven (aka convection microwave).
Finally, we'd highly recommend a range with a self-cleaning oven, particularly one that uses high-heat (aka pyrolytic) cleaning to turn residue into dust. While most dual-fuel ranges have a high-heat self-cleaning function, some gas ranges do not. There's some concern that high-heat cleaning cycles can ruin the electronics in a variety of cheaper ranges, but we haven't seen any compelling evidence that this happens in heavy-duty high-end ranges.
Versatile cooktop, commercial look: Wolf

Our pick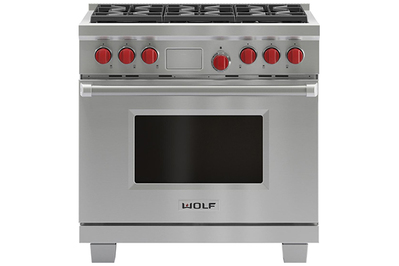 This is the first brand that comes to mind for most people when they think about pro-style ranges. Its reputation and performance are excellent, and it's known for its versatile cooktop.Buy from AbtBuy from Appliances Connection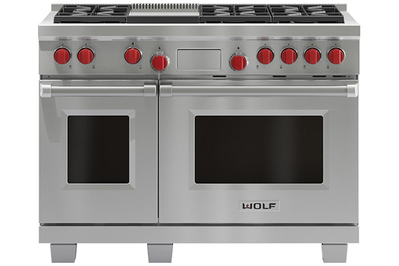 Wolf dual-fuel ranges are available in widths of 30, 36, 48, and 60 inches, with different configurations of burners, griddles, and grills. All-gas and induction models are available, too.Buy from AbtBuy from Appliances Connection
When you think of high-end ranges, you're likely to think of Wolf. Several dealers we spoke with said that customers often come in asking specifically for this brand. Wolf stands out as perhaps the most commercial-looking range meant for household use, as well as for its excellent reputation for durability. The dual-fuel models (including the 36-inch DF366) have versatile cooktops with some of the strongest power burners you'll find, as well as the ability to hold some of the lowest temperatures. We also like its straightforward, knob-based controls, including a simple display built into the oven dial.
The only finish is stainless steel, but you have some choice in the knob color. The red knobs are the most popular option—it's like a defining trait for Wolf—but they're available in black and stainless steel, as well.
While it's hard to accurately track customer service, reliability, and long-term dependability, we found that Wolf seems to be strong on all counts. Yale Appliance notes that Wolf was one of the 10 least-serviced brands in 2018. Wolf claims on its website that its ranges are designed to last "a minimum of 20 years under far heavier use than any home cook will ever subject them to." That's tough to verify, but at least Wolf is confident enough to put a number on it—most brands just avoid the topic. The Wolf warranty is also better than average, with a full two-year warranty on parts and labor and a limited five-year warranty on parts.
The cooktop is a particular highlight on Wolf ranges. Depending on the width and burner configuration, you can get a cooktop with either four or six sealed, dual-stacked burners. The power burner (some models have two) tops out at 20,000 Btu. It's not the absolute most powerful burner you can get, but we think it's more than enough for most people.

The other thing this Wolf cooktop has going for it is that you can reduce each of its six sealed burners to a very low output of just 300 Btu—lower than on any other contender we looked at. Testing the 30-inch version, which has the same cooktop tech as the other sizes, Reviewed recorded temperatures of 118 °F, which is insanely low for a gas-powered burner and ideal for melting chocolate without scorching.
The oven size depends on the width of the range, but Wolf tends to have plenty of space in comparison to many other pro-style models, even if they're not quite the largest. (Some Miele and Monogram models that we like have slightly bigger capacities). The oven (or primary oven, in multi-oven models) has dual-fan convection, one gliding rack, and two standard racks. The secondary ovens in larger models have single-fan convection. They're also self-cleaning.

The cooktop and the oven are controlled via knobs—no touchscreens or even buttons here. One unique feature is the small seven-segment display on the oven knob, which reads out the oven temperature (or preheating status). Another small electronic display pops out to set the clock, timer, probe, timed cooking, and delayed start.
Wolf dual-fuel ranges are available in 30-, 36-, 48-, and 60-inch widths. They also make all-gas models in those widths, with similar specs and features, though their power burners top out at just 15,000 Btu—not particularly strong. Wolf also makes 30- and 36-inch models with induction cooktops. Wolf ranges only come in a stainless steel finish and have red knobs by default, though a couple of other knob colors are available.
Flaws but not dealbreakers
At 5.4 cubic feet, the oven on the 36-inch model is one of the larger cavities found on a pro range of this width and shouldn't have any problem baking a big ol' holiday ham. However, while it will hold a large cookie sheet, it won't accommodate a full-size professional sheet pan such as a caterer might use.
If you're shopping for a high-end dual-fuel range, chances are you have a big enough budget that the price differences between options are somewhat negligible. That said, Wolf dual-fuel ranges are quite expensive. The standard six-burner 36-inch option starts close to $10,000, more than the comparable model from any of our other favorite brands.
Contemporary design, great tech: Miele

Our pick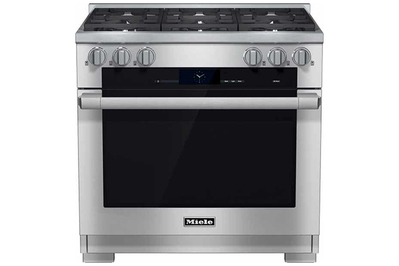 A brushed stainless steel finish and black glass doors lend a modern, luxurious look. It's tech-heavy, with touchscreen oven controls, a steam option for baking bread, and preprogrammed settings for specific foods.Buy from Appliances Connection
May be out of stock
*At the time of publishing, the price was $9,000.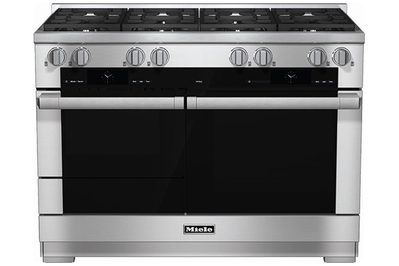 Miele M-Touch ranges come in widths of 30, 36, and 48 inches. Non-touchscreen models are also available in all-gas, dual-fuel, induction, and conventional-electric versions.$13,850* from Appliances ConnectionBuy from Abt
May be out of stock
*At the time of publishing, the price was $13,500.
Miele M-Touch dual-fuel ranges (including the 36-inch HR1934DF) appear sleeker and more contemporary than most high-end ranges, which tend to look like they belong either in a restaurant or a European farmhouse. Miele ranges also incorporate more technology than most, with touchscreens and specialized cooking modes (though they stop short of smartphone control or voice commands). Some models even include a steam function in the oven, which can be useful for bread bakers. Miele also has a strong reputation for long-term reliability and good customer service, and it's widely recognized as one of the premier appliance brands.

The cooktop on the Miele M-Touch is controlled by backlit knobs. But to operate the oven, there's an electronic touch panel. On the panel you'll find lots of options, including 100 settings for specific foods from baked goods to meats and fish. If programmed correctly, these settings can offer excellent results and you won't be stuck determining time and temperature. Having said that, you do have to be comfortable navigating a screen to avail yourself of them.
Miele is one of just two brands that we know of with a steam function in the oven (available on certain models). Varying with the settings, the "moisture plus" feature releases bursts of steam into the oven cavity. For a lot of cooks, this feature will prove entirely unnecessary, but if you're a baker you'll love it, especially if you make artisanal breads. Using the feature in a Miele wall oven at the Good Housekeeping Institute yielded very impressive results. Bread came out with a crackling, crisp, and evenly browned crust.
The cooktops on Miele ranges have, depending on the total number of burners, anywhere from three to six power burners with max output of 19,500 Btu, and the remainder of the burners are 12,500 Btu that go down to 695 Btu. While 695 Btu is higher than the Wolf's 300 Btu low-power output, Reviewed found that the Miele reached a similarly low temperature of 115 °F to 127 °F (compared with the Wolf's reading of 118 °F to 120 °F, which is a negligible difference). You can also buy versions of the Miele with a griddle or grill in place of two of the burners.
It's hard to find good data on long-term reliability, but the word from experts and owners is that this is a long-lasting brand. Miele representatives have also told us that (like Wolf) the company designs its products to last for about 20 years under normal use. But only time will tell if features like the touchscreen hold up. As far as short-term reliability, Yale Appliance found that Miele appliances had some of the lowest rates of services calls from their customers in 2018. Miele does come with only a one-year warranty, which isn't impressive but is normal for the category.
Miele dual-fuel ranges with the M-Touch touchscreen controls are available in 30-, 36-, and 48-inch widths. A 30-inch induction version of the M-Touch is also available. If you like the Miele look and pedigree but can do without the touchscreen, steam, or preprogrammed settings, Miele also makes a 30-inch dual-fuel model, a 30-inch conventional electric model, and 30- and 36-inch all-gas models. What you see is what you get with Miele ranges: No finish or knob variations are available.
Flaws but not dealbreakers
Although the 36-inch version has a 5.7-cubic-foot oven, which on paper is among the largest for a range of this size, it still can't manage a full sheet pan. That's something to consider if you entertain often and rely on caterers. It will hold a large cookie sheet, though.
While the control panel offers lots of functionality, problems with electronics are the number one reason for service calls on ranges. However, Miele manufactures its own panels and has an excellent reputation for reliability and quality control.
Excellent for bakers, lower price: Monogram

Our pick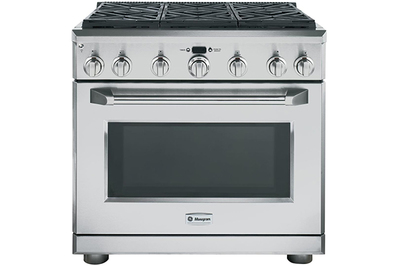 While it doesn't have the same pedigree as our other picks, it performs like other high-end ranges. It's particularly great for bakers, with a huge oven that holds very consistent temperatures.$9,720* from Best Buy$7,800 from Abt
*At the time of publishing, the price was $7,800.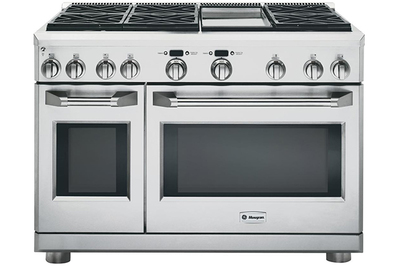 Monogram ZDP486NDPSS 48-Inch Dual Fuel Range
A 48-inch Monogram
Monogram ranges are also available in 30-, 36-, and 48-inch widths in dual-fuel and all-gas variants. The wider the range, the less Monogram costs relative to other brands.$10,800 from Abt$9,720 from Best Buy
Monogram's styling and pedigree are not quite on the same level as the other high-end ranges we've covered. However, they're more reasonably priced: For example, the 36-inch dual-fuel ZDP366NPSS costs at least $1,000 less than the others we recommend in this guide. Yet the features and performance are comparable. It's particularly great for baking, and we find the design to be very user-friendly overall. As Drimmers appliance manager Fran Asaro described it, Monogram is "good quality and a good value" but doesn't quite have the "prestige" of the top-tier range brands.
Monogram dual-fuel ranges do very well in baking tests. The Good Housekeeping Institute found that it was one of a few ranges that could bake three sheets of chocolate chip cookies to identical doneness, all at the same time (with the convection mode turned on). Yellow butter cakes were excellent with the convection setting turned on. Reviewed also reported that it earned great marks in their baking tests, especially on convection mode. They noted, "Cookies and cakes were evenly cooked, and we found no hot or cold spots." The secret to its success might be the design of the convection fan, which has its own heating elements and reverses directions.
Several cool, user-friendly features are built into the Monogram. For starters, it's one of the few high-end ranges that is certified compliant with the Americans with Disabilities Act. All of the cooking functions are controlled by knobs (apart from a push-button timer), which are more straightforward to use than a touchscreen. The printing on the knobs that shows the settings is large, distinct, and very easy to read. There's a panel that displays the oven and probe temperatures and timer setting, but it requires no navigation. The grate designs are clever as well. Each burner is straddled by its own relatively lightweight cast-iron grate, which makes them easier to remove than the longer, heavier, two-burner-sized grates on most other ranges (and they can fit in the sink). Each grate can also be flipped upside down to serve as a wok support. In the oven, the three racks all pull out smoothly on ball bearings and can remain in the oven during the self-cleaning cycle. Right below the edge of the cooktop are LED task lights that illuminate the burners and can be left on as night-lights.

The burners on Monogram cooktops are all identical. Some people prefer this design over mixed-output burners, because it offers the flexibility to use whichever burner is most convenient at any time. Each one offers a reasonably high maximum of 18,000 Btu and turns down low enough to melt butter without browning it.
Monogram dual-fuel ranges come in 30-, 36-, and 48-inch widths. Gas models are available in the same sizes, with very similar specs. No electric-cooktop models are available though.
Flaws but not dealbreakers
If one of your main reasons for buying a pro range is for the look or the prestige of the brand name, Monogram doesn't hit those marks like the others we cover in this guide.
The slick coating on the control knobs detracts from the aesthetic appeal. And we don't think Monogram's overall appearance is quite as impressive as the other ranges we've highlighted in this guide.
And as a statement piece, the Monogram label just doesn't have the same pedigree as Wolf, Miele, or others—probably because it used to be known as GE Monogram. The association with the mass-market GE brand did not help it appeal to label-conscious buyers. Steve Sheinkopf of Yale Appliance told us that his store "could never sell [Monogram] when we carried the line. The GE label does not resonate with the high-end buyer like a Wolf or Thermador." Even though they've removed GE from the brand name, it may take a while to build a fresh reputation.
Also, the cooktop can't quite crank out the heat like the other models we recommend. The Btu output is the same as a Thermador on paper, but Reviewed found that it didn't bring water to a boil very quickly or get super-hot for searing. The Good Housekeeping Institute also found that the boil times were slow.
The competition
We had planned to recommend the Thermador Pro Harmony series. These ranges look gorgeous, several experts vouched for their quality, and the knob-only controls are appealing as well. However, as we were getting ready to publish, Thermador launched an update to this lineup. The burners have been redesigned, and the ranges now incorporate touchscreen controls. We're leery of recommending anything so new, with such significant redesigns, in a category that's so expensive. We'll keep an eye on these, but for now we're holding off on a recommendation. The older models are still available as of January 2019, and we think they're worth considering if you can find them.
BlueStar specializes in all-gas models with super-strong power burners (reaching as high as 25,000 Btu), relatively few electronics (which may help make the range more reliable), and more than 750 finishes to pick from. The brand's followers are very loyal (or at least vocal), and we're sure they'll ask why we didn't make BlueStar one of our picks. That's because BlueStar's offerings don't have self-cleaning ovens, they're not available in dual-fuel options, and some models have open burners, which are harder to clean. Still, the specs are impressive and the reputation is strong.
Viking was one of the premier high-end–range brands for a while. But its reputation for having problems in quality caught up with them. (The company acknowledges this and claims to have worked on correcting it.) We also think that the knobs on the latest models look downright junky, and the cooktop looks less impressive than it used to as well. Because of those concerns, Viking is not one of our top recommendations.
Thermador makes a line of commercial-depth ranges called the Pro Grand, with a more powerful cooktop and, in the 48-inch model, a steam oven. However, these are deeper than typical residential ranges and will jut out several inches from standard countertops. For this reason, we don't think this line is one of the better choices for most people.
Bertazzoni makes good-looking ranges with solid specs that cost a little less than the brands we recommend in this guide. However, none of the experts we spoke to for this guide specifically called out Bertazzoni as one of the best brands. We'll try to look at this brand more closely next time around.
In addition to being less pro-looking than the others, Dacor ranges have relatively weak cooking specs. Although this is an old American brand that still manufactures in the US, it is now owned by Samsung and was not called out by any of the experts we contacted.
We had planned to recommend Jenn-Air pro-style ranges in this guide, as a slightly more affordable option with a great reputation for high performance. But Jenn-Air recently redesigned its ranges and made major changes to the burners, oven, and controls. We're leery of recommending brand-new models in such an expensive category, and we weren't even able to see them in person. The control panel has been replaced by knobs, which is a good thing. It gives the new collection a pro-style look and makes the range easier to operate. However, all the advanced options, like preprogrammed cooking settings, that the company was known for are now controlled by an app on a mobile device. We'll wait and see.
KitchenAid offers good cooking specs, seems pretty reliable, and comes in a few finishes—and costs less than many other brands. The model we looked at has a 20,000 Btu power burner and another that goes as low as 500 Btu for melting. In addition to stainless steel, it's available in red, cobalt blue, white, and black. Like Monogram, KitchenAid doesn't quite have the prestige of the top-tier high-end range brands, but this is another option to consider if you want to save some money on a pro-looking range.
Signature Kitchen Suite is a new brand from LG Electronics. While the model we looked at was among the priciest pro ranges, it does have excellent specs, including multiple 23,000 Btu power burners, a chromium griddle, and a large 6.1-cubic-foot oven with the same kind of steam-assist feature as Miele. But because it's such a new product, none of our independent sources could vouch for it. It connects to an app on a mobile device for remote control—let's say for preheating the oven from the car—if you're into that kind of thing. The 48-inch version is particularly decked out with high-end features: two induction burners on the cooktop, a sous vide chamber, and steam assist in the secondary oven.
If you're shopping for a pro-style range online, you've probably come across listings for Thor ranges. They look like Wolf or Thermador ranges but cost half as much. On paper, the cooktop is weaker than other pro-style ranges. But we haven't tried one out ourselves, and none of the experts we spoke to said anything about the brand, so we can't comment on why they're relatively inexpensive. We'll look into this brand more in the future.