Unless you're having one of your digitally connected friends print out this website and mail it to your rural Californian homestead, there is a pretty good chance that you're sitting behind a computer right now. Technology has become an integral part of our everyday lives, and learning how to repair our computers and perform basic maintenance tasks is almost as important as being able to change your own oil or cook your own food. Computer repairs are often viewed as being incredibly technical, but most tasks are actually quite simple.
All you need is the right tools for the job. Once you've got that, you can fire up YouTube and learn to do anything you need. The first question you need to ask is "what exactly are the right tools?" Today, we're going to answer that very question.
These computer technician tool kits have everything you need to take care of basic PC repair. We've gone through the bestselling kits online to find the packages that are suitable for both professional computer technicians and beginners. First, we'll take a look at what makes these kits great. Then, we'll help you find the one that's right for you.
What Does An Effective best it tool kit Have?
Buying a tool kit for your computer will require some consideration if you're gonna want to do something productive with it. From getting the job done, to protecting yourself from injuries, the right tool kit does not compromise. Not all tool kits are created equal, hence we're laying out the groundwork on what to look for among the wide selection available online.
Screwdriver
A good screwdriver can take you a long way in the world of computer repair and maintenance. Ensure that the screwdriver has a handle with a good and comfortable grip. It is also advantageous to choose a magnetic one as lining up screws in the confines of a tight or crowded computer case can be challenging. It also makes screw retrieval easier.
Furthermore, you will benefit from one that has removable/interchangeable bits, allowing for multiple applications to be handled by a single screwdriver. Also, screwdrivers are handy when building a computer, allowing you to short a switch pin connection while testing components outside the case.
Anti-static Wrist Strap
It's quite tricky working with electronics as you need to take extra care not to accidentally discharge static electricity on them. This can cause irreversible damage, which is why a preventive measure such as an anti-static wrist strap is necessary when working on a computer. This discharges any kind of static electricity buildup on your body to a safe ground point, away from your precious components.
Needle-nosed Pliers
These slender pliers are perfect for working with narrow and tight spaces within the computer's chassis. Pliers are effective tools when you plan to work with small jumpers for applications like BIOS/CMOS resets, which is almost impossible to do with fingers alone. You can also use it to pry out small connectors that have lodged into ports.
Tweezers
Much like pliers, tweezers act as an extension of your fingers when reaching in for tiny components, like CMOS batteries and screws. The claws help in providing a more stable grip, while the spring-loaded design provides a counteracting force to keep them open while not in action.
Flashlight
While you might have adequate lighting in your work area, the nooks and crannies of a computer case can still hinder your vision. A flashlight is a great way to illuminate the insides of your case, especially when plugging in connectors to motherboard pins. Plus points if it's a head-mounted unit.
Diagonal Pliers
Diagonal pliers, more commonly known as wire cutters, are important if you need to cut wires or strip insulating material from them. This can be useful if you want to convert fans by having them plug into the motherboard instead of the power supply, and vice versa.
best it tool kit
Rosewill 146-Piece Network/PC Service Tool Kit
Rosewill makes a large variety of computer hardware, and offers it at a price well below market. The trade-off is that you often have to install it yourself. There is no better way to do so than with their 146 Piece service kit.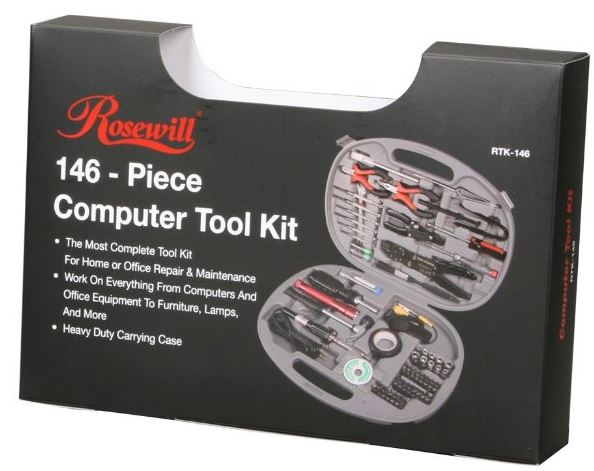 What's Included
If you want to be prepared for anything, this is the kit you get. It doesn't just have the tools you'd need for basic computer repairs, but also everything you need for basic electronics repair. The most important items are the screwdriver set, and Rosewill has this area totally covered. You've got the standard micro-Phillip's screwdrivers that allow you to get into all the tight places. These screw drivers have a rotating base, so you can hold them against the palm of your hand and still turn them easily.
The small screwdrivers will only help you with internally mounted components. When you're mounting PCI express cards or case-mounted hardware, you're going to want the bigger tools. For these jobs, you'll want to bust out the magnetic screwdriver set. This tool has a magnetic head that helps you on two fronts. First, it makes it easy to change the bits, and Rosewill has no shortage of bits. You've got 10 phillips bits, three torq bits, and eleven hex bits in both metric and imperial measurements. The other benefit of the magnetic set is that the screws will bond with the bits making it easy to lift them out of the case. In the event you do drop one, you'll have no problem picking one out with the long set of tweezers designed for exactly that purpose.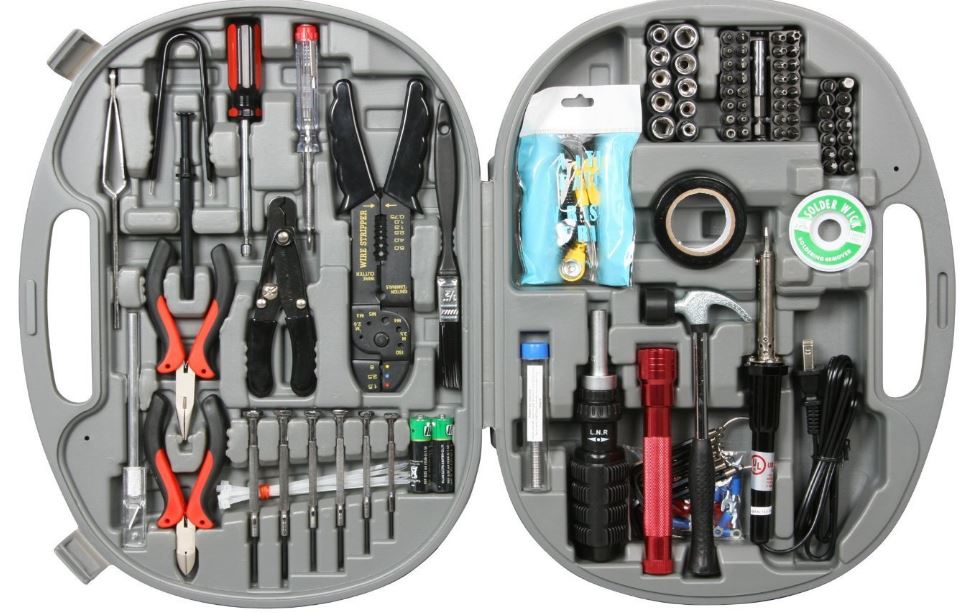 What else do you get in the package? You've got a AAA powered voltage detecting screwdriver, wire strippers, a retractable magnet, needlenose pliers, tape, solder, a solder sucker, a hammer, and a flashlight. With a grounding strap included, all that's missing from this set is the kitchen sink!
Quality
While these tools aren't the same quality your mechanic would use on your car, they're more than adequate for a PC technician. All of the tool handles, with the micro usb screwdrivers as the sole exception, are fully insulated. Even with a grounding strap, this is very important as it prevents electricity from flowing through something they aren't supposed to. Any time there is a shortcoming in one set of tools, for example the micro screw drivers having a head too undefined to turn large screws, Rosewill has compensated with another tool that is better equipped for the job. This means that you're able to get the complete kit, without suffering from disappointment.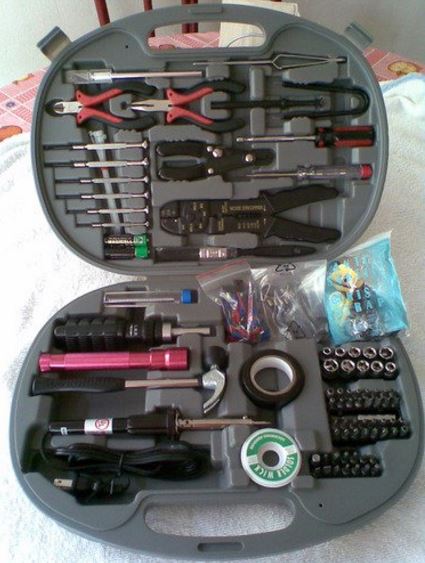 Value
For the price, you're not going to find a better deal on a tool kit. The question is if you actually need all the tools. If you're an actual technician using the tools professionally, the answer is a clear yes. But if you're just a hobbyist who just wants to change the occasional stick of ram, this kit is probably overkill and you're better spending your money elsewhere.
Belkin 55-Piece Demagnetized Computer Tool Kit
Although they tend to focus on external accessories, this 36-piece tool kit shows that Belkin is just as in touch with what's going on inside your computer as they are the outside. The kit is a little simpler than some, but we quickly found out that the essentials are often enough.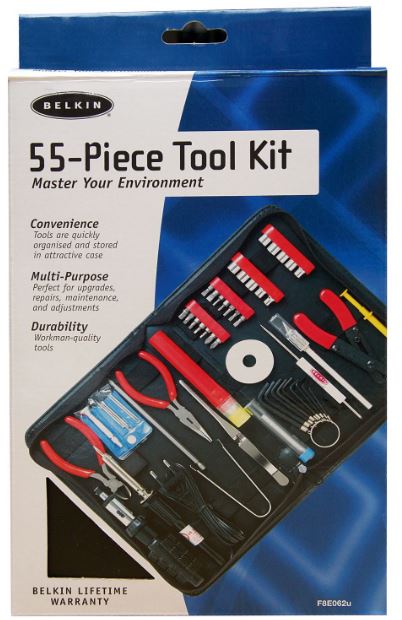 What's Included
The foundation of the Belkin 55-Piece Demagnetized Computer Tool Kit is the large screwdriver. It's accompanied with a full set of screwdrivers bits. The most commonly used ones are going to be your Phillips (star) head bits. They come with both large and small versions to remove or install almost any part you can get your hands on. A third bit is included as well. This 'bonus bit' is the same size as the large Phillips bit, but comes on a long-extended bar to help you reach those hard to get spots.
So what are all the other bits included? This set has many small and oddly sized torq bits that are often used by manufacturers as 'security bits'. They call them security bits because you can't easily find screw drivers to remove them. With this set, they're easy to pop out. This allows you to work on hard drives or other internal components that aren't supposed to be user serviceable.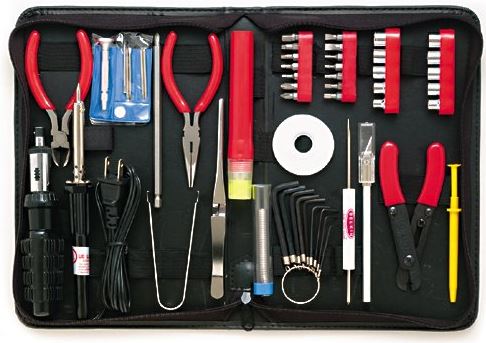 Aside from the unique screwdrivers, you've got a few other tools that are handy to have around. The double ended phillips / flathead screwdriver is great to swap from screwing to prying, and the long-ended tweezers allow you to pick up any of those little components that might happen to fall into tight spaces. If the twezers won't get it, you can use the air syringe to suck or blow debris or material out of the way. Once you've added in the grounding wrist strap and allen keys, you've got a pretty well developed kit that provides all the essentials.
The one bonus they've included is the plastic container that looks a lot like a pill case. This is actually our favorite feature. When you're removing tons of little screws and parts from your computer, it can be challenging to keep track of them all. This case allows you to do so. This way, you won't be scrounging around for spare parts, or trying to force the wrong screw into the wrong hole.
Quality
All of these tools are demagnetized. Considering how we commended the previous set for being magnetic, it might seem a bit odd that demagnetization would be considered an asset, but there is a good reason for it. If you're working with delicate components, magnetic interference can actually be a pretty major disadvantage. This can induce current in small components, causing damage. This is especially true when working with storage devices. If you're looking to work on these kinds of devices, you'll want to go for this set for sure.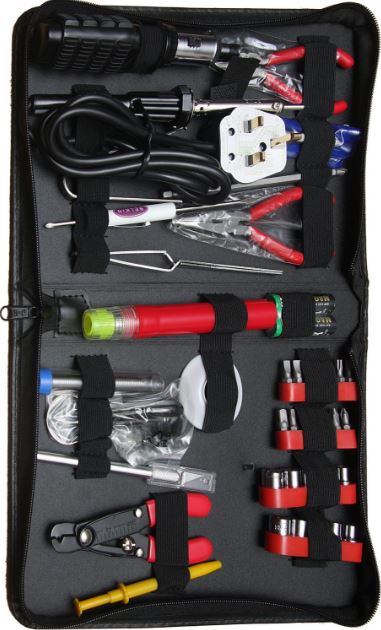 Value
If you're using the tool set to work exclusively with computers, you'll probably be thankful that you got the demagnetized set. They might be more of a pain for standard maintenance, but it's not actually easy to find these tools on their own. Picking up this set is going to save you a fair bit of money and time in the future.
Floureon 38-Piece Repair Tool Kit
While this isn't a commonly known manufacturer of computer components, they're very well known in the tool world. Depending on what you're looking for, their experience making high quality screwdrivers mean that their offering is significantly more useful than what some might offer.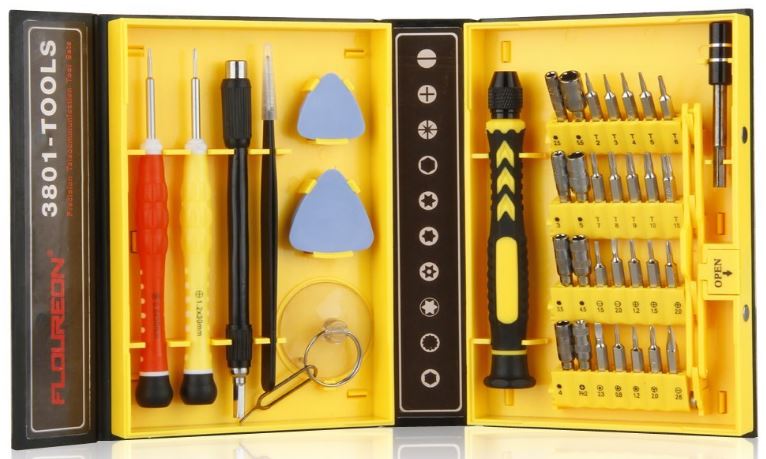 What's Included
In the Floureon 38-Piece Repair Tool Kit, they've included all of the tools necessary to repair your desktop, laptop, or smartphone. Their focus is mostly on screwdrivers, and they've got almost everything you could need in this department. When we first opened it, we were extremely impressed with how well laid out the tool kit was. What you'll use most is the screwdriver set on the right. You've got a changeable bit driver that includes a large extending arm for getting into those tight spaces. In terms of tips, you've got all of the smaller phillips, flat head, torq, and socket sets. Each of these bits are heavily magnetized. Even when you're removing those compact, hard to manage screws they'll stick nicely to the tip.
On the right side you've got some tools that you might not use quite as much, but will still be glad to have. You've got three micro-sized screwdrivers, one of which has a brush on the back for clearing out dust and debris. They've also included a few pics. These look a lot like guitar picks, but are much firmer. These are great for prying off screens. If you're trying to be a little gentler, you can use the suction cup to gently remove flat parts that you want to be careful with.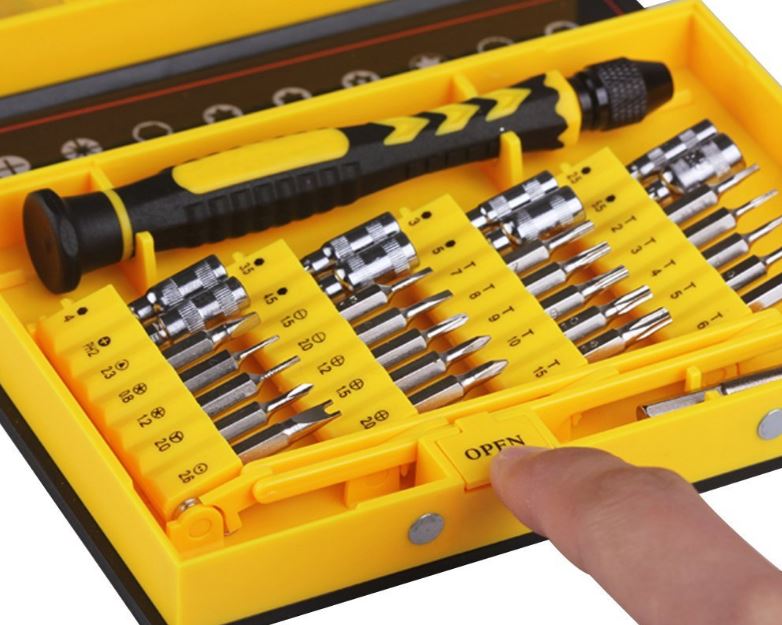 Quality
The quality of this tool set is noticeable, especially for the price. The first thing that we noticed is how well formed the tips of the screwdrivers are. Screws are held firmly in place. With cheaper sets, we've noticed that screws tend to wobble and won't sit firmly. But we didn't have that problem with this set.
In the even you do manage to damage a screwdriver, the one year warranty means that you're completely covered. This shows just how much Floureon stands behind their product, giving you confidence as a buyer.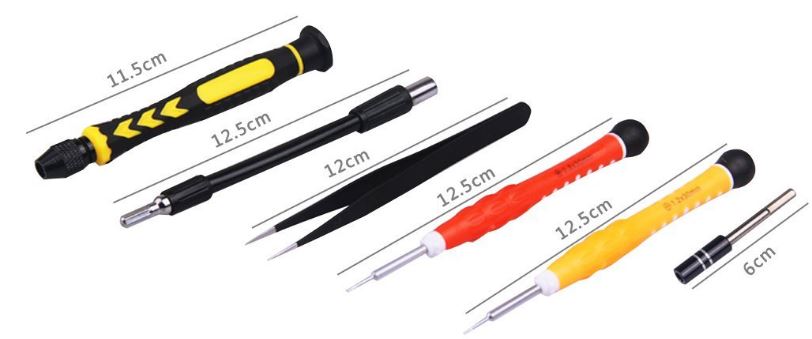 Value
If you're looking to work on mobile devices, especially laptops and phones, you'll get great value with this set. They've got more of the smaller sets of screwdriver heads, something that you'd often have to purchase extra. It might not be the best value for desktop computers, but laptops are more common these days anyway.