kalimba is an instrument with a history. It is hard to identify when the first Kalimba came into existence. And it seems to have been an ever-evolving instrument. It could be they first appeared sometime around 3000 years ago in West Africa. Somewhere near where Cameroon is today. Then it was made of plant material such as Bamboo. The first European documentation of the instrument came in 1570 when Portuguese explorers made mention of them. They spread to the Americas courtesy of that glorious period of human history, of which we should all be so proud, NOT! The slave trade. So what is the Best Kalimba On Amazon currently?
Best Kalimba On Amazon
1) Donner 17 Key Kalimba Thumb Piano Solid Finger Piano Mahogany Body Dkl-17
The Donner Kalimba is small and can be carried about with no stress. This portable thumb piano produces the international standard C tune when played. Compared to other brands of Kalimba, Donner is made from high-quality mahogany wood.
The tune produced by the Donner when played is almost same as that produced by the piano. The main component of its keys is carbon steel. Thus, Donner produces high-quality sound and resonance. You can play this instrument with ease by using your two thumbs.
Donner Kalimba is portable and weighs about 1.05 pounds. This instrument is perfectly tuned and can be played upon purchase. It comes with a portable bag that eases its storage and carrying about.Read User Reviews & Check Price On Amazon
2) Mid-East Thumb Piano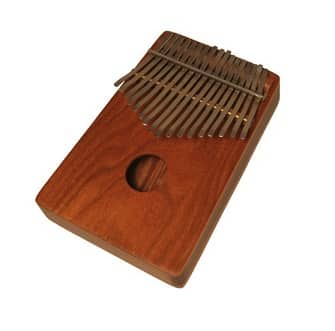 Although the origin of the Mid-East Kalimba can be traced to Pakistan, it is played across the globe. Mid-East is a thumb piano with a body made using Rosewood. This beautiful and large Kalimba has 17 keys with 2 vibrato openings on its back.
It is big and weighs about 1.05 pounds. It is designed using the WorldMusic musical style. This Kalimba produces amazing sounds that are pleasing to the ear. The 17 keys of this Kalimba are made using stainless steel. Thus, it is durable considering its body and key material. More so, it produces the international standard D tune.
This Kalimba is large in size and can provide you with soothing and thrilling sounds. Hence, it is beautiful and has multiple sound holes which result in excellent reverberation effect.Read User Reviews & Check Price On Amazon
3) Luvay Kalimba Thumb Piano Mbira, Finger Piano African Instrument
LUVAY is a Kalimba with 10 keys that you can tune with ease if you adjust the reed. Its body is made from Pinewood and its 10 keys from an aluminum bar. This beautiful red Kalimba is portable and comes in palm size with a weight of about 0.16 ounces.
You can get started in playing this instrument with ease as it is easy to learn and play. Merely touching your thumb anywhere on the LUVAY produces nice reverberating sounds. The truth is; adjusting the LUVAY Kalimba is easy using the tuning hammer or right app.
More so, with this brand of Kalimba, you can make beautiful and wonderful music. It produces the international C tune just like any other piano.Read User Reviews & Check Price On Amazon
4) Mugig Kalimba 17 keys thumb piano Mbira Sanza Mahogany
Mugig Kalimba is a portable thumb piano made using Mahogany as its raw material. The metal lines of the Mugig is designed using ore metal. Thus, this brings a huge improvement in the touch feeling you get when you play this instrument. More so, Mugig Kalimba produces a clean, clear, and peaceful sound.
This instrument is lightweight and considered being smart size. Hence, you can carry it to parties and as many journeys as possible with ease. This product comes with a learning manual as well as a songbook. Thus, it is possible for you to learn how to play the Kalimba with ease.
The body of the Mugig Kalimba is made of Mahogany while its tines are made with ore metals. Hence, it is durable and provides longer sustain as well as great sound and touch feeling.
This amazing thumb piano has metal keys that are fixed on a mahogany box. Thus, produces amazing sound from the box which acts as its resonating chamber. If you want your children to cultivate and learn musical talent, Mugig Kalimba is the instrument to learn.Read User Reviews & Check Price On Amazon
5) GECKO Kalimba Mbira Sanza 17 Keys Thumb Piano with Kalimba Case and Musical Notation (Solid Mahogany Wood)
The Gecko Kalimba is unique both in design and style. This Kalimba has a resonance box made using solid mahogany and keys from ore metal. Hence, you are sure to get the better sound you desire when you play this Kalimba.
It is handmade using the best of mahogany for its body and ore steel bars for its 17 keys. Thus, you are sure of getting a clear sound and touch. Gecko Kalimba comes with a unique casing that helps to prevent it from damages. Hence, you can travel with this Kalimba in utmost convenience.
This Kalimba is best suited for recording and performance. You can use it for your family and all other outdoor occasions. It comes with a professional study and learning guide. This Kalimba will introduce you into the details about the use and routines of the Kalimba. It weighs about 2.07 pounds and has security against moisture, scratches and many others.Read User Reviews & Check Price On Amazon
6) Andoer 10 Keys Birch Finger Thumb Piano Mbira
The Andoer Kalimba is much like a thumb piano that when played produces amazing sounds. Sounds that you cannot easily differentiate from that produced by a piano. Andoer like other brands of Kalimba is made from Birch and has a smooth surface.
This 10 key Kalimba whose keys are made using steel is well and nicely polished. In fact, it is beautiful and delicate. You do not need much time to learn how to play this Kalimba. Hence, anyone who picks it up within the shortest time possible can play and produce amazing sound.
The Andoer which is red in color weighs about 7 ounces. Hence, it is a small, portable, durable, and convenient instrument. Thus you can carry it about as well as store it without stress.Read User Reviews & Check Price On Amazon
7) ADM Thumb Piano 17 Keys Kalimba Mbira
The ADM Kalimba is a thumb piano and a folk musical instrument that is easy-to-learn. It is portable with a 17 key round hole. In fact, the body is made from African Mahogany wood making it a durable instrument. More so, its key materials are made from stainless steel.
You can learn how to play the ADM with ease. In fact, you can create fantastic sound playing this instrument.
The ADM Kalimba is unique because you can adjust its string to produce the sound you want. Thus, it has a tuner. Hence, you can tune for better sound using a hammer.
This product is handy, strong, subtle, and smooth. As such, it is a great musical instrument to play during travels or parties.
This ADM Kalimba has 17 keys made from iron ores. More so, its spring can be adjusted to deliver the sound you want.Read User Reviews & Check Price On Amazon
8) X8 Drums X8-CT-KLB Coconut Kalimba Thumb
The X8 Drums & Percussion Kalimba is nothing short of a beauty to behold. It is designed using a coconut shell and wooden faceplate. This beautiful instrument is a 7 key Kalimba hand-carved with a gecko design.
You can tune this Kalimba depending on the type of sound you want it to produce. This is possible when you adjust its tension screws. It weighs about 1 pounds and its faceplate is a mahogany wood designed with gecko carvings.
This instrument made from coconut shell has an outstanding resonance and vibration effect. Its 7 keys are made using ore metal. Hence, the X8 Drums & Percussion is a full package of fun for its children and adult players. Read User Reviews & Check Price On Amazon
9) M Y Fly Young Finger Piano Kalimba Mbira Likembe Sanza Thumb Piano 10 Keys Light Yellow
This is a thumb piano suitable as an accompaniment instrument. The M Y Fly Young Kalimba has 10 keys designed using an aluminum bar as well as an aluminum rod.
Its body is made from wood. Thus, it has a very smooth surface with nice polishing which makes it beautiful to behold. More so, it is delicate in details with Meideal inscribed at its bottom. The M Y Fly Young weighs about 7.2 ounces and is considered small considering its size.
Hence, you can carry and store it with little or no stress. It produces a beautiful and well-soothing sound that will take you to a place of unending comfort with ease. A little push down of the keys will result in resonating vibration on its wooden body.Read User Reviews & Check Price On Amazon
10) Ammoon Kalimba Mbira Thumb Piano Sanza 17 keys Solid Wood Finger Piano
The Ammoon brand of Kalimba is a professional music instrument with delicate workmanship. This Kalimba is of high-quality created using compact African piano wood. It is designed with triple sound holes which enables it to produce spotless and rich sound. With its two sound holes at the back, you can make creative sounds.
More so, the body comprises bright and clear timbre which makes it a beauty to behold. The Ammoon Kalimba is a 17 key instrument with adjustable carbon steel tines. Hence, you can make sounds that can be sustained for a long time producing calm feelings.
This Kalimba is designed to produce the international standard C tune. More so, it is suitable for both religions and non-religious gatherings. The truth is; if you want a portable and palm size Kalimba, get the Ammoon.
It weighs about 1.12 pounds. Hence, you can carry the Ammoon about with many conveniences.Read User Reviews & Check Price On Amazon
11) Gecko Kalimba 17 Key Portable Thumb Piano Mmbira/Marimba Sansa
Gecko Kalimba has its board designed using mahogany with its tines made from ore metal. This instrument is well-tuned and can be played immediately after purchase. When played, it produces the international standard C tone.
The Gecko Kalimba is durable and uses double screw keys. These double screws make it a strong and stable Kalimba when compared to other models. More so, Gecko brand of Kalimba has a solid body made of mahogany wood. Hence, its resonance is much more efficient than other Kalimba.
The truth is; this Kalimba has a warm timbre. Thus, it produces peaceful and long-lasting sound. In fact, these designs make it possible for its notes to reverberate more than other Kalimba.
The body of the Gecko Kalimba is handmade. When played, it produces a soothing and comforting harp-like sound. It is lightweight and easy to learn and play. This unique instrument is a 17 key Kalimba.Read User Reviews & Check Price On Amazon