If you're here, you're probably searching for the best pressure washer for your home cleaning needs. Pressure washers, also known as power washers or pressure cleaners, are not for casual cleaning. These high-powered machines are perfect for removing stubborn grime from outdoor surfaces like cars, driveways, decks, patio furniture, siding, and much more.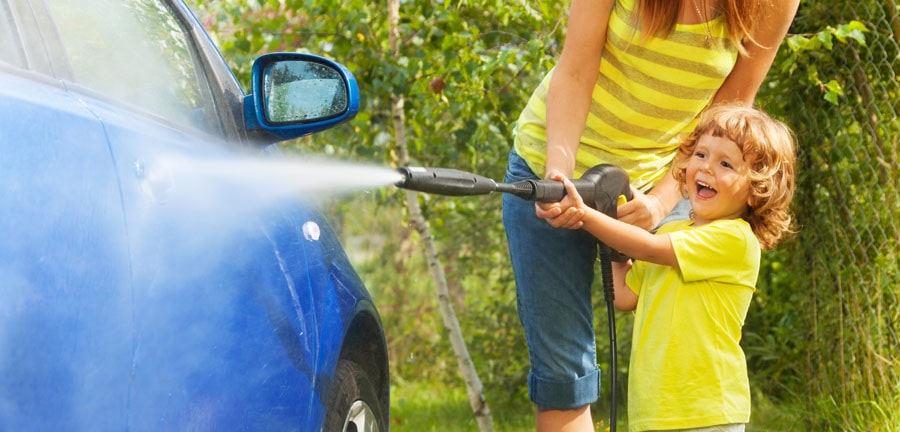 You have two main types of pressure washers to choose from: electric and gas. Depending on your individual needs, each has its advantages and disadvantages. In general, an electric pressure washer is all most homeowners will need. If you have a lot of surface area to clean beyond the reach of an electrical outlet, gas is the way to go.
In our handy buying guide, we'll cover how pressure washers work while comparing some of the top-performing products on the market. We researched several sources to gather current information.
A common question people have is "What is the best cheap pressure washer?"
Are you wondering the same thing?
Here we will take a look at the best cheap electric and gas pressure washers. You will find out not only the most affordable power washers but also the one that will be cheapest to you long term. "Cheap" means good value to us, and good value means reliable and effective at cleaning. Take a look:
Cheap Electric Pressure Washer For Sale
Best Value: AR Blue Clean AR383
Our top pick for the best value electric pressure cleaner is the AR Blue Clean AR383. It is #1 in our best pressure washer ranking and that is why it is the cheapest longterm.
It costs around $150 and comes 1900 PSI and 1.5 GPM. It is a medium-duty perfect for around the home on weekends. It comes with a hose reel, soap system, and everything else you'd expect.
People love it on Amazon and, in fact, it has the most reviews of any pressure washer. You can rest easy knowing the when you buy this product you not only get a great product but great customer service from the AR North America team.
Least Money: GreenWorks GW1501
If you are really focused on getting the cheapest electric pressure cleaner then this one by Greenworks is the winner. It only costs around $70 and offers 1500 PSI and 1.1 GPM.
With that pressure and flow this is a very light-duty machine. In terms of cleaning power it is only about 5 times a regular garden hose. If you have a big driveway and are looking to clean it with this it will take a few extra hours. However, it is perfect for washing your car.
Cheap Gas Pressure Washer For Sale
Best Value: Simpson MegaShot
Our top pick for best value heavy-duty gas power washer is the Simpson MegaShot. It has a Honda engine and fits all the criteria for being reliable and efficient at pressure washing. For around the home it is a great purchase.
Simpson makes DeWalt power washers. Simpson also has a company culture that comes from making all their machines by hand. Even though they no longer do that, many of the employees treat each machine's quality check with that amount of detail.
You can rest easy knowing that not only is this pressure washer relatively cheap but it is also one of the highest rated with a 4.4 / 5 star rating from 419 customers.
Least Money: Generac 6923
The cheapest pressure washer is by Generac and comes in just under $300. It is 2700 PSI and 2.3 GPM making it a heavy-duty power washer great for driveways.
If you are thinking about getting an electric pressure washer because they are less money… But you need to clean your driveway then this is a better option. It cost about the same as some of the more expensive electric ones but you get double cleaning power.
You can rest easy knowing that 58% of people rate this 5 / 5 stars which goes to show the expertise of Generac in making reliable gas engines pays off.