A flatbed microwave doesn't have a turntable. Manufacturers of this type of microwave – including Panasonic – claim that this means the effective capacity is increased without needing a larger microwave. They also claim that a flatbed design allows the microwave to cook food more evenly. While flatbed microwaves are relatively new, there are some excellent options of the best small flatbed microwave on the market. The most common are flatbed combination microwaves, although there are also solo models available.
Advantages and Disadvantages of Flatbed Microwaves
As we mentioned, the main advantage of a flatbed microwave oven is increased capacity. But there are several other advantages, such as not having to clean the turntable and more evenly cooked food. The best flatbed microwave ovens also have all the features you'd expect from a regular microwave.
The main downside of flatbed microwaves is that they are more expensive. The technology for a flatbed design is relatively new, however, so we would expect the price to fall as more become available.
Best small flatbed microwave
Flatbed Microwave Reviews
Listed below are all of our current flatbed microwave oven reviews. We regularly add new reviews as microwaves hit the market, so keep checking back for the latest updates. If there's a microwave you would like to see reviewed that isn't listed here, just use the contact page to let us know.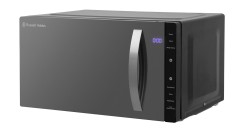 Russell Hobbs RHFM2363B Black Flatbed Microwave Review
If you're fed up with turntables that constantly get stuck, only allow you to use a portion of the microwave's interior and add an extra item to the washing up, then a flatbed microwave is an excellent option. The Russell Hobbs RHFM2363B Black Flatbed microwave does away with the turntable altogether,.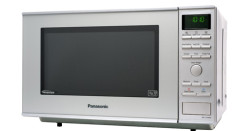 Panasonic NN-CF760M Flatbed Combination Microwave
The Panasonic NN-CF760M flatbed combination microwave is a large, silver appliance with a range of interesting features. This isn't a microwave designed for the occasional user, and its high price reflects this. Instead, the NN-CF760M is built for people and families who rely on their microwave to cook large.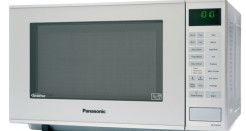 Panasonic NN-SF460M Flatbed Microwave Review
This model isn't widely available anymore. If you're looking for a flatbed, we recommend the Russell Hobbs RHFM2363 instead. Click here for the RHFM2363's price. The Panasonic NN-SF460M 27L flatbed microwave is an interesting model from one of the top microwave manufacturers. It's designed for families, with a large interior capacity…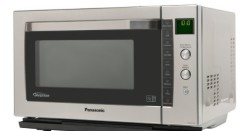 Panasonic NN-CF778SBPQ Combination Microwave Oven (Family Size, Stainless Steel) Review
The Panasonic NN-CF778SBPQ family size combination microwave oven is a powerful, attractive and versatile model. It's range of features and fantastic power mean that it's made it onto our "Editor's Choice" list.