Washing your vehicles is the most obvious use… But you can also use light-duty instead of medium-duty for jobs like your driveway, it'll just take longer because it has less flow rate.
Here are 4 popular uses:
1.) Front steps
Clean front steps and driveway can increase the value of your home by $10,000 when selling. Realtors know this, and have power washing contractors on speed dial. A light-duty machine is perfect for the task. Grab one this weekend for less than $100 and increase the value of your home. It will take no more than twenty minutes of pressure cleaning – and it's fun pulling the trigger seeing the dirt be gone.
2.) Lawn mower and other lawn equipment
Clean your lawn equipment with your new lawn equipment. Just look at the John Deere ride-on mower. Used and dirty to new and sparkly in a just a few minutes with your new machine. Worth it.
3.) Patio furniture
Ever gone to a BBQ and the outdoor furniture had cob webs and looked green? I have. I prefer my patio furniture to be clean before inviting guests, but that's just me.
4.) Other patio stuff like table and BBQ
The uses of a light-duty unit are endless. You can turn old, weathered stuff new again. It really is magnificent. Removing surface debris from your driveway after a storm is .
With all these cleaning jobs how will the light-duty pressure washer components and parts hold up?
Light-duty Power Cleaner Durability
Light-duty units are not just lower power and price. They are specifically designed for less usage than a heavy-duty unit. Their parts are not commercial quality.
If you plan to use your light-duty unit daily – like someone would at a car wash business – just know that this extended frequent use wear it down much quicker. You'll save money in the long-run if you invest more upfront on a unit designed to take a beating daily.
The power washers designed for daily use have triplex pumps and are designated commercial-use. You can get electric or gas powered commercial machines. They tend to cost $1,000 or more.
Portable Pressure Washers Advantages And Drawbacks
Portable pressure washers are designed to meet the requirements of people who cannot afford a lot of space (storage or cleaning space) and they bring a familiar set of features to the table. These smaller, but not much less powerful washers bring along both benefits and drawbacks, with the emphasis on saving space. Sacrificing some performance for a lot of space makes pressure washing available to anyone.
1. Advantages
The main benefit of any compact power washer is its size. People buy portable pressure washers because they don't want to lug the standard ones around the property. Smaller units weigh from 9 to 20 pounds, and standard power washers can weigh anywhere between 30 to 60 pounds. Mobility is the issue, especially if you have a light cleaning task at hand and don't want to waste time wheeling out the big guy when a compact power washer can do the trick. Many people invest in a handheld power washer exactly because of this.
They have larger, more powerful units for heavy stains, and since they are so used to benefits of power washing, any lighter cleaning task is redirected to the smaller washers. Once you get hooked to one of the most powerful electric pressure washers from our reviews, you don't want to use the simple garden hose ever again.
The benefits are even more evident if you buy a rechargeable, cordless unit that is perfect for cleaning boats, cars, and smaller yard jobs like patio and furniture maintenance. No cords, no power outlets. Also, if for some reason you cannot plug the power washer to the water supply, or you have such a small cleaning job at hand that one bucket is enough, then a canister pressure washer is a perfect solution.
Also, a small water pressure output means that you will be getting the job done without spending too much on the electricity bill.
2. Drawbacks
Well, there aren't many, but the main downside is the small PSI and GPM output, which also means diminished cleaning power. We have noticed that many of these units come with a shorter warranty.
What Can You Clean With A Portable Power Washer?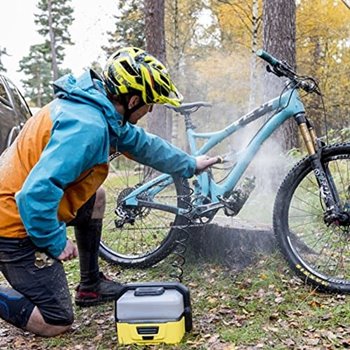 There are multiple uses of portable pressure washers – they can serve as the ultimate cleaning device for various types of surfaces. If you have grown tired of all the hustle that you have to go through when cleaning your patio or driveway, or any of that outdoor furniture, then a portable pressure washer is the solution to your problem.With the help of a handheld pressure washer, you can also clean the fences of your garden or your vehicle too. It helps you to get the job done in no time. You don't have to spend all day cleaning your outdoors. With this machine, you can do it in a second.  No more scrubbing the pine cones and needles off the patio. Dogs messing up the concrete? The high-pressure washer will get rid of any stain. A good pressure washer can clear out the mildew, fungus, and stains from almost any surface. Top-rated concrete cleaners can also help.
Best Portable Pressure Washer Reviews (Updated List)
1. Sun Joe SPX1000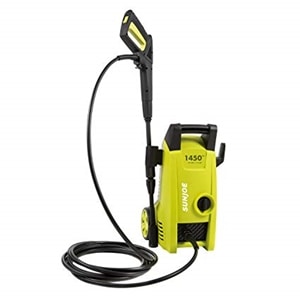 Small. Powerful. Handy. This compact pressure washer has 1450 Pounds per Square Inch (PSI) water pressure output and 1.45 Gallons Per Minute. For such a small handheld unit, this product packs immense power. Small pressure washers can usually handle light cleaning only, but this little Sun Joe can help you tackle dirtier surfaces.
This is an electrical power washer that comes with a 35-feet long cord, which is enough to do the regular cleaning around the house. This little fella is great if you want to quickly wash the dirt and mud from your porch, siding, patio, car, even some willful moss and muck build-up. You can pick it up with ease, or wheel it around, either way, it is a breeze when the product weighs only 11.7 pounds.
This mini pressure washer also has a total stop system and triggers a safety lock that will keep you from accidentally using the spray gun. This product is reasonably priced (trying to avoid saying it's cheap), and it can really simplify the cleaning process. However, it's mostly made from plastic parts, so you should expect the quality to be in line with its cost.
Pros
One of the best features of this small power washer is the adjustable spray nozzle that comes with it. Use it any way you like and get the job done. Also, let's not forget about the 33-inch wand. You can reach all surfaces with ease while still being at a safe distance from the water. If anything happens to this power washer, you can always fix it under the 2-year warranty. Another great thing about this washer is its super-affordable price.
Cons
Even though it's a handy little unit, the assembly is required. Take out your screwdriver out of the toolbox because you will need it. Another downside to this pressure washer is that the hose unit is made of light plastic so it can start leaking after a couple of uses. It depends on your use and storage as well. Also, the O-rings are of low quality. Perhaps you could order some more along with the power washer.CHECK THE LATEST PRICE ON AMAZON!
2. Sun Joe SPX6000C-XR iON Cordless Pressure Washer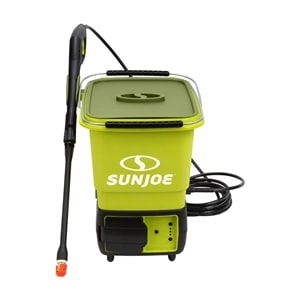 This is the pressure washer with the lowest PSI output (only 1160 PSI), but for what it's worth, it still gets the easy jobs done. The best-selling point of this handy power washer is that it's cordless and comes with a 40-volt rechargeable battery.
The pressure has to suffer for that matter, but with an 1160 PSI, it's still a handy bucket pressure washer that will let you wash your car, boat, RV, decks, patios, windows, outdoor furniture and everything else that doesn't require that much strength. On the plus side, you can take it wherever you want and do your cleaning.
This portable pressure washer with a water tank lets you use the bucket for the water supply, or you can connect it to the garden hose and use it as a regular power washer. It's a tad bit heavier with 19.8 pounds (when empty), but luckily you can easily move it around because it has 4 wheels.
Pros
The wonderfully-devised bucket design lets you work without a steady water supply, so you can still use a pressure washer if for some reason you can't connect it to a water outlet. This cordless power washer comes with a 5 Amp battery that you can recharge whenever you want. And the main benefit of course – the lack of cords. This light pressure washer comes with 4 quick connect nozzle tips and a soap sprayer.
Cons
Lack of electric cord brings forth the low PSI and pressure output, as well as the diminished cleaning power. While this battery-powered pressure washer has 4 wheels and it's easy to transport around the house, it can't handle anything remotely harder terrain like fields, construction sites, and dry land. Also, we think it's kind of sneaky to sell the charger and battery separately from the pressure washer.CHECK THE LATEST PRICE ON AMAZON!
3. AR Blue Clean AR112 1,600 PSI Hand Carry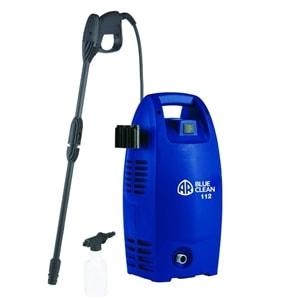 AR Blue Clean is a very powerful portable pressure washer that sports 1600 PSI water pressure output, with 1.58 gallons per minute. This means that it can easily conquer even dirtier surfaces and tougher stains.
Another great thing about this compact power washer is the fact that it has tempered stainless steel plungers. That means that the corrosion is less likely. This unit has an easy to use a spray gun and a nozzle lance. All additional equipment like a detergent bottle, high-pressure hose, and lance are specially designed to fit the spray gun on the first try.
AR Blue Clean handheld power washer has a good reputation for safety. It doesn't have wheels so you will have to lug it around, but on the bright side, this unit only weighs 18.2 pounds.
Pros
The best thing about it is the full 1-year warranty – we are talking about the "bumper to bumper" feature. Also, it can never hurt when the product has the best customer service in its class. There is also the Total Stop System that automatically turns off the pressure washer as long as the trigger isn't pressed. That means that the electric energy is preserved as well. Also, the AR Blue Clean packs the highest PSI and GPM output among compact pressure washers we reviewed here.
Cons
The price dictates the quality of parts, and the three axial-piston wobble plate pump that this unit has isn't considered to be very durable in the long run. It's still a very powerful unit for occasional cleaning. Another downside is the short return policy since you only have 30 days to return the product. The unit has an overall cheap, plastic feel.CHECK THE LATEST PRICE ON AMAZON!
4. Sun Joe SPX200E 1350 PSI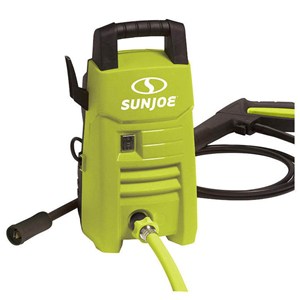 This is a good cleaning unit that can handle easy pressure washing jobs, and for that purpose is perfect. It doesn't belong to the more powerful mini pressure washers on our list, with its 1350 PSI pressure out and 1.45 GPM. This Sun Joe comes with a power nozzle that lets you control the pressure output by twisting it.
Regarding the additional equipment, this handy pressure washer comes with an extension wand and garden hose adapter. You can cover most areas with a 35-feet long power cord, however, you will have to carry it by hand since this power washer also has no wheels.
This is not the highest quality product with the most water pressure power, but it's handy to have for simple cleaning chores. The price tag corresponds perfectly to the product quality, but if anything happens, it's covered by a 2-year warranty. This is one of the smallest pressure washers on our list with only 9 pounds.
Pros
The best thing about this power washer is the adjustable spray wand. You can use it any way you like. The pressure output controller lets you select the pressure strength you need so that you can switch from light to medium cleaning jobs with a single click. This means that you can tackle delicate surfaces and resistant patios. Also, this pressure washer saves energy – it turns off the pump if it's not in use. Make the best use of the 20 feet high-pressure hose powered by a 10-amp motor, because the price is more than affordable.
Cons
We have already said that it can tackle light to medium cleaning, but this unit, unfortunately, can't handle heavier dirt and stains. Another downside is that you cannot hook the cannon on. A soap dispenser is a great tool for quick cleaning or more thorough cleaning even if you don't need a strong pressure output. The assembly can be tricky until you get everything right.CHECK THE LATEST PRICE ON AMAZON!
5. Greenworks 1500 PSI 13 Amp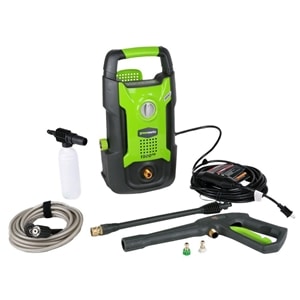 This is also a powerful compact pressure washer that has a staggering 1500 PSI and 1.2 GMP output. Such a unit is easily capable of tackling light to medium cleaning tasks, including the dirt and grime. You can place this Greenworks power washer both vertically and horizontally, whichever way is more stable during the use.
This mini power washer comes with a handy soap applicator so that you can thoroughly clean any service. There are two quick connect nozzle tips that you can change with ease whenever you want since they are easily detachable. You can cover a great area with a 35 feet long power cord. This power washer is certified by the Pressure Washer Manufacturers' Association.
Move the unit with ease – it only weighs 17 pounds.
Pros
It's always good to have additional protection, and this power washer comes with a safety feature on the power cord. Another great thing about this unit is that it's really easy to assemble – you can start using it in a matter of minutes. Even though this 1500 PSI portable pressure washer is sold as a small and compact unit, it still packs enough power to tackle light to medium cleaning jobs.
Cons
We always do unbiased reviews so after the good sides, here comes the bad. The hose connector that comes with the unit is low quality, which makes it susceptible to wear and tear. Ultimately, it can leak. The motor is really loud in the beginning, but after it's been running for a while, it gets quieter. This little pressure washer doesn't have wheels, so you have to carry it around.