Before you start the buying process you need to figure what your planned applications will be. Will you be using your water blaster for domestic cleaning, commercial contract cleaning or industrial wash down work? Will you be pressure washing daily, weekly or only three times a year? What kind of work will you be doing, building maintenance, equipment wash down, vehicle washing, drain cleaning or clean up around the farm? Do you need to use hot water, cold water or have chemical injection options?
By figuring out what kind of cleaning work you'll be doing, you'll quickly get a good idea of the nature of the machine and accessories you need. You should at this stage know if you'll need a domestic water blaster or an industrial one, you'll also know whether it needs to be small and compact or large and trailer or van mounted.
There are 4 main types of water blasters. These are cold, hot, electric, and gas-powered (such as diesel or petrol types).
In this article, we've included only the electric and gas-powered water blasters… for a simple reason. They just tend to be more useful all-around as well as more powerful.
Cold Water Blasters
Cold water blasters are the simplest types as they only use pressurised cold water. This will do for quick washing and cleaning for lighter duties around the house, but little else.
On the bright side, they're fairly inexpensive options for water blasters. They can send out a strong gush of water, though still not one as powerful or effective as their gas-powered or electric counterparts.
Hot Water Blasters
A hot water blaster would be good for a lot of casual home cleaning projects. This is because it removes bacteria and mould present on the area you are cleaning.
It also packs enough pressure to take away relatively tough grime, oil or dirt. You do have to be careful with these, though, because the hot water makes them a bit dangerous.
Electric Water Blasters
These types of water blasters are convenient and easy to tow and carry around. They have a mid-range pressure level that makes them ideal for home, car, furniture, and floor cleaning.
However an electric water blaster is limited by the reach of its cord. It's also safer not to use extension cords as they can negatively affect the performance of your water blaster.
This blaster's advantage over gas-powered pressure washers is that they don't emit any pungent smoke and produce less noise.
Petrol or Diesel Water Blasters
In terms of pressure washing, these water blasters are the most powerful options. This makes them perfect for use on larger-scale washdowns for offices, construction areas, or factories.
Because they don't use an electric cord, they are not limited in reach and area either. However, they're definitely among the heaviest and hardest-to-carry blasters!
Best Water Blasters in New Zealand
Now that you know the types of blasters available and how to orient your search for the best water blasters in New Zealand, let's take a look at the top ones on the market:
1. Kärcher K4 Premium Electric Water Blaster (13241080)
Best Overall Water Blaster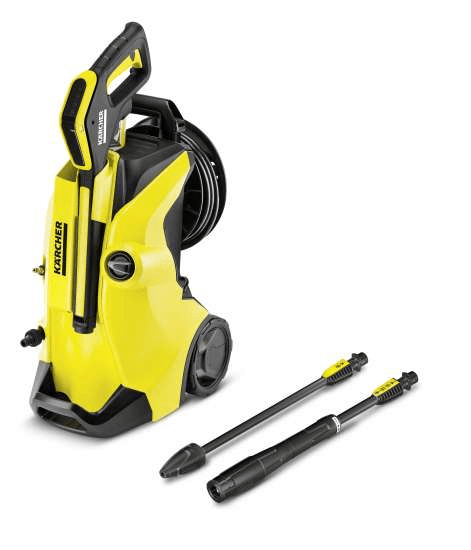 | | |
| --- | --- |
| Specs | |
| Sprayer type | Electric |
| Pump type | Anti-rust N-Cor Pump |
| Maximum pressure | 1900 psi |
| Flow rate | 7 litres/minute |
| Dimensions | 411 D x 305 W x 584 H (cm) |
| Ideal for cleaning | house, outdoor flooring, furniture, cars and vans |
Price: NZ$599
Shop Now On The Market
An industry-leading brand, Karcher has produced yet another superb piece of equipment. You get full control over the cleaning of your house with the Kärcher K4 Premium Electric Water Blaster.
You can adjust the pressure setting from soft to hard levels by just turning the nozzle clockwise. A trigger gun allows for easy spraying and washing on the surface it's aimed at.
It is extremely manoeuvrable and lightweight with the retractable handle. Hence, cleaning will be a pleasant experience as well as efficient.
It also includes an attachable surface cleaner with which you can soak any surface, e.g. stone, concrete, or flagstones. Plus, you'll get a useful 5-year warranty to deal with any issues that arise.
Highlights
1900 psi for max pressure level
Has detergent cleaner
Two attachment nozzles (spray lance, pressure wash)
Provides you with a 5-year warranty
Customer Reviews
The Kärcher K4 premium has mixed reviews. Some love it, but some feel they didn't get the value they expected in terms of the spray holder, pressure level, and plastic parts.
But those who did like it felt it was worth the cost because it was so easy to use and consistent. One owner said this:
"Used to blast off several years of accumulated grime from our decking without any issues.
I've borrowed other peoples pressure washers before and always found them to be very temperamental, especially if using quite a long water hose. Maybe only because its new, but no such problems with this model.
The hose storage options arent great if Im honest, but I can live it as this will only get occasional use in the garden.
I'm hoping the water cooled motor will prolong its lifespan. Buying on "Prime Day" I got this for a great price, so happy days."
2. Flash P2000 Petrol Water Blaster
Best in Favourable Reviews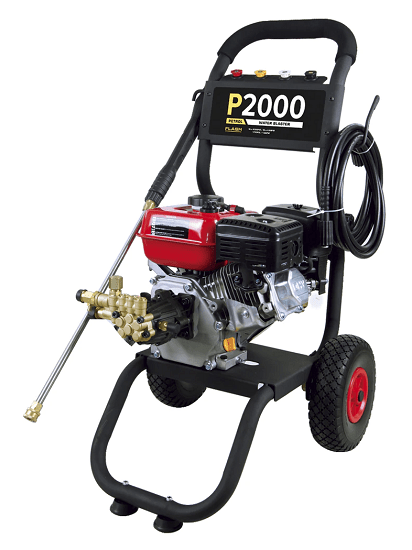 | | |
| --- | --- |
| Specs | |
| Sprayer type | Petrol |
| Pump type | brass pump |
| Engine | Ducar petrol engine |
| Maximum pressure | 2000 psi |
| Flow rate | 6.8 litres/minute |
| Ideal for cleaning | house, vehicle, pavement, concrete, garden, patio, deck |
Price: NZ$419
Grab Yours On Trade Tested
Petrol water blasters are usually bulky and heavyset, but not the Flash P2000. It is slimmer in appearance than similar blasters, with a compact but mid-range engine mounted onto its trolley.
Spray-clean your personal property at the strength of 2000psi with this blaster. You can change the nozzles (it has 4) to reach and clean difficult angles and places.
You even have a place to clip in your spray gun without breaking the holder. Plus, the cushioned handle and durable wheels will make it comfortable to bring around as you go.
In the area that you are cleaning, you'll have a longer range than average too, with a hose that's 5m long. No frustrations either as it rolls fast on the clip so that you won't look disorganised on the floor.
Along with this, you'll have a 2 year warranty. It's easy to see why so many owners love this model!
Highlights
Max pressure level is at 2000 psi
Premium Ducar brass engine
Never-flat tires and soft grip handle
2-year warranty period
Customer Review
This water blaster has been commended a lot, with the total review rating for it being 4.8 out of 5 stars. That's due mostly to the hi-powered pressure spray coupled with its jet patterns and easy manoeuvring.
Chris from Hokitika said:
"Really happy with the pressure and different nozzles on the machine. Perfect for cleaning the dirt and mud off my 4×4 and dirt bike, also used it in the house to get moss and dirt off. Really happy."
3. Bosch Universal Aquatak 130 Water Blaster (06008A7B40)
Second-Best Overall Water Blaster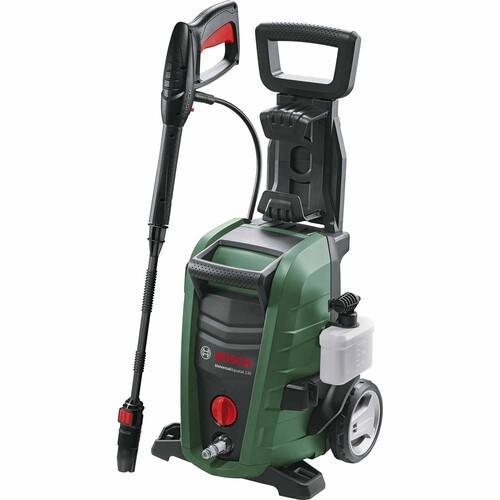 | | |
| --- | --- |
| Specs | |
| Sprayer type | Electric |
| Pump Type | 3 cylinder |
| Maximum pressure | 130 bar or 1885.49 psi |
| Flow rate | 380 litres/minute |
| Ideal for cleaning | house, smaller spaces, corners like curbs and gutters, patios, garden, and cars |
Price: NZ$299
Purchase Now On Mitre10
The Bosch Aquatak 130 Water Blaster sprays water at 1885 psi. For high pressure and control on smaller areas, you have the pencil jet to rinse your patio, driveways, muddy vehicle completely.
Take note that if you like, you can also apply a detergent beforehand.
Its sprays only use the amount of water that's required for the wash, making it water-efficient. What's more, larger wheels and a telescopic handle let you move it with ease.
After use, simply clip the spray gun back onto the unit. So, for spick and span, efficient results, you can't go wrong with the Bosch Aquatak 130.
Highlights
130-bar pump electric water blaster
Versatile with different wash settings
Includes a reliable detergent nozzle
Portable with large wheels and handle
Customer Reviews
This product received a rating a 4 stars out of 5 stars from owners, many of whom liked its size and value-to-price ratio.
Tassaduq contributes to how Aquatak 130 is one of our best water blasters in New Zealand:
"What makes it best over others :
The price tag for 130bar pressure ( if compared to best brands like kaercher).
Compact and durable
Sufficient pressure for not only washing your car but cleaning anything like tile pathway and all areas where pressure washer is required.
The pressure is that much sufficient that it gives your car touchless washing, while using it , you can actually feel the pressure jerk in your arm."
4. Jobmate Electric Water Blaster (GSH02A)
Best for Budget Water Blaster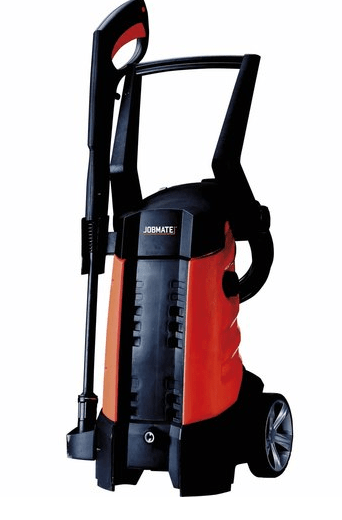 | | |
| --- | --- |
| Specs | |
| Sprayer type | Electric |
| Pump Type | Aluminium |
| Maximum pressure | 2030 psi |
| Flow rate | 6.67 litres/minute |
| Ideal for cleaning | house, patio, deck, backyard, concrete, steps |
Price: NZ$199
Check It Out Here
If you're looking for a powerhouse water blaster, choose the Jobmate Water Blaster. It boasts a 2030psi blasting power that blows away stubborn debris or stains that are not removable with an ordinary hose.
It also lets you adjust the angle of the blast easily (for tackling high surfaces). This is a convenient bit of engineering that a lot of people will appreciate.
Besides that, your cords will be organised thanks to the cable hook. The handle and lightweight design also give this model mobility.
But probably the most interesting thing about it, as far as most will be concerned, is the price. This is easily one of the cheapest good water blasters you'll find on the market, particularly with this sort of power.
Highlights
Affordable good water blaster
2030 psi for an immaculate clean up
Changeable angles for a better washing
Customer Reviews
Practically all reviewers of the Jobmate Electric Water Blaster have been pleased by their purchase. LaraB from Tauranga, NZ, says:
"Way more powerful than I expected… did a great job clearing mossy stains and gutters from the house and fence… would highly recommend"
5. BE Petrol-Powered Water Blaster (BAR2660-R)
Most Convenient Petrol Water Blaster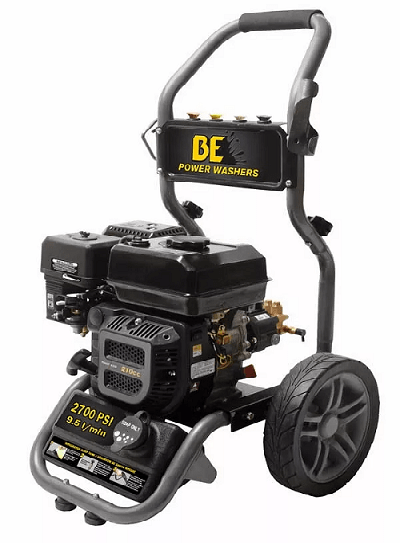 | | |
| --- | --- |
| Specs | |
| Sprayer type | Petrol |
| Pump Type | Annovi Axial pump |
| Engine | Powerease vertical engine |
| Maximum pressure | 2600 psi |
| Flow rate | 8.7 litres/minute |
| Ideal for cleaning | house, pavement, stonework, gravel, siding, vehicles, furniture, building, farm etc. |
Price: NZ$595 exclusive of GST
See It Here
When you have a tough cleaning job to do and are short of time, you should get the BE Petrol Water Blaster. It delivers a powerful spray of up to 2600 psi at a flow rate of 8.7 litres per minute.
The higher pressure level and swift flow rate is due to the Powerease vertical engine. You can also attach 4 different nozzles to suit your washing style and apply detergent as needed.
It'll force out even hard stains and grime that's been stuck for a while. The power on this thing can dislodge even tougher caked-on dirt!
In case the heat gets too high, by the way, the valve automatically shuts off on this model. This is useful so that the water blaster doesn't get damaged or affected, plus it ensures safety for you and others.
And for design, you have a robust construction with oversized tyres and easy grip handle. Even if the weight is heavier than electric models at 35kg, it's still pretty good for petrol ones.
Highlights
Max spray output is up to 2600 psi
Change to 4 nozzle spray settings
Big tires and easy grip handle for mobility
Has a detergent tank
6. Hyundai 4200 Petrol Water Blaster
Most Powerful Petrol Water Blaster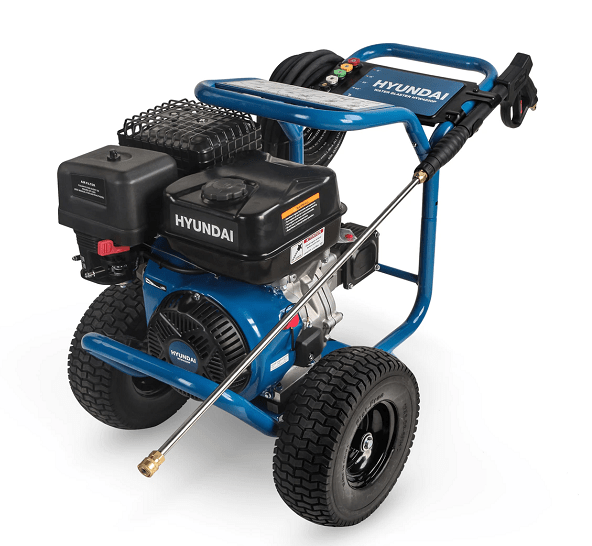 | | |
| --- | --- |
| Specs | |
| Sprayer type | Petrol |
| Pump Type | Triplex pump (AR brass head) |
| Engine | OHV petrol |
| Maximum pressure | 4200 psi |
| Flow rate | 15.1 litres/minute |
| Ideal for cleaning | industrial and commercial spaces, farms, building sites, paint removal |
Price: NZ$1899
Avail At The Market
Your professional cleaning solution is already settled with the redoubtable Hyundai 4200 psi Water Blaster. Powered by a 15hp OHV engine, it pumps out an amazing 15.1 litres/minute.
That power alone makes it the ideal choice for taking on the dust and grime of an office building. Owning one enables you to aim and clean up even high places!
Then it comes with 4 spray attachments that send water out in various angles. It also comes with a detergent nozzle.
Even if you have no connective water supply such as a faucet or pipe, you can just grab a huge pail full of water and fire away. Yes, even if that's in the middle of nowhere — this model is self-priming.
We also like that the Hyundai 4200 has a corrosion-resistant steel frame. All these features backed by a 2-year warranty put this squarely in our list of the best water blasters in New Zealand.
Highlights
Heavy-duty pressure washer at 4200 psi
4 spray attachments and 1 detergent attachment
OHV petrol engine to pull off the huge pressure
2 year warranty
7. Toolshed Diesel Water Blaster
Best for Commercial Duties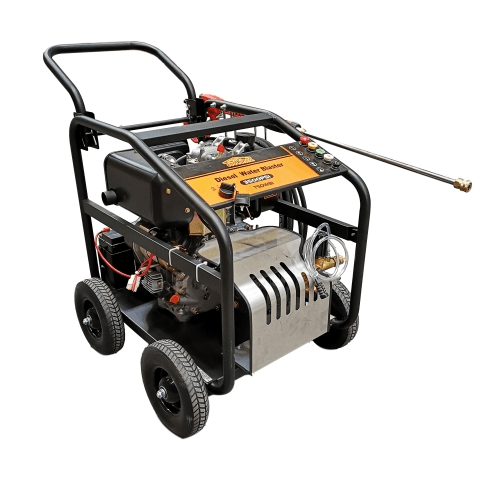 | | |
| --- | --- |
| Specs | |
| Sprayer type | Diesel |
| Pump type | Direct drive piston and radial pump |
| Maximum pressure | 3500 psi |
| Flow rate | 20 litres/minute |
| Dimensions | 810 x 645 x 755mm |
| Ideal for cleaning | office buildings, vehicles, farming equipment, pavement, and driveways |
Price: NZ$1999 inc. GST
Buy Now At Tool Shed NZ
You have an all-rounder of a pressure washer with the Toolshed Diesel Water Blaster. Not only can it direct a concentrated force of water onto any surface, it can also draw it in and even filter it!
What supplies its power is the 10hp direct drive piston that takes your washing to 3500 psi at a humongous 20 litres per minute.
At the same time, you can easily switch over to scattered jet sprays in 3 angle options. And you can also add a detergent to ensure that the sidewalls of your office are spotlessly cleaned.
You have a nice holster too for the spray gun, along with an 8m hose made out of rubber. Therefore it offers range and distance for your cleaning without slowing you down.
Instead of the standard two, this model also has four durable wheels that keep it in an upright position. Along with that, you have a relaxed wide handle for easy mobility.