Well, we've got you covered. By the end of this guide, you'll be an expert for sure!
First things first, a groom's suit should complement the brides wedding dress and the entire theme of the wedding. So come back to this guide after if  you've not settled those!
Best Wedding Suits For Groom
Men Suit Fits
In a quick summary, there are 3 different fits for suits. Regardless of the fit, the most important thing is that your suit fits your body shape. You wouldn't want to look like you're wearing your father's suit, right?
Slim Fit
The slim fit, also known as the Italian fit is tailored tighter towards the body. You'll notice the shorter jacket, narrower lapel. It also usually comes with slim fitted pants.
Modern Fit
The modern fit falls between the other two fits. The slimmer lapel in the jacket gives the suit a more "modern" feel as compared to classic fit, and are perfect for guys who think they can't pull off a slim fit.
Classic Fit
The classic fit is for men who have a bulkier body. It has a relaxing cut resulting in less constriction for the wearer and regular pants that are roomier.
Jacket Style: Single and Double Breasted Suit
Single Breasted Suit
The two-button single breasted jacket is the most common design. Modern updated designs usually avoids the stiff three-button jacket, preferring the hippier one-button suit that gives a deeper "V".
Double Breasted Suit
Double breasted suits are slightly more formal than single breasted jackets. They typically are designed with peak lapels and have an extra fabric that fold from left to right. Unlike single breasted suit, double breasted suit features two rows of buttons, ranging from 4 to 8 buttons depending on the design.
Men Suit Accessories
Men need to accessorise too! Accessories are a great way for grooms to stand out and personalise their suit. With various accessories to pick from, scroll down for a pictorial guide on which would complement your bride's dress best!
Vest
Photos By: Confetti Peektures
Tie
Photos By: Bohemio Photography
Bow Tie
Photos By: Elianos Photography
Photos By: AV – Photography
Photos By: Punyan Photography
Boutonnière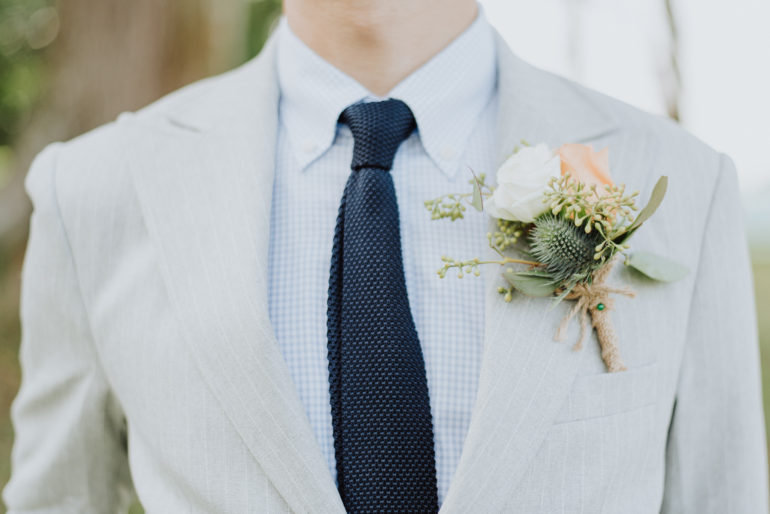 Photos By: 24 Photos
Photos By: Bohemio Photo
Photos By: Feztography
Lapel Pins
Photos By: Flairfolio Photography
Pocket squares
Socks
Still need more help picking out the perfect suit? We've zoomed in on 2 popular wedding locations that might help you visualise better. See below for more inspirations!
Suits for Beach Wedding
Photos By: CMW Photography
Photos By: Diktat Photography
Suit for Garden Wedding
Photos By: AndroidsinBoots
Tuxedo Guide to Wedding Season
Many men opt to rent a tuxedo or suit and instruct their groomsmen to do the same. This is usually an uneducated decision that might seem easier at the time, but in reality is a big waste of money, and a little bit gross if you think about what you're doing here (virtually wearing hand me down clothing on your wedding day). Here are five reasons why purchasing a suit or tuxedo for your wedding day is definitely the better option.
1. Cost – This is probably the top reason many men opt to rent a tuxedo or suit, which is silly when you look at the numbers carefully. According to weddingstats.org, the average cost to rent a tux ranges between $150 – $242, with some designer tuxedos costing $400 – $500 to rent. Most of the suits and tuxedos on this list are well under or within these costs, but you actually get to keep the clothing at the end of the deal. Seems like a no brainer to us.
2. Investment – Not only is the cost between renting and buying comparable, but when you buy a suit, you have the opportunity to wear it to other formal events, and most importantly, so do your groomsmen. You're asking them to spend a couple hundred dollars either way, so better they do so on something that they can permanently keep in their closet. If you're getting married, we're sure that yours isn't the only wedding you'll be attending in the near future. It would be nice to be able to wear the same suit or tuxedo multiple times. If you or your groomsmen are also business professionals, a nice suit can come in handy for holiday parties, business dinners, or presentations.
3. Style & Selection – When you rent a tuxedo or suit, the styles to choose from are typically slim pickings. There are one or two styles, and many of them are outdated and old. If you're a fashion forward guy, the options available simply aren't going to cut it. By purchasing your own suit or tuxedo, you'll be able to choose from all of the latest designer styles, colors, fabrics, and cuts that a modern groom would wear.
4. Hygiene – It's not the most pleasant thing to think about, but it's a good point so we have to say it. If you opt to rent, the suit that you'll be wearing has likely been worn dozens of times by strangers. Sure a quick dry clean will have it smelling like new, but it won't be. Just think about that for a minute and then decide if renting or buying sounds better.
5. Fit – Obviously you can't alter a rented piece of clothing, so the chances of it fitting correctly are slim to none. You'll have to choose the best fitting standard size and then deal with the inevitable issues – sleeves and pants that are too long, a jacket that's too boxy, and a slew of other problems that unfortunately you'll be stuck dealing with the day before your wedding. We've seen it a million times – a rental company that accidentally marked down the wrong size, pulled out the wrong shirts, or misunderstood the color that you chose. Now on the week of your wedding you're trying to fix that problem. Sometimes a resolution can be found, and sometimes a groom and his groomsmen are just left wearing an incorrect, ill fitting suit or tuxedo, which is a major bummer.
If none of the suits or tuxedos on this list are quite right, you can continue browsing great options from top brands here. If you're shopping for a summer suit, check out this post with 10 lightweight formal suit options that will keep you cool and comfortable.
Don't miss the opportunity to register for wedding gifts on Amazon. Create a registry here in just a few simple steps. There are tons of benefits and exclusive offers available only to those who register with Amazon. We've put together a comprehensive guide, which answers the most commonly asked questions and outlines the top 100 items every couple should have on their registry.
---
Classic Tuxedos
A tuxedo is the formal wear of choice for the majority of weddings, and for good reason. Weddings are a celebration, a reason to adorn clothing that you wouldn't wear on most other occasions, and tuxedos certainly fall into that category. Most grooms and groomsmen opt to rent tuxedos due to the cost, which is unfortunate. The tuxedos on this list solve that very problem. Not only are they affordable, but they're well-made suits that your groomsmen can wear to their next formal occasion. The tuxedos on this list have all of the standard features and are certainly worth the small investment. We're firm believers that every man should have a tuxedo in their closet and a wedding is the perfect time to make that splurge.
---
1. Ralph Lauren Wool Two Button Black Tuxedo
This Ralph Lauren Tuxedo is made from soft 130's Wool, which is a higher thread count than the average wool tuxedo or suit. The tuxedo jacket is fully lined, non vented, with a classic satin notched lapel. The jacket features a single breasted front style with a two button closure, flap side pockets, and a single welt chest pocket. The pants are pleated and feature a standard satin side band with two side seam pockets. The best feature of this suit is the price. It's about $100 more than you might spend on polyester, but almost half the price of a comparable wool suit in department stores. Even if you need to make a few alterations once your suit is home, you still come out on top. The best, classic way to accessorize any tuxedo is with the right pair of formal shoes, a tuxedo shirt, a black bowtie, and some cufflinks. If you're asking your groomsmen to purchase a tuxedo like this one, we love the idea of gifting them some monogrammed cufflinksfor a special touch.
Price: $187.25 – $299.95 depending on size
---
2. Kenneth Cole New York Men's Wool Tuxedo
There's absolutely no reason to rent a tuxedo when you can purchase a modern, high-end, designer suit for the exact same cost. It's a closet staple that you and your groomsmen can wear for years to come, rather than having to worry about returning it the morning after your wedding. The tuxedo features a fully lined jacket with three interior pockets, and an open bottom plain front trouser, which can be altered to your exact measurements. Consider a slight splurge on this high quality silk tie from The Tie Bar.
Price: $187.50 – $254.99
---
3. U.S. Polo Assn. Men's Tuxedo
Don't let the inexpensive cost of this tuxedo deter you. It's a well made tuxedo, perfect for you and your groomsmen to wear on your big day without breaking the bank. This tuxedo has a two button jacket, notched lapels, side vents, inner pockets, flat front pants, and an unfinished hem (so you each of you can get them hemmed to the perfect length). Clean lines and modern cuts always draw us into a tuxedo and this one doesn't disappoint. You'll also have the opportunity to play with some cool pocket squares with this tuxedo. Purchase a coordinating set like this one and then give each of your guys a different pocket square to sport.
Price: $129.99 (50 percent off MSRP)
---
4. Men's Black Slim Fit Calvin Klein Tuxedo
It can be daunting to purchase a tuxedo without having the opportunity to try it on first, but spending a little bit extra to purchase from a designer brand can help ease some of that uncertainty. This exact suit is available for purchase at Men's Warehouse $600, making this a serious steal. This tuxedo has a slim fit style and is made from 100 percent superfine wool. The two button jacket has a satin notch lapel, flap pockets with a satin band and side vents. The pants feature a flat front with side seam pockets and suspender buttons. Similar to the rest of the tuxedos in this section, the pants are shipped unhemmed. If you like the look of suspenders, these are an inexpensive, simple, and classic pair.
Price: $289.95 – $299.95 depending on size
---
5. Ferrecci-Zonettie Ultra Comfort Tuxedo
This elegant tux is the best choice for anyone on a budget. It comes boxed and pressed, almost entirely ready to wear. It also comes in a variety of colors and fabrics, so you can choose one for yourself and something slightly different for your groomsmen – a look we love to set yourself apart from the rest. This is a Slim Fit tuxedo which fits true to size but is cut differently than standard, regular fit tuxedos. Slim Fit tuxedos hug the body tighter than a regular fit tuxedo and results in a much tighter, slimmer, modern look – something to keep in mind when ordering. If you're thinking about trying that subtle variation in color that we mentioned above, consider this navy blue tuxedo for yourself and the black for the rest of your groomsmen.
Price: $49.99 – $129.99 depending on size
---
6. IZOD Solid Black Classic Fit Tuxedo
The best thing about purchasing a tuxedo rather than renting is the longevity of your purchase. IZOD is a fashion brand known for being moderately priced with high quality, designer finishes. This polyester suit looks high-end with a fully lined jacket, a two button closure, and front pockets. It's also regular fit rather than slim fit if you're looking for a tux with a wider cut that won't hug the body quite as much.
Price: $119
---
Navy Blue Suits
While black is obviously the most classic and standard choice, we're seeing navy blue suits as a popular choice for weddings as well. One trend that's grown over the last couple of years is choosing a navy blue suit for the groom and having his groomsmen in black. It's subtle enough that the look doesn't overwhelm, and in this case, the navy acts as a neutral tone that can easily blend in with the rest of the wedding color scheme. It sets him apart in a tasteful way. If you'd like to keep everyone in matching suits, navy blue is a lovely choice, especially for late summer and fall weddings. It works well with grey, yellow, and green, as well as more neutral taupes, tans, and metallics.
---
1. MOGU One Button Three Piece Suit
For less than $100 you can absolutely find a quality suit – here is the proof. This suit comes with all three pieces – the jacket, pants, and vest. The best feature of this suit is the elastic waist, which is a guarantee for comfort even as the eating and drinking commences on your wedding night. It's sophisticated with clean lines and a modern silhouette. A slim or skinny tie is our favorite way to accessorize a suit. It keeps the look pulled together. We like a nice grey skinny tie for the groomsmen and a white satin one for the groom.
Price: $99.99
---
2. Tommy Hilfiger Two Button Stretch Suit
The fabric blend on this particular blue suit keeps it on the lighter side, which many men will appreciate, especially when they have to wear a suit in the hotter months of the year. It also gives the suit a bit of stretch, preventing you from feeling constricted. Aside from the breathability, this suit is a beautiful dark navy blue, made by a reputable brand name that you can trust. The jacket is made with natural rounded shoulders and is paired with trim-fit flat front pants with an unfinished bottom for hemming. If you'd like to pair this suit with a navy blue tie like the one seen in the above image, you can browse some selections from top brands.
Price: $101.20 – $229.99 depending on size
---
3. Jones New York Classic Fit Navy Suit
This navy blue suit is well stitched and made from high-quality fabric. It's a classic fit, two piece suit. It's made in year-round wool, so it's not too warm. It includes a two-button jacket with a notch lapel and a flat front pant. The jacket features side back vents. One piece of advice when purchasing suits for a wedding (especially in those warmer months) is to come prepared with extra dress shirts. It's a day filled with a lot of excitement, and unfortunately, a lot of sweating. The last thing you'll want is visible sweat to show, either in a picture or while you're walking down the aisle. Select a moderately priced shirt like this one and suggest that your groomsmen also pack a spare.
Price: $108.60 – $199.99 depending on size
---
4. Alain Dupetit Wool Two Button Suit
A huge value for a 100 percent wool suit, this is one of the least expensive suits in this section. Suits made of 100 percent wool can sell for close to $600 or $700 depending on the brand, so you can see what a great value this one is. Their signature modern two button flat front suit combines some great features from a classic-fit suit with some slim-fit designs to give you the most comfort and style. The pants have an extra two inches of fabric in the waist, a half of an inch in the inseam, and three inches in the waist – all which can be let in or out by your local tailor if need be for the perfect fit.
Price: $119 (80 percent off MSRP)
---
5. Tsui-Fashion Three Piece One Button Suit
Use the sizing chart for the most accurate selection, as sizing may vary. This suit is available in the darker blue pictured above, as well as a more true blue, which you can see here. Either would make a unique suit color choice that's still traditional enough for a formal evening wedding. The nice thing about choosing a blue suit is the plethora of options when it comes to accessories. Both black and brown shoes and belts work nicely. Opt for a brown dress shoe like this or a classic black dress shoe.
Price: $79.99 (38 percent off MSRP)
---
6. Gino Valentino Two Button Suit
If you're weary about purchasing online due to the sizing, try heading into a few department stores before you purchase online. The prices won't compare, but you can get a good idea of your jacket sizing by trying on several different jackets from different manufacturers and seeing what works best. This Italian made suit offers a clean look with classic lines and a crisp finish. It features flat front pants and a jacket with a ticket pocket. If you're a fan of this designer, check out this grey-blue colored suit with a similar cut.
Price: $179.95
---
Grey Suits
Grey suits are our favorite choice for summer weddings, especially for daytime affairs. Darker grey can easily carry over to an evening wedding, so if you do like the look of grey and are hosting a more formal wedding, the darker hue greys would be your best choice. Beach and destination weddings are also a great time to opt for a grey suit – in this instance, chose something very light both in color and fabric. Grey is such a neutral tone that it can be paired with almost any bridesmaid color so you don't have to worry about coordination between the ladies and men in the wedding. Grey is also a great color to choose if you're looking to add a bit of texture to your suit choice in a subtle way.
---
1. Perry Ellis Men's Two Button Slim Fit Solid Suit
A lightweight suit is the way to go, especially if you're planning for a daytime or summer wedding. Dark and heavy wool is just too much fabric. Both the pants and jacket are made with high-quality, breathable fabric. If you're looking for a suit with a light fabric and an even lighter color, this suit is also available in a very light grey. Both suits have a slim fit to them, but are made with some natural stretch for a very comfortable fit. You also can't go wrong with the price which is extremely reasonable.
Price: $94.99 – $127.49
---
2. Tommy Hilfiger Cashman Two Button Suit
The price on this suit is a fantastic bargain – especially when you take into consideration the high quality construction of the suit and the slight stretch that the spandex offers. The cut is fitted enough to show some shape without looking baggy. The leg is relatively structured with just a slight taper. One of the reviews on this suit reads: "This suit is so comfortable, I could ride my bike in it", which sounds like a win to us, especially if you're going to be wearing it for hours. We love incorporating some snazzy socks into your look for a great photo opp. It's a bit of hidden creativity that won't take away from your overall sophistication.
Price: $92 – $99.99 depending on size
---
3. Ben Sherman Kings Pindot Suit
Ben Sherman is a leading fashion designer for men, so it's no surprise that this is a well-made suit with classic and upscale wool pindot fabric. The suit is constructed with a notch lapel and is fully lined. It has flat front pants with a side slant and back welt pockets. The hems are tailor ready. This is one of those grey suits that can transition through seasons, making it a great year-round choice. It's something that can be worn not just for a wedding, but for any formal affair you may need to attend in the future.
Price: $219.99
---
4. Kenneth Cole Two Button Slim-Fit Suit
This moderately priced suit from a trusted menswear brand has it all – a nice color, nice style, and an attractive, put together look. This 100 percent wool, slim fit suit is designed featuring a two-button jacket with side vents and flat front pants with a french fly. The jacket has notched lapels, both chest and front pockets, and stacked button cuffs. The pants have side pockets as well as rear button-welt pockets. If you like the make of Kenneth Cole formalwear but this suit isn't quite your style, you canbrowse a plethora of additional Kenneth Cole suits in various colors and styles.
Price: $249.99
---
5. Bar III Gray Seersucker Suit
Seersucker pretty much screams beach wedding. We can't think of a better choice if you're planning on a destination wedding in a beachy location. The cost is reasonable for such a nice looking and well constructed suit, which comes in a light grey seersucker fabric. The suit is slim fit with a two button closure. It's fully lined with dual side vents, notch lapels, and jetted pockets. The pants have a flat front and come unhemmed so you can shorten them to the appropriate length. The cotton fabric of the suit keeps it nice and light. If you'd like to browse additional seersucker suit options, you can see some great choices here.
Price: $135 – $139 depending on size
---
6. Haggar Slim-Fit Two-Button Suit
The light grey color and fabric of this suit keeps it on the more casual side, so it's not the best choice for a very formal event. It is however, a great option if you're hosting your wedding in a less formal venue, or if you're planning on a daytime wedding. The jacket is sold separately from the pants, which can be purchased here. Unlike most suits on this list, the pants and jackets being sold separately allows you to choose a specific size for each item, rather than having to wear the pants that typically come with the jacket – a great option for anyone who's a bit bigger on either the top or bottom.
Price: $71.61 – $89.99 depending on size
---
Black Suits
Black suits fall in the same spectrum as a tuxedo, but are a little less formal. If you're not hosting a black tie affair and a tuxedo seems like overkill, a black, well-made suit is a sophisticated, classic choice that you can take in a few directions. Dress the look up with a colored tie or pocket square, or keep the look clean and simple with a skinny black tie and a crisp white dress shirt. Either way, every man can use a nice black suit in his closet, which means this purchase can never be considered a waste for either the groom or groomsmen.
---
1. Tommy Hilfiger Two Button Suit Jacket
This suit jacket is the same quality as the same suit that you'll find in many department stores. The three pieces take this suit up a notch from your standard two piece suit, making it special enough for your wedding day. It's made with high-quality wool, and is marked at an unbeatable price for a designer three-piece suit. Since all of the pieces are sold separately, this is a great option if your groomsmen typically have some trouble finding the right size suit that works for them. You can find the matching pants here.
Price: $98.15 – $149.99 depending on size
---
2. Ferrecci-Zonettie Premium Slim Fit Suit
This suit comes in every single color under the rainbow, so even if black isn't for you, you will appreciate the craftsmanship of this well made suit, at the right price. The customer service is also top notch, so if you do find an issue with your suit, you can be sure that it will be taken care of immediately. It definitely fits the bill for a wedding for a few reasons. This suit is made from imported European fabric. The modern rear vented design allows for both breathability and comfort. The suit is also designed with both inner and outer pockets for the storage of all of your accessories and needs (keys, wallet, cell phone, etc). Many of the suits from this designer come highly recommended, so if this one isn't for you, find one that meets your needs.
Price: $59.99 – $99 depending on size
---
3. Kenneth Cole Solid Black Suit
Designer suits can be a commitment – they are an expensive investment and when you make such an investment you have to hope that a few things don't change – namely your weight and the current fashion trends. If either of those things do change, you're likely out a good amount of money and need to purchase a new suit. The nice thing about this suit jacket is the classic style and the low price tag. It's not a scary commitment and a look that likely won't go out of style anytime soon. This is another set sold separately, so you can take into account your individual size on both the top and the bottom. You can find the matching pants here a low cost, a classic look, and a suit that's definitely wedding appropriate.
Price: $71.49 – $79.99 depending on size
---
4. Ben Sherman Camden Black Solid Suit
While this suit is a bit more expensive than the majority of the suits on this list, it's worth the investment for your wedding. Another option from leading menswear designer, Ben Sherman, this suit is a classic sophisticated suit for a groom and his groomsmen that's sure to wow. It's also marked down over 60 percent from its original cost of $650 which is an insanely amazing discount and a deal your groomsmen will appreciate. This suit is slim fit with a two-button jacket and side vents. We love this slightly textured white dress shirt, also by Ben Sherman, to go with this suit.
Price: $259.99
---
5. Nicoletti Slim Fit Suit
The high stretch fabric on this suit offers so much movability, obviously an important feature for when you and your friends and family hit the dance floor. The price is definitely on the lower end for a quality suit, so it will look like you paid quite a bit more than you actually did. The fabric is light in weight and doesn't have any wool, so we wouldn't recommend this suit for a winter wedding when the temperatures are cooler. Pair this suit with a pair of well-made, sleek, and simple oxfords like these from Calvin Klein.
Price: $74.95 – $149.95 depending on size
---
6. Salvatore Exte Three Piece Two Button Suit
There's just something so fancy about a three piece suit that makes it the perfect choice for a more formal event such as a wedding. It also makes layering so much easier, while still maintaining that dressed up look. Don't be fooled into thinking that you need to spend $600 to find a good quality suit – it's simply not the case. The cut is classic, and modern, with plenty of room to move, so you won't feel restricted. The adjustable strap in the back of the vest also helps the suit look further tailored to your size.
Price: $109.99 – $119.95 depending on size
---
White Suits
White suits are the trickiest to pick for a wedding, especially if you haven't seen your bride's dress yet. Many wedding dresses come in various tones of ivory and white. White suits are often a solid choice if you know that you bride has a true white dress, or if you like the look of the varying tones together. White suits, especially in linen, are the best choice for a beach wedding. If white seems too stark, consider a tan suit, which can add a bit more warmth. White suits in varying fabrics are also ultra luxurious and can be considered for a seriously formal affair with the right fabric and accessories. The two tuxedo choices on this list are great options for a more formal affair, while the linen options should be kept for more casual weddings.
---
1. Giorgio Napoli One Button Tuxedo
This lightweight suit is the perfect choice for a tropical destination where a heavy suit will be way too much fabric. The jacket features one button, with dual side vents, a peak lapel, and full lining matching the color of the suit. It has three exterior pockets, two with flaps and one without. The suit comes with four button vented sleeves. The pants, lapels, and buttons have satin detailing, making the suit even more fancy. The pants feature a flat front, lined to just below the knee. The waist can be altered in or out up to two inches. White or black shoes are both appropriate or you can choose to wear these – which have a little bit of both colors for sleek finish.
Price: $99.99 – $179.95 depending on size
---
2. Stacy Adams Suny Vested Three Piece Suit
This white suit not only looks great but is comfortable as well. It's a lightweight suit, which if you order correctly, should need little to no alterations. The expandable slides on the pants give you about two inches to play with in either direction, so you can avoid alterations there as well. This is a nice feature if you or your groomsmen aren't entirely sure on sizing. The pants are left unhemmed at the bottom, so everyone can find a tailor to make that small, inexpensive alteration. If you're looking for an inexpensive white tie to gift to your groomsmen as part of their groomsmen gift, this is a great option.
Price: $77.12 – $99.99 depending on size
---
3. Perry Ellis Two-Button Linen Suit
This happens to be one of the most gorgeous white suits we've ever seen. If you're getting married in the summer and want to stray from a black or grey suit, we can't imagine a better fit than a white linen suit. The word debonair is the first to come to mind – sophisticated, confident, refined, and polished are all describers of the way you might feel wearing this suit. It's a two-piece suit set with two-button jacket and flat front trouser. If you like the look of this suit but aren't sold on the color, check out some of Perry Ellis' other linen suiting options, which are available in tan, white, and blue.
Price: $164.99 – $304.49 depending on size
---
4. Slim Fit White Tuxedo With Black Satin Collar
If you're looking to make a statement with your tuxedo choice, while still remaining fashionable, and without being too over the top, this suit is a great way to accomplish that. The cotton blend fabric helps to keep the suit from being too stiff and uncomfortable, but the black color keeps it looking formal enough for eveningwear, a great combination. There are two great bonus features of this tuxedo. First, it comes with a matching skinny black tie, an amazing compliment to the suit and one less thing on your to buy list. Secondly, the same suit is also available with a matching white vest, so if you prefer the look of a three piece suit, you can find it here.
Price: $99 (60 percent off MSRP)
---
5. Stacy Adams Men's Big & Tall Three-Piece Suit
This breathable suit is made with a mix of polyester and rayon, making it cooler than a wool suit, but not quite as lightweight as a linen suit, and also a bit more formal in style. The highly rated suit is well made, with quality fabric and fits right off the hanger with minimal alterations. The suit is available in big and tall sizing, for those who don't fit into men's standard suit sizes.
Price: $129.99 (13 percent off MSRP)
---
6. Ferrecci-Zonettie Slim Fit Black & White Tuxedo
This well designed suit features a custom slim fit with just enough room for comfort, a beautiful black satin shawl collar, satin covered buttons, and slim fit trousers that come unhemmed allowing you to have them tailored to taste. The suit comes with a custom garment bag and a heavy duty branded storage hanger for easy and nice storage. We also love the contrasting colors of the pants and jacket, so if committing to a full white suit seems like a bit much for you, this offers a nice middle of the road option.