No matter what you do, your bike will eventually break down due to regular wear. Taking your bike to the mechanic for small repairs can be costly, so why not just do it yourself? Bike tools are important to every biker — be it for daily routine maintenance or on the fly fixes.
Although each bike is different, most of the bike tools featured in this article work with any bike types or brands. You don't need an entire garage of tools to work on your bike. All you need are standard ones and a couple of bike-specific tools to get things moving.
The old saying, "buy quality, buy once" applies to bike tools more than anything else. Quality tools last much longer, work better and are less likely to damage your bike compared to its low-quality counterparts. When buying bike tools, think of them as an investment instead of a cost.
The 5 Best bike tool brands for Every Cyclist
1. Birzman 13 Piece Essential Tool Kit
Find Out More
For those who are serious about the quality of their bike tools, they should check out this tool kit made by Birzman, a Taiwan-based company that turns out high-end tools.
You'll be impressed by the case alone, which features a special carrying case with molded pockets for each tool to live in when it isn't in use. This 13-piece essential tool kit does just what it implies. It gives you every tool you need for the most common repairs and maintenance needs your bike will have.
This set includes a full set of hex and spoke wrenches, along with a chain whip, BB tool, cassette tool, screwdrivers, drive sockets and disc brake gap indicator. The carrying case makes this kit ready for travel to your next ride start location.
Just throw the Birzman tool kit in the back of your car and go. 
2. Feedback Sports Ride Prep Tool Kit
Find Out More
Sometimes you only need those tools that are essential to get your bike ready for your ride. If you're looking for a set of tools that will help you carry out your pre-ride maintenance checklist, then check out the Feedback Sports Ride Pre Tool Kit. 
This set includes everything you need to get your bike tuned up for your ride including a full set of Torx and hex wrenches, and a variety of specialty wrenches including a valve extender wrench and 15mm pedal wrench.
And it all fits into a convenient carrying case for easy transport to and from your ride start. You'll be impressed with the Pro level quality of this set.
The tools are precision cut to minimize stripping. They also feature large rubber grips for improved grip. While you may pay a little more for this set, the quality is certainly worth it.
3. Unior Pro Home Tool Kit
Find Out More
If you haven't heard of Unior tools before. Then allow me to fill you in.
This company, which is based out of Slovenia with its bike tool operations in the U.S., is the official tool supplier for four Pro Tour teams and a number of UCI World Cup MTB teams in addition to being a co-title sponsor of Unior-Devinci Factory Racing Team.
Most notably, Unior is the tool supplier for Trek Bicycles service shops. That should give you an idea of the quality of the tools in its Pro Home Set. This impressive kit includes all the essential tools you need to tackle a host of maintenance and repair tasks.
It has all the tools you'd expect plus the less common ones, such as a pocket truing tool and Master Link pliers. And, the Unior Pro Home Tool Kit fits compactly into a molded carrying case for easy transport to and from your ride location. 
4. Feedback Sports Team Edition Tool Kit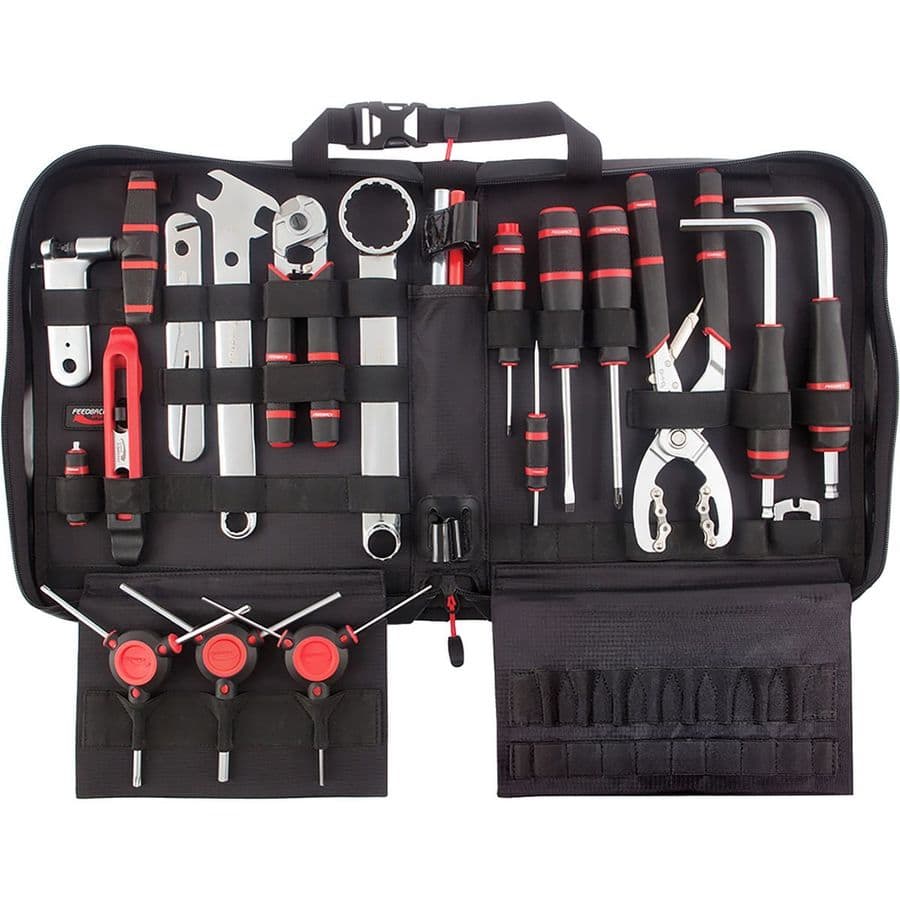 Find Out More
If you're serious about maintaining your own bike, so serious that you don't even trust the trained bike mechanic at your local shop to touch it, then you need a quality tool kit that will allow you to do the repairs and maintenance that your bike needs.
The Feedback Sports Team Edition tool kit gives you everything you need to complete repairs, maintenance, and upgrades. 
This kit includes 19 tools covering 25 different functions. In addition to a complete set of Torx and hex wrenches, this kit also includes less common tools such as a valve core tool, crank arm cap tool and rotor truing tool.
It all fits compactly into a carrying case that you can throw into the back of your car as you head out on that weekend destination cycling trip. And while the price may seem too good to be true, you'll be wowed by the quality and precision cut of these tools.
No stripping out bolts or screws with this kit.
5. Park Tool PK-4 Professional Tool Kit
Find Out More
Park Tool is the household name when it comes to bike tool. The name itself screams pro and high quality.
Walk into any of your local bike shops and chances are you'll see Park Tool in their workshop.
The PK-3 is Park Tool's professional range of tool set with over 70 different sets of tools available. These extensive range of tools will get you through most of the advanced bike repair and maintenance tasks on all types of bikes.
It even comes with the Cyclone Chain Scrubber, which is a nice bonus. In my opinion, it's the best and most effective chain cleaner around.
Best of all, all these tools can be stored in a carry box, which is about the size of your average tool box in the garage.
So, if you're after the highest quality and extensive range of bike tools, look no further than the Park Tool PK-4.
6. Topeak PrepStation 2
Find Out More
If you do enough DIY work on your bike, then you know that there is nothing more frustrating for a bike mechanic than not having the right tool for the job,
Well, actually, there's one thing more frustrating. Having the right tool for the job but not being able to find it. Your tools are worthless if you can't find them.
That's why you need to keep everything organized. That's what the Topeak has in mind with its PrepStation 2, which comes complete with a 40 piece toolset and a mobile workbench in which to store them.
This five-level wheeled tower features a series of labeled shelves that make your tools easy to find. Forty tools add up to a lot of weight. In order to support all that weight, the Topeak PrepStation 2 is made of heavy-duty plastic with large 5-inch rubber wheels for easy transport.