In this post, we will review the top black diamond rings, black diamond engagement ring, black diamond ring engagement,and black diamond earring picks.
Black diamonds are genuine diamonds that appear in an opaque color specifically known as fancy black. They are less common in the resale market than red, colorless, or pink diamonds.
Black diamonds can be used as engagement rings or set as jewelry that is suitable for men and women alike. There is no set rule that an engagement ring has to be of a certain color. This type of diamond is only found in mines of Brazil and Central Africa. They are also known as carbonado and are composed of graphite, amorphous solid, and diamond.
black diamond rings
Black Diamond Ring Engagement
https://www.youtube.com/watch?v=6dR_RKVLVs0
How many types of black diamonds are there?
There are only two types of black diamond: naturally occurring black diamond and enhanced black diamond.
Fancy black diamonds are naturally occurring. They are the same opaque color from the rough state in the mine to the finished product at the point of sale. The uniqueness of this diamond creates intrigue because of their rare appearance.
Enhanced black diamonds are lesser quality than natural black diamonds. Enhanced diamonds are treated diamonds that are first burned to give an opaque appearance than polished to finish. This artificial process allows the enhanced diamond to be sold significantly cheaper.
Are black diamonds GIA certified?
Gemological Institute of America, the most widely known diamond certifier in the world, does not grade enhanced black diamonds, so if you are presented with a GIA certificate for them, then you can certainly question the integrity of the product. Natural black diamonds are GIA certified.
How much do black diamonds cost?
As enhanced diamonds have been artificially altered, they are quite cheap around $300 per carat. Natural diamonds cost around $3000 per carat. In general, they are a lower cost option to colorless diamonds.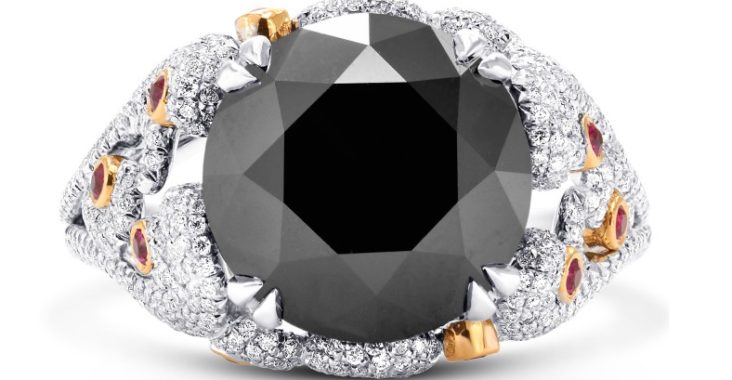 How are black diamonds different from colorless diamonds?
The major difference between natural black diamond and colorless diamond is the graphite inclusions in the crystalline structure of a black diamond whereas a colorless diamond does not have to possess this characteristic. Other than that, they have the same properties and hardness.
What are some of the most famous black diamonds in the world?
The Black Star of Africa, last seen in Tokyo in 1971, was an amazing 202 carat. The Korloff Noir is located in France and held by the Korloff jewelry company. The largest natural black diamond in the world is 312.24 carat called Spirit of de Grisogono. It was mined from the Central African Republic.
Should I choose a black diamond engagement ring?
There are no rules, customs, or requirements on the color of an engagement ring although colorless diamond rings tend to be the most common. The important consideration is suitability to the person wearing the ring.