What is the Cheapest Electric Car In World? There's no getting away from the fact that most electric cars cost more than equivalent petrol and diesel models. Depending on the type of vehicle, the difference in price between an electric car and an internal-combustion-engined one can be several thousand pounds, even after the government's Plug-in Car Grant (PiCG) has been applied.
The day that electric cars cost the same as petrols and diesels is expected to arrive in the next few years, but for now, buyers have to make peace with the fact that access to an electric vehicle's low running costs requires a steeper initial outlay.
Having said that, buying an electric car needn't break the bank if you know where to look. There are several battery-powered cars out there with competitive price tags, providing an entirely affordable route into the world of cars.
To help you on your way, we've put together a list of the top cheap electric cars on sale today. Not all of them will suit your needs – ranges and charging times vary from model to model – but there'll almost certainly be something that ticks all the right boxes.
And remember, once you've met the asking price, the total cost of ownership could still be significantly lower than that of a petrol or diesel model, with electricity bills amounting to around three pence per mile on an average household tariff. For those charging overnight – when electricity is cheapest – that figure could be even lower!
Scroll down to read our list of the cheapest electric cars, starting with…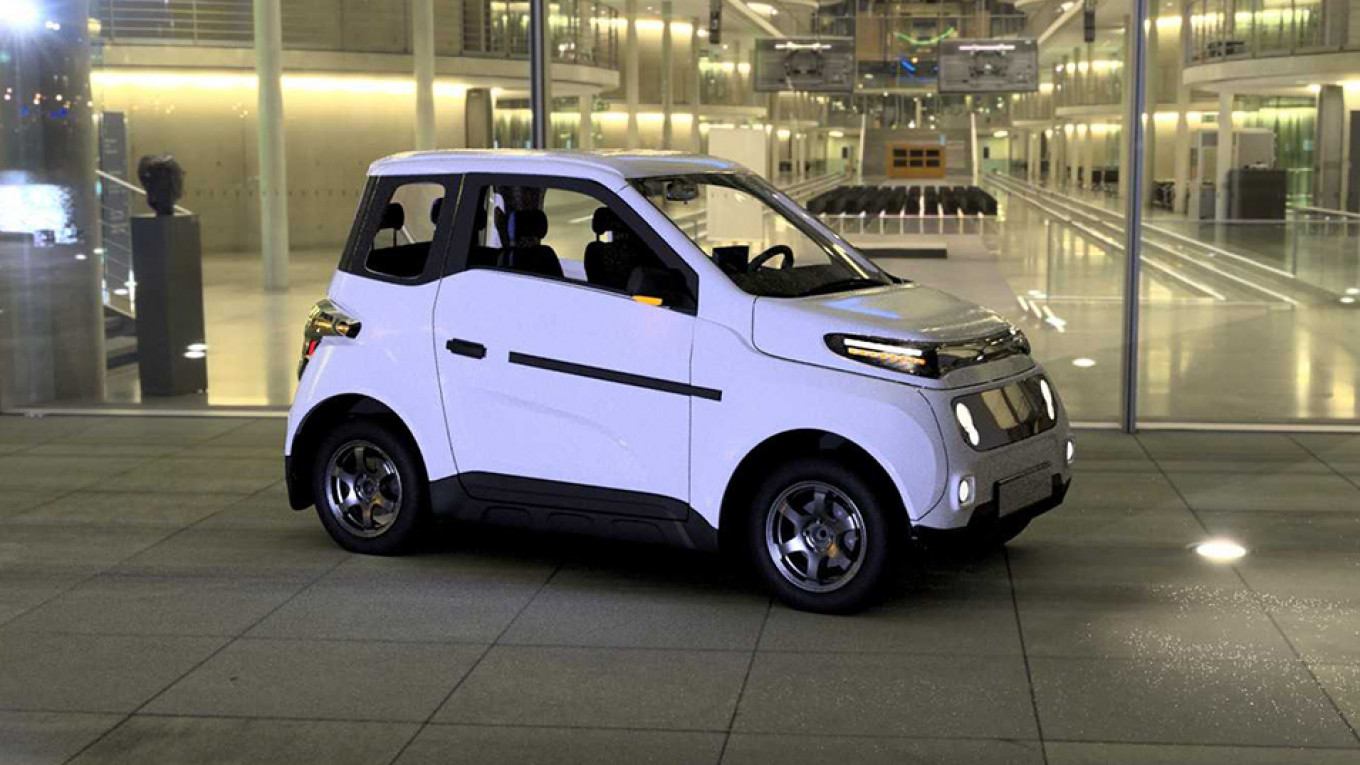 Cheapest Electric Car In World
1. Renault Twizy – £10,685
Okay, so we're stretching our definition of 'car' here, as the Renault Twizy is technically a quadricycle, but given how much cheaper it is than the very cheapest fully fledged electric cars, you'd be mad not to consider it. Just £10,685 buys you 11bhp, a top speed of 50mph and a real-world range of around 50 miles. It doesn't sound like much, and it isn't, but for short-distance city commutes, it could be all the 'car' you ever need.
2. Smart EQ ForTwo – £17,350
Smart's EQ ForTwo is a two-seater version of the ForFour below. With no back seats to weigh it down, range improves slightly from the larger car, although 83 miles from a single charge remains nothing to write home about. There's also a Cabrio version that combines city-focused driving dynamics with open-air thrills. In a warmer climate, this might be one to consider. But in the UK? Forget it.
3. Skoda Citigoᵉ iV – £17,495
The Skoda Citigoᵉ iV is the sister model of the Volkswagen e-up! and SEAT Mii electric mentioned below, however it undercuts both on price. The reason for this is that an entry-level version without fast charging is available. This may be sufficient for people with a modest daily mileage who are happy to top the car up slowly overnight at home.
Featuring the same 36.8kWh battery as the VW and SEAT, the Skoda returns just over 160 miles of range on a full charge and will hit 0-62mph in 12.3 seconds. Fast-charging of up to 50kW is available on the entry-level SE version at a cost of £720 (the charging cable costs another £170) as well as being standard on the top-spec SE L model (priced at £19,815).
4. Smart EQ ForFour – £17,785
The Smart EQ ForFour is powered by an 80bhp motor, delivering a leisurely 0-62mph figure of 12.4 seconds. Meanwhile, the battery measures 17.6kWh, and the official range isn't great: 81 miles from a full charge. This is poor by early electric-car standards, never mind modern ones, and an update to the car in late 2019 left the powertrain untouched.
Still, if you're only ever going to drive to the shops and back – or perhaps tackle the school run each morning and afternoon – then the Smart EQ ForFour will still serve those purposes well. Just don't expect it to do much else.
5. SEAT Mii electric – £19,800
The SEAT Mii electric went on sale towards the end of 2019, and with a 36.8kWh battery offering 161 miles of range, it makes the pricier versions of the Smart models above look redundant. Features like LED headlights, cruise control and rear parking sensors are all standard, as are lane-keeping assistance and traffic-sign recognition systems.
It's also worth bearing in mind that the Skoda Citigoᵉ iV and second-generation Volkswagen e-up! – the car on which the Mii and Citigo are based – are also on sale, giving more choice to those in the market for a small electric city car.
6. Volkswagen e-up! – £20,195
This is most expensive of the VW Group trio that also includes the Skoda and SEAT above. Unlike those models, the e-up! still has a petrol-powered counterpart in its range, but the electric version received an upgrade in 2019, getting a larger and more energy-dense battery for an improved driving range.
The up! remains a clevery practical and fun-to-drive small car, whether in electric or petrol form, but its interior is starting to feel a bit dated and spartan compared to newer rivals, with a mounting point for a smartphone in place of any flashy digital dials or integrated infotainment system.
7. MINI Electric – £24,900
Like the Honda e, the MINI Electric is targeted at city-dwelling buyers, with around 120 miles of real-world range available from a 32.6kWh battery. At 1,360kg, the MINI Electric is around 130kg heavier than the petrol version of the hatchback, with the ride height raised slightly to protect the battery, located in the vacated transmission tunnel. It still feels agile though, preserving that trademark MINI 'go-kart handling'.
8. Peugeot e-208 – £25,550
The Peugeot e-208 is based on the same platform as the Vauxhall Corsa-e, as both firms are part of the PSA Group. This means the e-208 gets the same 50kWh battery as the Corsa-e, although its official range is slightly higher, at 211 miles.
Arguably, both the exterior and interior design of the e-208 surpasses that of the Corsa-e, begging the question of why the latter is more expensive. We've yet to work that one out, but one thing we can say is that – among many positive traits – the Peugeot's ride is slightly too firm for our liking.
9. MG ZS EV – £25,995
The MG ZS EV was further down this list originally, given that the company matched the Government's £3,500 electric-car discount for the first 3,000 buyers of the car. However, that offer didn't last forever, so we're sticking with the standard on-the-road-price here.
Chinese-owned MG's ZS EV boasts 163 miles of range from a 44.5kWh battery, while a 50kW charger should give the battery a 0-80% top-up in some 40 minutes. It looks like a steal even at its 'normal' price, but there are a number of small flaws that could prove frustrating in the long term.
10. Renault ZOE – £26,170
If you're after a capable and cheap electric car, the Renault ZOE is about as good as it gets. Updated for 2020, the latest model uses a 52kWh battery and comes with an official range of 245 miles. 50kW CCS fast charging has also been added, making quick top-ups at public stations more feasible, too.
Until recently, the ZOE was a lot further down this list on account of its battery-leasing scheme, however that has now been scrapped: Renault says higher-than-expected residual values have convinced it to drop battery leasing from its offering, with a 0% Personal Contract Plan (PCP) finance offer introduced instead.