Pressure washing is the process of using water (with or without additives) under high pressure to clean mold, grime, dust, mud, oil, or dirt from surfaces such as siding, sidewalks, fences, decks, patios, and driveways. Pressure washing is particularly useful for driveways as it is an efficient and fast way to clean the surface. Maintaining the surface of your driveway is very important in home maintenance in order to increase its longevity and appearance.
The average cost to pressure wash your driveway ranges from $180-$240 or $0.30-$0.40 per sq.ft., with the average homeowner spending around $210 to pressure wash a 600 sq.ft. driveway.
Pressure Wash a Driveway Cost
Driveway pressure washing costs
National average cost
$210
Average range
$180 – $240
Minimum cost
$130
Maximum cost
$375
Cost To Pressure Wash a Driveway
The process of pressure washing differs between different types of surfaces. There are many different types of driveways and therefore all require a different process.
Asphalt: For asphalt surfaces, the less pressure the better. A pre-pressure wash detergent can be applied to the surface and allowed to sit prior to pressure washing. Most companies use a ball valve with a swivel to allow for ideal pressure for rinsing rather than too much pressure from a gun.
Concrete: Concrete driveways are very porous and therefore require a high amount of pressure to remove the grime. First, a cleaning solvent is used on the surface, then the pressure washer is used, and then a sealant is applied.
Brick: The process of pressure washing a brick driveway is identical to that of a concrete driveway. First, the brick should be soaked with water, followed by a detergent, and then a high pressure (25 degree) nozzle used to clean the dirt and grime off the surface. A sealant can be used at the end to protect the brick.
Gravel: For gravel driveways, a pressure washer can be used at either a low pressure closer to the surface or a stronger pressure held away from the surface. Pressure washers will help to remove mold, mildew, and any weeds growing in the gravel. It is important not to spray too close at a high pressure, which would shift the gravel.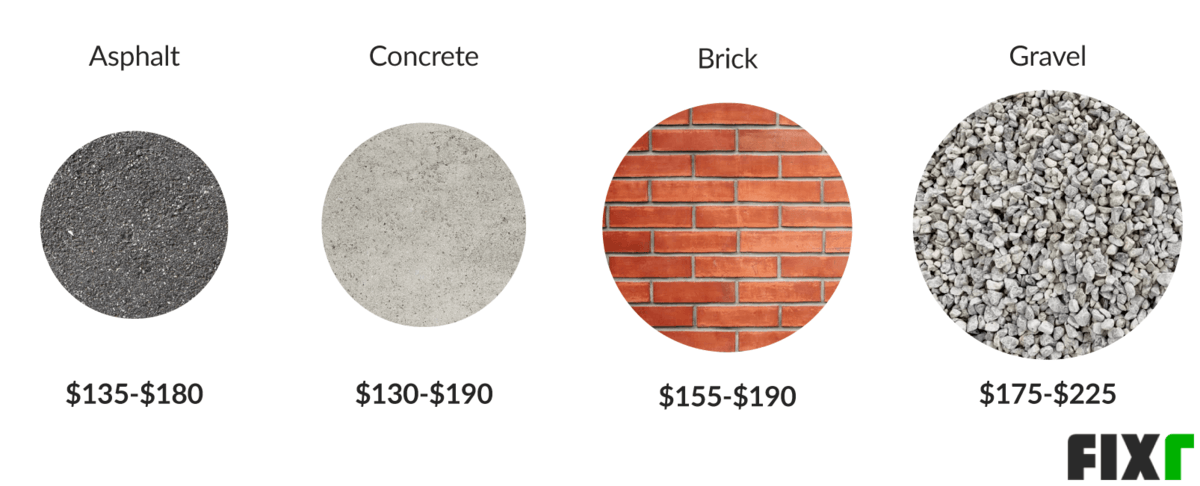 The chart below illustrates the differences in pressure washing asphalt, concrete, brick, and gravel surfaces as well as their cost.
| Type of ground | Price (average cost for a 600 sq.ft. driveway) |
| --- | --- |
| Asphalt | $135-$180 |
| Concrete | $130-$190 |
| Brick | $155-$190 |
| Gravel​ | $175-$225 |
Pressure Washing Prices Per Hour
The pricing structure for pressure washing varies between companies. While some may charge per sq.ft. or per hour, others may charge a flat fee. When charging per hour, most companies charge between$50-$150 per hour. A 600 sq.ft. driveway will take about 3 hours to pressure wash.
The preparation of the surface begins with cleaning away any loose debris from the surface using a broom. If there are any stains on the surface, a degreaser can be sprayed onto the surface and scrubbed using a stiff brush.
Next, a detergent will be applied using the tip designated for washing by attaching a garden hose and detergent tube directly to the pressure washer. Once the pressure washer is turned on, it will begin to spray a stream of water and detergent onto the surface. The detergent is left to sit on the surface for approximately 5 minutes.
Once the 5 minutes is up, the pressure washer tip labeled soap will be changed to a very narrow tip (often 25 degrees). A very high-pressure stream of water is used to clean a driveway.
Once the driveway is completely dry, it is time to apply a sealant. This step is not always necessary, but it helps keep the driveway in good shape. Once the sealant is applied, the driveway should be left for 24 hours before walking/parking on it.
Pressure Washing Prices Per Square Foot
The average cost to pressure wash a driveway is $0.30-$0.40 per sq.ft. Below is a table illustrating the cost to pressure wash a driveway of different sizes. Typically the larger the driveway, the more it will cost to pressure wash it. However, in some cases, professional companies will charge a minimum fee of around $50-$80 per project for smaller driveways.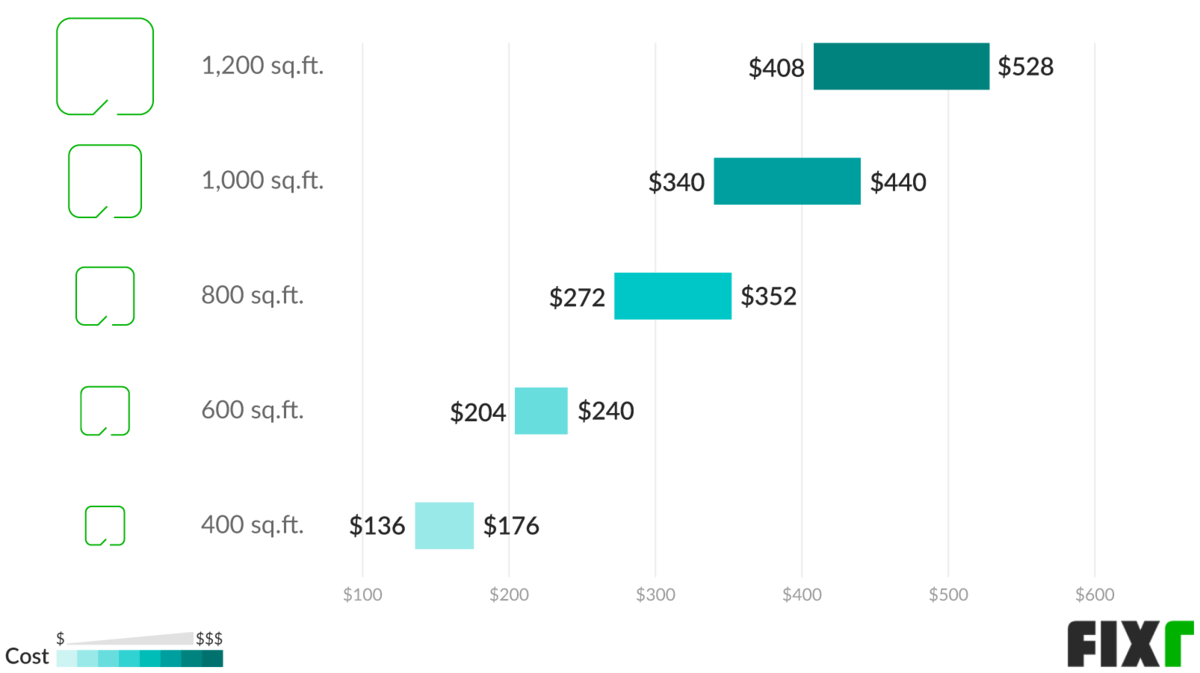 | Size of the driveway | Average cost |
| --- | --- |
| 400 sq.ft. | $120-$160 |
| 600 sq.ft. | $180-$240 |
| 800 sq.ft. | $240-$320 |
| 1,000 sq.ft. | $300-$400 |
| 1,200 sq.ft. | $360-$480 |
Pressure Washing vs. Power Washing
Pressure washing and power washing are very similar, but with one difference: heat. Pressure washing uses a strong stream of cold water to clean surfaces, whereas power washing also has the added element of using hot water.
Power washing uses hot water to remove dirt, mold, grime, fungus, and mildew from outdoor surfaces. It also can help to remove grease stains from the driveway and kill weeds with its high temperature and water pressure.
Pressure washing uses high-pressure water to clean fences, sidewalks, decks, driveways, patios, etc. Pressure washing relies heavily on the use of high water pressure to clean. The regular temperature water does a great job at removing dirt, but does not always perform as well against dirt, mold, grime, fungus, and mildew. Pressure washing tends to take longer than power washing.
Power washing may cost slightly more than pressure washing, with power washing averaging $0.40-$0.80 per sq. ft. and pressure washing $0.30-$0.40 per sq.ft.
Additional Pressure Washing Prices
Pressure washing can also be done to many other areas of your home to help keep them clean and in good shape. Most companies offer bundle deals for having multiple areas of the home cleaned at once; it might be a good opportunity to have many areas done at the same time as the driveway so you can avoid paying extra later on.
Pressure Washing Gutters Cost
Maintaining clean gutters is an important part of home maintenance. Gutters can easily clog and should be cleared of debris regularly. Using a pressure washer to clean your gutters can be a lot quicker and provide you with better results. The average cost to pressure wash gutters is approximately $60-$150 per project or $0.55-$1.50 per linear foot .
Cost To Pressure Wash a Deck
Pressure washing is a great way to revive a deck and strip the wood of dirt and grime. Typically, decks are pressure washed in preparation for painting or restaining. The average cost to pressure wash a deck ranges from $135-$250 per deck, approximately $0.40 per sq.ft. If you would like to include the handrails  and stairs in the project, you can expect to pay an extra $70 per staircase and $2-3 per linear foot  for the handrails .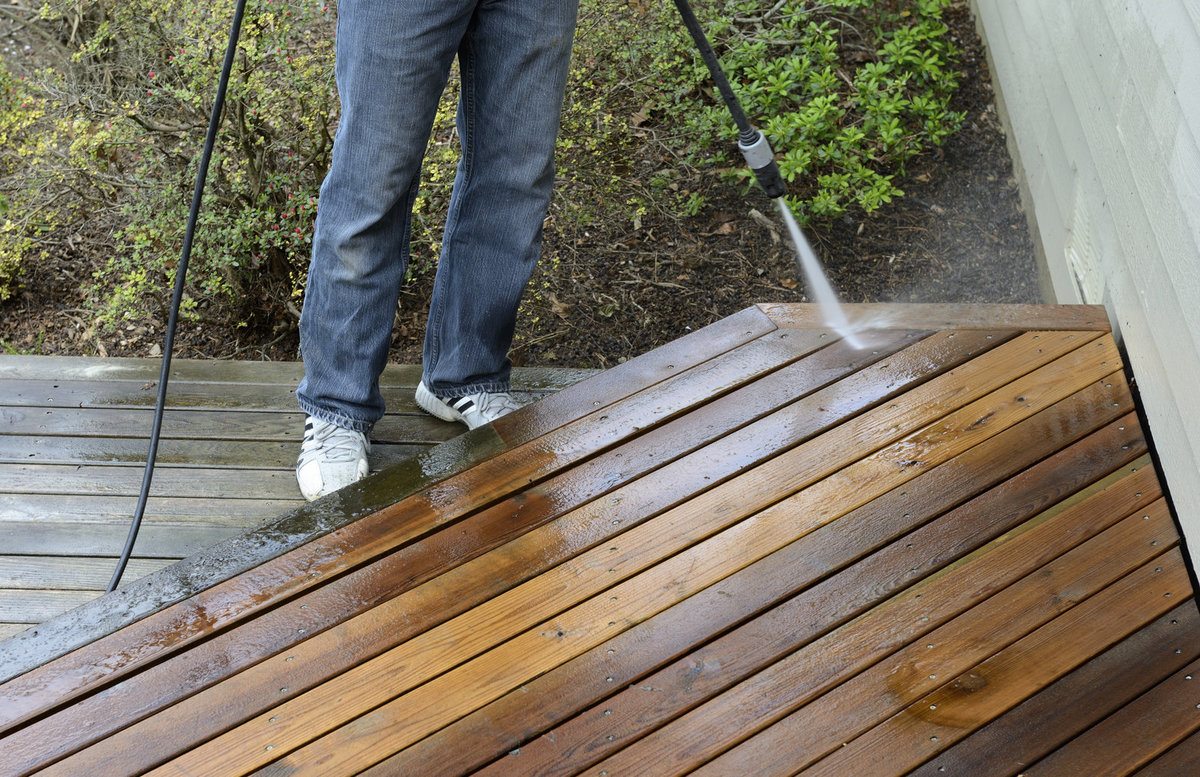 Fence Pressure Washing Cost
Pressure washing will help to rejuvenate the look of your existing fence by removing old and faded stains from the woodwork. Pressure washing will also prepare the fence for the administration of a fresh coat of sealant or paint. The average cost to pressure wash a fence averages between $150 and $300 per project or $0.35-$0.50 per sq.ft.
Pressure Wash Roof Cost
Over time, your roof will start to develop moss and mold on the shingles that will have to be removed in order to prevent further damage. Pressure washing your roof will help to remove this buildup and will cost an average of $180-$275 per project. The type of roof can have an impact on the cost, with cedar roofs costing approximately $0.60-$0.95 per sq.ft., and composite roofs 2 $0.15-$0.35 per sq.ft. There may also be an additional cost of $0.15 per sq.ft. if your roof has a steep pitch .
Pressure Washing Vinyl Siding Rates
Cleaning your home's siding can help to maintain its beauty and appearance over time. When it comes to maintaining or restoring that like-new look, a pressure washer can be a very good tool to have around. Pressure washing your siding can help to eliminate any dirt, grime, and mold that has developed over time. The average cost to pressure wash your home's siding ranges from $95-$275 per project or $0.35-$0.45 per sq.ft., depending on the size of your home.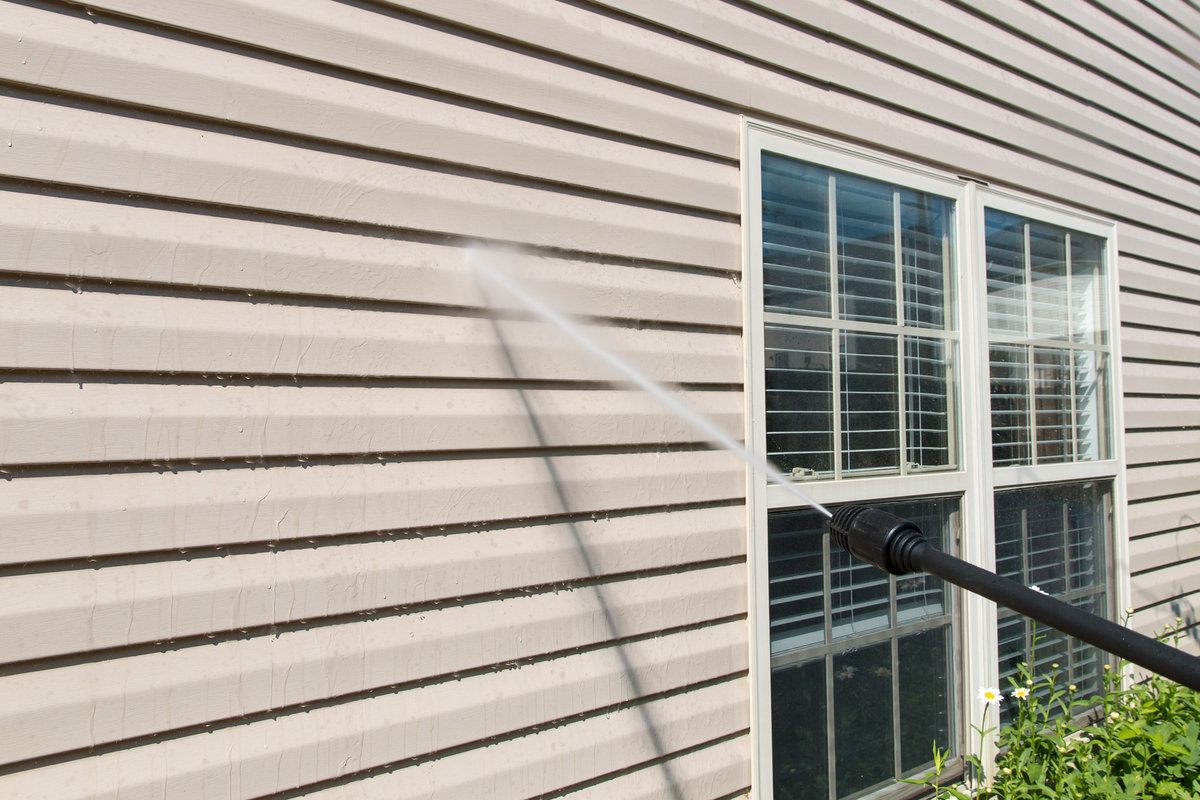 Pressure Washing Concrete Patio Cost
Pressure washing your patio is a great way to remove oil stains, grease, algae, or mold that cannot be fully removed by other methods. Pressure washing a patio can cost approximately $120-$250 per project or $0.30-$0.45 per sq.ft., depending on the size of the patio.
Pros and Cons of Pressure Washing a Driveway
The chart below illustrates the pros and cons of pressure washing a driveway.
| Pros | Cons |
| --- | --- |
| Removes fungus, dust, grease, etc. from the surface of the driveway to retain its consistencyIncreases the life of the driveway and discourages mold from growing on the surfaceFast and efficient cleaningRemoves debris from the cracks and gaps | Can degrade a concrete surfaceCan cause serious damage or bodily harm if in the hands of an inexperienced user |
Cost Factors of Pressure Washing a Driveway
There are different cost factors that should be taken into account, such as the material of the driveway, the size, and the shape.
The size of the driveway to be cleaned is one of the largest contributors to the cost when it comes to pressure washing. Most companies charge a base fee for a certain size and an additional cost to any square footage beyond that range.
In addition to the size, the shape of the driveway also affects the overall cost of the project. You can expect to pay a bit more for driveways that are circular in shape compared to a single-car driveway. The shape of the driveway can impact the difficulty of the job.
Lastly, the materials needed for the job can impact the cost. Materials such as surface repair products, fuel emissions solvents, and weed, mold, and/or mildew removers may be necessary to get the job done. This can add upwards of $40 to the total cost of the project.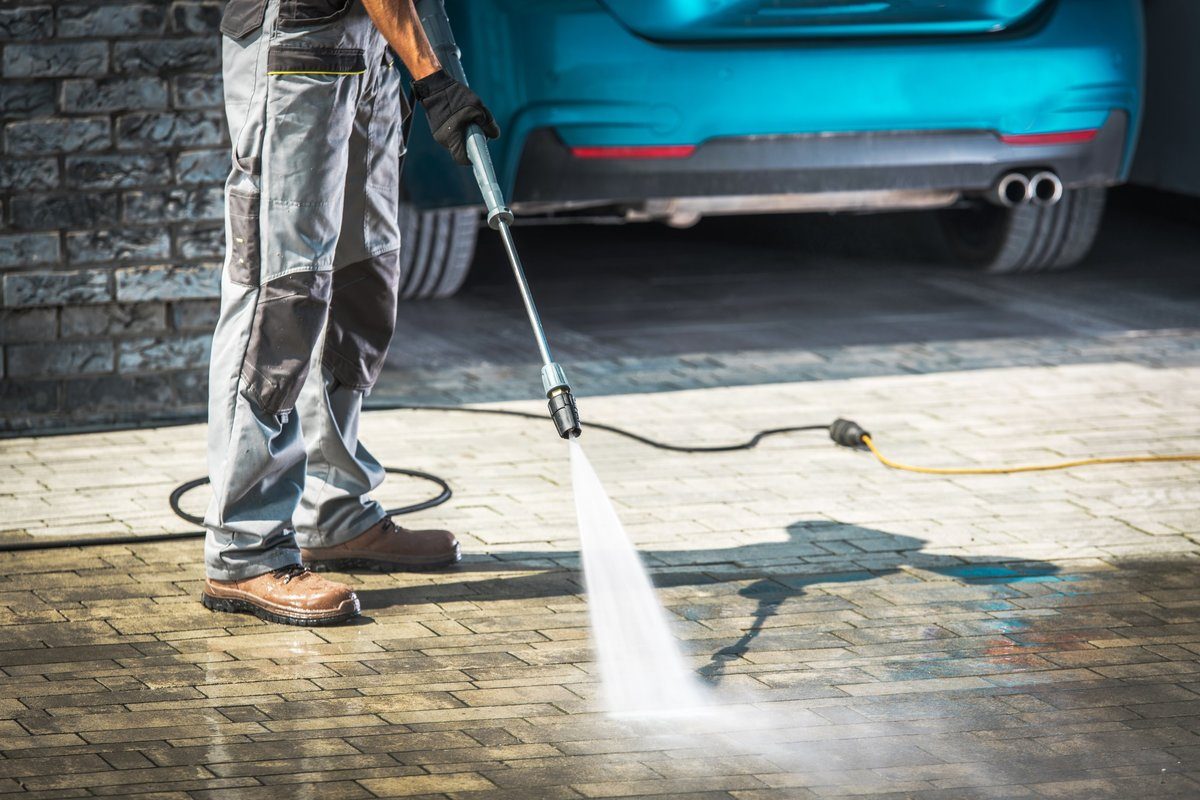 Pressure Washing Hazards
People often tend to think that pressure washing is an easy DIY task, but they fail to recognize the potential risks and hazards involved. One of the biggest incidents is property damage. Many pressure washers have settings specific to the surface you are working on. If you use too powerful of a spray, there is the risk that you can strip away the finish and destroy your property. Another potential hazard is personal injury. Failing to use the proper protective equipment, such as footwear, glasses, and long pants, can put you at risk for broken bones or even going blind.
Enhancement and Improvement Costs
Sealing the Driveway
Driveway sealer can help to boost the curb appeal of your home as well as extend the life of your driveway by protecting it from the elements, spills, leaks, and cracks. Driveway sealing costs approximately $90-$120 for driveways up to 480 sq.ft., and $180-$250 for driveways 1,000 sq.ft. plus in size.
Window Cleaning
Window cleaning can be easy with the help of a pressure washer. The wand allows you to reach up to second-story windows without the use of a ladder. Professionals will charge approximately $185-$400 per project to pressure wash windows, all depending on the number of windows and level of difficulty.
Additional Considerations and Costs
Maintaining a driveway can help to enhance its appearance and preserve it over time. How often you need to perform heavier-duty maintenance tasks really all depends on weather exposure and the amount of vehicle traffic. Removing stains as soon as possible and avoiding using materials that might scrape or scratch the surface are critical to enhancing your driveway's lifespan.
While you do have the option of purchasing or renting a high-powered pressure washer at many local home improvement stores, there are many pros and cons to completing this as a DIY project vs. hiring a professional pressure washing service. Although it may be cheaper to rent/buy the machine itself, the professionals have a greater knowledge of the job and can prevent many issues that are likely to arise from inexperience. A few issues with DIY is that you have to be aware of the different PSI (pressure levels) for different surfaces. Doing it yourself may result in damage to the surface. Secondly, you may not be aware of which areas to avoid pressure washing. Thirdly, the nozzles–pressure washers come with several different nozzles to choose from depending on the job. You could damage a surface if you select the wrong nozzle. Lastly, it is a huge safety concern. Many people are injured using pressure washers incorrectly. Proper protective clothing such as boots, gloves, and eyewear must be used.
If you feel comfortable and opt to do it yourself, there are many kits that are available for purchase online to get the job done right and video tutorials outlining the steps.
There are many different types of pressure washers for home use:
Cold Water Pressure Washers are the most commonly used and the most affordable. They work great for cleaning off your siding, deck, and other structures.
Hot Water Power Washers are great for use on oil, grease, and grime. They use really hot water and it makes it easier to clean things.
Electric Pressure Washers are the most common type that you will see at people's homes. They are lightweight and very convenient to use and are great for any normal home pressure washing projects.
Gas-Powered Pressure Washers are very powerful washers and help get big jobs done quickly and effectively. Unlike electric power washers, gas power washers do not need to be plugged in so you can bring it wherever you want.
Make sure to get a free price quote from more than one company before choosing the one you want to hire for the project. This is extremely important to make sure that you are getting a fair price for the scope of work. It is also important to make sure that they follow EPA regulations and are insured with the appropriate