A Soft Washing Service will normally be a professional Pressure Washing Service with the right Soft Washing equipment. 90% of the time, the fly by nighters will not have the correct equipment in order to apply the right amount of chemical at the right ratios in order to perform a proper Soft Washing of your home. With that being said, I would recommend a Soft Washing process on substrates that are notoriously hard to get clean with pressure or would be damaged if one were to use high pressure on them.
Soft-Wash substrates include:
Soft Washing requires being cognitive of your landscape and of the substrate you are washing as direct harm can happen to landscape if the plants are not pre-soaked with water before treatment begins.
How To Soft Wash Your Home: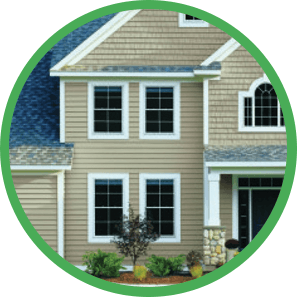 Start by premixing your Sodium Hypochlorite and your surfactant,(you want to make sure that you use the correct amount because you do not want visible bubble bath like suds on the house nor do you want to much SH as this could harm the siding) many Professional Soft Washing companies choose to use a proportioner system that does this automatically in order to control the flow and ratio of chemicals on the fly.
Then, after you have pre-soaked the landscape with water, start applying your mix, apply generously because if you have mixed your ratios correctly for the substrate you are cleaning you won't have to worry about over applying. Now, allow to dwell on the siding.
Come back in about 5 minutes and see what your effect to the mildew has been. When dealing with Vinyl Siding, you may only need to apply once, if you are cleaning a more porous stubborn substrate like stucco, you may need to up your concentration on your proportioner then reapply. Apply as many times as you need to in order to get the desired result, then turn all chemicals off and rinse with pure water. Make sure you rinse enough to dilute any and all chemicals that were present.
The secret to great results in pressure washing and soft washing is to understand the capabilities of your equipment and chemicals.
Many Professional Soft Washing Companies have access to chemicals at concentrations that consumers just cannot obtain at the local hardware store. This completely changes the game entirely, because they can also control what concentrations get sprayed where. (ex. Higher concentration for the roof, low concentration for vinyl siding) all on the truck, within the same day.
If you are considering getting this service for your home, make sure that you hire a reputable company with great reviews and a wealth of knowledge about what they will be applying to your home (also, weather soft washing or pressure washing would be a good fit). If they know what they're doing, you shouldn't have any problems and your home should shine bright when they're done!
A pressure washing company near you will offer some specific suggestions on how often you should schedule power washing services for your home, and most homeowners should typically plan on soft wash roof cleaning every year. However, note some other vital information about when you might need added power washing services for your property, and why these services are important for keeping your home in good condition:
Sand, silt, and gritty debris etch and scratch brick, siding, concrete, and other exterior surfaces and materials. Homes located near a water body, desert, or even a dirt road might need power washing services more often than others, to remove that debris and protect their property from damage.
Storms leave behind lots of leaves, twigs, seeds, and other such debris, and also tend to deposit acid rain residues on a home's roof and exterior walls. It's good to consider consistent power washing after a particularly stormy season or if your local area is prone to lots of rainfall throughout the year.
Airports, busy highways, and production facilities often mean lots of added soot, ash, dust, and other pollutants that settle onto a roof and around a home's exterior. If your home is located near any of these, consider more consistent power washing services!
Humid areas typically result in mold, mildew, moss, and algae along a home's roof and exterior walls, as well as wood decks and fences. Properties in the tropics often need regular pressure washing more frequently than others, to kill these contaminants and keep your outdoor area clean and healthy!
An outdoor wood-burning fireplace and charcoal grill result in lots of soot settling onto a home's exterior. If you have either of these features on your property, plan for regular power washing services at least along the side of the home near your fire feature!