Some people develop darker lips over time due to a range of medical and lifestyle factors. We've compiled a list of dark lips treatment options you can find in the market right now. All of these are highly rated, have excellent reviews and are backed by plenty of positive experiences. Your next dark lips treatment product could just be a click away with any of these fantastic options. Read on to learn about the causes of dark lips and some home remedies to lighten them.
Causes of dark lips
Darkening of the lips can be the result of hyperpigmentation. This is a typically harmless condition caused by an excess of melanin. Lip hyperpigmentation may be caused by:
excessive exposure to the sun
lack of hydration
cigarette smoking
allergic reactions to toothpaste, lipstick, etc.
too much caffeine
lip sucking
Most of these causes can be addressed by lifestyle changes, such as wearing sunscreen, limiting caffeine intake, or changing toothpaste brands.
The following can also lead to darker lips:
chemotherapy
anemia
vitamin deficiency
excessive fluoride use
Treating hyperpigmentation is often a cosmetic decision. Laser treatments and chemicals such as hydroquinone and kojic acid are often used to treat lip hyperpigmentation. Many hyperpigmentation treatments work by inhibiting an enzyme that produces melanin.
You might, however, find a natural lip lightener that suits your needs. Here are some to consider.
Lemon
A 2002 study suggests citrus fruit peel may act as a melanin inhibitor. Every night just before going to sleep, cut a lemon and gently rub the juicy part over your lips. The next morning, rinse your lips with cool water. Repeat this routine every night until you see results. It may take 30 days.
Lemon and sugar
Before bedtime, cut a lemon wedge and dip it in sugar. Rub your lips with the sugared lemon. The next morning, rinse your lips with lukewarm water.
Lime
Lime is another citrus fruit that may have anti-melanin production properties. In a small bowl, mix together:
1 1/2 teaspoons of fresh lime juice
1 teaspoon of honey
1 teaspoon of glycerin
Gently apply the mixture to your lips before bedtime. Wash your lips the next morning.
Turmeric
According to a 2010 study, turmeric may act as a melanin inhibitor. In a small bowl, mix together:
1 tablespoon milk
enough turmeric powder to make a paste
With a wet fingertip, rub the paste on your lips. Leave it in place for about five minutes before gently rinsing it off with cool water. After drying your lips, apply your favorite moisturizer.
Aloe
An older studyTrusted Source suggests a compound in aloe vera inhibits melanin production. Once each day, apply a thin layer of fresh aloe vera gel onto your lips. Once it's dried, rinse it off with warm water.
Pomegranate
A 2005 study found that pomegranate extract may lighten skin hyperpigmentation. To make this remedy, mix the following into a paste:
1 tablespoon pomegranate seeds
1 teaspoon rose water
1 tablespoon fresh dairy cream
Gently massage the paste into your lips for about three minutes, then rinse your lips with cool water. Repeat daily.
Other natural remedies
Some people use the following home remedies to lighten darker lips. However, research is needed to explore their effectiveness. Keep this in mind if you try them out:
Coconut oil. Using your fingertip, take a very small amount of coconut oil and gently apply it evenly over your lips. You can do this multiple times during the day and also before you go to sleep at night.
Rose water. Mix together two drops of rose water to six drops of honey. Apply this mixture to your lips three to four times per day. You can also apply this mixture before going to bed at night.
Olive oil. Before bed, massage a few drops of olive oil onto your lips.
Cucumber juice. In a blender, juice half a cucumber. Cool the juice in the refrigerator. Once the juice is cool, dip a cotton ball into it and use the cotton ball to gently apply the juice onto your lips. Leave the cucumber juice on your lips for about 30 minutes, then rinse off with cool water.
Strawberry. Make a paste by mixing together five crushed, medium-sized strawberries and 2 teaspoons of baking soda. Gently apply this paste to your lips at bedtime, then rinse off with cool water the next morning.
Almond. In a small bowl, blend 1 tablespoon of fresh dairy cream and enough almond powder to make a paste. Massage the paste onto your lips for three to five minutes. Let it dry for about five minutes. Rinse your lips with lukewarm water. Repeat this process daily.
Almond oil. Every night before bed, massage a drop or two of almond oil onto your lips.
Sugar. Blend together 3 teaspoons of sugar and 2 teaspoons of butter. Three times a week, massage this blend onto your lips for three to four minutes. If you like, you can substitute olive oil for the butter.
Mustard oil. Once per day, gently massage one to two drops of mustard oil on your lips.
Beets. Using a food processor or blender, grind beetroot into a fine paste. Twice a week, apply the beet paste to your lips. Leave in place for 5 to 10 minutes, then rinse off. Once your lips are clean and dry, apply a thin layer of petroleum jelly.
The lightness or darkness of your lips is often a personal cosmetic preference. There are a number of natural home remedies for lip lightening if you have lip hyperpigmentation.
Talk with your doctor before deciding which remedy to choose. They can help ensure the underlying cause of your darker lip pigmentation is also treated.

Soft and pink lips are something we all desire. Not only does it improve your appearance, but also is a sign that your lips are healthy. Chapped lips are unsightly and can cause bleeding in severe cases. Chapped or dark pigmented lips are a concern to many, but with simple remedies, you can easily lighten your lips, make them soft and pink.
There's no doubt — naturally rosy lips are an appealing feature of a woman's beauty or a man's good looks. So, many people who have dark lips want to lighten them.
Some of the main causes of dark lips are excessive exposure to direct sunlight, an allergic reaction, use of low-quality cosmetics, chewing tobacco, excessive smoking, high caffeine intake, and hormonal imbalances. There are many ways to lighten dark lips that don't require buying expensive products or treatments. Natural home remedies can effectively lighten your lips. The time it takes for these remedies to work varies, so use them as long as needed to achieve the results you want.
What Makes Your Lips Go Dark?
Lips can get darken due to various factors like low blood circulation, stress, drugs, smoking and lot more. Better avoid such practices. We are listing below few factors which make your lips dark:
Dehydration, Keeping lips dry for prolonged times.
Lifestyle habits
Consistent use of lip Cosmetics or products
Melasma or Hyperpigmentation
Prolonged exposure to the sun rays
Anaemia
Consumption of caffeine and hot beverages
Definitely, you should take care of these factors to protect the true color of your lips. However, without taking appropriate and consistent lip care methods, you won't be able to maintain the natural pink color of lips.
6 Powerful Methods To Get Natural Pink Lips
To get natural pink lips, there are both natural and artificial ways. Artificial ways include plastic surgery, scrubbing, or peeling, which can seriously harm your lips in the long run. Therefore, this article will not focus upon artificial techniques to get pink lips at all, but will only focus on getting pink lips naturally:
Method 1: Honey-Sugar Scrub
Method 1: Honey-Sugar Scrub
You can use a yummy honey and sugar scrub to give your lips a little TLC. This scrub is very gentle, making it well-suited to the tender skin of your lips. Sugar scrubs are best known for their efficiency in exfoliation. This scrub will gently exfoliate the dead skin cells, which often give your lips an unpleasant appearance.
While you can make this scrub with white sugar, brown sugar is much gentler on the skin. It is also rich in antioxidants that protect your skin from ultraviolet (UV) damage due to sun exposure. The glycolic acid present in the sugar also conditions the skin and protects it from toxins.
Honey is a natural humectant, which means that it attracts moisture. Honey helps keep the exfoliated lips hydrated and healthy. The enzymes present in honey also help lighten the skin tone of your lips.
How To Apply: Put 1 tablespoon of brown sugar in a small bowl. Add 1 tablespoon of honey to it. Mix the ingredients thoroughly. Apply the scrub over your lips with your finger. Lightly massage it on your lips for 1 minute. The massage not only helps with exfoliation, it also improves blood circulation in the lips, making them healthier and lighter with time. Leave the scrub on your lips for a few minutes before washing it off with plain water.
Repeat this remedy 2 or 3 times a week until you see noticeable results.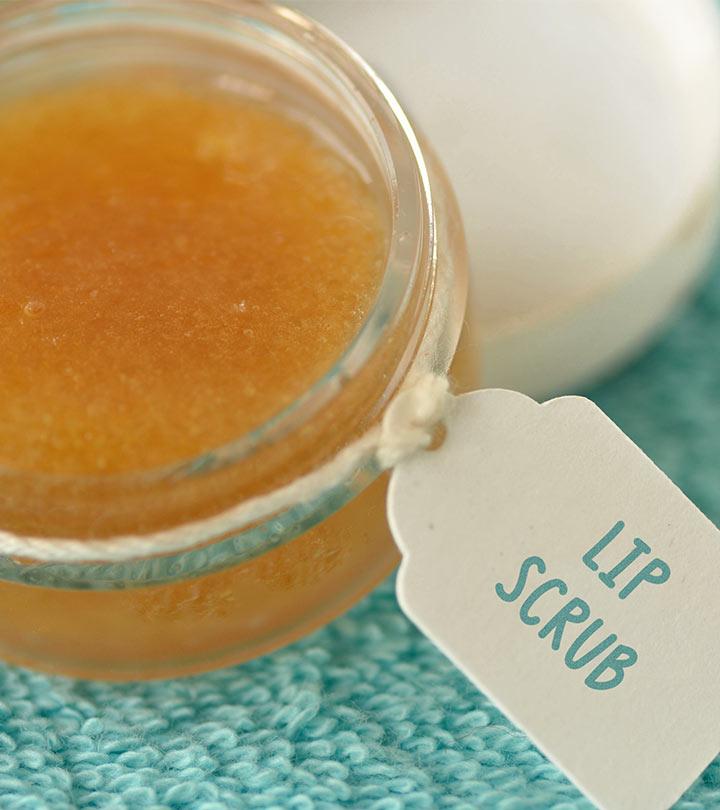 Method 2: Pomegranate Seeds and Milk
Pomegranate works great in lightening pigmented lips. It contains a compound called punicalagin which prevent the production of melanin And also prevents your lips from getting darker when exposed to the sun.
How to Pick a Lipstick Color to Match a Dress
First, view your dress in natural light, and in light similar to the light where you'll be wearing the dress. Determine whether the purple is more reddish or bluish. The former calls for warmer lipstick shades, and the latter calls for cooler lipstick shades.
More importantly, the lipstick needs to look good on you, not just match the dress. Take a look at your hair, eye and skin colors. Are there predominantly warmer (golden and green) or cooler (blue and pink) tones? Warm-toned people look good in golds and sheer, warm plum. Cool-toned people look good in sheer, cool purples and berry hues. Beige shades work well on both.
Feel free to play with lipstick shades at the cosmetics counter. Bring a swatch of the dress if you can.

How to Choose Your Lipstick Based on Your Dress Color
Summer is almost over, but that doesn't mean that you can't still wear colorful clothes. But as much as we all like to wear dresses in fun and bright colors, not always we can find the perfect makeup for it – you don't want to match a purple dress with a bright red lipstick and look like a clown, right? That's why I'm here to help – I'll show you some of the best lipstick/dress combinations that will make you look amazing and will accentuate the gorgeous piece of clothing that you're wearing!
Orange dress + Peachy lipstick
It mat sound a bit odd to combine an orange dress with an orange lipstick, but keep calm – the result will be worth it. Orange is a very delicate color and that's why not every type of makeup goes well with it. The best thing to do is to choose a warm color (a quick reminder: the warm colors are red, yellow, orange and some greens) that isn't too vibrant and shimmery. Nudes are always a great solution, but if you want to go a bit further, choose a matte peachy or red color. Stay away for lipsticks with pink undertones because orange and pink most times don't go too well together.
Yellow dress + Red lipstick
The yellow dress/red lipstick look is one of Hollywood celebrities' favorite look. Many stars like Solange Knowles, Rose Leslie and Michelle Williams have chosen this combination and rocked it! And if celebrity makeup artists choose the red to complement the yellow, why wouldn't you? Be careful when you choose your accessories because if you add more color ,you will lose the whole minimalistic feel of the outfit and you'll look more comic than beautiful. And if you go for a neon matte look, I guarantee all eyes will be on your lips!
Purple dress + Nude lipstick
Purple is a color that isn't so easy to match and that's why many people avoid it. Choosing a lip color for a purple dress can be tricky, mostly because the typical lipstick colors like red, for example, don't go too well with it. But then again, in an episode of "Ugly Betty" Vanessa Williams rocked a bright purple dress with red lips and I have to say she looked stunning! If you want to play it safe, go for a nude lipstick and top it with a lip gloss. Nude lipstick is the best choice when you have an unusual dress color and don't want to look over the top.
Blue dress + Coral lipstick
Blue, opposite to purple, goes well with many colors – they just have to be warm-toned. If you want an edgy look, go for red of bright pink, if you want something more subtle – choose peachy and coral lipsticks. You can even choose a brown color! And because it's all about the shade of blue that you're wearing, my advice is to buy a color wheel of make on yourself. It will ease you when you worry which color will go well with what and who knows, maybe you'll find a cool combination that you haven't thought about till now.