Can something as utilitarian as a diaper bag actually be—dare we say it—stylish? If you're looking for a practical carryall that lugs all your baby essentials, but carries itself like an It bag, the answer is a designer diaper bag. Designer diaper bags may not be cheap (though many are more affordable than you might imagine), but they're an investment, one that may actually pay for itself when you consider how much daily use you'll get out of it. Plus, name brand diaper bags are typically built to last, featuring quality craftsmanship and higher-end materials. We've rounded up 15 of the best designer diaper bags out there—and where you can find them for less.
Best Designer Diaper Bags
The best designer diaper bags make a fashion statement without sacrificing practical features, such as changing mats, bottle insulators and roomy compartments.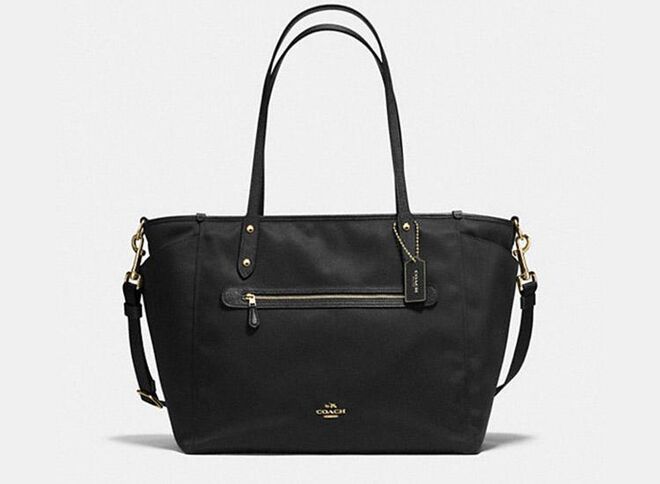 Coach diaper bag
One of the most popular designer diaper bags, the Coach Baby Tote radiates sophistication with its clean lines, leather-trimmed details and classic black and gold palette. But the stain-resistant nylon exterior, removable changing mat and compartments galore mean this diaper bag can keep up with a busy mama's needs.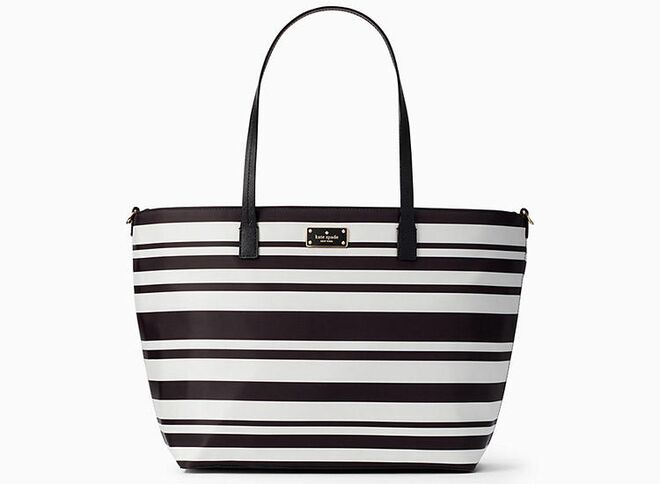 Kate Spade diaper bag
Some things in life are black and white, like this chic Kate Spade diaper bag. It's also super-practical, thanks to the top-zip closure, two interior side pockets, a wipeable changing pad and stroller straps, making it the perfect companion for the fashionable new mom.
Buy it: Kate Spade New York Blake Avenue Printed Margareta Baby Bag, $298, Katespade.com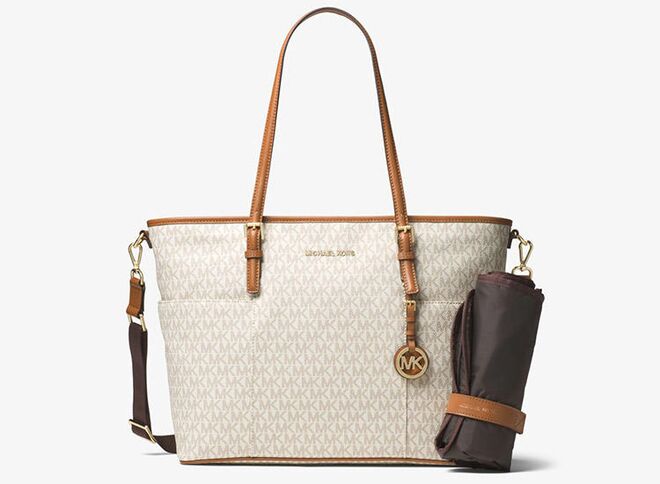 Michael Kors diaper bag
If you're a Michael Kors fan, you'll never tire of his signature logo print, which is showcased on repeat on this roomy yet streamlined diaper bag. But don't worry, it does include multiple interior elastic pockets, designed to ensure whatever items you tote don't budge.Related Video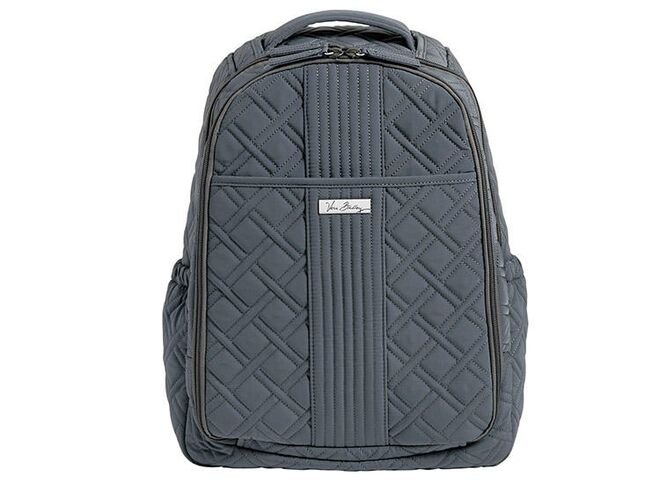 Vera Bradley diaper bag
A sporty diaper bag backpack instantly looks luxe wrapped in quilted fabric, like this Vera Bradley baby bag. But this slate-hued diaper bag is also a great example of form meets function, with laminated, elastic side pockets, perfect for holding baby bottles, and a front panel that unzips and transforms into a changing mat.
We've come along way from the diaper bags of yore with their frumpy patterns and tired pastels. No longer do parents have to relinquish their personal sense of style when toting around baby supplies. Whether you're a label-lover or just looking for a well-made bag with high-end finishings, these diaper bags are fully equipped to handle all your functional needs, while also being stylish enough to palm off as the accessory of a footloose and fancy-free singleton.
MZ Wallace Kate bag
I actually purchased this bag several years before having a baby. It's a fabulous commuting bag with six exterior and ten interior pockets. You'll find enough space to hold a laptop, gym clothes and a roomy exterior pocket on the outside for holding running shoes. Designed for the founders' friend, a mother of triplets, this tote is equipped with two water bottle (or baby bottle) holders and has a luggage sleeve to fit on top of a suitcase, perfect for traveling. It comes in five colors and its luxe nylon material wipes clean. The Kate bag is finished in black Italian leather trim and gold hardware.
Twelve Little Companion Backpack in Camo Print 2.0
This Twelve Little diaper bag is perfect as a gender-neutral backpack for parents to share. The soft, quilted polyester/nylon has a water-resistant coating essential for spills and messes and also gives the bag a nice luster. The shoulder straps and back panel are padded for extra comfort and the main compartment unzips three quarters of the way for easier access. There are two insulated bottle holders, a matching changing mat and a "dirty little secret" zipper compartment on the side of the bag for soiled items.
BEIS Diaper Bag
New mom Shay Mitchell is the brains behind this new bag collection that includes weekender bags, totes, luggages — and now, diaper bags. Available in black and beige, these items are loaded with features to help moms stay organized such as a changing pad, pacifier clips, five exterior pockets, interchangeable and adjustable straps, and a Trolley sleeve that can be used as a zip pocket. Other mom-friendly features include metal feet to protect the bottom from wear and tear, odor proof bags and other tools that help the not-so-glam moments of parenthood. At the end of the day, this bag looks like a chic work tote for the mom-on-the-go.
Happ Levy Backpack Dusty Rose
Designed in Los Angeles, Happ Brand bags all contain at least nine pockets to organize all baby essentials and are made of Happ's signature water-resistant herringbone nylon. The material is lightweight but retains structure through its signature quilting. The Levy Backpack has a wide zippered flap for easy access to every part of the bag so you don't have to go digging around for Sophie the Giraffe when her presence is requested.
The Diaper Bag by Freshly Picked
Freshly Picked is known for its fashion-forward baby moccasins and its foray into diaper bags has been hotly anticipated. With 10 pockets and an easy-access magnetic flap, the vegan leather bag is as functional as it is beautiful. The versatile design has straps that let you wear the bag three ways—as a backpack, a cross-body bag or a shoulder purse.