Draper Tools 140W Multi Tool Review
Manufacturer:Draper
UK price (as reviewed): £21.95 (inc VAT)
US price (as reviewed): Unknown
UK-based Draper Tools was founded in 1919 and has since become a well-known brand for power tools, garden tools, and even welders and generators. We decided to investigate its rotary tool, which sports the rather utilitarian name of the 140W 230V Multi Tool, for this test. It retails for just £22, making it one of the cheapest rotary tools we've seen.
The Draper includes an array of kit to get you started. It's supplied in a hard carry case, something that even Dremel's cheaper offerings don't often include. This will prevent the tool and its accessories getting damaged while they lurk in your shed, and also make it easier to carry around.
Unfortunately, the inside of the case isn't well equipped to house a large number of accessories, with many residing in unsecured plastic bags. At least some attachments are held in a row of slots, while the cutting discs are stored in a plastic container. The Draper also includes the biggest array of collets (a type of chuck) of any rotary tool we've seen, with sizes of 1.6mm, 2mm, 2.4mm, 3mm and 3.2mm. It's therefore compatible with practically any third-party head accessory, which is handy if you need to buy additional ones or replace those that have worn out.
Unfortunately, the Draper isn't compatible with Dremel's Flexible Shaft attachment, though, which restricts any future upgrades solely to head accessories. However, as with Dremel products, you can service and replace worn parts of this tool via Draper, which is a nice touch.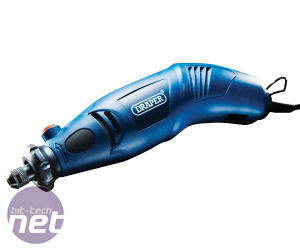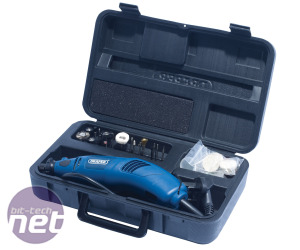 Click to enlarge
Testing
Included in the box is a wide variety of shapes of aluminium oxide grinding stones, which are useful for sanding hard materials, such as metals and plastics. Most are slim, for precision work rather than dealing with large areas, but six 22mm aluminium oxide and silicon carbide grinding stones are also included.
All the grinding stones held up well when dealing with the steel panels of a PC case; they retained their shape even after ten minutes of sanding at moderate speeds. Also included are ten 13mm sanding bands, as well as nylon, cloth and brass brushes. The latter, unfortunately, didn't stand up to much punishment, though, with some of the bristles breaking even during light use – it's just as well they're cheap to replace.
The Draper also has ten 22mm cutting discs. These are for light use, although they managed well when dealing with thin aluminium, meaning that they should be able to deal with hard plastics, wood, other soft metals and small amounts of steel.