flattering swimsuits for plus size
flattering plus size swimsuits
most flattering plus size swimsuits
flattering one piece swimsuits for plus size
11 flattering plus size swimsuits
How to Choose Flattering Plus Size Swimwear
Each body is unique. Everybody has physical traits they'd like to highlight or downplay. And keeping up with swimwear trends might not always be the most flattering option. But by using a few design tips to your advantage, like high waisted bikinis, tummy control paneling, and underwire support, you can create a more proportional look.
Our best advice: try new silhouettes each season. Plus size swimwear is always changing and you may stumble across a style that perfectly flatters your body, even if it's not the hottest celebrity or runway trend that summer. Besides – no one wants to be seen in the same swimsuit as every other woman on social media anyway.
Follow these simple steps before embarking on your swimsuit search.
Step 1: Take your measurements. Most swimwear size charts will ask for your bust, waist, and hip measurements.
Step 2: Take a look at your old swimsuit sizes. Think about how it fit. Was it too snug? A little loose? Or if you've changed sizes, consider going up or down a size. Perhaps try on a few swimsuits next time you go to a department store to compare your current size against what you've previously owned. Buying swimwear online is dependant upon knowing your precise size.
Step 3: Head over to SwimOutlet.com to begin your search. Filter by size, style, brand, or price to narrow your findings or don't – and just decide to browse.
Whether you prefer a one-piece, two-piece, bikinis, something high waisted, or something with underwire, there a few stylistic elements, brands, and silhouettes to look out for. There are hundreds, maybe thousands of bathing suits for plus size women with features specifically designed to flatter curvy body types. Below are some of the best solutions for the most common 'pain points' when choosing swimsuits for plus size women.
Large Middle
Ruffles
Well-placed, tiered ruffles can hide a larger waistline. Angled ruffles look best since they draw the eye downward and away from the midriff. Look for styles from Penbrooke for feminine, fluttery, ruffled styles.
Shirring
Shirrings at the waist can have a slimming effect through your middle. Maxine makes swimsuit styles with side shirrings or vertical front shirrings with both creating an hourglass illusion.
Tummy Control
Some brands are known for their tummy control. Magicsuit by Miraclesuit is well-known for its built-in mesh paneling that holds your waist in tight. It's not so tight that you feel uncomfortable, but it's tight enough that you feel slim and sculpted.
Empire Waist
When a fitted top has a waistline placed just above the natural waist or even just below the bust, it is called an empire waist or sometimes it can be referred to as a babydoll dress. The skirted part around the tummy area is generally long with a loose fit that flows over the body and elongates the figure. Profile by Gottex has a number of tankinis and swim dresses that have this look.
Like these suggestions? Here are some reccomendations:
Profile by Gottex Plus Size Tutti Frutti Off The Shoulder One Piece Swimsuit
Sunsets Curve Plus Size Rose Garden Savannah Tankini Top
Large Bottom
Swim Dress
A swim dress uses a skirted bottom, usually with an attached brief, to hide your lower waist. The skirted detail adds flowy fabric to your hips making your waist look smaller. ClubSwim has some of the highest-rated swim dresses on the market.
High Waist Bottoms
Beach House and Topanga have best-selling plus size bottoms with high waists. Whether you prefer a swim skirt, bikini bottom, or shorts, a higher waistline draws attention away from the lower half of your body for a curvy but sculpted appearance.
Off the Shoulder or Ruffle Top
A ruffled, off the shoulder top (either one-piece or 2 pieces) can help to better proportion a pear shape bottom by adding volume to a smaller chest and balance a larger lower half. Raisins has a number of trendy styles and prints with to help you achieve this look.
Unitard
A unitard is great for those of us with thicker thighs as it elongates the body. A unitard is a one-piece swimsuit that hits above the knee. Many Waterpro swimsuits come in a color block print that features a bold print at the top and a black bottom to give a smaller appearance to your hips and thighs.
Like these suggestions? Here are some reccomendations:
Raisins Plus Size Samba Solids Stingray One Piece Swimsuit
Large Top
Bra-sized Swimwear
Using your cup size to buy swim tops has really changed the swimwear fitting game for women, especially ladies with larger breasts. However, you don't need to be a D-cup and up to find the right fit. Coco Reef makes bra-sized swimwear for all cup sizes that provides comfortable support in flattering styles – some with an underwire, some without.
High Neckline
Some high necklines can truly flatter the upper body. A high-neck tankini top can help balance a top-heavy frame with its angular armholes making the shoulder and chest appear smaller and accentuating the hip. Fit4U has some really flattering high-neck tankini and swim dress options.
Sweetheart Neckline
A sweetheart neckline sometimes called a twist front neckline  is one that is twisted or gathered at the front making a heart shape at the chest.  These styles work wonders to minimize and flatter a full chest. The straps (if you choose to wear them) slant inward to further deemphasize the chest and shoulder.
Tankinis
Ralph Lauren has a large selection of tankinis in solids, prints, and many with the features mentioned above. Choosing a tankini top can be a versatile option since it allows you to mix and match with your favorite bottoms.
10 BEST PLUS SIZE SWIMSUITS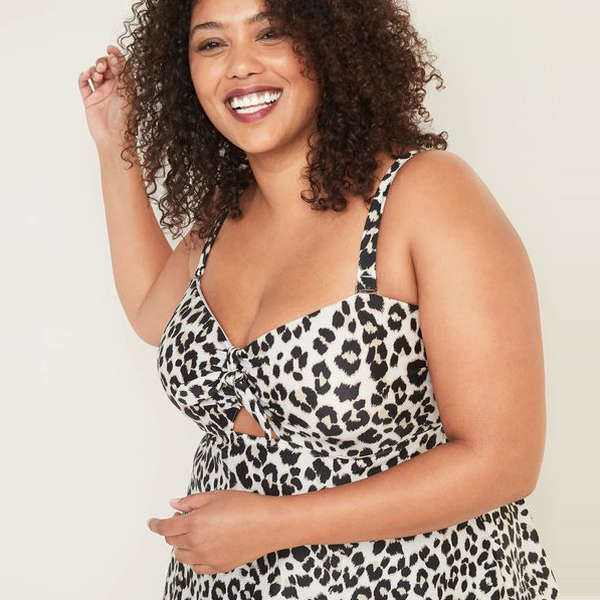 THE SWIMSUIT STYLES THAT WILL HIGHLIGHT YOUR BEAUTIFUL CURVES
---
It may only be February, but we've already got our sights set on summer thanks to the abundance of new swim arrivals flooding our inboxes. The upcoming season has already proven itself to be a great one in the plus-size swim department thanks to a surge in curve-friendly fabrics, ultra-flattering silhouettes, and on-trend styles, and what kind of editors would we be if we didn't share the goods with you? Below, we're helping you prep for the warm weather ahead with an algorithm-backed list of the greatest plus-size swimsuits that have already hit the market—all of which are backed by best-selling buzz, editorial mentions, and real user reviews. From strategically-placed ruffles to sexy straps to must-have animal prints, keep scrolling to shop the Top 10 suits and refresh your collection for the new season. Opening image: oldnavy.com
Did you like our 10 Best Plus Size Swimsuits list? Then we think you'll love our 10 Best Plus Size Websites!
CLOSE
Rank & Style
 simplifies shopping with unbiased, data-backed lists of the best products on the internet. We factor in user reviews, best-seller lists, social buzz, and editorial recommendations so you can shop our site with confidence.
Talking Top Tens:
Laurie Cole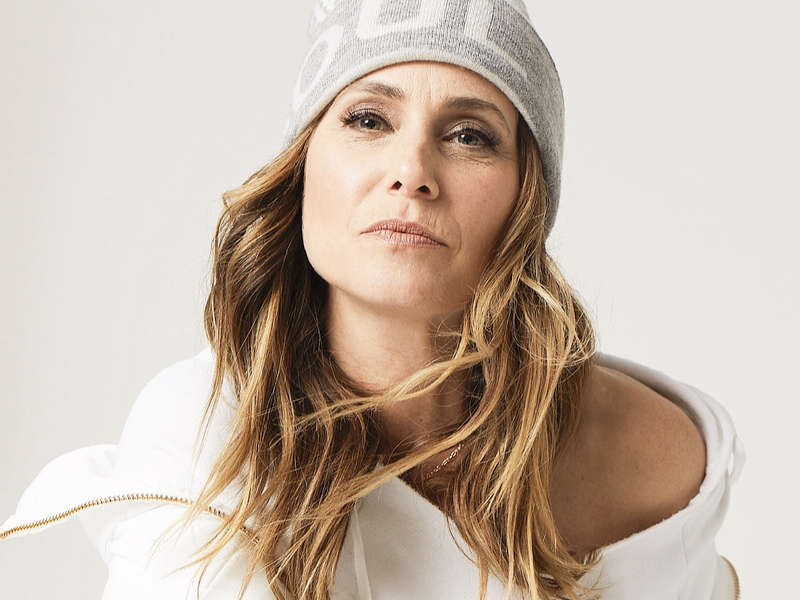 Welcome to Talking Top 10, a recurring series in which we feature the founders, CEOs, creators, and leaders who are shaking up their industries. Ahead, read our Q&A with SoulCycle Senior Master Instructor Laure Cole, and keep scrolling to shop her Top 10 must-haves.Laurie Cole is a Founding, Senior Master Instructor of SoulCycle. She has been leading sold-out classes across North America since 2000 and helped build the SoulCycle brand since 2006. Laurie's unique ability to connect to each and every client who walks into her classes makes the experiences one of a kind. She is known not only for her challenging yet accessible workouts with unrelenting attention to detail and quality but also for her fearless amount of energy combined with a diverse taste in music spanning a myriad of genres. Laurie recently created an active recovery class called THE LINK, which works as a way for the body to bridge the gap between overworked muscles and inflexibility utilizing foam rollers, resistance bands, and rebounders. Featured in some of the most popular lifestyle and beauty magazines such as Vanity Fair, Vogue, Allure, More, Glamour, Self, People, Us Weekly, and Hamptons Magazine as well as national and regional recognized television programs such as The Today Show, Good Morning America, Regis and Kelly, and CNBC'S Fast Money, to name a few, Laurie has truly earned a name for herself. She is also an actress with credits from TV to Film and can be heard daily on Sirius XM Channel 4 at SoulCycle Radio.Follow Laurie on Instagram for more information and fitness inspiration.
Blogger Spotlight:
Cristie and Laura of Merrit and Style
Welcome to In the Spotlight, a recurring series in which we feature the tastemakers and trendsetters who are shaking up the social space. Ahead, read our Q&A with Cristie and Laura of Merrit and Style, and keep scrolling to shop their Top 10 must-haves.Name: Cristie and LauraLocation: Dallas, TXSocial: InstagramWebsite: www.MerrittandStyle.comQ: Who's your fashion icon?C: Sarah Jessica ParkerL: Rachel ZoeQ: Who are your 3 favorite people to follow on Instagram?C: @huntforstyles, @kathleen_barnes, and @hannahstafford98L: @cmcoving, @sister_studios, and @rachelparcellQ: What item in your closet do you wear the most?C: MOTHER or GRLFRND high-waist jeans and a moto jacket.L: Steve Madden Camryn Tan Suede Booties. They go with everything!Q: What's worth the splurge?C: A designer bag. I love a classic LV Neverfull or a great crossbody. My next big splurge will be a YSL Envelope Chain Wallet Crossbody.L: LV Neverfull. Best investment ever. I use mine 90% of the time. It holds everything for my day-to-day life, and it's perfect to use when traveling. Q: Where are your favorite places to shop?C: Revolve, Nordstrom Rack (love a great sale), and I have a slight addiction to Amazon Prime.L: Nordstrom, Amazon, and ASOSQ: What's the one beauty product you can't live without?C: Loving Tans Self Tanner and Marc Jacobs Tantastic #4 BronzerL: Tarte Shape Tape ConcealerQ: What's your favorite form of self-care?C: I love to go on walks every day when possible. It helps me clear my head and reorganize my thoughts and schedule for the week.L: Getting my nails done or a massage.Q: What's your current Netflix obsession?C: Friends. I watch it almost every night while going to bed. Each time I end the whole series, I restart it again and laugh just as hard as I did the last time.L: Honestly, I don't watch a lot of TV, but when I do, I love This Is Us and Yellowstone.Q: What's your cocktail of choice?C: A Moscow mule or a glass of pinot noir.L: A mojito or anything that involves champagne!Q: What's the best advice you've ever received?C: Live a life that you are proud of, and if you find that you're not, have the strength to start over. Starting over isn't a failure when it's necessary to be a better version of yourself.L: Let your dreams be bigger than your fears and your actions louder than your words.
WHY YOU NEED IT: The most flattering suits aren't always the most comfortable, but this affordable find is different. Instead of ultra-thick and compressive fabric, it has soft spandex and flattering ruffles that provide coverage and illusions throughout your silhouette. It's also a super practical purchase since you can pair it with any patterned or solid bottoms alike.
FUN FACT: The fabric has a UPF 50+ rating, so it also provides extra protection from harmful UV rays. (But make no mistake—this doesn't mean you should skip the sunscreen.)
Available in other colors
Built in UPF 50+
Sewn-in cups
WHY YOU NEED IT: With gathered overlapping panels and mesh inserts, Miraclesuit's Illusionist One-Piece features exclusive Miratex fabric that firms, shapes, and holds without any uncomfortable underwires or digging. According to the brand, it'll make you look 10 pounds lighter in 10 seconds.
USERS SAID: "This is my new go-to swimsuit. I love the mesh accents on the waist, and the heavier material is so flattering. I looked 10 pounds lighter without feeling uncomfortable. Nice quality and I know it's going to last a long time!"
Available in other colors
Full back coverage
Lined
LOVED FOR: An off-the-shoulder ruffle makes this suit undeniably flirty, but the supreme tummy control and full-coverage bottoms keep it conservative—it's the best of both worlds.
STYLE WITH: This is another style that's perfect for taking from day to night. Add a slip skirt and sandals for an easy-breezy beach date.
Available in other colors
Tummy toner panel
Removable straps
WHY YOU NEED IT: We're all about Amazon gems here at Rank & Style, and this is one of them. The tie-front design adds excellent support, the boyshort bottoms provide tummy control and extra coverage, and the eco-friendly fabric is extra soft. Best of all, it comes in 20 colors and rings up at just $32. We'd stock up if we were you.
USERS SAID: "I have not been this excited to get a new swimsuit since I was probably a teen! The pictures do not do this suit justice. The colors are so vibrant, the material is a nice weight, and it's not see-through even when stretched. If you are a busty gal, this suit is definitely for you—it's so hard to find one with good support that's cute too!"
Available in other colors
Wire-free molded cups
WHAT IT DOES: This classic suit may look simple, but it has a lot going for it. Shirring through the waist smooths and flatters the figure, removable soft cups add excellent support, and the sleek scooped neck and high-cut sides add a hint of sexiness. This is one you'll want to buy in multiple colors and keep for many summers to come.
LOVED FOR: According to reviewers, this one-piece looks good as new no matter how many times you wash and wear it, so it's well worth the investment.
Available in other colors
Adjustable straps
Removable soft cups