Drone aerial photography is, wait for it, taking off.
Whether you're using them for recreation, to build an aerial service business, or to integrate UAS into your existing business or organization, the goal of this article is to explore the best RC drones with a camera on the market today.
Hubsan X4 H107D (Less than $100)  
A palm-sized, full-featured quadcopter drone that's designed for fun. Great starter drone for FPV/racing enthusiasts.
The Hubsan H107D X4 is a surprisingly small RC quadcopter with an integrated first-person view (FPV) camera.
It packs an amazing amount of sophistication and features into an affordable starter drone that anyone can pilot.
The fixed-mount quadcopter camera faces forward and captures 720 x 240 resolution SD video and 0.3 MP still photos.
Obviously, with a fixed-mount camera, this is not the best drone to learn how to move a camera around on a gimbal. But it's great for learning how to properly position a camera in the air, which is important if you are the sole operator.
The camera transmits its video stream wirelessly to the controller via 5.8 GHz. It captures video and photos onto a MicroSD memory card (up to 16GB) in a slot built into the transmitter.
The Hubsan H107D uses a 4-channel, 2.4 GHz transmitter that provides a flight range of up to 300 feet. But seriously, that's fine – because this thing is so small, you'd probably lose it from sight beyond that range.
The controller includes a 4.3″ LCD screen that lets you monitor real-time FPV video and see flight telemetry data to keep you on top of what is happening in the air.
Due to its tiny propeller size and overall lightweight, the Hubsan X4 resists damage well. That said, it is very sensitive to wind and weather. It is perfect for flying indoors.
For best results outside, operate this little speed demon in light wind conditions or near ground level, where wind speed is minimal.
Best Features
Best entry-level FPV drone on the market.
Small size (4-inch diameter) and lightweight make it hard to damage.
6-axis controller provides excellent control
CHEAP, especially for what you get
Great for indoor racing
Issues
Very sensitive to wind
Image quality is OK and a bit shaky (no gimbal)
Tiny: about the size of your palm
Limited range & flight time
Specs
720×240 SD Video camera / 0.3Mp stills
Fixed-mount camera (no gimbal)
RC Transmitter with built-in 4.3″ LCD live video FPV monitor
2.4 GHz Transmitter
5.8 GHz Video streaming
LED Night Lights
Blade Protectors and Rubber Feet
MicroSD Card Slot for up to 16GB Cards
7 min flight time
300 ft range (WiFi limited)
See Latest Price on Amazon
         READ MY REVIEW
---
DJI Tello (About $100)
A seriously fun and capable quadcopter designed for kids as well as adults looking for a starter drone.
DJI Tello is designed with fun in mind. It does take some amazing photos, but we don't recommend it for serious drone photography.
But if you are looking for a good starter drone that's safe and easy to use for you or your kid, Tello is an excellent choice. And it costs less than
Tello does not come with a controller, but worry not; you can fly it using the Tello app. And by the fly, we don't mean taking it on a straight line or boring circles. The app lets you do different moves and maneuvers, including flips and aerial stunts.
Tello comes with an integrated camera so you can take short 720p videos and take 5MP photos. And if you want to live FPV, Tello can stream 720p video to a compatible headset.
Tello is pretty small, small enough to fit on the palm of your hand. And because it weighs just 80g, you don't need to register Tello with the FAA.
For safety, it comes with collision detection and propeller protection. You can even fly it indoors.
Tello has a 13-minute flight time, which is impressive for a drone this small. We recommend buying the Boost Combo that comes with three batteries (for a total flight time of about 39 minutes).
Tello is also designed as a programming learning tool for kids. Kids can program custom fight patterns and see results in real-time.
Tello has plenty of limitations. It can't fly in anything more than a gentle breeze, and the photos and video are nowhere as good as those of a serious drone. But still, many users were impressed with the quality of media, especially in outdoor well-lit environments.
Because it connects to your phone via WiFi, it has a max range of about 100m. It's more of a backyard drone rather than something you'd take on outdoor adventures.
Best Features
Toss to fly
720p live viewing via an app or VR headset
720p videos and 5MP photos
Aerial stunts through an app
Small and lightweight – no FAA registration needed
Obstacle detection
Issues
Struggles to fly when it's windy
Decent, not great, photos and video
Specs
80g weight
4 GHz WiFi connectivity
100m range
13mins flight time
30m max-height
See Latest Price on DJI
---
Best Prosumer Camera Drones
The ready-to-fly (RTF) multi-rotor camera drone (prosumer drone, for short) is the most popular type of camera drone sold today.
There are dozens of models to choose from.
Prosumer camera drones are the right choice for people who want to shoot professional-grade aerial photos and videos, without having to customize their rig.
The prosumer drone is a lot like the starter DSLR camera of the drone/UAV world, in several ways:
They come out of the box ready to fly & shoot, without requiring much training.
They emphasize ease of use, seamless systems integration & advanced features over camera settings, precision, and flexibility.
You can get great shots with very little effort.
Most prosumer camera drones offer no choice of camera, although some will let you swap lenses.
If you need to use a specific camera setup, then check out my top picks for Professional Camera Drones, further down this page.
The prosumer drones below shoot high quality 4.0K 30-60 fps video using H.264 and take big, bright 13-20 megapixel stills at varying burst rates.
To keep prices reasonable, some prosumer drones compromise on advanced features, operating range, and/or image quality.
There are a lot of choices in this category, and prices tend to drop fast. So shop wisely.
---
DJI Mavic Air 2 (About $799)
The latest drone from DJI offers unbeatable value for money: great camera, solid build quality, and top of the range flight performance at an affordable price.
It's almost unbelievable how affordable the Mavic Air 2 is. For a drone that, in some aspects, outmatches the twice as expensive Mavic Pro 2, we certainly expected it to cost more. Not that we are complaining.
The Mavic Air 2 brings with it better all-round tech and improved flight performance.
Let's start with the camera. The Mavic Air 2 camera features a 1/2″ CMOS sensor that can take 48MP stills and 4K/60fps video.
That's a darn good camera for hobbyists and even some professional uses in real estate and pro photography. It doesn't beat the larger 1″ sensor in the Mavic 2 Pro, but the Mavic Air 2 makes up for it with higher resolution photos and videos.
Similar to other DJI consumer camera drones, the Mavic Air 2 comes with several features to take your photography/videography to the next level. These include HDR, 8K hyperlapse, SmartPhoto scene recognition, and HyperLight for low light situations.
And if you are a noob, like us, the Mavic Air 2 comes with several intelligent shooting modes that will make your friends think you are a pro when they see the resulting shots.
These modes include FocusTrack, hyperlapse, and QuickShots. Each of these three modes has additional sub-modes so you can customize shots depending on the subject, environment, and your creative pleasure.
The Mavic Air 2 stays in the air for an impressively long time – 34 minutes. That's longer than even the Mavic Pro 2.
Mavic Air 2 also boats a longer transmission distance (10km) than the Mavic Pro 2's 8km as well as a higher bitrate (120 Mbps vs. 100 Mbps for the Mavic Pro 2).
Mavic Air 2 comes with upgraded safety and obstacle detection systems. The new APAS 3.0 system can detect and avoid obstacles even in complicated environments and flight paths.
One notable improvement is that the drone can avoid objects thrown towards it in addition to fixed objects in its path (but we don't recommend testing this).
Note that, while the Mavic Air 2 has multiple sensors, it doesn't detect obstacles in all directions like the Mavic Pro 2. Mavic Air 2 has three-directional obstacle sensing; there are no sensors at the top or sides. So be careful when flying indoors, in tight spaces, or through wooded areas.
Another safety upgrade is AirSense, a new feature that keeps you from getting too close to airplanes.
The controller has been upgraded as well. It features integrated antennas, so no need to unfold them. Furthermore, your phone now clips to the top of the controller rather than between your wrists, which we think is a much better position.
Overall, the Mavic Air 2 is a solid choice for camera drone enthusiast looking for a great drone that doesn't cost an arm and a leg. We still think the Mavic Pro 2 has better camera chops, but the Mavic Air 2's performance is good enough for most non-pros.
Shopping tip: If you are going to spend $799 on the Mavic Air 2, you might as well add $200 more for the Fly More Combo pack. The Combo pack includes three batteries, six pairs of propellers, ND filters, a battery to power bank adaptor, and a shoulder bag. Considering a single battery costs $115 when bought separately, the Fly More pack is a good deal.
Best Features
Foldable for easy portability.
Multiple intelligent shooting modes.
Longer flight time.
Upgraded safety and obstacle detection.
4K video and 48MP stills.
Issues
No upward-looking and side sensors – don't attempt flying in tight spaces until you are an expert.
Video quality is limited in some modes like HDR.
Specs
1/2″ CMOS sensor
4K/60 fps video and 48MP photos
Up to 10km video transmission
34mins flight time
Measures 180×97×84 mm folded and 183×253×77 mm unfolded
Weighs 570g
3-axis gimbal
See Latest Price on DJI
---
Phantom 4 Pro V2.0
DJI has upgraded their most advanced ready to fly camera drone.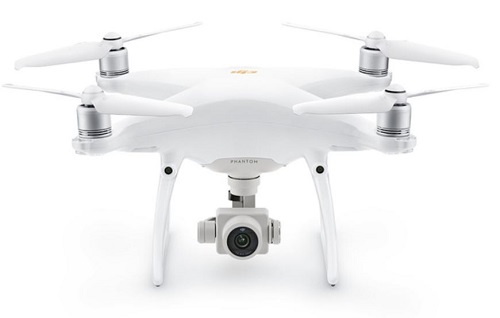 The Phantom 4 Pro V2.0 comes with several incremental upgrades from the Phantom 4 Pro.
Notably, they've not touched the camera; it's similar to that of the Phantom 4 Pro. A 1″ CMOS sensor with 4K/60 FPS video and 20MP stills.
The f/2.8 wide-angle lens delivers sharp and detailed shots for pros. Similar to its earlier sibling, the Phantom 4 Pro V2.0 is perfect for filmmakers and professional photographers and videographers.
A mechanical shutter allows you to capture action shots without rolling shutter distortion.
To make it easier to take aerial shots, the Phantom 4 Pro V2.0 has several intelligent flight modes, including ActiveTrack, TapFly, and Draw Mode.
Flight and safety performance are also similar between the two drones. You get about 30 minutes of flight time and a five-directional obstacle sensing system.
The only difference in-flight performance is that the Phantom 4 Pro V2.0 has a better propulsion system that significantly reduces noise during flight.
The biggest upgrade in the new Phantom 4 Pro V2.0 is to the remote controller, both the hardware and software.
DJI ditched the Lightbridge transmission system used in Phantom 4 Pro for the new OcuSync 2.0 HD transmission system.
OcuSync 2.0 allows the controller to receive live video transmission from up to 8km. More importantly, now you can get a live 1080p video, compared to the max 720p the Lightbridge system offered.
With OcuSync 2.0, now you can connect to DJI Goggles wirelessly for a better FPV experience.
The Phantom 4 Pro V2.0 is available with two controller options: a standard controller for $1,599 and a controller with a screen for $2,049.
The controller with a screen eliminates the need to have a tablet or smartphone attached to the controller. The screen has the DJI GO 4 app integrated into it, so you can watch 1080p live video on it, edit and share videos and photos and monitor your drone, including the battery.
If you already have the Phantom 4 Pro, you probably won't find the upgrade worth it. But if you are looking for a new professional camera drone, the Phantom 4 Pro V2.0 is a great pick.
Best Features
1″ CMOS sensor
4K/60 FPS video and 20MP photos
Intelligent flight modes make it easy to take videos and photos
The new transmission system (OcuSync 2.0) lets you live view 1080p video and connect wirelessly to DJI Goggles.
30 min flight time
Multi-directional obstacle sensing and avoidance
Issues
Want a screened controller? It'll cost you $500 extra.
Fixed focal length. No zoom for close-up shots.
Specs
Accepts any size phone or tablet for FPV video display (only for the controller without a screen)
20 Megapixel Photo Camera w/ 1-inch CMOS
Shoot 4K video at 60 fps
Take burst-mode stills at 14 fps
Integrated 3-Axis Stabilization Gimbal
Intelligent flight modes
Live 1080p View
Dedicated Remote Controller
DJI Go Mobile App w/ Auto Video Editor
GPS-free Positioning for Indoor Flight
30 min flight time
45 miles per hour top speed
8 km range
1-year warranty
24/7 technical support
See Latest Price on DJI
---
YUNEEC Typhoon H3
Yuneec collaborated with the German camera company, Leica, to create the Typhoon H3 for professional photographers and videographers.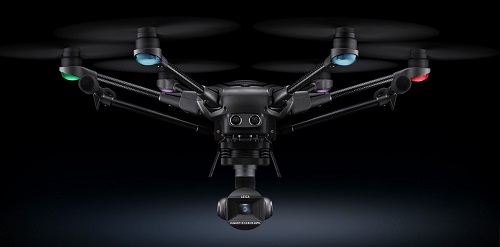 Yuneec worked with Leica specifically to design and manufacture the camera used on the Typhoon H3, the ION L1 Pro camera.
The ION L1 Pro has a 1″ CMOS sensor that can take 4K/60 FPS videos and 20MP still. It is mounted on a 3-axis gimbal that allows a shake-free 360-degree view.
The camera has all sorts of features you'd expect from a professional camera, including wide dynamic range, hyperlapse videos, 10-bit YLog video, and Auto Exposure Bracketing, among others.
The drone itself also makes it easier to take great shots using intelligent flight modes. These include Follow Me, Curve Cable Arm, Orbit Me, and Journey. With these modes, you can focus on getting the shot right while the drone autonomously takes care of navigation.
You can also set the Typhoon H3 on cruise control, where it maintains a constant speed to allow a smooth shot.
If you prefer to do things manually, the Typhoon H3 allows a two-person operator team, but you'll need to buy a second remote control.
The one remote control included with Typhoon H3 is the android-based ST16S. It's not as good as a DJI OcuSync controller, but it's enough for most pros.
The biggest limitation is range. While DJI offers a max range as long as 10km with the Mavic Air 2, the ST16S controller has a max transmission range of 2km in clear conditions. The max video transmission range is even smaller at 1.7km.
The ST16S has a 7″ screen to view the 720p live video, so you don't need to attach a mobile device. The controller has an HDMI port, so you can connect it to a large monitor for everyone to see the live video.
As for flight performance, the Typhoon H3 is one of the best and most reliable camera drones around. The six-rotor system ensures stability even in strong winds. And if one rotor fails, the drone can automatically fly on five rotors for a safe landing.
The Typhoon H3 has a climbing speed of 5 m/s, a max horizontal speed of 20 m/s, and 25-minute flight time. It's equipped with ultra-sonic obstacle detection, a return to home function, and an adjustable virtual fence that prevents a runaway situation.
Best Features
6-rotor system – provides more stability and better flight performance in different conditions.
Built-in redundancies and fails safes.
Intelligent flight modes.
Retractable arms and landing gear make portability easier.
Closed data system for added security. There's no cloud data transmission involved.
Issues
Limited transmission distance.
Reduced flight time compared to DJI drones.
Live video limited to 720p.
Specs
1" CMOS camera sensor
4K/60 FPS videos and 20MP photos
Weighs 4.3lbs, including camera
32°F – 104°F operating temp
720p live video
2km controller max range; 1.7km live video transmission max range
See Latest Price on Yuneec
---
Best Camera Drones for Professionals
Do you find prosumer drones too limiting for your needs?
Then take a look at the professional camera drones, listed below.
These serious – and expensive – flying camera platforms are designed for professional aerial photographers and filmmakers who need a custom camera + gimbal system to achieve the image quality their jobs demand.
Cinema-Quality Video
Professional camera drones are designed to capture images in a wide range of cinematic-quality formats including:
RAW
Micro Four-Thirds
H.265
Apple Cinema Pro
To do this, they provide more lift power to carry heavier, professional camera systems such as the popular RED Epic.
Most pro camera drones support a wide range of camera and gimbal choices.
One caveat: unless you need the payload capacity and/or the additional control over your images, then definitely go with a prosumer drone.
Also, if you don't already know how to operate a camera drone safely, then make sure you train on a cheaper starter drone before you spend big money on one of these rigs.
I say this because professional camera drones are typically far more expensive to buy, repair, and to find replacement parts for.
Training Is Required
Finally, compared with a prosumer model, learning to fly and shoot using a professional camera drone takes a bit of time, for several reasons:
Less automation. Because you are mixing-and-matching components, you don't the same automated flight modes and camera tricks as you find in prosumer drones.
Flight and camera controls are harder to master and may require calibration before each flight.
Lack of advanced features like object detection and collision avoidance… without modifying your basic control systems.
You may have to re-balance the rig for each camera setup.
But all of this extra work and expense pays off in the form of far better image quality.
So, if you need the best – and your budget and schedule have room for it – then here are my top picks:
---
DJI Inspire 2
The DJI Inspire 2 is designed for professional filmmakers. The customizable rig, powerful propulsion system, and intelligent flight modes make it easier to film cinematic scenes from the air.
The DJI Inspire 2 improves on the powerful features that were in the first Inspire drone. To provide the best professional filming experience, Inspire 2 combines customizability with power, performance, and ease of use.
DJI has made huge improvements to flight performance. The Inspire 2 drone, despite being fairly heavy, can achieve speeds up to 58mph with decent speeds up to 9m/s.
Obstacle sensing systems keep the drone safe from objects in its path.
Similar to other DJI drones, you get a raft of intelligent flight modes that make it easy to film complex shots. These include Spotlight Pro, ActiveTrack, TapFly, and QuickSpin.
These modes are especially handy for single operators. You can focus on tweaking camera settings while the drone maneuvers itself in the right pattern.
Talking of the camera, the Inspire 2 is compatible with a range of Zenmuse cameras, including the X4S, X5S, and X7. You can pick the drone + camera combo you want when ordering. The top camera, the X7, will cost you about $20,000, including the drone itself.
The controller also received an upgrade. The improved transmission system allows you to control the drone and get a 720p or 1080p live video from a distance of up to 7km.
The controller also offers frequency switching between 2.4 and 5.8 GHz, ensuring low latency even in areas with signal interference.
The DJI Inspire 2 drone is designed to fit your needs, so there are plenty of accessories you can buy depending on your work situation. These include Multilink for linking multiple controllers, an 8-battery charging station, and a remote controller GPS module.
Best Features
Self-heating batteries – maintains battery performance when working in cold conditions
Dual batteries for extended flight time
Multiple intelligent flight modes
Obstacle detection
Compatible with several Zenmuse cameras
Issues
Specs
27mins flight time
58mph max speed
9m/s descent speed and 6m/s ascent speed
7km range
1080p live video transmission
Weighs 7.5lbs without gimbal and camera
Compatible with Zenmuse X4S, X5S and X7 camera
---
Yuneec Typhoon H520 (About $2,000 without camera)
Yuneec Typhoon H520 is a general-purpose professional hexacopter that can be customized for different applications depending on the camera you put on it.
Yuneec sells the Typhoon H520 without a camera. This allows you to choose the perfect camera for your project.
Yuneec offers several compatible camera options for different applications. For filmmaking and photography, we recommend the E90 camera. It has a 1″ CMOS sensor that can take 20MP photos and 4K/60 FPS videos. The E90 offers an 8x digital zoom.
If you need a zoom camera, get the E30Z. It has a 1/2.8″ CMOS sensor that takes 1080p videos. The E30Z offers 30x optical zoom and 6x digital zoom.
Other options include the E10T camera for thermal imaging applications, E50 for inspections of wind turbines and other structures, and the CGOET, also for thermal imaging.
Cameras are hot-swappable (switch between different cameras without powering down the drone), so you can buy multiple cameras and quickly switch between them depending on your needs.
The drone itself features Yuneec's extra-stable 6-rotor platform. It can fly in strong winds and hover precisely in the air.
The H520 has a 25-minute flight time (with the E90 camera), team mode option using two controllers, GPS, GLonnas & Galileo navigation, sonar collision avoidance, and several intelligent flight modes.
Note that the H520 kit comes with two batteries for a total flight time of about an hour.
For control, the H520 uses the same Android-based ST16S controller used with the Typhoon H3. It has a control range and video transmission range of up to 1.6km or 1 mile.
A 7″ screen lets you see live video and even transfer it to a larger external screen using the integrated HDMI port.
Best Features
Customizable rig.
Closed data system – no external servers.
Hot-swap accessories for easy switching.
Team mode option.
Issues
You have to spend extra money on a camera.
Limited transmission and control range.
Specs
25-minute flight time (E90)
Weighs 3.6lb without camera and gimbal
7 m/s max climbing speed
1-mile transmission range
See Latest Price on Yuneec
---
DJI Matrice 100 (About $3,000) 
A flexible, programmable flying workhorse is suitable for a wide range of aerial imaging missions.
Unlike prosumer drones, the M100 was purpose-built to be modified by its owner.
Using its hardware expansion bays, the Matrice 100 can be configured to carry any set of cameras, sensors, or devices (up to 1kg) that you want to put into the sky.
DJI's new SDKs let developers build custom mobile apps and advanced flight controls for any requirement. The M100's combination of flexibility and programmability opens new doors to develop reliable and inexpensive aerial photography solutions for many vertical applications.
Unlike most commercial drone platforms, however, the Matrice 100 is not a kit.
It's an honest-to-goodness ready-to-fly fully integrated flying platform. It comescomplete with a flight controller, propulsion system, flexible cargo bays, GPS, dedicated remote controller, a great mobile app, and a rechargeable battery.
Priced at about $3,000 without camera or gimbal, the M100 offers compelling value for anyone who needs a custom-built flying camera solution.
Which is to say: most of the professional drone/UAV market, today.
Best Features
Excellent value for its class
Ready-to-fly and fully tested
Expansion bays support almost any sensor/imaging setup up to 1kg
Great range and flight time
Issues
Vision/proximity sensors sold separately
Camera and gimbal sold separately
Assembly and calibration required
Camera Choices
Any, up to 1 kg total payload
Specs
Powerful new DJI 3510 motors
DJI 1345s propellers
ESC: DJI E SERIES 620D
Flight Control: DJI N1
Remote Controller: C1
Video Transmission: 2.4GHz Lightbridge
Camera: recommend Zenmuse X3 Camera + Gimbal (additional cost)
1 kg payload
Flight time: up to 40 minutes (no payload, two TB48D batteries)
Range: up to 2 km (outdoors / unobstructed)
Max Speed: 17 m/s or 20 m/s (depending on navigation, ATTI or GPS)
Wind resistance: up to 10 m/s
Learn More at DJI
          READ MY REVIEW
---
DJI Matrice 600 (About $4,599)
A flexible, powerful six-rotor workhorse that's perfect for professional filmmakers, news teams, and commercial customizers.
With its 6 kg payload capacity, 36 minute flight time and centimeter-precise navigation (with upgrades), the M600 can meet the most demanding needs of almost any aerial imaging job, including:
professional filmmaking
live HD video (news broadcast, live events)
thermal imaging & inspection (oil-and-gas, wireline)
and more
The M600 exploits DJIs new A3 Flight controller, which works synchronously with Lightbridge 2 advanced video transmission allowing it to produce HD live streaming from as far as 5 kilometers away.
As anyone close to the industry knows, DJI's live video transmission technology is second-to-none.
The Matrice 600 can handle most camera setups weighing up to 6 kg, which means you can easily carry any of DJI's latest Zenmuse cameras, DJI's Ronin MX gimbal – or even a RED Epic.
Best Features
Massive 6 kg payload
Broadcast-quality Live HD Video Streaming
Super-flexible design: expansion bays support almost any sensor/imaging setup (up to ~1kg); suitable for many commercial applications
Excellent range and flight time
Issues
Expensive
Assembly & calibration is required
Camera Choices
Up to 6 kg total payload
RED Epic
Ronin MX gimbal
Zenmuse X3, X5, XT, Z5 series
Specs
Powerful new DJI 6010 motors
DJI 2170 propellers
Video Transmission: 2.4GHz Lightbridge
Dry Weight: 9.6kg
Payload: up to 6 kg
Flight time: up to 36 minutes (no payload) or 16 minutes (max payload)
Range: up to 5 km (outdoors and unobstructed)
Max Speed: 18 m/s or 20 m/s (depending on navigation, ATTI or GPS)
Flight ceiling: 2500m
Maximum Ascent: 5 m/s
Max Angular Velocity: 300 degrees/second (pitch), 150 degrees/second (yaw)
Wind Resistance: up to 8 m/s
Learn More at DJI