Though mandolins and ukuleles have been enjoying renewed popularity, for a child just getting started, the guitar is the most popular and versatile instrument. It comes in two basic types: the electric or acoustic guitar and choosing among these guitars For Young Beginners, and electric guitars for kids is the first step. While each has its merits as a starter instrument, neither is necessarily right or wrong—it's a judgment call that should in part be based on what your kid wants. Buying an acoustic for your would-be electric shredder will be a turnoff. Let us review how to choose a guitar for a child.
Most kids who stick with the learning process are encouraged to keep at it as they begin to create the sounds of the music they love and aspire to play better. In order to do this, they need a guitar with decent sound and playability. If it sounds bad and won't tune, it's no bargain—just more junk for your next yard sale.
Picking a size
The best way to find the right size is to take the guitar for a spin, but if this isn't an option, there are some useful rules of thumb about overall guitar length.
30" for ages 4-6
34" for ages 6-9
36" for ages 9-12
Standard for 12 and up
Electric guitars for kids
Electric guitars are somewhat easier to play than acoustics. The height between the strings and fingerboard (known as the action) is lower on an electric, requiring a lighter touch to fret notes. Lower action is easier for young fingers that can't otherwise produce the pressure to play notes clearly without strain.
For the wannabe shredders who got their burning desire to play working a Guitar Hero controller, an electric guitar is an essential. Electrics are associated with rock, alternative, metal and most pop music, while acoustic guitars lean in the direction of country-western, bluegrass, and folk. Of course, there are plenty of exceptions.
The Squier Mini Stratocaster Maple Fingerboard Electric Guitar delivers the look, feel and sound of a quintessential rock guitar—the Stratocaster—in a starter-friendly size. The short 22-¾" scale, 20-fret neck is ideal for small hands. With three single-coil pickups, master volume and tone controls, a maple fretboard and hardtail bridge, it produces bright Fender tone and stays in tune.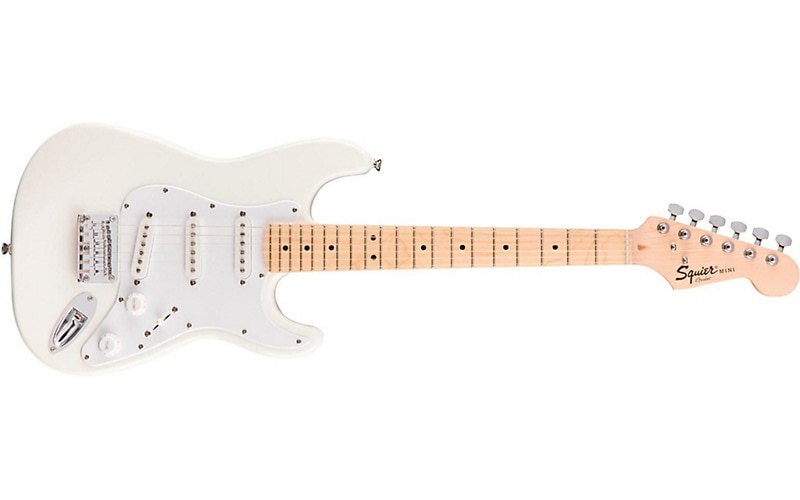 The 3/4″ scale Squier Mini Stratocaster is the perfect size for little rockers. It's also affordable and is based on a rock classic.
On the downside, electric guitars can be more expensive than acoustics when you factor in the price of a guitar amplifier. They also get loud. Kids may enjoy cranking their rendition of Ozzy's "Crazy Train" up to 10, but parents? Not so much. This can be sidestepped with headphones that plug into the amp, but that is yet another expense and probably will result in a less satisfying experience for the kid itching to rock out.
Electric guitar value packages are budget-friendly and come with all the extras, usually including the amp. Aside from taking the guesswork out matching the amp and guitar, all those included guitar accessories limit your total investment.
The Epiphone Les Paul Player Pack is a good example. It includes a 10W amp with overdrive for rock-ready tone, gig bag, headstock tuner, strap, cable, picks and access to to online lessons. The included Les Paul Special II guitar, based on Gibson's iconic instrument, is full-sized, but the shorter, 24.75" scale is easier for small hands to manage.
guitars for young beginners
1. Classical Guitar 3/4 Size 36 inch Kids Guitar
This first selection is a starter kit, which really makes sense for a beginner as it comes with all the necessary accouterments. This particular package includes a waterproof guitar bag, a leather ended acoustic guitar strap, a guitar tuner, and two guitar picks.
It is as the name suggests a 36 inch (3/4 sized) classical guitar fitted with 6 nylon strings which are easier on fresh fingers.
It is nicely made and has a solid basswood top which is strong and has good natural resonance adding to the acoustics of the instruments. The back and side are also formed from basswood and the neck is made from maple as is the headstock and fretboard.
It features a familiar dreadnought shaping giving it curves in all the right places for added comfort when sat playing.
Pros:
+ Well-made.
+ Solid-top.
+ Starter kit.
Why We Liked It – It is a cheap and cheerful starter option which comes in just under the $100 mark and is also supplied with some very useful accessories that add great value to the product.
2. Yamaha JR1 FG Junior 3/4 Size Acoustic Guitar
VIEW PRICE
Next up we have a junior model from the team at Yamaha which is slightly higher priced than our opening model but you are paying for the expertise behind its design.
It is once again a typical dreadnought shaped piece with a solid spruce top to provide an excellent ring for sustained notes. The back and sides are made of Meranti and the Nato neck sports a smooth Indian rosewood fingerboard which makes sliding about a breeze.
It is beautifully made and plays really well, despite the cheaper woods than found on a premium Yamaha guitar. It has strong internal bracing and a pretty pick-guard.
It is again a ¾ sized option with a smaller body depth and nut width for smaller players. It is sold with a Legacy bundle that includes everything you could possibly want; a good quality gig-bag, a clip-on tuner, capo, guitar strap, peg winder, a heap of Legacy picks, Yamaha folk guitar strings, and even an instructional DVD to get them going.
Pros:
+ ¾ size body.
+ Strong bracing.
+ Solid-top.
+ Valuable beginners package.
Why We Liked It – It is durably made, the spruce has good resonance, the nato is a strong and inexpensive hardwood neck choice and the accessories beef up its value for money. The inclusion of a DVD will help learners tremendously.
3. Yamaha CGS102A Half-Size Classical Guitar
VIEW PRICE
Next up another Yamaha option this time a classical guitar rather than an acoustic. It is actually a half-sized classical guitar which is built using the same wood choices as the model above. It features a Meranti back and sides, spruce top, and rosewood covered finger-board.
It is from the companies well-received CG series line of starter guitars and is once again very well-constructed with a very affordable price-tag.
It is a stand-alone bare bone junior classical guitar option which is ideal for those who aren't too fussed about accessories or need a quick replacement guitar that is a little more durable than many on the market.
It doesn't have any fancy inlays or other aesthetic details but it is a solid choice in terms of sound and quality.
It has rich tones and a very comfortable to hold neck ideal for younger players.
Pros:
+ Bare bones option.
+ Comfy neck.
+ Great range of tones.
Why We Liked It – It is another great classical option priced competitively against our opening product and whilst it doesn't come with a bundle of goodies it is exceptionally well put-together and the spruce makes for a better sounding board than the basswood in our opinion.
4. LAGRIMA Acoustic Guitar Beginners
VIEW PRICE
This next one is an official steel strung guitar, steel being the modern go to for acoustic guitars thanks to its brighter tones and better natural amplification. Whilst steel isn't usually an easy choice for a beginner to start their guitar journey, this could make for an awesome transitional model for those who have practiced on a nylon version and are ready to up their game.
It is well-manufactured and again sports dreadnought curves for a comfortable hold. They come in a range of colors we are particularly swung by the blue/black model. It is a 38" acoustic with lowered action for easy play, they do make smaller-scale versions but this would be a good size for teens.
It is constructed from lime wood which helps keep the production costs minimal, resulting in a real bargain product. The neck is very straight and has a comfortable width, the tuning machines are metal with ABS keys, the metallic gears help to keep the tuning precise and hold the tension more effectively.
It comes with a lightweight gig-bag, strap, picks, and old-school pitch pipe for helping to tune it.
Pros:
+ Real steel strung acoustic.
+ Wooden construction.
+ Range of accessories.
Why We Liked It – It is a nicely thought out budget package, a steel strung option might not be the best for young users but it has much better tonality and superb sustain and it provides unbeatable value for money.
5. Hohner HAG250P 1/2 Sized Classical Guitar
VIEW PRICE
Another half-sized classical guitar to consider is this little treat from Hohner. It is aimed at very young learners and it does have very easy action. The neck and nut width is perfect making it idyllic for toddlers as the advertising suggests.
That said, it is a fab junior model, it is well-made and has great intonation which is something that can often go awry in a kids scale model.
It is built by hand with an Agathis top, back, and sides. It comes with very light gauge nylon strings to give little fingers an easier time learning and has a complimentary songbook.
Pros:
+ Half sized classical guitar.
+ Great intonation.
+ Affordably priced.
Why We Liked It – It is a great miniature guitar for young budding learners that is precise with its frets and intonation so they really can learn to play. It is exceptionally well-made and harbors good internal bracing to help deal with the bumps it will likely be exposed to.
6. Kid Beginner Guitar Classical Guitar
VIEW PRICE
Another half-sized classical option which won't set you back a lot of cash is this CN Blue beginner model which has a similar style to the Hohner and comes with a bonus carry case.
It measures 30" rendering it perfect for younger players, it has the same dreadnought body shape and features pretty inlay details. It is well constructed from basswood which has good natural acoustics and the body depth is once again reduced compared to a typical short scale model.
The top is solid making it an excellent sounding board, the neck it slim and made from maple which is suitably straight and hardy enough to cope under the string tension. Though the rest of the guitar is scaled in size the head-stock features full-size tuning machines with metal gears ensuring it keeps intonation and tension to the best of its ability.
It features 18 frets and the fingerboard is made with a top quality technical wood which is ideal for slides and quick motion.
Pros:
+ Well-made.
+ Solid basswood top.
+ Great tuning hardware.
Why We Liked It – It's well-crafted and the company have made some great design decisions to ensure that it is a functioning instrument rather than just a toy. It provides some pretty rich tones and will kindle any kids desire to continue honing their skills.
7. Smartxchoices Acoustic Guitar for Starter
VIEW PRICE
This next guitar we suspect is manufactured on the same lines as the Lagrima model we have highlighted as it differs very little to the model and sells with the same starter bundle of accessories including the manual pitch-pipe tuner, which we are sure kids are going to enjoy.
It is however listed for ever so slightly less than than the Lagrima guitar so if money is tight it could be an ideal purchase to help shave off a few bucks.
To jog your memories it is 38" steel-strung acoustic, described only as being all wood in construction but as mentioned, we have a sneaking suspicion it is limewood like its double.
The neck is maple and has a comfortable dimension in hand, the fretboard is uncovered and it features 19 frets to play with.
Pros:
+ 38" ideal for older kids.
+ 19 frets.
+ Good budget steel-string guitar.
Why We Liked It – It is great to look at and appears very well made and pretty cheap for a steel string option, it has a larger size and just manages to undercut its competitors.
8. Pink Wood Guitar with Case and Accessories
VIEW PRICE
Our ultimate entry up for consideration is, of course, a pink option for all the parents of the girly-girls out there that have to have a guitar that matches their digs.
Though there are a plethora of pink options out there and the Lagrima model is actually also available in dark pink, this pale baby doll version really fits the bill as it comes with a matching pink carry case to store it in and take it to grandmas.
It is well made and crafted from unspecified woods, the top is solid and it has good internal bracing. It features nylon strings the lower 3 are metal wound, it is a little trickier to tune with its smaller pegs but sounds great.
It measures 30 inches and again has a slimmer body depth ideal for smaller statures. They also make a 38" version if you are looking for an older child who still prefers everything pink.
Pros:
+ Pink glossy finish.
+ All wood construction.
+ Good tone, vibrant trebles
Why We Liked It – It is the perfect gift for a budding musical princess, The bag is very cute and it is also well sewn with good quality zips and a tailored fit, so it's not just a gimmick.