Ways to Celebrate Someone's Birthday
Write a card.  Take the time to write a meaningful message.  One of my favorite gifts this year was a TWO PAGE letter written by one of my dearest friends.
Or do a funny card like THIS ONE or THIS ONE or THIS ONE.  You could also opt to send a Hallmark ecard – they even have faith-based options!
Get them their favorite drink and use THIS CUTE FREE PRINTABLE from Landeelu.
Bring them a simple bouquet of flowers from the grocery store.  A small bouquet of gerber daisies are happy and so is a sweet pot of tulips.
Find out their favorite treat and bring that to them.  I looove high quality dark chocolate and have quite a stash now!
Trader Joe's has a Happy Birthday Cake Candy Bar that is the PERFECT addition to a heartfelt card.
Balloons!  Tie them on their door knob to find in the morning.  Or to their car door.  Or desk chair.
Tape a Burt's Bees Lip Balm to a birthday card.  Or do an Eos Lip Balm and THIS FREE PRINTABLE.
Know someone who loves a good surprise?  Stick one of these Magic Fairy Flying Butterflies inside the birthday person's card.  This is hilarious and SO FUN.
Get them a Bible Verse Coloring Book and colored pencil set.
Place a cupcake in their mailbox.
Get them a cute monogrammed key chain like THESE.
Send a text with the balloons feature if you have an iPhone.  THIS MAKES ME SO HAPPY.
Send a text with a funny gif.  Search BIRTHDAY.
Bring her this Happy Everything Bright Dot Tervis Tumbler filled with chocolates or a bunch of little notes saying why you love the birthday person.
Tape a card to a bag of yummy Trail Mix.
Email them a giftcard to their favorite store.
Sneak into their house and put some of this Happy Birthday Toilet Paper in their bathroom.
Have your kids make them a homemade card.  These are THE BEST.
Put "Happy Birthday" Confetti inside a card.
Ways to Make Birthdays Special (No Big Party Required)
1. Fill their room with balloons.
When your little munchkin is sleeping or away at school for the day, fill her room with balloons—then get ready for squeals of delight when she discovers them!
Related idea: Make a balloon avalanche! 
2. Do a birthday countdown.
Make a chart counting down to your little one's birthday (similar to the popular advent calendars at Christmas time). If you're feeling ambitious, you could even include treats and toys from the dollar store, so they get a small gift every day leading up to their official birthday.
3. Make a birthday present scavenger hunt.
What's more fun than getting a birthday present? FINDING a birthday present! Hide the gift and then leave clues all over the house. (Make it easier or harder depending on your child's age and ability, of course.)
4. Dress them in special birthday attire.
It's their special day, so let them wear it proudly—with a birthday shirt, birthday crown, birthday button, or all of the above! 
Better yet, have them create and/or decorate their own birthday wear using cheap t-shirts and fabric paint from the craft store.
5. Transform their chair into a birthday throne.
Turn their ordinary place at the table into the seat of honor—with a special chair cover, balloons, or whatever decorations you have on hand.
6. Or make them an entire birthday castle.
Out of pillows, of course! Take all the pillows, cushions, and blankets you can find and build a birthday castle in the middle of the family room.
7. Give them the gift of quality time.
No distractions, no to-do list, just you and your kiddo hanging out together. Because often the best gift we can give a child is our attention, right?
8. Let them choose the dinner menu.
On their birthday, dinner for the whole family is totally at their discretion. Chicken nuggets with a side of mac and cheese, plus cake and ice cream for dessert? Coming right up!
9. Or serve them breakfast in bed.
If you don't want to give them total control over dinner, how about breakfast? Surprise them with their favorites—a plate of pancakes with plenty of maple syrup, or perhaps a few slices of teddy bear toast—served in their bedroom. An unexpected treat to start the day! 
10. Give them a stack of handmade cards.
In a world where greeting cards can cost upwards of $4, handmade cards have sentimental and budget appeal. Imagine your little one sitting down for breakfast and finding a stack of handmade birthday cards on his plate—from siblings, cousins, friends, parents, and perhaps even pets!
11. Re-live their baby days.
Tell them the story of their birth. Show them photos from when they were infants or snapshots of past birthdays. Kids love to hear about those early days!
12. Let them decorate their own cake.
With as many sprinkles as they want.
13. Document their growth since last year.
If you don't have a growth chart yet, it's not too late to start one! Measuring how much your son or daughter grew since their last birthday is a fun and easy tradition. (Here are lots of neat DIY growth charts if you want to make your own!)
14. Let them take a special birthday bath.
Balloons in the bathtub? Sure, why not!
15. Share favorite memories.
During the family meal, have everyone share a favorite memory of the birthday kid, or maybe just one or two things they love about her/him. Even shy children usually enjoy that little bit of extra attention from their closest family members. 
Write a note to the person. Instead of just giving a traditional card, write the person a small note or letter. You can leave it on the kitchen counter if you live with them, mail it to them if you live far away, give it to them in person, or talk to a co-worker to put it on their desk or work station.

Make your note interesting by shaking up the message. Instead of just saying, "Happy birthday!" write, "Hope your birthday is rocking!" or "Have a birthday full of joy!"
Write a personalized letter letting the person know how much they mean to you.

2Make the person a birthday breakfast. Waking up to breakfast in bed, or walking into the kitchen to find there favorite breakfast will make the birthday girl/boy feel extra special. Think about what their favorite breakfast foods are. Does he/she like pancakes, muffins, or eggs? You want to surprise then with there favorite foods.

Get up early, make the breakfast, and put it where they usually sit for breakfast. Or you can take it into their bedroom and wake them up with a tray of there favorite foods.
Put a small note wishing them a happy birthday in a spot they will find it.
This is a great idea for spouses and significant others, parents, children, siblings, and roommates.

3Fill their space with balloons. Blow up balloons, and then fill a cupboard, the person's closet, or the car with the balloons. When they open the door, they will be showered in balloons. Or use crepe paper to gently secure balloons to their bedroom door so that when he/she opens it, balloons cascade in front of them.[1]

If you have the time, write messages on the balloons. You can write, "I love you more than ____" or "Reason #___ that I love you is ______." If this is a surprise for a friend, sibling, child, or parent, write reasons you appreciate him/her on the balloons.
Another idea is to write memories, funny stories, inside jokes, song lyrics, and meaningful words on the balloons to show them how special they are to you.[2]

4Make a birthday in a can. Repurpose a tin can to make a special surprise for someone. Fill the can with streamers, candy, and small gifts that the person will like and that will make her smile. All you need is a can with a pop top, some tape, a can opener, and a hot glue gun.

Use the can opener to open the bottom of the can. Remove the label, remove the food, and clean the can well. Cover the sharp edges on the can and the top with masking tape, clear tape, or washi tape.
Make a few paper chains and hot glue them to the inside of the pop top. This will make the paper chain come out as soon as the person pops the top of the can. Then fill the can with small gifts, candy, and treats.
Replace the bottom of the can and secure it with clear tape. Fit the outside of the can with paper that you can decorate. Add ribbon, glitter, sequins, or any other accents to the paper. Hot glue the paper to the can.[3]

5Bake them a cake. One simple way to surprise someone is to take the time to bake his/her favorite cake. This is meaningful because you took the time to make it (even if it's from a box instead of scratch) instead of a buying a cake from a store. Plus, homemade cakes usually taste better.

Make cupcakes or pie if your loved one prefers either of those desserts to cake.

6Collect letters from their loved ones. One way to surprise your special someone is to collect letters or notes from his/her's loved ones and friends. These notes can be general well wishes, memories, song lyrics, inside jokes, lists – whatever the person wants to share with the birthday person.[4]

Put the notes in envelopes to open, or place them in a scrapbook or notebook for them to look through.
Put the notes on post-its. Stick the post-its on a wall, on the door, in his/her car, or around his/her work space. Choose different colors for a pretty array of messages.[5]

7Decorate their usual places in a theme. To surprise your loved one, decide what he/she likes. Then leave little surprises for him/her during the day at his/her regular spots. Leave a surprise by the bed when he/she wakes, along his/her regular jogging path, at his/her's desk in the office, or in his/her's car.

If he/she likes music, start the day off by leaving a piece of paper with song lyrics where she/he can find it. This can be taped to his/her alarm clock, the bathroom mirror, rolled up in his/her coffee mug, or texted to his/her phone. The song lyrics should be either from his/her favorite song or have a significant meaning to the two of you.
Make them a mix CD and leave it in the car for them to listen to on their commute to work and at work. String musical notes along the path where he/she normally jogs. Text him/her a video of their favorite song or a song that means a lot to both of you.
This can work with movies, sports, animals, or anything else your loved one likes.

8Decorate the person's locker. This is a fun way to surprise your friends when in middle and high school. If you go to the same school, decorate the outside of their locker. Make sure your school allows it before doing it so you don't get in trouble. Think about using the following things when decorating:

Ribbon and streamers
Balloons
A huge card
Wrapping paper
A locker mirror. Write in lipstick, "You look great!"
Candy. Tape the stick of lollipops to the locker. You can also tape Tootsie rolls, candy bars, and other treats to it.
A group photo
A Christmas stocking filled with fun stuff
Glitter
Cute magnets
Magnetic whiteboard. Write something nice on it. You might even get friends to leave messages on it.
If you can't decorate the person's locker, leave post-it notes on it with messages.
Method2Surprising the Person with Activities
1. DAY OF AWESOMENESS
Turn someone's birthday into a day full of awesomeness. Think of all the things they love (their favorite places to eat, things they like to do, or places you know they love to shop), and fill their day with it. Each stop could be a surprise, with the birthday-person being whisked from one thing to the next – or at the start of the day, you could hand them a full itinerary using our free printable birthday schedule. This could last for a day, a weekend, or a week!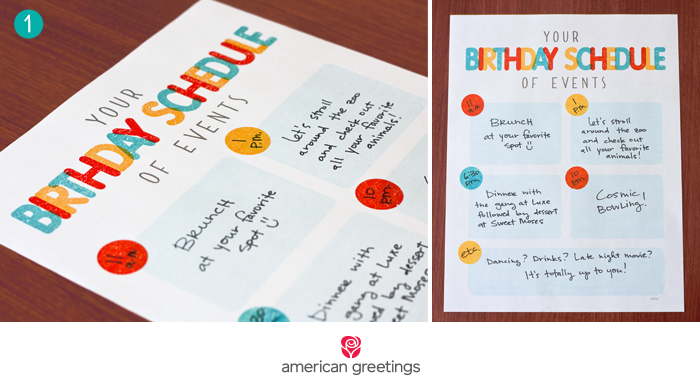 2. ROUND-THE-CLOCK GIFTING
Everyone loves getting gifts, so why not keep that feeling going all throughout the day? You could give a birthday present once every hour (or every few hours), saving the biggest/best gift for last. If you've decided to combine this with the 'day of awesomeness' idea from #1, you could give a present related to each event you have throughout the day! Make each gift look unique with our gift wrap ideas!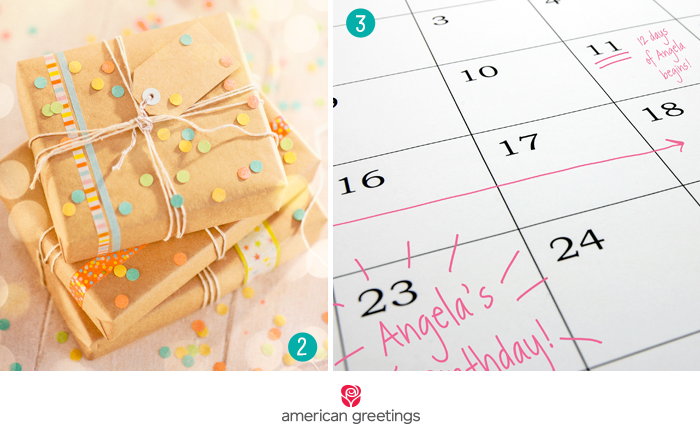 3. 12 DAYS OF BIRTHDAY FUN
It's just like the Christmas song, but with a birthday present leading up to someone's birthday. We originally saw the idea on Mother's Niche, but thought that it would be really cool to do with a theme. For example, if your big birthday gift for someone was a weekend getaway to the beach, each smaller gift for the first eleven days could be a clue leading up to the big gift — a pair of flip-flops, sunglasses, or a bottle of suntan lotion. Check out our wrapping paper to pair with each of these gifts!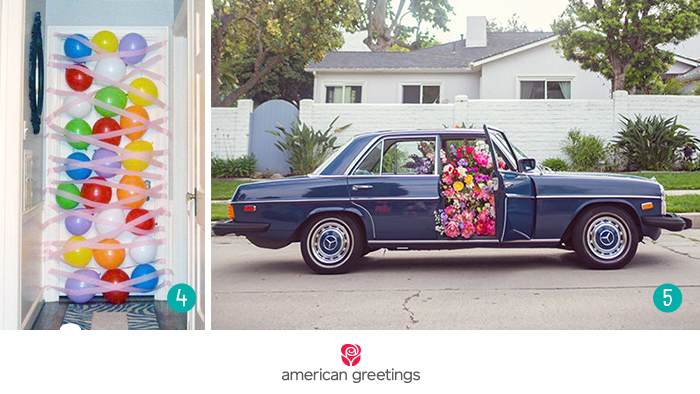 4. BALLOON AVALANCHE!
Nothing says birthday like balloons! Surprise your kids, your significant other, or roommate with an avalanche of balloons as soon as they open the door. This is usually done while the birthday person is sleeping, but it would be pretty great for a surprise party, too! Or you could put a birthday present in a closet, and then fill the closet with balloons like Oh Happy Day, so all the birthday balloons falls out when they open it! Shop our balloons!
5. FLOWER BOMB
If you like the balloon avalanche, but you're looking for something much prettier (that also smells nice), check out this flower bomb idea from designlovefest.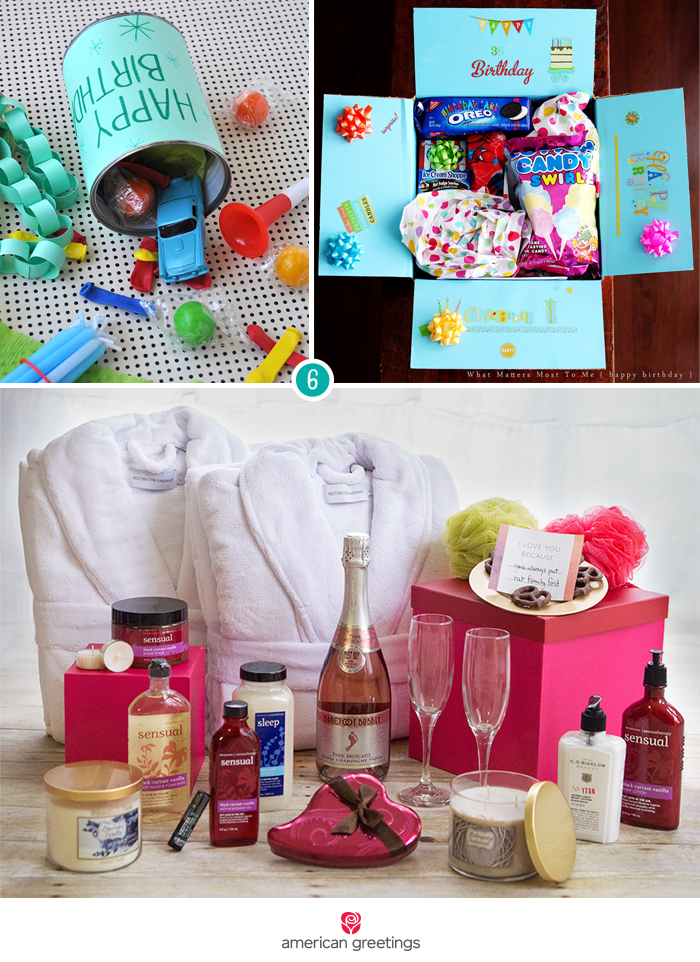 6. CARE PACKAGE
Remember when getting mail was still fun (before all those annoying bills started showing up)? If you can't be with someone on their birthday, bring back some of that postal joy by sending a birthday care package. Just think of all the things you'd bring along to celebrate if you could be there, add in a few nods to inside jokes, and ship them in a box!
Oh Happy Day's Birthday in a Can is a fun twist that's great for kids. If you're looking for a romantic gift, create a fun night in for you & your significant other using one of our Date in a Box ideas. If you love the idea of a birthday care package but don't know where to begin, you can always order one from the experts at yourcarepackages.com.
7. CARDS, CARDS AND MORE CARDS
What's better than a birthday card? How about a whole week's worth of birthday cards? If you buy your cards online, you can have them all scheduled to go out on different days, so your birthday-boy or girl will get one every day leading up to their birthday. Oh, and we may know of a birthday card website that can help.
Hope these ideas get those birthday juices flowing, and as always, if you've got other ideas for us on how to celebrate birthdays in a unique way, we'd love to hear them!
Image credits
(4) Balloon surprise via Oh Happy Day | (5) Flower Bomb via Designlovefest | (6) Birthday in a Can via Oh Happy Day | (6) Birthday Care Package via What Matters Most to Me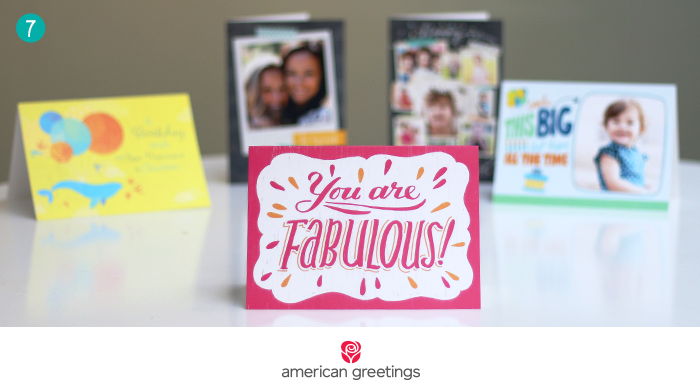 BROWSE OUR BIRTHDAY COLLECTION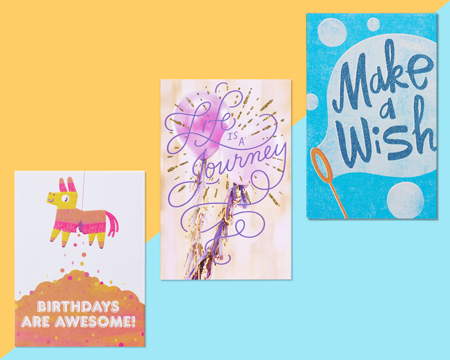 Birthday Cards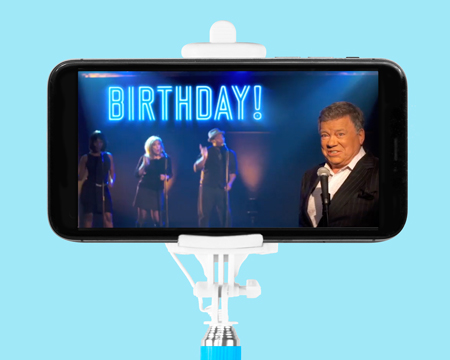 Birthday Ecards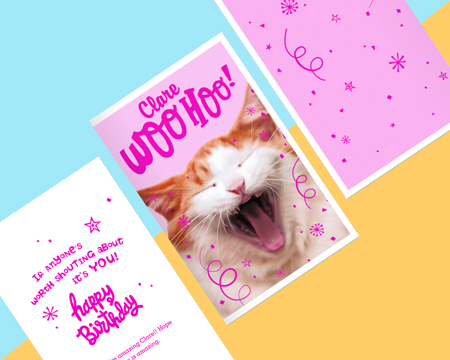 ---