The foundations of any good all-purpose autumn/winter outfit are best laid using two key components: some nice sturdy boots, and a quality pair of jeans. Get this right and everything else will fall into place.
It sounds simple enough but for something so basic there are a lot of variables, and by extension, a lot of room for sartorial missteps. Pairing the wrong boots with the wrong jeans has a unique way of making the wearer look comically disproportioned, which we assume is why some men never stray from their trusty sneaker, even in the darkest depths of winter.
You shouldn't let it put you off though, because armed with a bit of know-how and a few go-to combinations there's no reason anyone can't pull off boots with jeans. Here we explore the tricks of the trade along with a few fail-safe outfit ideas to get the ball rolling.
Wearing Boots With Jeans: The Fundamentals
Strike A Balance
Ensuring everything is in proportion is pivotal to making your boots and jeans work together. A pair of low-profile Chelsea boots with wide-leg denim, for example, is never going to work well. Conversely, big clumpy winter boots and drainpipes isn't a good idea either.
Instead, always make sure the fit of your jeans complements the style of your boots and vice versa. A slim leg is usually a safe bet, but for some chunkier boot shapes, you may want to consider a straight or relaxed fit. As a rule of thumb, if your jeans don't comfortably fit over the top of your boots then you shouldn't wear them.
Cuff Or Bust
Allowing the uncuffed hem of your jeans to drape clumsily over the top of your boot is all well and good if you're Jeremy Clarkson. But everyone else should add a few turn-ups into the mix.
Cuffing is the secret of wearing boots with jeans and making it look good. It breaks up the line of the leg a little and creates a clear point at which your legwear ends and footwear begins. One thing to remember, though, is that bigger cuffs can make your lower half appear shorter, so if you're below average height then stick to smaller turn-ups.
Consider Colour
As far as colour combinations go in the world of boots and jeans, there's very little that's off limits. However, in order to really make an outfit sing, it's worth knowing that certain shades go together better than others.
As a general rule, avoid anything that matches too closely, unless it's black on black. Broadly speaking, it's also better to pair lighter denim with lighter-coloured boots. For example, stonewash jeans and dark-brown footwear can jar. When it comes to dark or raw denim, pretty much anything goes.
To Tuck Or Not To Tuck?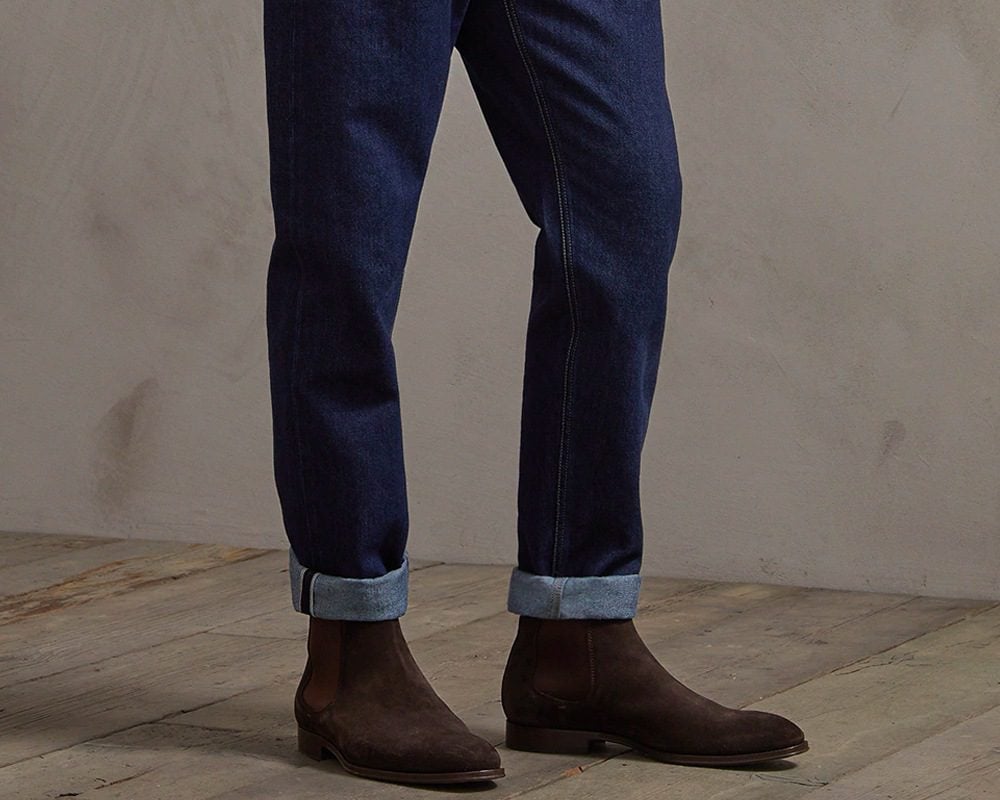 The question of whether to tuck pants into boots or not is one that has plagued men since they first began wearing the two things together. Allow us to clear things up once and for all: don't do it.
Unless you're an on-duty member of the armed forces, or in an early 2000s manufactured boy band, your legwear should never see the inside of your boots. Again, cuff them at the hem and wear them over the top. In an ideal world, they should break somewhere around, or just above, the ankle.https://5b50aaf5324b562c9a74c2d364d60db4.safeframe.googlesyndication.com/safeframe/1-0-38/html/container.html
Five Ways To Wear Boots With Jeans
All Black Everything
NEXT
An all-black outfit with black leather boots may conjure up images of The Cure and Edward Scissorhands but bear with us. There are, in fact, ways to pull this particular look off without looking like something that leapt out of Tim Burton's imagination.
In fact, there are a lot of ways to do it. All black with boots and jeans is highly versatile and can be bent to suit most social settings.
For a bit of rock 'n' roll swagger, try incorporating a leather biker jacket and black leather Chelsea boots. Layer with knitwear on colder days and make sure everything fits nice and trim. If leather's not to your taste, why not try going with a simple black overshirt and T-shirt combination for something more laid back?