If you are planning to buying flexible LED strip, or the LED strip price per meter, you need to be able to accurately calculate the power required. Having insufficient power supply will lead to only some (or none) of the LEDs illuminating, or can cause irritation flicker. An over specified power supply will cost more to buy, and will also be harder to fit as they are bigger.
LED strip price per meter
To calculate the power supply required for your new LED strip lights, you need to know:
Length of the strip or tape
Number of LEDs per meter
Power consumption per LED
To calculate the size of power supply (in Amps) you need to multiply the length of the LED tape by the number of the LEDs per meter and then multiply this by the power of the LED (0.08w to 0.24w per LED are typical values). Then divide the value by 12 volts to calculate the required Amperage of the power supply.
(Length of LED Strip x LEDs per Metre x LED Power) / 12
We recommend you add at least 10% to the calculated value to allow for resistance and losses in the cables. You would also need to allow for any possible expansions or additions in the future. Most LED Strip Lights can have additional sections added using joining cables.
Calculation Examples:
Example 1: A 5m roll of SMD3528 (0.08w) with 60LED/m would be: (5m x 60 x 0.08) / 12 = 2amps +10% = 2.2Amps.
Example 2: A 5m roll of SMD5050 with 60LED/m would be: (5m x 60 x 0.24) / 12 = 6amps +10% = 6.6Amps.
For any LED strips over 2 metres in length you can provide a 12volt feed to both ends of the strip or one feed in the middle, by cutting the strip into two and connecting the power supply to both strips. This gives a more even power distribution and should provide a more consistent illumination.
LED flexible strip Usage

There are two main reasons for using LED strips. One is efficiency – LED lights are very efficient, with most of the power going to produce light, not heat. Their extremely long life (20,000 hours is typical) means that they also do not need replaced very often, leading to vastly reduced lifetime costs.
The other reason is aesthetic. LED lights can be made extremely small – some LED lighting strips are as thin as 4mm – and so can be installed in places where traditional lights would not fit. Add to this the various LED colour options, including RGB LEDs with remote controlled colour changing abilities. This gives a whole new range of possible lighting effects that can dramatically change the look of a room.
Light emitting diodes, or LEDs, are becoming increasingly popular for home lighting. Compared to regular incandescent and halogen lights, LEDs have a slew of benefits including that they use very little electricity, have a very long lifespan, don't produce much heat, and can easily be controlled and programmed. As LEDs are also very durable and resistant to shock, they can also be used in a variety of ways – including as strip lights. Buying LED strip lights may seem straight forward, but there are actually many different factors that buyers need to take into consideration to ensure they get the right lights for their needs.

Types of LED Light Strips
'LED light strip' is a generic term used to describe the many different types of LED lights that come in strips. Depending on how you plan on using the LEDs, you may actually need one type of LED light strip over another. For example, coated LED strip lights are better suited for areas like bathrooms because they are generally waterproof. For areas like walkways though, you may want to opt for aluminum panel LED light strips.
Encased flexible LED light strips (also called LED rope)
Non-encased flexible LED light strips (also called LED ribbons)
Self-adhesive LED light strips
Aluminum LED light strips
Rigid LED light strips (also called LED light bars)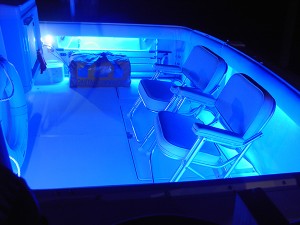 LEDs in the Length of Strip
When buying LED strip lights, a lot of people make the mistake of only looking at the length of the strip. While this is obviously important, they also need to look at the amount of LEDs in the length. Ideally, you should look for the strip lights that have the highest amount of LEDs per foot (or meter, yard, etc). If the LED lights are spaced too far apart, the strip could produce spot-like lighting instead of a clean line of light.
Figuring out the number of LEDs per strip can be rather confusing because there is no standard used by manufacturers. One brand might advertise 200 LEDs per reel whereas another advertises 90 LEDs per meter and yet another advertises 40 LEDs per foot. You will first have to choose a unit of measurement (such as feet, yards, or meters) and then do some basic math to figure out exactly how many LEDs each strip has per unit.

Brightness of LED Strip Lights
Over the past years, LED technology has significantly improved so that the small diodes can produce much brighter light. However, this doesn't mean you should assume that your LED strip lights will be bright. In some cases, you may not even want the light to be bright, such as if you are using it for accent lighting.
The brightness of lights is measured in lumens (not watts as is commonly believed). Depending on how you are using the LED strip lights, you will require a certain level of lumens.

| | |
| --- | --- |
| Use | Lumens Required Per Foot |
| Accent lighting | 150 to 250 |
| Under-cabinet lighting | 175 to 550 |
| Task lighting near source | 250 to 450 |
| Task lighting far from source | 350 to 700 |
| Indirect lighting | 375 to 575 |
| Signs | 500 to 750 |
Most reputable LED strip light manufacturers will list the amount of lumens their products produce. However, you have to pay careful attention to how the lumens are listed. There is no set standard, so one manufacturer may state that there are 250 lumens per foot whereas another states that there are 250 lumens per meter. The first LED strip light would be much brighter than the second.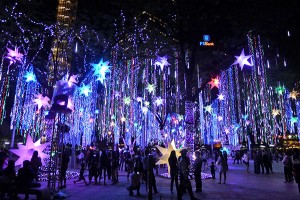 LED Strip Light Color
LED strip lights come in a wide range of colors as well as strips that can change colors. The most basic LED strip lights are called 'non addressable' and will only emit one fixed color of light. They are cheap to purchase and generally easier to install.
A second type of LED light is called 'non addressable RGB strips'. These LED lights can display any Red-Green-Blue color. These are different than 'addressable RGB' LED strip lights. The difference is that addressable LED strip lights have a small controller between each LED that makes it possible to control each LED on an individual basis. Addressable LED lights will be more expensive and are usually not necessary for most home needs.

Color Temperature
Color temperature is something very different than the color of an LED light. Temperature indicates how 'warm' or 'cold' the light appears. Temperature is rated in Kelvin with higher Kelvin representing cool colors and lower Kelvin representing warmer colors.

| | | |
| --- | --- | --- |
| Temperature Kelvin | Light Color | Applications |
| 5000K-6000K | Daylight | Outdoor LED lightingBathroomsSituations when bright light is needed, such as reading |
| 3500K-4100K | Cool White | KitchensHallways |
| 2700K-3000K | Soft White | Living roomsBedrooms |
Note that it is possible to find LED strip lights that have color adjustable temperatures. These adjustable temperature LED strips can be very useful if you want to use the light strips for various types of mood lighting.

Installation of the LED Strip Lights
Never buy LED strip lights without first considering how you will install them. If you are buying a flexible strip of LED lights with adhesive backing, then this may be as simple as sticking the lights where you want them to go and plugging them in. In other cases though, such as for complex installations where strips must be cut and programmed, the installation can get complicated. In regards to installation, always be sure to consider the following factors:
Required length of the strip/number of strips needed
Power and voltage requirements
Direction of the LEDS on the strip
Flexibility of the LED strip lights
Whether components such as connectors are needed
Whether the strip needs to be programmed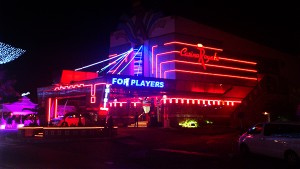 Wattage of LED Strip Lights
Before buying any LED strip light, you will need to look at the wattage. First off, you need to make sure that your power outlet can handle the energy demands of the LEDs. This is fairly simple to calculate by doing some basic math.
Find out how much power your power supply can handle. For example, a typical power outlet can handle 15 amps before it will short out. At 120 volts, that comes out to 1800 watts. It is advised that you never surpass 80 percent of the total capacity, so you wouldn't want to put more than 1440 watts. On the product specifications of the LED strip lights you want to buy, you should find the wattage. Note that wattage is sometimes listed per reel, per unit of measurement, or per LED. If wattage is listed in units or per LED, then calculate how many feet or LEDs will be used in your total project and multiply that by the wattage. This will let you know whether your circuit can handle the LEDs.
Another reason to pay attention to LED wattage is because of energy consumption. Even though LEDs typically don't use much electricity (compared to most other types of lights, at least), the electricity usage can still add up and take a toll on your electric bill.

Conclusion
Shopping for LED strip lights doesn't have to be difficult so long as you know what to look for. Most importantly, buyers will want to make sure they understand their options for installation, power demands, and colors. There are also many LED strip lights for specialized use, such as LEDs that are programmable.