If you're looking to get started playing piano or keyboard it can be easy to assume that you are going to have to spend a lot of money on equipment, but the best cheap keyboard piano can be both affordable and good quality, especially for beginners. So let us review the Low Price Casio Keyboard options and examine other casio keyboard price models.
low price casio keyboard
Casio CTK-3500 61-Key Portable Keyboard
Casio is a brand name you're bound to associate with keyboards and pianos. The CTK-3500 is a good cheap keyboard under $200 which has many different sounds and features you would associate with more expensive models, backed up by the impressive Casio brand.
| | |
| --- | --- |
| | See the Casio CTK-3500 Portable Keyboard on Amazon.com |
61-keys means not quite full size, but this is big enough to play some two-handed melodies and learn most of your favorite songs.
The touch-sensitive keys also allow you to play different velocities and volumes.
The CTK-3500 is advertised as an option for both beginners and musicians who need a solution for composing on the fly while they are touring.
As well as 400 different tones, this has 150 rhythms built into its memory. This is combined with 'Dance Music Mode' which has dance rhythms designed for playing along to or composing more electronic styles of music.
More features aimed at producers include a variety of different effects including chorus, reverb and flanger for altering the sound and adding a new dimension to the melodies you play and compose. This means far more options than some competitors.
This comes with the option to use either mains power or batteries, so you really can practice wherever you like.
Though the sounds don't quite have the authentic feel of piano, this is a great option for people who like using synth sounds
and keys to compose and learn songs.
Casio SA-46 32-Key Portable Keyboard
This is quite a different keyboard to the other options on the list, mainly due to the fact that it is very small and compact, and therefore probably more popular among kids.
That said, it has some great reviews and because of the fact it only has either 32 or 44 keys depending on which model you purchase, the portability can't be argued with.
If you are a classically trained pianist, playing within a couple of octaves will be quite tricky, but for most of us who are just looking to play along to our favorite tracks, come up with some melodies or even trigger some sounds in a live show, the Casio SA-46 can work wonders.
| | |
| --- | --- |
| | See the Casio SA-46 Portable Keyboard on Amazon.com |
Though it doesn't have the same size as some of the other options, this can actually be a benefit for some users. The battery life is excellent, and because this is so small and has a headphone output, it can be perfect for coming up with new ideas on your travels.
Tough it is fair to say that most of the 100 inbuilt timbres are nothing more than 'fun sounds' to play around with, some of them are actually surprisingly good quality for something that is so small and almost feels toy-like. This is one of the reasons this model has such good reviews from customers.
This won't be the best budget keyboard piano for everyone, but if portability is high on your priorities then the SA-46 could be worth looking into.
CASIO CASIOTONE CT-S300

US: (What Retailer to Buy From )
SWEETWATERAMAZONUK & Europe:
AMAZON UKGEAR4MUSICTHOMANN
---
Casio recently rebooted their old, popular Casiotone line. The Casiotone series was last seen in the 1980s, with the initial model (the CT-201) marketed as the "first electronic keyboard with full-sized keys anyone can afford."
The new upgraded line continues that legacy by offering the same promises. New models include the CT-S100 (available in certain regions), CT-S200, CT-S300, and LK-S250.
These are clearly marketed at beginners, and the price point fits well into our listings, too.
Casio made a decent showing in our previous budget-focused $300 article with their arranger keyboards, namely their CTX-700 arranger keyboard. It lost out vs. Yamaha, with sounds slightly behind its competition.
However, the new Casiotone series, particularly the CT-S300, feels just right for an absolute beginner. Here's a quick comparison table.
| | | | | |
| --- | --- | --- | --- | --- |
| | CT-S100 | CT-S200 | CT-S300 | LK-S250 |
| Metronome | Yes | Yes | Yes | Yes |
| LCD Display | No | Yes | Yes | Yes |
| Key Count | 61 | 61 | 61 | 61 |
| Touch Sensitivity | No | No | Yes | Yes |
| Speakers | Dual 2W | Dual 2W | Dual 2.5W | Dual 2.5W |
| Light-up keys | No | No | No | Yes |
| Audio Input | No | Stereo Mini TRS | Stereo Mini TRS | Stereo Mini TRS |
| Chordana App Compatibility | No | Yes | Yes | Yes |
| USB-to-HOST Connectivity | Yes | Yes | Yes | Yes |
| Colors | Black | Black, White, Red | Black | Black |
| Dimensions | 36.6 x 10.1 x 2.9″ | 36.6 x 10.1 x 2.9″ | 36.6 x 10.1 x 2.9″ | 36.6 x 10.1 x 2.9″ |
| Weight | 7.3 lbs. | 7.3 lbs. | 7.3 lbs. | 7.5 lbs. |
Our personal favorite of the bunch is the CT-S300. The lower models lack pressure sensitivity, which makes them less viable for practice. If you're looking into the Casiotone line, go for the CT-S300.
The LK-S250 is something we didn't choose for a few reasons. The most important thing of note is that it's basically a CT-S300 with light-up keys, which may not appeal to everyone.
That said, an extra $20 for visual stimulus-based learning might be just right for visual learners.
The CT-S300 itself is light, built completely out of plastic. It ends up feeling portable and surprisingly solid for the price. Scratches and bumps will inevitably happen, but I get the feeling that it will stand the test of time.
The controls are streamlined, which is a plus for beginners. I like the use of an encoder knob for sound selection though, which is something I hope to see in future budget Casio keyboards.
So how does the CT-S300 play? The 61 velocity-sensitive keys are passable, and they feel close enough to the premium CTX arranger keyboards to feel nice once you've gotten used to the pressure contour.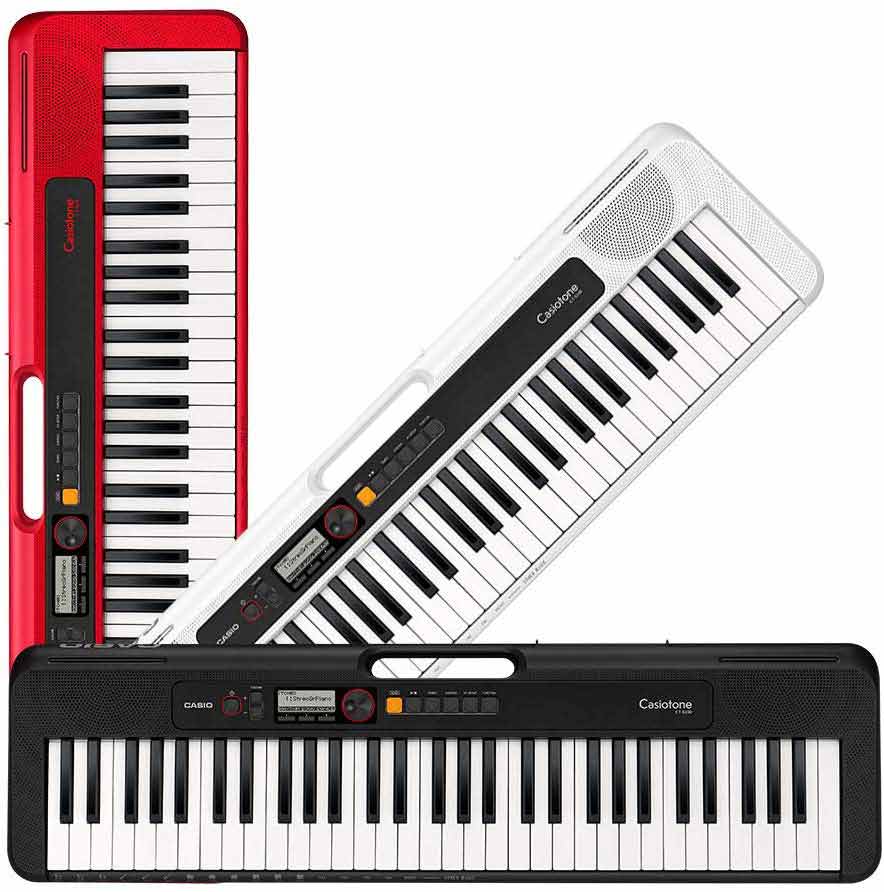 48 notes of polyphony are also more than enough (remember we've only got 61 keys in total).
The included sounds aren't anything to write home about, but they react to your playing intensity, which makes it possible to practice dynamic control.
Sounds include pianos, horns, guitars, and a few synth sounds ripped from the CTX keyboards.
Since this is mainly a beginner practice keyboard, getting 400 sounds is impressive. The piano sound will be your mainstay, and it's functional.
After getting used to the unweighted keys, I could knock out a few passable chord progressions and classical pieces, though playing strength will take some getting used to if you've got experience with a real piano.
Do note that playing on unweighted synth-style keys is quite different from true piano keys, especially for the pivot point and the points of actuation.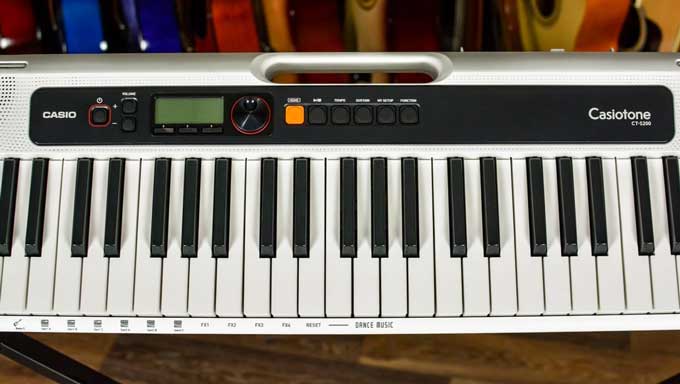 Casio CT-S200 front panel
Apart from a decent sound bank, you also get 77 accompaniment rhythms with a button-triggered variation. This isn't as fully-fledged as you find on the CTX-line, but it serves as an alternative to metronomes in practice.
It also gives newcomers a taste of more exotic rhythm styles, like Latin beats such as Bossa Nova.
The rhythm section won't be adequate for the dedicated arranger keyboard courses, but they're quite fun when used for practice.
The dual 2.5W speakers aren't the best sounding speakers, though they're stereo and relatively clear, which is really all I want from a practice keyboard.
If you're aiming to use the CT-S300 (or any other model from the Casiotone line) as a gigging instrument, the output mini TRS jack will be used. This connects to external amplifiers and doubles as a headphone output for practicing in private.
As a side note, the CT-S300 can be powered off 6 AA batteries and has a pretty good quoted battery life of 20 hours. Of course, the provided AC adapter can be used as well.
Something that might be taken for granted is the inclusion of a sustain pedal jack. Depending on where you purchase your Casiotone keyboard, a sustain pedal may be a separate purchase, so be sure to factor that into your budget.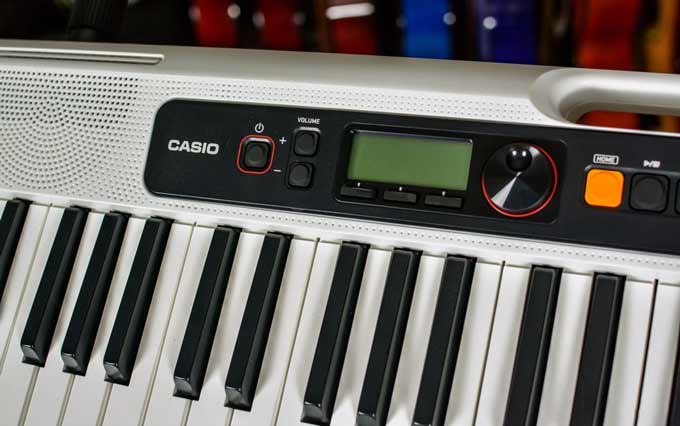 For MIDI connectivity, you'll rely on the micro USB port. This allows you to connect to a DAW to use the CT-S300 as a MIDI controller, or to connect to Casio's Chordana Play app.
The Chordana Play app allows you to control the parameters and selected sounds off the CT-S300, but its true power comes when integrated with the LK-S250. You can load your own MIDI files to sync your songs to the light-up keys.
Casio CT-S300 used with Chordana Play app
Finally, the CT-S300 features a pitch bend wheel, a nice bonus for practicing synthesizer leads.
It also makes the CT-S300 a viable USB MIDI controller that's affordable. Note that the CT-S100 and CT-S200 lack a pitch wheel.Pros
A wide selection of sounds
Keys are good for the price
Well thought out controls
A pitch bend wheel
USB connectivity
Chordana Play app compatible
Cons
Sounds aren't that great
Fewer rhythms than in classic arranger keyboards