Musical Keyboard Brands List that include the most reliable models are important. Keyboard brands include those from major manufacturers of musical instruments, including Yamaha, Korg, Roland and more. This list answers the question, 'What are the best keyboard brands?' Users looking for a new musical keyboard will want to research a variety of different brands to find the one that best suits their needs, based on function and features.
Keyboards vary by type. Some are designed for beginners, while others are customized for professional keyboard players. Most of the major keyboard brands are available in a variety of different styles, each designed to best suit a customers' specific playing needs. Ease and sound are certainly big factors to consider when choosing a new keyboard.What is the best keyboard brand? That's subjective, and often based on a consumer's past experiences with a specific brand. This list includes a vast majority of the most recognizable keyboard brand names that are currently on the market. This list includes those keyboard brands that consumers might wish to learn more about.
Musical Keyboard Brands List
1. Yamaha
This one is almost a given.
When it comes to the creation of electronic keyboards, no one does it quite as well as Yamaha. They do make other instruments such as guitars and drum sets. However, Yamaha's bread and butter is hands down the keyboard.
One strong-suit of Yamaha is they are simultaneously able to put out incredibly quality product for professional keyboardists while also catering to more amateur players with beginner products. For the most part, everything is fairly affordable, too.
No matter where you are on your music experience journey, Yamaha has a keyboard for you.
For the amateur musician, we would recommend the Yamaha P Series P45 88-Key Digital Piano. It is light-weight, simple to use, and it has all 88 keys.
For the experienced musician, we recommend the Yamaha Arius YDP-184. It has low-mobility which makes it fantastic for recital halls or living rooms and embodies the feeling of elegance.
All 88 keys, graded hammer effects, and three levels of touch sensitivity.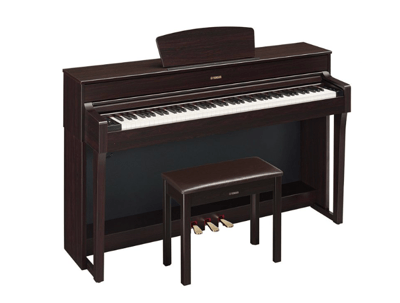 2. Casio
Coming in second place, yet still possessing a reputation significantly above 3-5, is Casio.
Unfortunately, one unnecessary knock against Casio is the fact it is known so well for other products. However, the fact the brand makes an outstanding watch does not take away from their exceptional keyboards.
Similar to Yamaha, Casio can provide many well-made keyboards with graded hammer action technology that are still pretty affordable.
To be able to span from inexpensive instruments for beginner enthusiasts to the pricier keyboards for experts is impressive. And they do not completely restrict the unique features to only the expensive models.
Picking up a Casio is a solid and durable long-term financial decision.
For the amateur musician, consider starting with a Casio CTK-2550. The downside is it only has 61 keys, but it is affordable has amazing step-up learning features built in.
For the experienced musician, consider the Casio PX870 BK Privia Digital Home Piano. Talk about quality; this keyboard has advanced AiR sound, new keyboard action, and all the craft and beauty of a home piano.
3. Roland
Roland keyboards are wonderful for their similarities to real pianos. What they can offer is a sound that mimics the tone of a Grand Piano so well, if you close your eyes you wouldn't be able to tell the difference.
This makes their stage pianos among some of the best instruments on the market.
With their attention to the tiniest of details and amazing craft, Roland customers can sleep well knowing they have purchased a remarkable instrument.
If you are searching for a traditional and authentic sound, then Roland is the way to go.
For the amateur musician, we recommend the GO:KEYs.
Also at 61 keys, this piano is great for beginners that want to play or practice anywhere, even with the music on their smartphones. Roland even boasts that the GO:KEYs speakers are of better quality than most standalone Bluetooth speakers. Click here to see more.
For experienced musician, try Roland's next generation RD-2000 Stage Piano. This awesome instrument has premier action, two independent sound systems, and blends piano technologies with extensive modern control.
4. Kawai
A little bit on the cheaper end with more vibrant colors, Kawai is still a fun brand to dive into for keyboard enthusiasts.
No matter how picky you are, Kawai has a model for you to sink your teeth into. Kawai pianos have a high versatility that can span a range of genres from hip-hop to rock and roll.
While the product has the sound and feel of a realistic piano, they separate from the crowd with their color schemes. Other brands such as Roland and Yamaha tend to have more conservative appearances.
Kawai throws that idea out the window and lets the instruments become as expressive as the music.
For the amateur musician, check out the Kawai ES100. This product has the look and feel of an experienced player's keyboard with easy use for beginners. It has a built-in metronome, MIDI in and out jacks, and a three-song recorder to quickly get down an idea.
For the experienced musician, you need to see the Kawai CE220. This digital piano is for the serious artist. It offers a 2-track recorder, 3-character LED display, MIDI and USB slots, and 22 preset sounds.
5. Korg
Finally, we have Korg.
Korg's digital keyboards offer durable, yet rather expensive, instruments for experienced musicians who find themselves doing a decent amount of performing or touring.
Since Korg digital pianos tend to be made by other musicians, they have a slight creative edge over the competition.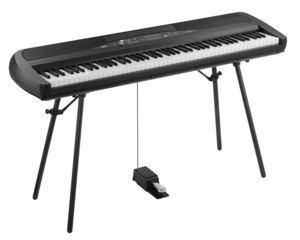 Experimenting with new sounds is something fun and exciting you will find yourself doing if you purchase a Korg instrument.
For the amateur musician, we suggest Korg's SP-280. This keyboard is easily portable yet retains the quality that makes Korg a top 5 brand. The keyboard has multiple effects, a metronome, and economical power consumption. Take a peek at the SP-280 here.
For the experienced musician, take the time to view the Korg LP-380. This beast comes standard with three pedals. Unfortunately, it is not easily portable, but the amazing sound quality and a fantastic song bank with various sound options to choose from. They recommend this instrument for serious and aspiring students.