Wind farm installation
The wind farm will take 2 years to install. This phase will require a significant amount of resources for the construction and for logistics support. Offshore activities are complex and subject to meteorological conditions. To the extent possible, Ailes Marines will thus assemble parts and prepare the construction onshore.
There are six main stages of the offshore wind park installation:
| | |
| --- | --- |
| | Installation of the piles that receive the foundations: 4 piles driven into the seabed will hold the jacket foundations.Installation of the foundations that receive the wind turbines: The base of each jacket fits into the 4 piles.Installation of the electrical substation and its foundation: The electrical substation will be assembled onshore and transported separately from its foundation.Placing and burying submarine and underground cables: The cables connecting the wind farm to the electrical substation will be transported and installed by a specialised ship (a cable ship).Wind turbine installation: The 7 main wind turbine components will be transported by a barge or a self-elevating vessel that is equipped with a crane (the 3 mast sections and the nacelle with the rotor hub and 3 blades assembled).Testing and industrial commissioning of the wind farm: Prior to the start-up, a set of technical verifications is performed (some of which are performed in close collaboration with RTE, the network operator). |
Ship builders, engineering firms and fabrication yards are advancing new vessel designs that are geared toward the unique and growing needs of the offshore wind power market.
This new breed of vessels is being designed to load, transport, lift, and install the latest offshore wind turbine foundations.
In some cases, these new technologies are being developed by traditional offshore oil and gas contracting and service firms; in others, by companies with long experience in the commercial offshore and maritime marketplaces.
Many of these new vessels are being built to serve the growing Asia/Pacific offshore wind market. For example, Royal Boskalis Westminster N.V. and Hwa Chi Construction Co. Ltd. have been awarded the foundation scope for the Taiwanese Changfang and Xidao offshore wind farm (CFXD OWF) project owned by Copenhagen Infrastructure Partners (CIP).
The project includes the transportation and installation of 62 three-legged jacket foundations and the accompanying 186 pin piles. Boskalis and Hwa Chi have performed marine construction projects in Taiwan over the last 30 years and will execute this project as BoWei (Boskalis HwaChi Offshore Wind Taiwan Co. Ltd.).
The CFXD OWF is about 15 km (9.3 mi) off the coast of Changhua County, and will generate a total capacity of up to 600 MW. Engineering and pre-construction works are under way, and the project is scheduled to be executed from 2021-2023.
This will be the launching project for the new crane vessel Bokalift 2. Like the Bokalift 1, Boskalis will convert an existing hull to create the Bokalift 2. The DP-2 vessel with accommodation for 150 persons will include 7,500 sq m (80,729 sq ft) of free deck space and a 4,000-ton revolving crane capable of lifting structures more than 100 m (328 ft) high.
The Bokalift 2 is expected to be positioned for the installation of current and future generation offshore wind turbine foundations as well as oil and gas structures in addition to serving the decommissioning and salvage market.
Meanwhile, the Jan De Nul Group has contracted the CMHI Haimen shipyard in China to build a floating installation crane vessel.
The Les Alizés is specifically designed for loading, transporting, lifting, and installing offshore wind turbine foundations. The main features are a main crane of 5,000 tons, a deck loading capacity of 61,000 tons, and a deck space of 9,300 sq m (100,104 sq ft).
In addition, as a crane vessel that floats, it will be able to install heavier and larger foundations into deeper waters and in more challenging seabed conditions, the company said. The DP-2 vessel is expected to be delivered in 2022.
Jan De Nul has commissioned Huisman to supply the 5,000-metric ton tub mounted crane. It is designed to allow operations with both main hoist and auxiliary hoist in extreme weather conditions and the crane is outfitted with Huisman's Dual Main Hoist System for easy upending of large structures.
New designs are also being introduced for wind turbine transport vessels. ABS has granted approval in principal (AIP) to Neptun Ship Design for its wind turbine transport vessel design.
This is said to be the first to support transporting parts for turbines more than 9 MW.
The 178-m (584-ft) long Blue Azurit design allows wind turbine manufacturers to produce full length welded towers ready for installation. The energy-efficient vessel is designed to pick up components direct from the supplier's berth, transport parts to an offshore harbor, or feed them to the installation vessel.
Gerald Hadaschik, Neptun managing director, said: "The ABS extensive offshore industry experience made them the natural choice to support this project. The Blue Azurit will help the offshore wind industry meet pressure to reduce costs, minimize project risks, deliver higher reliability and support renewable energy targets from new offshore wind nations."
In granting this AIP, ABS conducted a preliminary engineering plan review and considers, that the conceptual engineering is feasible for the intended application and is, in principle, in compliance with the ABS Rules for Building and Classing Offshore Support Vessels, 2018.
Wei Huang, ABS Director, Global Offshore, said: "The scale of offshore wind turbines continues to increase steadily, offering greater efficiencies to the market. We are working with Neptun to verify compliance with ABS Rules, as it strives to deliver enhanced vessel capabilities supporting the wind industry's continued growth, while increasing reliability and efficiency."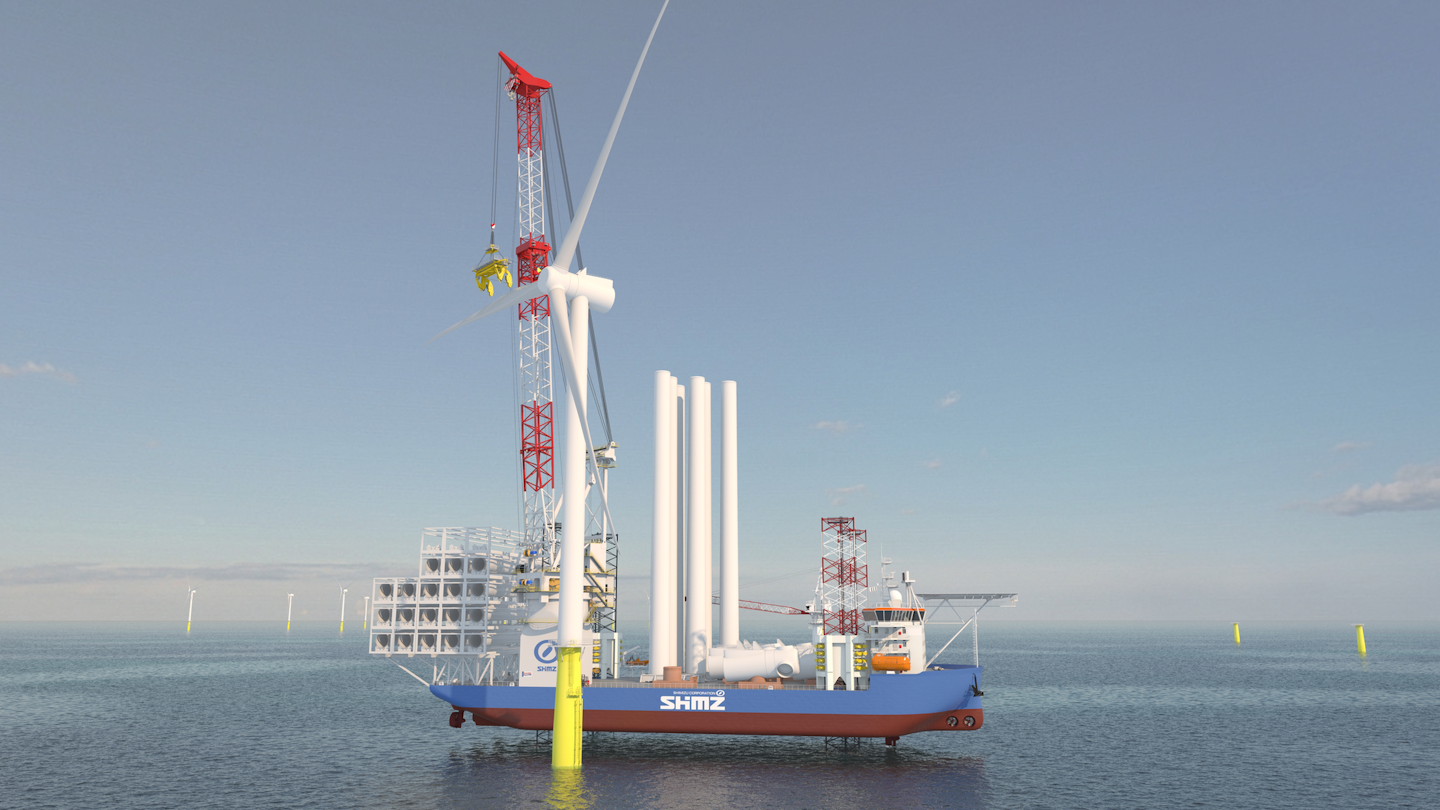 GustoMSC will provide equipment package and design for one of the world's largest offshore wind turbine installation vessels.(Courtesy NOV)
Still elsewhere, National Oilwell Varco, Inc. (NOV) says it has been awarded equipment package and design orders for one of the world's largest offshore wind turbine installation vessels by Japanese-based Shimizu Corp.
NOV, through its subsidiary GustoMSC, has worked closely with Shimizu on the customized jackup design which has a total tonnage of 28,000 t and is capable of accommodating 130 people. The vessel will also incorporate a proprietary 2,500 t telescopic leg crane designed specifically for the offshore wind market to provide a unique combination of high elevation hoisting capability for turbine installation and heavy load capability for foundation installation. Japan Marine United shipyard will carry out the construction of the unit.
"National Oilwell Varco continues to innovate new and more efficient ways to bring wind energy to the offshore," said Clay Williams, National Oilwell Varco's Chairman and CEO. "We are grateful for the opportunity to partner with Shimizu and JMU to develop the largest purpose-built wind turbine installation vessel ever constructed. NOV is proud to be the leading supplier of offshore wind power installation equipment at work around the globe and will continue to tailor solutions that meet the evolving needs of this growing market."
Planning is under way in Japan for a total of 9 GW of offshore wind farm generation capacity using a new generation of larger, more economically efficient, ultra-large-scale wind turbines of 9 to 12 MW in size. Delivery of this vessel, which is expected to be the largest in the region, is expected in late 2022. •