Panasonic is delivering a futuristic range of air conditioners equipped with Nanoe technology to provide you with clean air and latest inverter technology which reduces your electricity consumption at the same time. Special features like shower cooling , corrosion free body makes these air conditioners almost invincible. Panasonic has been making ACs for 60 years and has 22.4 % market share in Japan ,10 crore happy customers and providing quality air for life to people all over the world. Featuring modern design and providing comfort cooling. Let us check the panasonic ac 1 ton review
PANASONIC ac 1 TON 3 STAR INVERTER SPLIT AC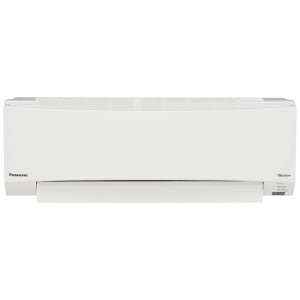 CAPACITY (TON)1 TON
STAR RATING3 STAR
TYPEINVERTER SPLIT AC
POWER CONSUMPTION(WATTS)692.34 UNITS
FULL SPECS
The Panasonic 1 Ton 3 Star Inverter Split AC (CS/CU-SU12VKYW) is another strong recommendation for multiple reasons. For starters, the indoor unit features dual filters, one that traps bacteria and other odour causing elements and neutralizes them and a second filter that traps PM 2.5 particles. This particular unit from Panasonic also uses copper pipes throughout to ensure faster, more efficient cooling. Copper is a great heat exchanger, so using it as the material for the condenser is a great choice as it will quickly absorb he heat from the room. The AC also features a built-in stabilizer so you don't have to get one additionally. All these factors make for a solid reason why this particular AC makes it to the list of some of the best 1 ton split ac in india.
SPECIFICATION
Capacity (Ton)
:
1 TON
Star Rating
:
3 star
Type
:
Inverter Split AC
Power Consumption(watts)
:
692.34 units
What is Nanoe technology ?
Air pollution has been on the rise and it is getting to our homes. It is said that during summer time , people spend more time indoors. So it becomes extremely important to tackle this indoor air pollution.
With Nanoe technology Panasonic air conditioners are capable of removing 99%* of germs , bacteria , viruses and PM 2.5 ( Pm 2.5 particle is known to trigger or worsen chronic disease such as asthma, heart attack, bronchitis and other respiratory problems).
As a result giving out clean air to you and your family.
You won't find Nanoe technology in any other brand air conditioners as Nanoe is Panasonic's patent technology.
It contains PM 2.5 filters , Ag clean filters that generate trillions of ions and OH radicals per second. Nanoe technology has become famous in Japan for air purification and is seen in public transport like automobiles, metros, and cars.
Panasonic AC is the only AC that provides 4-way purification. ( from germs , bacteria , viruses and PM 2.5)
Twin Cool & Aerowings
Most of the time AC's throw direct cold air on us which results in overcooling of certain areas. If you have experienced it , then you know that it can get quite uncomfortable. To tackle this problem Panasonic has introduced aerowings , which enable more control over the direction of airflow.
We can use the twin flaps to send airflow towards the ceiling ,to evenly cool the entire room. This indirect airflow prevents overcooling of people in the room and creating a more comfortable experience , which is also termed as shower cooling.
So aerowings can be used for direct cooling by directing airflow towards you, if you need instant cooling. Or as shower cooling , if you need your room to be cooled uniformly and evenly.
So how does Panasonic AC saves my electricity consumption ?
For this Panasonic has equipped their AC's with two technologies which are Econavi and Inverter.
Econavi's intelligent eco sensors are able to detect human activity level and sunlight intensity , then send this data to inverter which changes compressor rotation speed optimize cooling. According to how much cooling is actually needed.
If there is no one in the room , then due to low human activity levels the AC will work less and use less electricity. Same can be changed according to sunlight intensity. This combination can actually enable 34% energy savings if you compare it to a normal AC.
Effective 1st of Jan, 2018, BEE has enforced a downgrade of 2 stars for Fixed Speed Split ACs. For e.g., a 5-star-rated Split AC, as per BEE norms in 2017, is a 3-star from 2018 (Change Not Applicable to Inverter & Window ACs). For a given star rating, a Fixed Speed AC and an Inverter AC will have similar energy-efficiency (ISEER).
All Panasonic latest air conditioners comply with BEE ratings. People are moving towards twin cool inverter air conditioners because they meets with energy norms, save energy & bill and comes with a 10-year warranty.
What does Twin cool inverter mean ?
AC uses Twin rotary compressor ( 2 rotors inside compressor) that works on varied speed to provide better and faster cooling.
Warranty ?
Focusing longevity , Panasonic provides 10 years (1 Year on the Product and 9 Years on the Compressor) of warranty on compressor from the date of purchase of the product. You are advised to keep all the invoice and documents safe.
You can check out their detailed "Warranty Terms & Conditions for Air conditioner" here.
Superdyma – Corrosion Free Body
You should know that Panasonic has introduced corrosion-free body. With the use of Superdyma (Eco-tuff casing) , which is used to make the cover of outdoor unit to make it highly rust resistant. This ensured that outdoor unit is rust free and does not need painting or any other type of maintenance.
So Should you buy Panasonic AC ?
All in all Panasonic air conditioners are highly durable and reliable, offering competitive pricing in Indian market. So definitely check out Panasonic air conditioners , the next time your shopping for an air conditioner.