The economy has been rough on a lot of construction companies. Many have shut down and most have downsized. One construction company that Wash On Wheels has worked with said they've gone from bidding jobs with a projected 10% profit margin down to a 1% margin.
This doesn't leave a lot of room for errors from bidding the projects to completing them. As a result, they've cut back dramatically on how often they schedule pressure washing their heavy equipment.
However, some projects require pressure washing the equipment before arriving at the job site.  Sometimes the turnover from the time the project bid is accepted to the time the project starts leaves a small window to get the equipment pressure washing done from the last job and ready for the next.  When this happens, construction companies need a pressure washing company that has the equipment and manpower to get the job done quickly.
And you need to know the proper procedures for pressure washing equipment on a construction site, too. Our pressure washing crews carry hard hats and vests in the truck, ready at all times. And if you working in the middle of a field, you won't find a hose connection. We carry 500 gallons of water and have permits and water meters for all the local water districts – so we can hook up to fire hydrants legally.
Whether the equipment just needs a cosmetic pressure washing to look good or a degrease and deep clean to minimize contaminants, Wash On Wheels has the equipment and manpower for pressure washing a lot of heavy equipment in a short amount of time.
Keep in mind that heavy equipment pressure washing for cleaning grease off can be time consuming. The grease tends to splatter from one surface to another or to several others. So even if the the grease isn't widespread to begin with, cleaning one greasy spot can involve cleaning every surface between the greasy spot and the ground.
For construction companies, their name on their heavy equipment can be a primary source of advertising.  Keeping the equipment presentable and in good working condition is important to their company image.
With mobile pressure washing equipment, a contractor can travel anywhere the off-road/construction equipment is located. There are no significant geographical limitations. [Note: Environmental regulations, which must be met, vary according to each municipality.]
Typical Job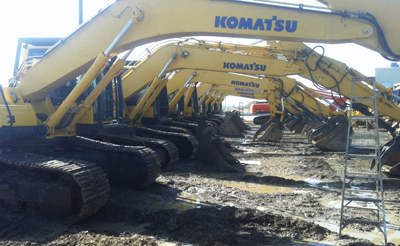 Track machines—bulldozers, loaders, and backhoes—and rubber-tired machines—loaders, off-road haulers, and graders—come in many forms and serve industries ranging from construction and demolition to pipeline work and timber harvesting. Mud, debris, grease, and diesel residue make all machines candidates for cleaning.
The first step in pressure washing is safety. All necessary paperwork and a safety meeting must be completed before any work commences. Know the rules for working around off-road/construction equipment, including right-of-way and requirements for PPE (personal protective equipment).
When a contractor goes on site to wash equipment, the equipment owner will usually have a wash pit set up. If a pit is not set up, it must be created by laying a large tarp (edges up) that will be suitable for collecting and containing all debris that will be released from the off-road machine.
Wastewater containment is a must to meet environmental requirements governing most places—and to be environmentally friendly everywhere. When washing rubber-tired machines, the tarp alone will be fine. For track machines, however, it is best to put a swamp mat on the tarp for the machine to drive on. The mat prevents the machine from ruining or tearing up the containment tarp.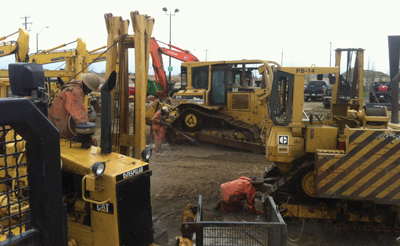 Understand and set expectations by talking to the foreman on site. Determine what type of wash is sought and check the condition of the machine, particularly whether the machine has been overheating. Does the equipment owner want a quick, outside wash to make the machine visibly clean? Does the owner want the undercarriage clean? Or does the owner want what I call a mechanic's wash? (In a mechanic's wash, the machine is washed for repairs, achieving what is a spotless wash outcome.)
Goals differ with location. For example, in central Alberta, clubroot, a plasmodium organism, is a serious threat to canola and crucifers of many sorts. Clubroot can be spread via the undercarriages of heavy equipment, so sanitation tied to agriculture—and beyond agricultural equipment—requires cleaning the undercarriages to prevent clubroot from being carried from one place to another.
Techniques that Work Best
I always start washing with the undercarriage, which will be the dirtiest. To start with the body when the undercarriage is dirty means that a rewash of the body will be required after the undercarriage is done.
After washing off all the heavy mud and grease, apply soap and degreaser to get to the final state of cleanliness. Make sure to pay special attention to the radiator, if the foreman has mentioned the machine has been overheating.
In cleaning the radiator, do not be afraid to saturate it with degreaser and to spend at least 20 minutes on the radiator going slowly back and forth, spraying straight on with a wide spray tip, for this is the heart of the machine. If the radiator is plugged, the machine will overheat and will not be able to operate. Caution: Be careful not to bend the fins.
Once the machine has been washed, my company likes to take it one step further. We bleach the undercarriage to kill any clubroot that could be on the machine. This will stop the spread of clubroot.
Exceptions
Large amounts of lubricating grease can be removed manually—latex disposal gloves work—before applying a degreaser. Doing so reduces the chance of inadvertently spreading some of the grease to other parts of the machine when washing. Similarly, crusty or dried diesel can be removed by brushing in some degreaser, rinsing, and repeating.
Equipment and Supplies
The minimum requirement is a machine with a boiler that is capable of 4000 psi at four gpm. Rate of flow is the crucial factor in washing heavy equipment. A 1000-gal water tank is another minimum requirement. My company's pressure washing trucks can wash for seven hours straight. Other equipment includes a step ladder (never stand on tires or tracks when cleaning), degreaser, truck brush, latex gloves, and chemicals and sprayer, depending on the job.
How to Bill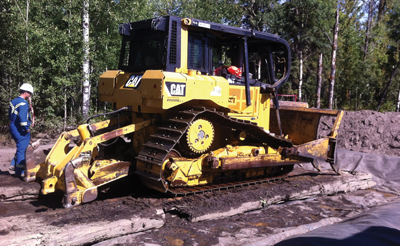 I recommend billing by the hour because every piece of equipment is different. It takes three to five hours to wash an excavator, but some companies only wash their equipment when it breaks down. Consequently, there could be grease and mud build up on some machines. And, it takes longer to wash in winter—often, twice as long due to cooler temperatures.
Contractors will have to develop a method for pricing, whether hourly or per machine, that incorporates all their cost centers, which include: size of machine to be cleaned, level of cleaning to be performed (simple wash to mechanic's wash), hauling (fuel cost, tank truck maintenance), wastewater containment and disposal, and degree of filth. By assessing the machine before starting, the contractor can plan the best approach and also establish an appropriate price. Setting a fixed price list by type of equipment will work if it serves as the basic price with add-ons.
Ancillaries
Add on a containment service. A disposal service is also a good add-on for companies with vacuum trucks.
Problems to Avoid
I see a lot of guys that buy trailer units that only carry 300–400 gal of water, which means they can only wash for a couple hours before refilling. Remember, most of the time, the site for washing is in the middle of nowhere and refilling can take an hour or longer. So, if a contractor can only wash for a couple of hours and then has to refill a water tank, the probability is high the contractor will soon be replaced by a company that can get more washing done in a unit of time.
A contractor's equipment must be reliable. A contractor should select a dealer that is reliable. Here's my tip: Get the contact for the service department and call them after hours, even late at night, and find out who answers. (My dealer for Alkota products is National Pressure in Red Deer, Alberta. The dealer always answers my phone calls, and they can walk me through a problem nine times out of ten.)
How to Fix Mistakes
Start on the dirtiest part of the machine to avoid mistakes and save time.