New Audi Q7 vs used Range Rover Sport: which is best? Big SUVs don't come more luxurious than the latest Audi Q7, but is it still a desirable buy against a posh used Range Rover Sport?… Let us compare side by side, the Range Rover vs Q7.
Range Rover vs Q7
---
Big, practical luxury SUVs don't come much better than the latest Audi Q7: it's just been named the best Luxury SUV in the 2019 What Car? Awards, after all. It rides like a limo and there's enough rear leg room for even the tallest of adults to stretch out. Refinement is stellar, too, isolating passengers from the vulgarities of wind and road noise. Even the sound from the potent V6 diesel engine is well suppressed. It's hard to think of a better car for the money.
However, buying used can be a tempting alternative, particularly when it's something a year or two older and originally cost considerably more to buy. That's exactly the case here because, for the price of the Audi, you could find yourself behind the wheel of a lightly used Range Rover Sport. The Audi has great brand prestige, but the Range Rover Sport has real road presence, particularly with that legendary brand name picked out in bold lettering on that famous clamshell bonnet.
But which of these two uber-luxury SUVs would suit you best? Read on to find out.
---
Audi Q7 45 TDI quattro S line List Price: £56,745 Target price: £52,634 Official fuel economy (WLTP): 33.6mpg Emissions: 178g/km CO2 Power: 268bhp 0-62mph: 6.5sec Top speed: 145mph
---
Range Rover Sport 3.0 SDV6 HSE Price new: £65,160 Price today: £49,000* Official fuel economy (NEDC): 40.4mpg Emissions: 185g/km CO2 Power: 302bhp 0-62mph: 6.8sec Top speed: 130mph
*Price today is based on a 2017 model with average mileage and a full service history
---
New Audi Q7 vs used Range Rover Sport – interior & equipment
Step inside either one of these behemoths and you'll be treated to a very agreeable driving environment filled with fine leathers, high quality materials and thick, sumptuous carpets. Neither one will leave you wanting more in the gadgets department, either.
The Audi definitely has the most functional layout of the two. All Q7s now get Audi virtual cockpit as standard, replacing conventional instruments with a 12.3in screen to display and control all kinds of function. Not only does it show a speedometer and rev-counter: it can also provide sat nav maps, media and phone data, vehicle information and much, much more. There's also a secondary screen in the centre of the dashboard that pops up to supplement virtual cockpit or to allow the front seat passenger to take charge of things, such as changing what music you're listening to.
As with all Audi interiors, it is exquisitely finished with top-quality plastics everywhere – even in the rearmost seats where most car companies try to cut costs.
On first acquaintance, the interior of the Range Rover Sport has the Q7 beaten in the style stakes. The design has that 'wow' factor that you'd expect for a luxury vehicle and because there's a central touchscreen, you've fewer buttons for a calming, minimalist space. However, some of the switches that do appear on the dashboard don't have the same tactile feel as the ones in the Q7, meaning the Sport can feel a little bit cheaper in isolation. But, you still get a virtual display instead of dials just as you do in the Audi, and even if it isn't anywhere near as easy to use, you can still control various functions through it.
---
This being a Land Rover at heart, the Range Rover Sport will give you much more off road information than the Q7. There was even the option of a sonar system that can be viewed in the central display. It'll tell you the depth of the water you're driving through and even warn you if it's getting too deep.
---
New Audi Q7 vs used Range Rover Sport – space & practicality
Range Rovers have always been famed for their commanding driving position – a virtue that influences many buyers of large SUVs – so it may come as a bit of a shock to find that the Q7 gives you what feels like the loftier perch. That's because the Sport has been briefed to make you feel like you're sitting in something, well, sporty. Compared to a regular Range Rover, the dashboard is taller but the seat is mounted lower for a hunkered-down feeling of being in, rather than on top of, the car.
While the Sport provides rear seat passengers with a conveniently flat floor rather than the annoying hump of the Q7, the latter has more space for occupants. It's also alone in accommodating three child seats across the middle row thanks to three sets of Isofix points. The rear bench in the Sport isn't as wide and can only house two booster seats.
---
While buyers could specify their Sport with two extra chairs in the boot, the Q7 offers far more generous third-row accommodation. Of the two, the access aperture requires less contortion to negotiate, there's more leg room and there are child seat mounting points. However, it's still a struggle to install a young child and its seat back there; the Land Rover Discovery is a much better bet if you need a full seven-seater.
Due to the angle of the rear window in the Sport, its boot isn't as useful as the one in the Q7. If your Sport has the third-row seating option, you'll need to drop the seats if you want to pack anything more than a squashable overnight bag. You can get a week's worth of shopping behind the rearmost seats in a Q7, making it arguably the more practical car.
2019 RANGE ROVER SPORT VS. 2018 AUDI Q7
Drivers in South Brunswick who are on the lookout for their next luxury SUV can compare the 2019 Land Rover Range Rover Sport vs. the 2018 Audi Q7 to find out which one fits their needs best. Take a closer look at performance, interiors, and more then browse our Range Rover Sport inventory at Land Rover Princeton.
---
PERFORMANCE
The Range Rover Sport is much more performance-focused with several engines and more horsepower on its starting trim level than on the Audi Q7 top trim level.
2019 Range Rover Sport Performance Specs
Base Engine: 3.0L V6 engine with 340 hp
Top Engine: 5.0L V8 engine with 575 hp
Transmission: 8-speed automatic transmission
Drivetrain: Four-wheel drive
Fuel Tank: 27.6 gallons
2018 Audi Q7 Specs
Base Engine: 2.0L 4-cylinder engine with 252 hp
Top Engine: 3.0L V6 engine with 333 hp
Transmission: 8-speed automatic transmission
Drivetrain: all-wheel drive
Fuel Tank: 22.5 gallons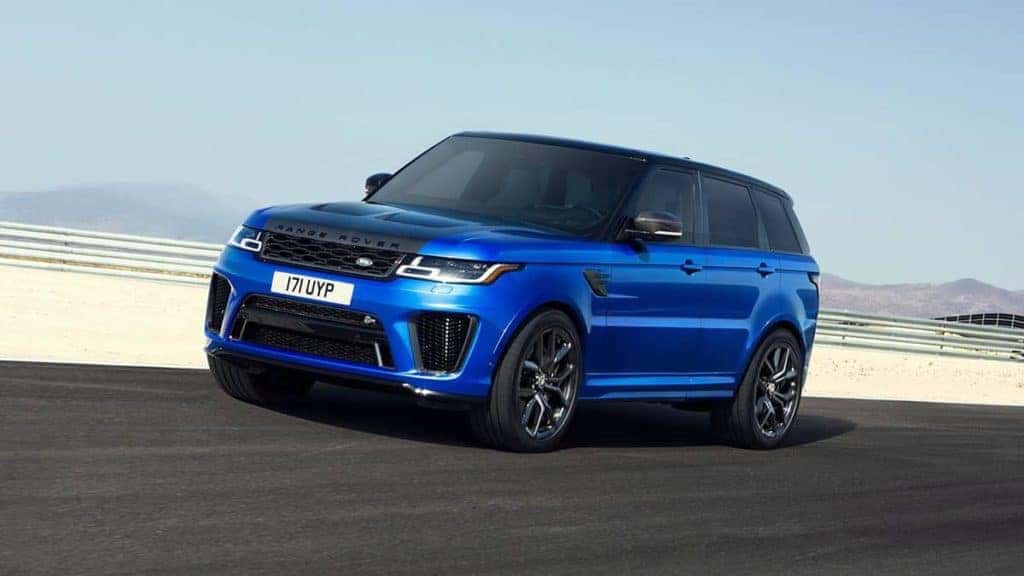 ---
INTERIOR FEATURES
Both the Ranger Rover Sport and the Audi offer ample technology and interior comfort to enhance your Mount Laurel commutes, but with the Range Rover Sport interior you can access a larger infotainment display and more standard features than with the Q7.
2019 Range Rover Sport Interior
10-inch high definition Touch Pro™ Duo – 2 displays
14-way power grained leather front seats
Navigation: Standard
Adaptive Cruise Control: Optional
Cooled Front Seats: Available on other trims
2019 Audi Q7 Interior
7-inch MMI® infotainment display
8-way power leather front seats
Navigation: Optional
Adaptive Cruise Control: Available on other trims
Cooled Front Seats: Available on other trims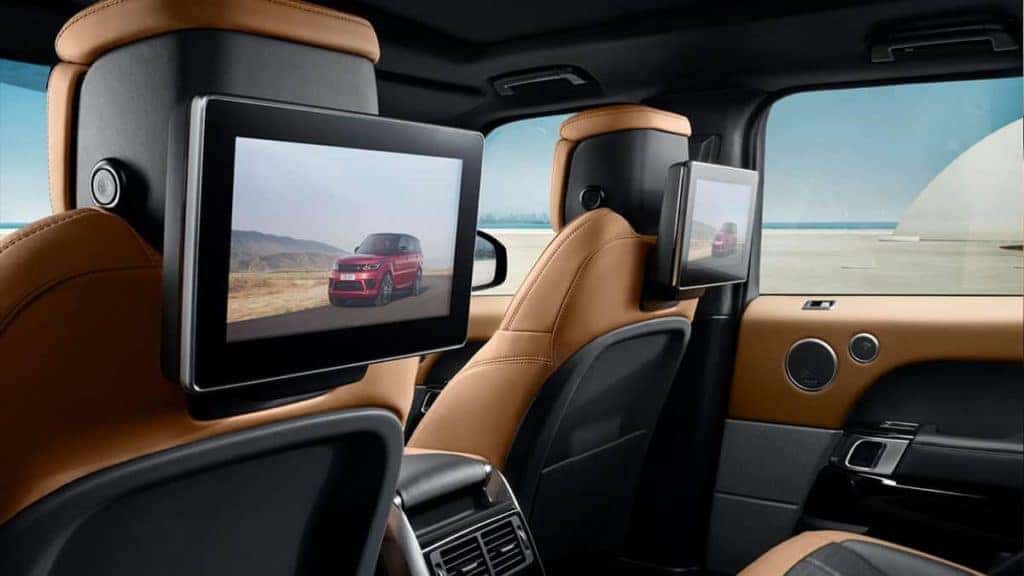 ---
DIMENSIONS
While the Audi Q7 offers a higher seating capacity for Hopewell drivers, the Range Rover Sport gains some cargo space and head room in return.
2019 Range Rover Sport Dimensions
Seating Capacity: 5 passengers
Cargo Space: 24.8 cubic feet
Front Head Room: 38.7 inches
Rear Head Room: 39.1 inches
2019 Audi Q7 Dimensions
Seating Capacity: 7 passengers
Cargo Space: 14.8 cubic feet
Front Head Room: 38.4 inches
Rear Head Room: 38.8 inches