A gas cooktop is often one of the most used appliances in the kitchen, so it will need attention to keep it clean and looking new. Although it may seem imposing and made up of many parts, with a little practice, routine care and maintenance will be a cinch. And the more often you do it, the less it will need each time. After all, a sparkling clean cooking area makes a world of difference. Your cooktop, food, and family will thank you.
Make sure the electrical power for the cooktop is off and all surfaces have cooled down before cleaning any part of it.
Do not use any of the following, which can damage your cooktop: steel wool pads, abrasive cleaners, caustic lye (sodium hydroxide), chlorine, or any cleaners which contain these chemicals.
Do not uninstall the cooktop to clean its surface. The gas lines leading to the burner manifolds can be damaged, resulting in a fire or system failure.
Do not spray any type of cleaner into the manifold holes. The ignition system is located in those holes and must be kept free of moisture.
Do not clean any of the oven or cooktop's components in the dishwasher.
Do not clean any pieces of the cooktop (like the cast iron grates or griddle) in a self-cleaning oven.
The brass parts of your burner will change color with use. This is normal and it will not affect its performance. You can clean the brass parts with brass cleaner.
Remove and wash the heads and caps
Before removing the burner caps and heads, remember their size and location, since they're not interchangeable and your cooktop will not perform correctly if they're not put back together correctly. If you lose track, you can always refer to your user manual.
Wash the burner caps and heads in hot soapy water, and then rinse them in running water.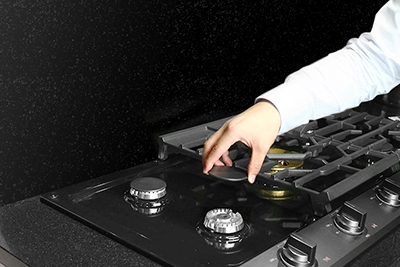 To remove burned-on food particles, use a plastic scouring pad. To unclog the small holes in the burner head, use a sewing needle or twist tie. After cleaning the burner caps and heads, confirm that the burner port openings aren't plugged.
Burner base
Caution: Do not let water get into the burner base and the brass gas orifices.
Next, wipe the burner bases with a damp cloth. Be careful not to scratch, deform, or damage the bases. Make sure to fully dry the burner bases before using them.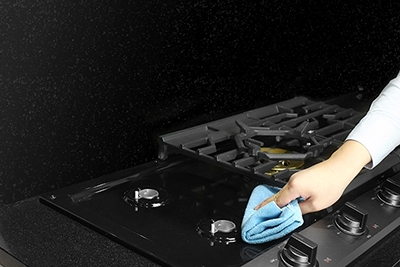 Cooktop surface
Now that all the pieces are removed, we'll clean the cooktop surface directly using a soft, damp cloth. Enamel cleaners work well on most cooktop
Glass-Top Stove Cleaning Basics
Before you set out on a mission to banish stains from your stovetop, keep the following tips in mind:
Clean while cool. Never clean your stovetop while the surface is still hot.
Less is more. There's no need to pull out the heavy housekeeping artillery when cleaning these surfaces. After all, you don't want residue from chemical cleaners to burn off as you cook, as they probably aren't great for you to breathe in. In addition, harsh or especially abrasive cleaners can scratch your stovetop.
Consult your manufacturer's instructions. Certain ranges require you to use a specific type of cleaning product. Check care instructions so that you don't accidentally void any warranties.
Use gentler tools. Your stovetop is fairly resilient, but scouring pads or scrub brushes could leave scratches. Stick to softer cleaning materials, such as microfiber cloths or sponges. Razor blades are the exception to this rule,