Knowing which hairstyle best suits the face shape is one of the crucial factors in staying beautiful. Whether yours is a round face, oval or square, there's a style for every face shape. But if you're a round faced woman, it's your lucky day! We bring you short haircuts for round faces, short hairstyles for round faces, short hairstyle for round faces, short hair for round faces Asian and short hairstyles for round faces with double chin. All you've got to do is go right ahead and make your pick!
20 Superb Short Hairstyles for Round Faces
1. Balayage Long Bob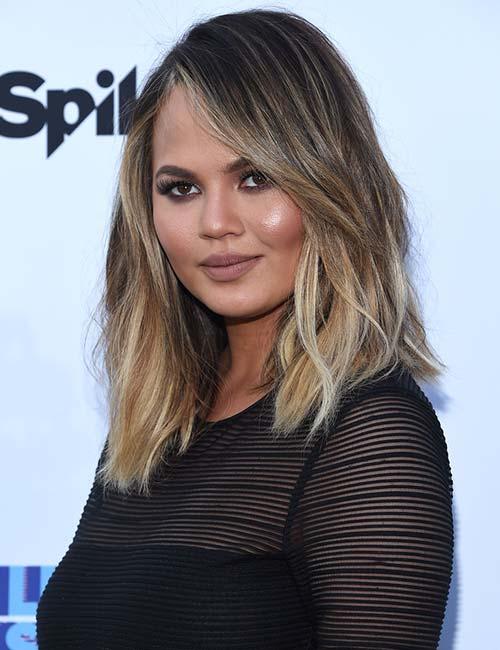 Queen of Twitter Chrissy Teigen is a fashion and style icon, to say the least. So, of course, you need to take hair inspiration from her! This long bob that sits just at her shoulders and is parted on one side makes her look like the diva that she is. The cool toned blonde balayage just takes the look to a whole new level.
2. Dented Curls Short Bob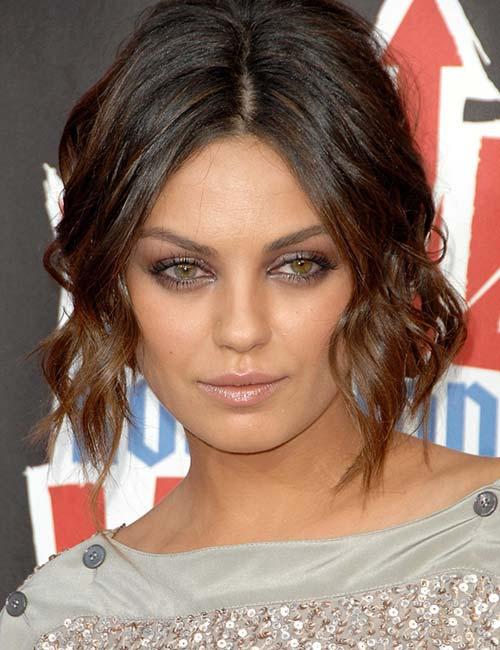 A little modern and a little chic – that's how I would describe this hairstyle. Mila Kunis looks oh-so-gorgeous in this short haircut styled in dented curls that flatter her round face shape. The subtle brown highlights at the bottom add a hint of dimension to this look.
3. Simple Short Bob
Vanessa Hudgens seems to be bringing back some of the old world charm back to Hollywood with this cute hair look. This simple short bob styled in a blowdried do and parted deeply on one side is reminiscent of the elegant coiffures of the 50s. The jet black coloring of this style also adds a mysterious vibe to the whole look.
4. Parisian Short Bob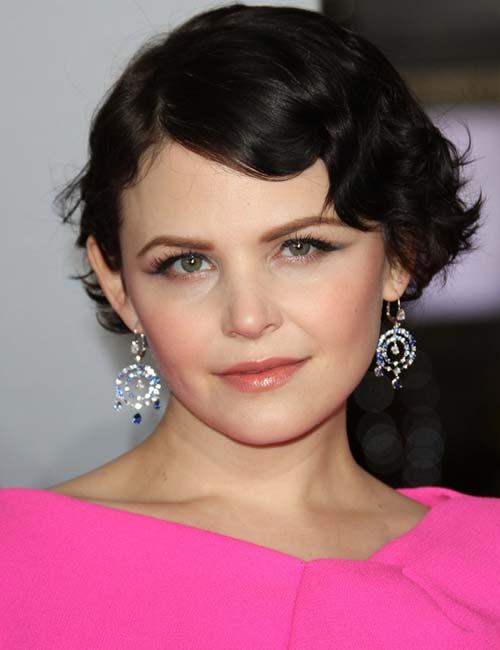 If there's one lady out there who has revolutionized short hairstyles for women with round faces, it has got to be Ginnifer Goodwin. She pulls off this totally Parisian inspired short bob with aplomb and looks like a total angel while doing it. The slightly feathered edges and pinned up side part work well to flatter her round face perfectly.
5. Edgy Side Dutch Braided Bob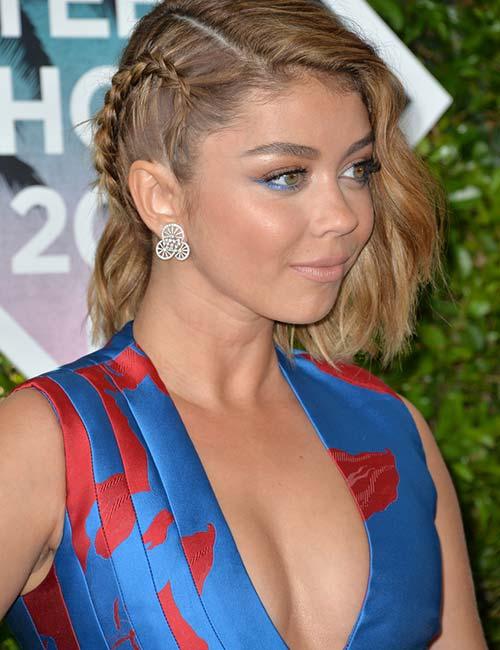 Sarah Hyland is bringing the sexy back into her look with this edgy side braided do. A Dutch accent braid done on one side of her caramel locks works in a stunning way to accentuate the angles of her face and adding a dramatic parting on one side.
6. Voluminous Bob With Blunt Bangs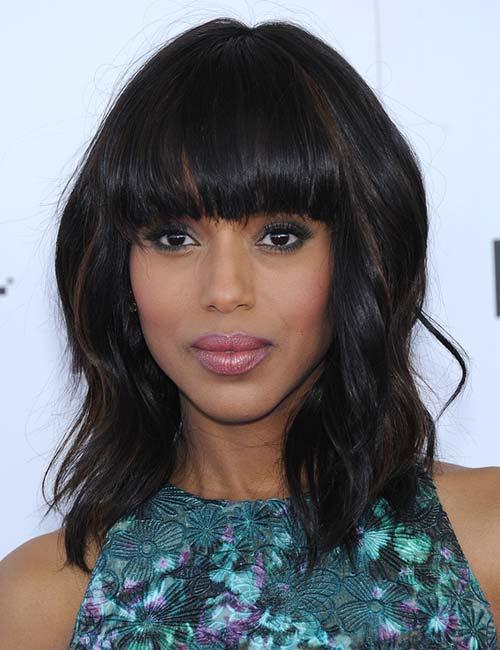 Now, normally, women with round faces are told to avoid thick, blunt cut bangs. But when you're Kerry Washington, the rules don't apply to you. This long bob style of hers resembles a glorious lion's mane due to the amazing volume that has been added to it. And the straight cut bangs give her otherwise round face an angular structure.
7. Swished Out Bob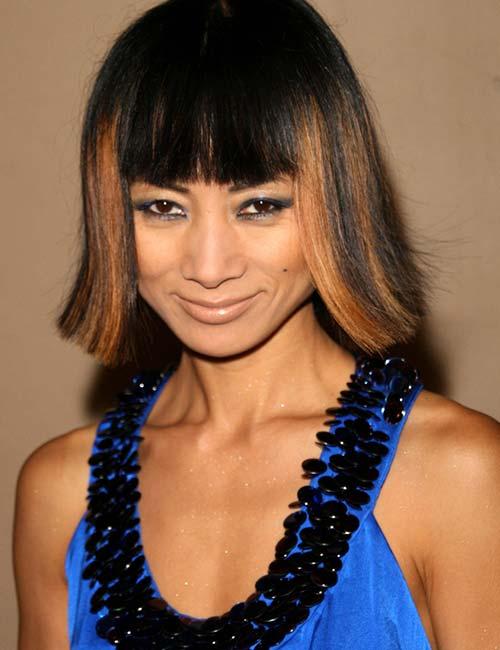 If you describe your sense of style as quirky and fun, then here's the short hairstyle you need for your round face! Actress Bai Ling, for instance, has gone for this totally offbeat straight bob with swished out ends that make her look oh-so-funky. The super straight cut bangs and chunky caramel highlights make her stand out even more.
8. Platinum Blonde Bob
Is there anyone out there who dare not follow Selena Gomez's style? Methinks not! Selena has what could be called the quintessential round face and she kills it with her hair looks every single time. This platinum bob, for instance, has been parted on one side and slightly tousled to make her look effortlessly chic.
9. The Flapper Bob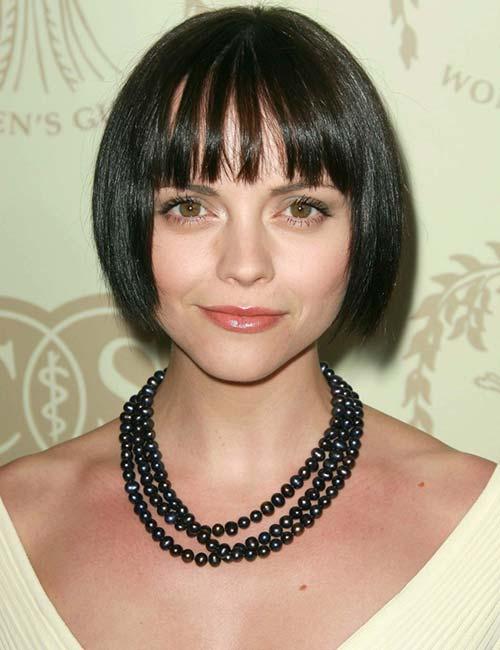 The flapper girls of the 1920s were pioneers of short hairstyles for women. So, it's no wonder that a style sported by them has featured on this list. The flapper bob cut is an extremely short and rounded bob that is styled poker straight. Christina Ricci has made this cut work for round face by adding some wispy bangs to it.
10. Texturized Bob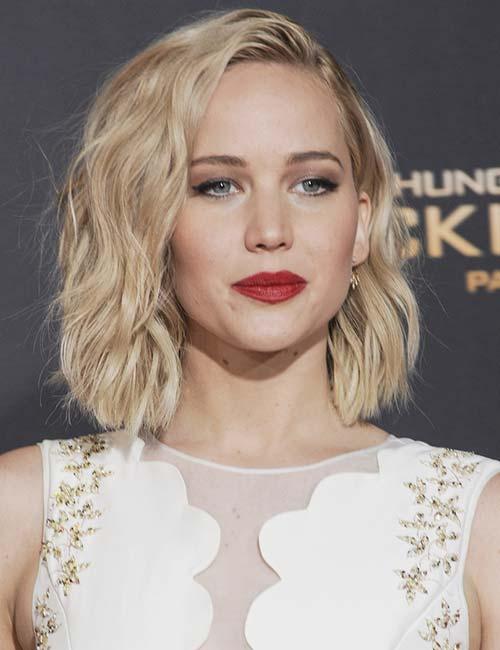 Jennifer Lawrence looks like she's all set to hit the beach in this hair look. This summery hairstyle consists of a blonde bob styled in beach waves and has oodles of sea salt spray spritzed all over it to make it look chic and sexy. Again, finish this look off by parting your hair on one side and you're good to go!