Split system air conditioners are more effective at cooling a home than large air conditioners. A split system air conditioner consists of two parts: an indoor unit and an outdoor unit connected by ducts holding refrigerant gas. The system works together to cool large rooms or multiple rooms. Split systems need to be installed by a professions technician so make sure to factor installation costs into your budget. So what is the split type aircon price?
What types are available?
There are two main types of split system air conditioners: Single-split and multi-split. The right type for you depends on the layout of your home and the area you want to cool.
Single-split or single system. The most common type of aircon for both homes and offices, the classic split system is ideal for cooling one room or specific area. There are several mount styles available depending on your room layout and space available, including wall mount, floor console, ceiling cassette and bulkhead styles.
Multi-split. A multi-split has an outdoor unit linked to two or more indoor units. They usually have a price range similar to split systems; however, a multi-split is ideal for saving space when two or three rooms are close to each other or when installing a split system or ducted system is unsuitable.
Another way to differentiate air conditioners is by how they are mounted. You can choose a wall mounted, ceiling mounted or floor mounted unit.
Reverse cycle
Most split systems have reverse cycle capability. Reverse cycle refers to the ability to both cool and heat. In cooling mode, a split system removes heat from the inside and transfers it outside using refrigerant gas stored in the pipes that connect the indoor and outdoor units. In heating mode, the reverse occurs: heat is taken from outside and transferred indoors.
While reverse-cycle systems can be one of the cheapest ways to heat your home during winter, if you already have another heating system in place or only experience mild winters, you may want to purchase a cooling-only aircon instead, which will cost you less.
Room size
It's important to pick the right air conditioner size for your room size. If your AC is underpowered, it will run at maximum output too often, which can cause excessively dry air and premature wear. On the other hand, if your AC is overpowered, it will run recurrent short cycles, which will rack up power usage – and your electricity bill – and cause the room to become too cold or hot while causing greater wear and tear.
The right sized air conditioner for a room depends on the local climate, room type, shading and insulation. The size and orientation of the windows or glass panels should also be taken into consideration.
The following general suggestions can help you work out what capacity your room will need:
| Room size (sqm) | Minimum recommended Kilowatts |
| --- | --- |
| 10-20 | 2-2.8 |
| 20-40 | 2.8-5 |
| 40-60 | 5-6 |
If you're unsure, opt for an air conditioner with a capacity on the higher side.
How to compare split system air conditioners
When comparing split systems, consider the following key factors:
Noise
Split system air conditioners are generally pretty quiet but some models are loud enough to disrupt sleep or cause neighbours to complain. If you can, test out the noise levels in store or read user reviews before purchasing.
Also, check if there are any local council noise restrictions on air conditioners or strata rules for those living in apartments.
Fan speeds
Look for an AC with multiple fan speeds and a large airflow range. This will help cool down your room quickly when needed and can also keep the fan low once the room is the right temperature.
A wider range of fan speeds will also help reduce noise on low settings.
Demand Response Enabling Device (DRED)
If your AC model comes with DRED (also known as PeakSmart) and your energy provider uses the PeakSmart service, you can automatically switch to economy mode during peak energy periods. This reduces your power usage and saves you money.
Not all energy providers offer this service. If your current provider doesn't, consider switching energy providers.
Operating modes
An auto mode and an energy-saver mode can help you same money on heating energy by ensuring the air conditioner is only on when you need it to be. If you live in a humid area, look for a model with a dry or dehumidify setting.
Wi-Fi and smart controls
Newer models can often connect to your Wi-Fi so your AC can be controlled from your smartphone. This can be handy when you want to turn off your AC when you're out or want to keep an eye on the temperature remotely. While this function is usually built-in, some models require you to install a controller device.
Human presence detector
An aircon that can automatically sense when you're in the room and can lower the AC when you're out could be a big energy saver. While different brands use various terms for this function, such as motion sensor or people detector, they serve essentially the same purposes.
Temperature range
For those living in an area with extreme temperatures, it's important to check the operating range of your chosen aircon before purchase. A typical air conditioner can operate in temperatures from about -10°C up to 45°C.
Air filters and self-cleaning
Choose from a wide range of air filters that could help remove odours, mould, dust, allergens, germs and smoke from the air. For those with asthma or allergies, it may be best to pick a HEPA filter.
Automatic de-icing
If you live in an area with extreme cold, look for a model with automatic de-icing to avoid frost build-up on the heat exchanger coils of your outdoor unit in winter.
Three things to keep in mind
1. There's a right time to buy your AC
It's best to avoid purchasing your aircon during peak season, which will be during summer or mid-winter for colder areas. There could also be a delay getting your aircon installed professionally during these times. Instead, wait for the end of season when you're more likely to grab bargains on old models or buy your AC just before the peak season begins to beat the crowds and get your AC installed quickly.
2. Installation is required
You'll need to have your aircon installed by a professional, licensed air conditioner installer. You should look for one with ARCtick approval and compare quotes before deciding on one. Some installers will package the unit together with the installation service, while for others you'll have to get the unit yourself first.
3. Don't forget about maintenance
You'll need to clean your air conditioner filters regularly and service it from time to time. Keep your outdoor unit out of direct sunlight.
Split type aircon price
1. LG HSN-18IPM 2.0HP Premium Inverter Split Type Air Conditioner Specifications: Cooling Capacity: 19,438 kj/h Power Input: 1,400 Watts EER: 13.39 kh/h.w Power Supply: 1/220- 240/60 Indoor Unit: 1030x 35 x 255 mm Outdoor Unit: 870 x 660 x 360 mm Indoor Unit (Net Weight): 13 kg Outdoor Unit (Net Weight): 42 kg
2. Panasonic CS/U-S24SKQ 2.5HP Deluxe Inverter Split Type Air Conditioner Specifications Product Type: Wall Mounted Inverter Technology: No Maximum Cooling Power: 6000W Cooling capacity: 21,600 (4,030-25,560) kj/h Voltage: 230 V or 7.4 A Air Flow: 110m3/h Gas Type: R410A Height: 296 mm Width: 1,070 mm Depth: 24 mm Features Nanoe-G with In-filter Deactivation Blue Fin Condenser Auto Comfort/Quite Mode Intelligent Inverter Technology with ECONAVI Soft Dry Operation Mode
3. TOSOT U-Crown Premium Series Inverter Split Type Aircon Specifications: Horse Power: 2 HP Capacity: 18000 Btu/h EER: 12.1 kJ/w-h Power Supply: 220~240 Volt Frequency: 1/60 Ph/Hz Power Input: 1530 W Current Input: 4.9 A Airflow Volume: 850 m3/h Features: R410A eco-friendly refrigerant Unique style and slim U shape integrated IDU design Powerful performance with two-stage compressor that operates from -30 to 54 degrees 1Hz Inverter technology for energy efficiency Wide air outlet with waterfall cooling Minimum input power 15W to 0.2W standby power 4 sleeping modes 18dBA low noise to make you more comfortable
Best 1.5 Ton Split AC in India
Lets get started with best split air conditioners for this summer season in 2020. I hope you all can stay protected from the scorching heat this year and enjoy cool air from air conditioners in the comfort of your home.
My AC Brand Opinion Ranking goes like this – Daikin > Hitachi > LG > Voltas > Carrier > Whirlpool > Sanyo > Samsung
1. Daikin 1.5 Ton 5 Star Inverter Split AC Copper
( Best Premium Pick for 2020 , Will last for years , Best Built Quality )

View On Amazon
After lot of consideration Daikin is our 1nd best pick due to the outstanding quality and robust built. This AC will be a quality investment and last for years.
You Can also go for 4 star model , Daikin 1.5 Ton 4 Star Inverter Split AC Copper – Amazon or Flipkart
For me 3 star was enough , so you can consider 3 star too instead of 4 or 5 star model , but do get the inverter AC model to save electricity.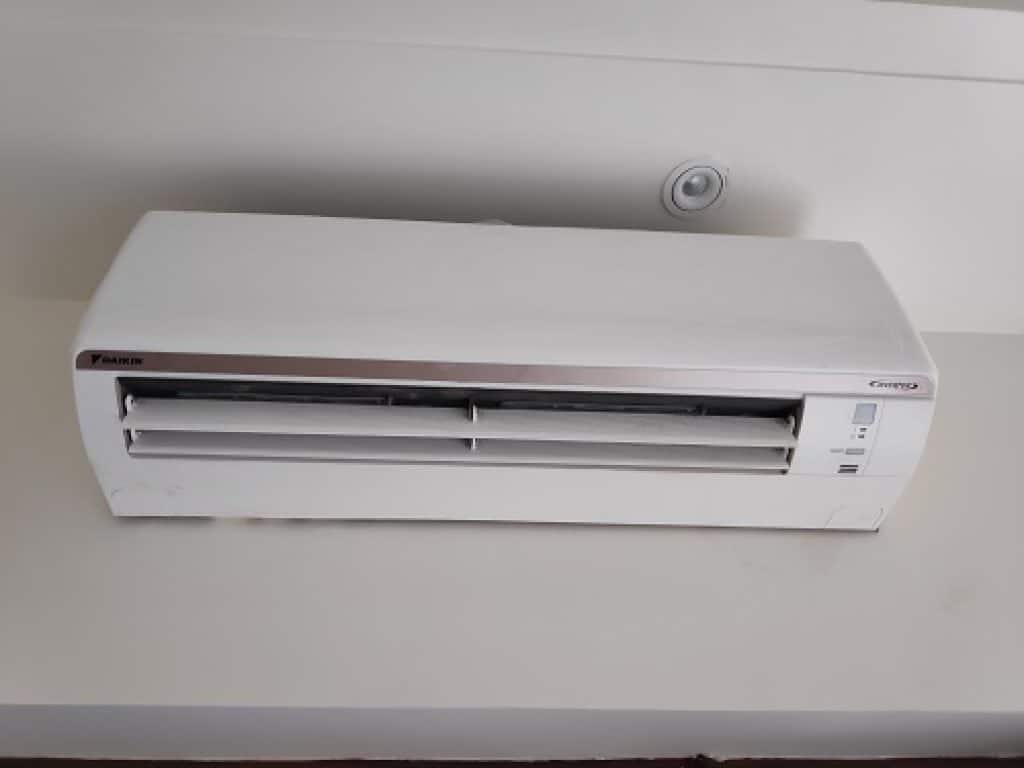 I think that Daikin products are more robust as compared to other brand AC's.Daikin offers a robust built quality , an AC that will last for years and years. That's why many people prefer this brand. This one comes with copper condenser.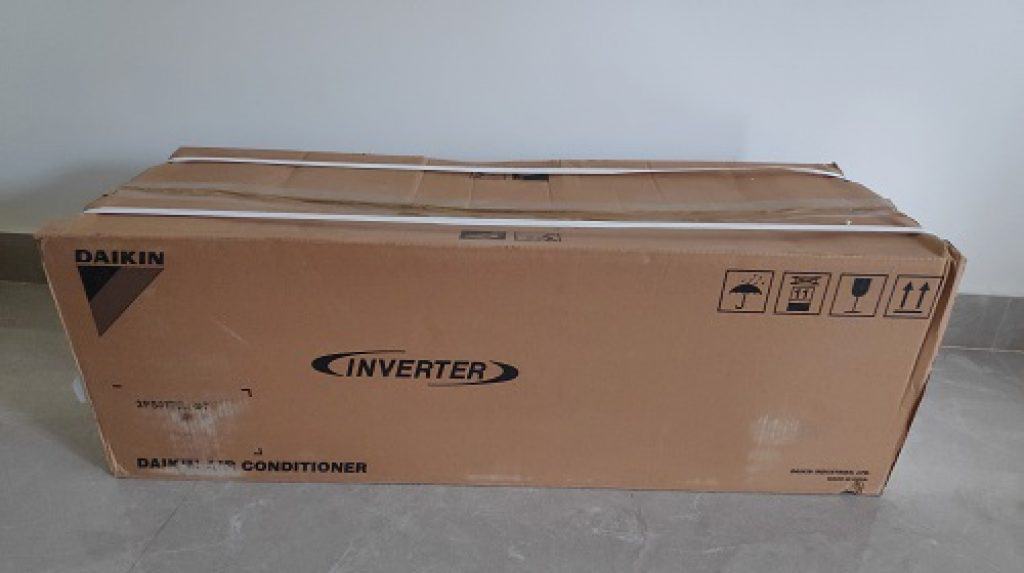 Usually Daikin products are high priced and not easily available online. I would say grab it while you can.
1) This comes with Power Chill Operation, a PM 2.5 Filter and Coanda Airflow.
2) Coanda Airflow ensures that the air draft does not directly fall on your head and is distributed evenly in room.
Daikin 1.5 Ton 4 Star Inverter Split AC (Copper FTKP50TV…Rs. 50,2002 new from Rs. 42,000in stock

Buy Now
3) Econo mode for saving electricity and features like auto restart, sleep mode are built in.
4) Indoor Unit Quiet Operation: This feature ensures low noise level resulting in sound sleep.
Check Cheapest Price (5 star Model) : Amazon
---
2. LG 1.5 Ton 5 Star Inverter Split AC Copper
( 2nd best Premium Pick , LG brand reputation )

View On Amazon
Coming to the big brands finally , we have picked this offering from LG as it's decently priced and offers a 5 star energy rating , being an inverter AC.
1) It offers dual rotary compressor for faster cooling & more electricity savings.
2) 100% copper with extra black coating for both indoor and outdoor unit protection.
3) Equipped with Himalaya cool technology , which claims to cool you as soon as the AC is turned on.
4) Detects low refrigerant itself , removes harmful particles from air and ensured uniform distribution of cool air.
5) All in all it's a luxury premium offering.
Check Cheapest Price : Amazon
---
3. Voltas 1.5 Ton 3 Star Inverter Split AC
(Copper , Best Mid Range AC Pick 2020 in India )
" 1.5 Ton , 3 Star , Inverter , Copper , Not Noisy , Stylish Look "

View On Amazon
Voltas has gained the number 3 spot in our list with this model and has beaten other budget brands. Now Whirlpool AC in on number 4 in our list.
It is most pocket friendly inverter AC , with copper condenser and 1.5 ton cpacity with 3 star rating. One cannot ask for more at this price.
1) TATA is a brand you can trust , looks good on wall.
2) Its a little big in size and provides quick cooling. Comes with high ambient cooling , which can give cooling even at 52°C.
3) It can sense the indoor humidity and controls it accordingly , this feature is quite handy in monsoon season.
4) It has multistage filtration which removes harmful particles and dust , which in turn provides you with cool fresh air.
5) All in all this is best budget friendly 1.5 ton inverter split AC out there.
Check Cheapest Price : Amazon
---
4. Whirlpool 1.5 Ton 3 Star Inverter Split AC (Copper)
( 2nd best Best Budget Pick for 2020)

View On Amazon
This is one of the best selling models for split air conditioners right now , which is due to decent pricing and good product quality. This is a good choice for budget buyers , as it costs a bit less than Voltas pick above.
Lets talk about some of it's features which makes this AC worth buying.
1) Copper condenser and Inverter AC , at a low price with brand value of Whirlpool.
2) 6th sense technology which adjusts the cooling depending on the requirement and saves on electricity.
3) Eco friendly refrigerant and self diagnosis for any errors.
4) Can cool even at 55 degree temperature , equipped with HD filter and low noise levels.
Whirlpool has been making home appliances since 100+ years. So this is indeed one of the best options if you are looking for a split AC.
Check Cheapest Price : Amazon
---
5. Carrier 1.5 Ton 5 Star Inverter Split AC Copper

View On Amazon
If you can increase you budget a bit then you can get this amazing inverter AC with 5 star energy rating.
1) Due to all these amazing features and still a reasonable price , that's why we have kept this AC by Carrier as 2nd in our list.
2) High ambient cooling – which claims to cool your room even at outside temperatures of 55*C.
3) It comes with low voltage operation , that is even if voltage drops to 195v. It can still keep working smoothly.
4) Stabilizer free operation – It can work efficiently between 150V-280V without using a stabilizer. So we do save on the cost of stabilizer.
5) Highly recommended if you need an inverter AC with 5 star energy rating.
Check Cheapest Price : Amazon