Are you looking for the Top 10 Ecommerce Websites In India or the top 10 e commerce companies in india 2020? Then keep on reading to discover them. India is known for its large population. At 1.37 billion, it's one of the most inhabited places in the world, second only to China. Still, of its billion-plus people, internet penetration is quite low, coming in at 41 percent of the total population, roughly 500 million of the 1.37 billion in the country.
Despite the low internet penetration, the e-commerce sector in India is still massive, thanks to the overall population size. It was worth US$ 48.5billion as of 2018 and is expected to quadruple to reach US$ 200 billion by 2026.
It's also worth noting that internet and smartphone adoption in India is growing rapidly. This adoption of smartphones also shows trends toward mobile commerce as a preference for the vast number of Indians who own a smartphone.
top 10 ecommerce websites in india
To give you more perspective of the state of the market competition in the Indian e-commerce landscape, here are the current top 10 leaders of e-commerce platforms in India in 2020 and their estimated monthly traffic from SimilarWeb, as of May 2020.
10. 2GUD
2GUD is originally an e-commerce shop dedicated to refurbished goods, offering a wide range of mobile phones and electronics that have already been used and restored to original condition. Launched in 2018 by Flipkart which was later acquired the American retail giant Walmart, 2GUD has now extended to more categories including lifestyle, fashion, and home decoration to compete against other online platforms.
Website: 2gud.com – Estimated monthly traffic: 4.65 Million visits
9. Nykaa
Nykaa is a beauty retailer selling cosmetics, clothes and wellness products to Indian customers. Founded in 2012, Nykaa is originally a specialized store for beauty e-commerce selling products from multiple brands. Since then Nykaa has developed its own line of cosmetics and opened multiple brick-and-mortar stores across India.
Website: nykaa.com – Estimated monthly traffic: 5.35 Million visits
8. BookMyShow
BookMyShow is the leading show ticketing portal and retailer in India. Since its launch in 2007, BookMyShow has expanded to sell millions of tickets every month for movies, sports events, plays, and more. With the company's success, BookMyShow has also expanded to other, opening subsidiaries in Indonesia, the United Arab Emirates, Sri Lanka, and West Indies.
Website: in.bookmyshow.com – Estimated monthly traffic: 7.2 Million visits
7. 1mg
1mg is an online pharmacy and healthcare information website. Founded in 2015, 1mg provides online consultations, lab tests and a mine of medical information in order to better serve the Indian market and population's need, and be able to direct its visitors to the right medicine or product from its shop.
Website: 1mg.com – Estimated monthly traffic: 9.05 Million visits
6. Firstcry
A specialized e-commerce platform for baby care products, kids' clothes, and toys, Firscry is a pioneer of e-commerce in India offering products from thousands of brands. Having expanded into franchised stores, Firstcry now also offers its products through tens of stores across numerous Indian cities.
Website: firstcry.com – Estimated monthly traffic: 12.5 Million visits
5. Snapdeal
Snapdeal is a diversified online shopping platform, offering products ranging from electronics and fashion to home and appliances. Founded in 2010, Snapdeal has received several rounds of funding from famous investors, including Alibaba Group, Foxconn, and SoftBank, to fuel its growth and compete for the top spots in India's e-commerce landscape.
Website: snapdeal.com – Estimated monthly traffic: 12.9 Million visits
4. Myntra
Myntra is a specialized online fashion, home and lifestyle retailer in India. Launched in 2007, Myntra has developed a strong online presence, especially through its mobile applications. Acquired by the Indian e-commerce company Flipkart in 2014, Myntra has consolidated its presence in fashion e-commerce through the acquisition of its competitor Jabong.com.
Website: myntra.com – Estimated monthly traffic: 14.2 Million visits
3. IndiaMart
Founded in 1999, IndiaMart is an online B2B marketplace for Indian companies. A competitor of Alibaba, IndiaMart allows manufacturers, suppliers, and exporters to propose their products directly through the platform to get contacted by its visitors. Since 2014, IndiaMart has launched its e-commerce retail platform, Tolexo.
Website: indiamart.com – Estimated monthly traffic: 52.2 Million visits
2. Flipkart
Flipkart is the national leader of e-commerce in India. Founded in 2007, Flipkart was initially selling books, before it expanded to other popular categories including mobile phones, electronics, fashion, and lifestyle products. In 2018, Walmart, one of the largest American companies and leading platforms of e-commerce in the US, acquired 77% of Flipkart for 16 Billion US $.
Website: flipkart.com – Estimated monthly traffic: 157.5 Million visits
1. Amazon India
Founded in the US in 1994, Amazon started as an online bookstore that later diversified to products including media, electronics, apparel, furniture, food, toys, and jewelry. Having expanded to many countries, including India, Amazon has become the uncontested global leader of e-commerce and developed further into brick-and-mortar retail with the acquisition of Whole Foods Market, as well as publishing, electronics, cloud computing, video streaming, and production.
Website: amazon.in – Estimated monthly traffic:  200 Million visits
How to buy clothes online (Guide on shopping for clothes online)
Shopping for clothes can be fun but it could also be confusing and sometimes intimidating. When we talk of buying clothes from online stores it can even be more complicated and intimidating than shopping from physical stores. Today I'll be giving you 5 tips that will make your shopping experience better so you can enjoy the full convenience of buying clothes online.
Tips on buying clothes online
Know your measurements and sizes
Check the description and reviews
Reference the sizing chart of the item
Consider your wardrobe
Pay attention to the shipping and returns information
---
Disclosure: Please note that some of the links in this post are affiliate links and at no additional cost to you, I earn a small commission when you make purchases through the links. Which supports me and keeps the blog running (free for you)
---
Know your measurements and sizes
This is very important and will greatly affect how often you return clothes. Knowing your measurements is not that difficult, you can ask your local tailor to do it or you can get a measuring tape and do it yourself. Take measurements of your chest, back, arm width, arm length, pants length and more (let me know if you'd like me to write on measurements).
You should know if you wear S, M, XL etc. Know your shoe size and your pants size. Have it in mind that different countries/regions have different sizing systems, so know the one you use in your country/region and compare/convert it to that of the clothing you want to purchase.
Check the description and reviews
Every piece of clothing should have a description section where you will find things like the materials used, the sizing chart and some additional information. Take the information you find here into consideration before making your purchase.
Unfortunately, some descriptions are not always true and can be misleading. This is why you also need to check the reviews, this is where you'll find unfiltered information about the clothing, that can be more accurate than the description.
In my opinion, reviews are more important and factual than the description.
Reference the sizing chart of the item
If you have taken your measurements and have checked the description, this is when you apply both. Reference the sizing chart in the description with your measurements and figure out what size of the item you should purchase. Different stores can have different sizing systems so, doing this will reduce your chances of buying the wrong size.
When you want to purchase clothing, make sure it's something you can and will use. Consider the other pieces of clothing in your wardrobe and how well that item can be matched with other items you already own. This will make sure you're getting value for your money.
Although if you are buying clothing to experiment with a new style or trend then this may not be applicable.
Pay attention to the shipping and returns information
A lot of people don't do this and may regret it later. Take note of the shipping options and information so you'll have an idea of how quickly it ships, this might make you rethink if you want to go through with the purchase or not. (You should note that the shipping period may not always be accurate).
The return policies will determine how easy or difficult returning an item will be. You won't always keep what you buy and so understanding the return policies of the store will make things easier.
When you have bought clothes a couple of times online, it becomes easier as you get used to stores you shop at often and understand their sizing, shipping and other information.
---
You should understand that you may not be able to buy everything you want online so always check physical stores once in a while. This can even help with the sizing of clothes from online stores if they have physical outlets because they'll likely sell the same items.
How to shop for clothes online (without having to send everything back)
As the summer sales start, the Guardian's stylist gives her tips for buying clothes online – from measuring heel heights to working out what size bag you actually need
The summer sales start this week, but shopping online – and not being able to try on clothes before you buy them – can feel like one of modern life's annoyances. Dresses are too short, trousers are too long, and fabric is so sheer that you can see your underwear through it; seconds after your package hits the doormat you realise you'll be spending your next lunch break elbow-to-elbow with other serial returners in the post office queue.
But it doesn't have to be that way: here is everything I've learned over nine years professionally trawling the internet for clothes to help you score some bargains – and reclaim your lunch breaks.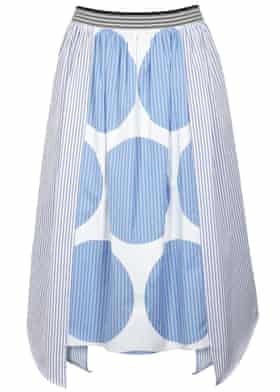 Clothes
Check the height measurement of the model in any picture and note whether they're wearing heels or flats – that will help you gauge the length of skirts, trousers and dresses. A skirt that sits above the knee on someone who is almost 6ft could end up around your ankles if you're smaller. On the flip side, if you're after a pair of cropped trousers this season and you're petite, then a pair that look calf-length on a model might be full-length on you – it's worth checking them out.
If there is a video of a model wearing the item you want to buy, always watch it. You'll get a good idea of the weight and quality of the fabric as they walk. Asos, for example, have catwalk videos of almost everything. Thin material wafting around legs won't be what you want come October.
If you're shopping at Zara, try the "what's my size?" function. It lets you enter your height and weight, as well as whether you prefer your clothes "tighter" or "looser". For many items on the website it will then tell you what size garment people of similar dimensions to you tended to buy, and what percentage of those sales were successfully kept, not returned.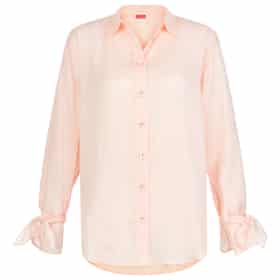 Think classic rather than fashion-forward pieces that won't date easily when you're sale-shopping: minimal jackets, tailored trousers, light knitwear and silk shirts are perfect. Remember, there is often a reason that items are in the sale in the first place: often, buyers are betting that certain trends won't be hot by the time the next season starts.
Advertisement
Check to see if the washing instructions are on the site. That 75% off "bargain" could set you back a lot more over the course of a year when you see that it's dry clean only.
Accessories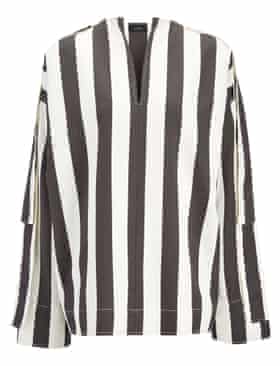 Before you buy heels online, measure the height of the highest shoes you currently own that you can comfortably wear, and don't be tempted to buy anything higher. There are always loads of super high heels in the sales that might look like the perfect party shoe, but they are still there for the very good reason that they are completely useless to walk in.
Dimensions, dimensions, dimensions
Accessories may seem like a safe bet, but always make sure you check their dimensions. Bags can be much smaller IRL than they look online, and if they are made from stiffer leather than you expect, they might not have any give. Depth is the most important measurement of all. Cross-body bags often look pretty substantial on a screen, but in reality they might not have room for your keys, purse, phone and Tamagotchi.
And if you do have to take things back…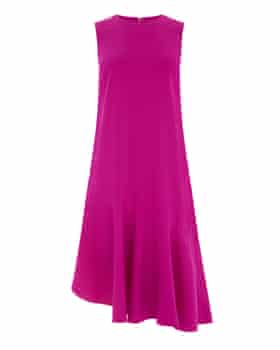 Most sites offer free returns, so it may be cheaper, less annoying and kinder to the environment in the long term to do one big shop, rather than lots of little ones, and try on everything you want in a range of sizes. If you're sales shopping, do this early so the best bits don't sell out – you can sign up for prompt emails to tell you when your favourite shops' sales have started. But check the site's returns policy carefully before you load up your basket.
Better deliveries and returns
Some returns are more annoying than others. Using Doddle makes things slightly less painful. The dedicated returns service is super quick – none of the gargantuan lines you come across in the post office – and you don't even need to reseal your package, just drop your parcel in and they will email a tracking receipt to you. They currently work with Asos, Boohoo, Marks & Spencer, Net-a-Porter, Warehouse and Boden; if you don't know it yet, Google it to find out where your nearest branch is.
Another good service is CollectPlus, which gives you a list of shops that provide delivery and collection of parcels in your local area. If you're a last minute shopper you can also sign up to services such as Asos's top-level delivery service Premier, which gives you next day delivery for £9.95 for a year.