Life without electronic appliances and gadgets seems impossible. we cannot imagine going through our day without connecting ourselves with an electronic device. We list down the Top electronic stores in India where you can avail some irresistible offers! So, if you're looking to buy electronics in the city, we've curated a list of the best multi brand electronic store franchise. Check them out!
best multi brand electronic store franchise
Top electronic stores in India
Retailing is one of the pillars of the economy in India and accounts for 13% of GDP. The retail industry is divided into organised and unorganised sectors. Over 14 million outlets operate in the country and only 4% of them being larger than 500 sq ft (46 m2) in size. Organised retailing refers to trading activities undertaken by licensed retailers, that is, those who are registered for sales tax, income tax, etc. These include the corporate-backed hypermarkets and retail chains, and also the privately owned large retail businesses. Unorganised retailing, on the other hand, refers to the traditional formats of low-cost retailing, for example, the local kirana shops, owner manned general stores, paan/beedi shops, convenience stores, hand cart and pavement vendors, etc. Here is a list of the best Electronic Retailers of India
1. Reliance Digital
VISIT NOW
With 275 stores across 100 cities in India, Reliance Digital is a giant when it comes to electronic retail chains in India.
Products purchased from Reliance Digital are backed by Reliance ResQ, a 'one-stop' service centre that takes care of your pre and post purchase service requirements and this is for all brands sold at their Reliance Digital stores regardless of whether the brand has its own service centre or not.
The brand is present in all major cities like Ahmedabad, Bengaluru, Chennai, Coimbatore, Delhi, Ghaziabad, Gurgaon, Hubli, Hyderabad, Kolkata, Lucknow, Mangalore, Nagpur, Nashik, Navi Mumbai, Secunderabad, Thane, Vadodara ,Vijaywada and Visakhapatnam with an average store space of around 10,000 sq. ft.
With over 150 international and national brands and over 4000 products, the chain has products across categories like Audio and Video products (TV's, DVD players, Car Audio players), Electronic Musical Instruments and Digital Cameras, Gaming Consoles and Games, Computers and Peripherals, Mobile and Fixed line instruments, Durables like, Air Conditioners, Refrigerators, Water Purifiers, Kitchen and Home Appliances.
2. Croma
Launched by Infiniti Retail Limited, a 100 per cent subsidiary of Tata Sons, Croma has exponentially grown as one of the major electronic chains in India.
The electronics giant has close to 100 stores across 16 cities in India, making it one of the fastest growing electronics retail chain in the country. You can check out if Croma stores are present in your city here.
The categories Croma caters to include – Phones, Camera, Computers, Entertainment, Home Appliance, Kitchen Appliance, Gaming and Accessories.
They have their private label as well by the name of Croma Life Accessories, with products available across major categories,priced reasonably and supported by an authorized customer care centre.
The chain has successfully expanded into Croma Zip stores, Croma Kiosks and www.croma.com as well.
3. eZone
A part of Future Group, eZone is present across India in the form of stand-alone stores as well as at group format stores such as Big Bazaar, Home Town and Central.
The stores have majority of the national and international electronics brands for a range of product categories such as Audio, Accessories, Communications, Computing, Home Entertainment, Home and Kitchen Appliances, Imaging, Personal Entertainment and Gaming.
Currently, they are present in 31 cities across India with close to 92+ stores. Locate Ezone stores in your city here.
4. Vijay Sales
For anyone in Mumbai wanting to buy electronics – be it cell phones or home appliances, one name that immediately pops up is that of Vijay Sales.
It remains to be one of the leading destinations for offline shopping in Maharashtra and off late they have expanded across the country as well.
From a small store launched in Mahim in 1967 today the chain has 69 stores across Pune, Delhi, Gujarat, Haryana and Uttar Pradesh. Check out their list of retail stores here.
You can find the latest Mobile Phones, Tablets, Laptops, Desktops, Printers, Cameras, Televisions, Refrigerators, Air-Conditioners, Washing Machines, Kitchen Appliances, Mobile Accessories, Tablet Accessories, Camera Accessories, Headphone, Earphones etc. and some of the top selling electronic brands like Apple, Vise, Samsung, Micromax, HTC, Microsoft, Dell, HP, Sony, Canon, Nikon, LG, Toshiba, Philips, Bajaj, Skullcandy etc at their stores.
5. Lotus
Incepted in the year 2000, Lotus Electronics Supermarket is another leading name for consumer electronics, home appliances and IT products stores in India.
The retail chain has its presence in Madhya Pradesh, Chhattisgarh and Maharashtra with 12 mega showrooms in all. MP, CG & MH, Lotus now boasts of a strong presence in the virtual world too.
6. Viveks
Viveks, a part of Vivek Limited is one of the most leading and respected consumer electronics and home appliances retail chain in India with its base in South India.
Viveks popularized several brands by creating visibility and has the distinction of being a market leader and trendsetter with continuous support from the principal companies.
With dominance in Tamil Nadu and Karnataka, the brand has over 50 stores and is showing a rapid expansion.
7. Girias
With a strong hold in South India, they have 50 stores spread across Tamil Nadu and Karnataka.
The retail chain offers attractive discounts and offers on each of the brands listed with them across categories like mobile phones and home appliances.
A fantastic range of CCTVs are also available at the stores. Check out their shop online at www.giriasindia.com.
Majority of the stores mentioned above have their own online version and this makes it easy to compare prices of the products you are looking at before heading off to the store. Happy Shopping!
7 Home Decor Items For Rs 450 Or Less That'll Give Your Home A Whimsical Makeover!
Disclaimer: Bearing in mind the current health crisis befalling the city and the world at large, we're tweaking our content policy and recommendations. Stay positive, keep hygiene levels up and don't fall prey to panic and misinformation.
Home is our comfort place and reflects who we are as a person, which is why it's so important to keep giving your space a makeover now and again to reflect your own changing sensibilities and just to make it a more fun place to live in! Which is why we've gone ahead and made up a whole list of the most adorable and picturesque home decor items that'll liven up your space in a jiffy – scroll on and shop away!
1. Wooden Pot Holder By Home Decor By Shakeup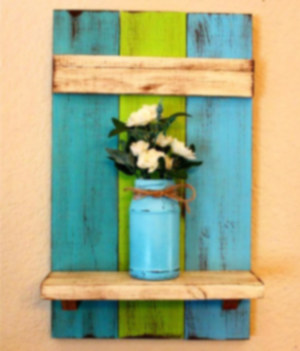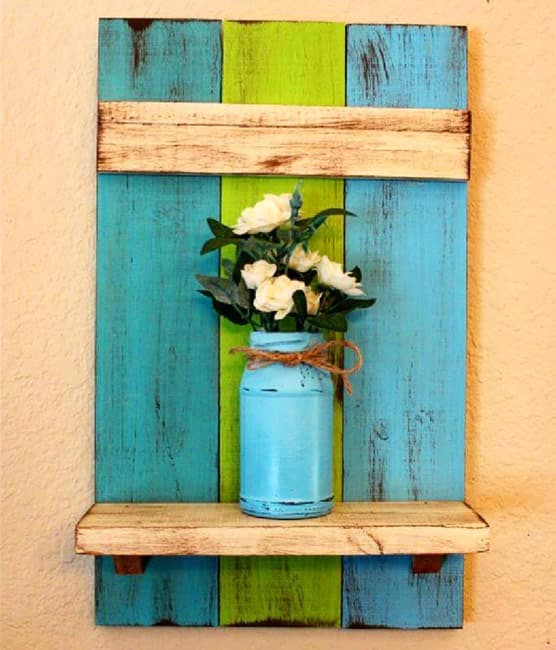 Who doesn't love to stack up all those wonderful green plants in beautiful pot holders that simply enrich the whole vibe of the room? Decor by Shakeup offers you freshness by infusing their goodies with pretty vibrant colours. With a size of 17*10, this wooden pot holder can be customized as per your requirements. You can easily place an order and receive their beautiful wooden art-piece within 25-30 days, so go get yours!
Price | DM Them For The Price
Skim Through Their Insta Feed | https://www.instagram.com/homedecorbyshakeup/
2. Plant Hangers By Violet Vibes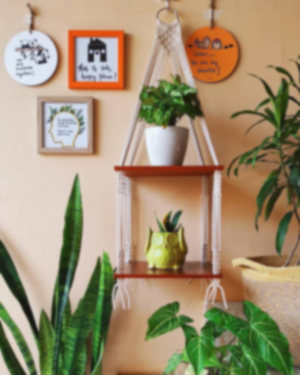 Picture Credits: theideaistohangplants
Distinctly marvellous and eye-catching, these plant hangers by Violet Vibes look oh-so-pretty! If you were thinking about starting your own wall garden, then order this ah-mazing hanger today. Discover the joy of hanging pretty plants decked up inside these beautiful macrame plant hangers 'cause they'll brighten up any room AND they're fairly cheap to boot!
Price | Rs 199 Onwards
Skim Through Their Insta Feed | https://www.instagram.com/violetvibes_vv/
3. Hand Painted Bottle Art By Decorshala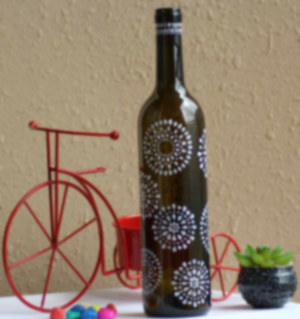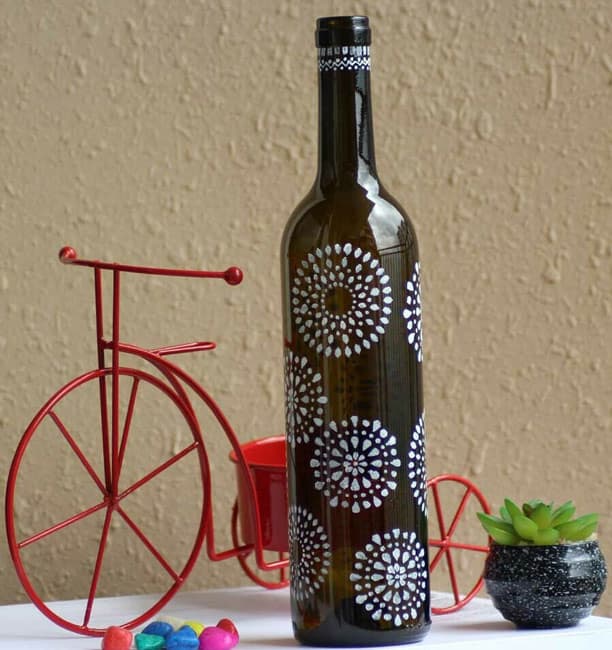 Curating bottle handicrafts infusing tribal art and block printing patterns, Decorhsala offers a delectable solution for all your home decor needs. Their hand-painted bottle art is all you need to sprinkle authenticity into your homes. Undoubtedly a rational and economical article to buy, this home accessory has been delicately crafted. The shaded and distressed look instantly amplifies all the empty corners and looks classy AF. Plus, it has a lid to facilitate the hassle-free placing of your potted plants and flowers, so defo order this one!
Price | Rs 445
Skim Through Their Insta Feed | https://www.instagram.com/decorshala/
Here's Their Website | https://decorshala.com
4. Customised Hand-Painted Globe By Meraki By Prachi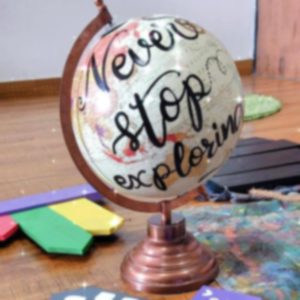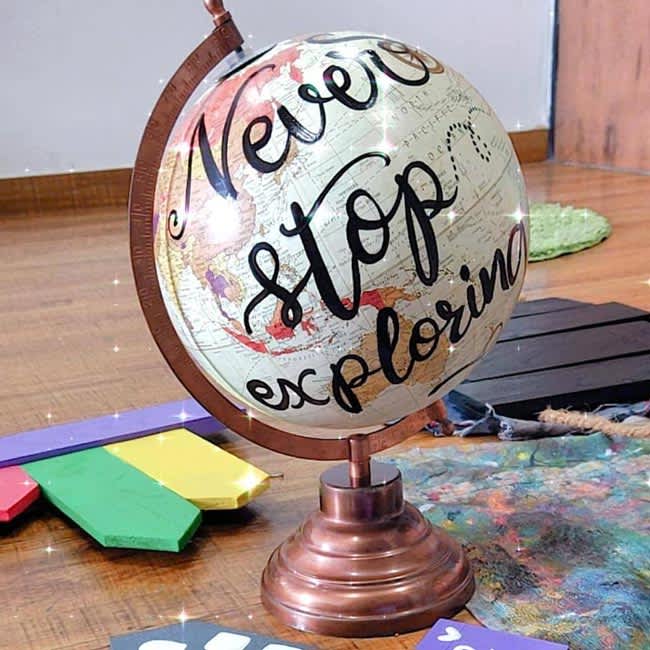 Meraki by Prachi provides ethereal solutions to all your home decor problems. With the launch of their new hand-painted globe variant with metal base and earthy tones, they aim to offer cutesy statement pieces that'll look good in all sorts of spaces. This hand-painted knick-knack (size 13*8) is immensely aesthetic. You can also get the globe customised according to your own preferences, from the colour combinations to the fonts used, making it a truly bespoke buy!
Price | DM Them For The Price
Skim Through Their Insta Feed | https://www.instagram.com/meraki_by_prachi/
5. Memory Maps By Pine And Lime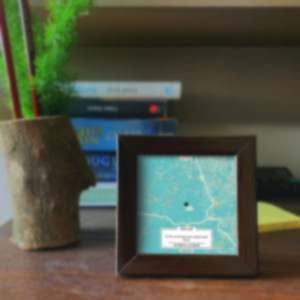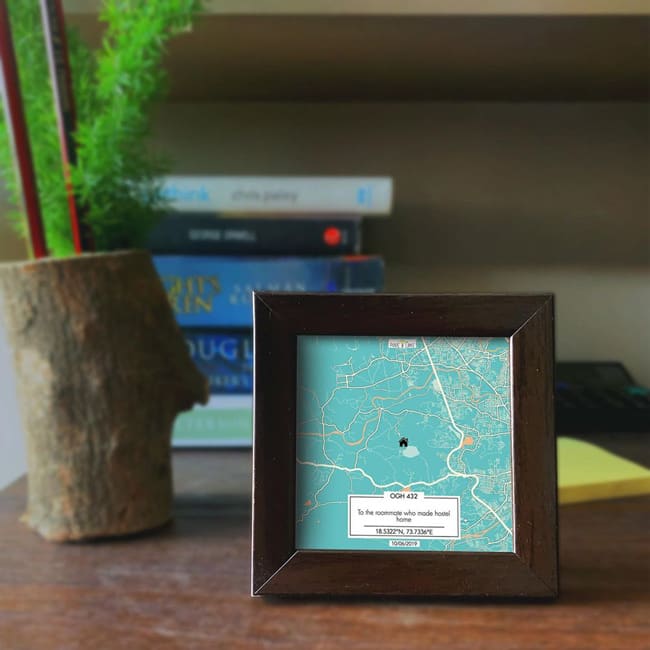 Picture Credits: pineandlime
Memory Maps are a distinct way of reminding you of memories that a photograph can't capture and Pine and Lime has some excellent ideas that can help you memorialize your special dates. All you have to do is enter a date and place special to you, along with a tiny note that you want to dedicate to someone and you're good to go! They have an extensive variety of map designs and markers and even curate some magnificent packages sized 4*4 and will happily deliver 'em within 3 to 5 days. Isn't this the most unique thing you've seen?!
Price | Rs 450
Skim Through Their Insta Feed | https://www.instagram.com/pineandlime/
Here's Their Website | https://www.pinenlime.com
6. High-Pile And Flat-Weave Rugs By The Furniture Republic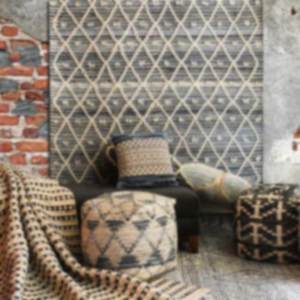 Luxury at its best, The Furniture Republic offers you a chance to furnish your dream home. They offer you a rich variety of rugs that'll completely transform your whole place. They put a lot of work in designing the best version of art that matches with the vibe of your room. Their rugs are available in both high-pile and flat-weave. Richly evocative of modern Indian decor, they deliver finesse as well as luxury by delivering rugs that enhance your feeling of well-being. Do check out their page and you'll see what we mean!
Price | DM Them For The Price
Skim Through Their Insta Feed | https://www.instagram.com/homedecor.tfr/
Here's Their Website | https://www.tfrhome.com
7. Blue Pottery By Okhai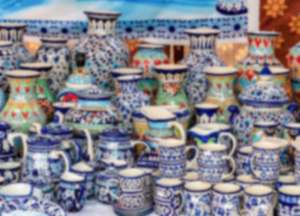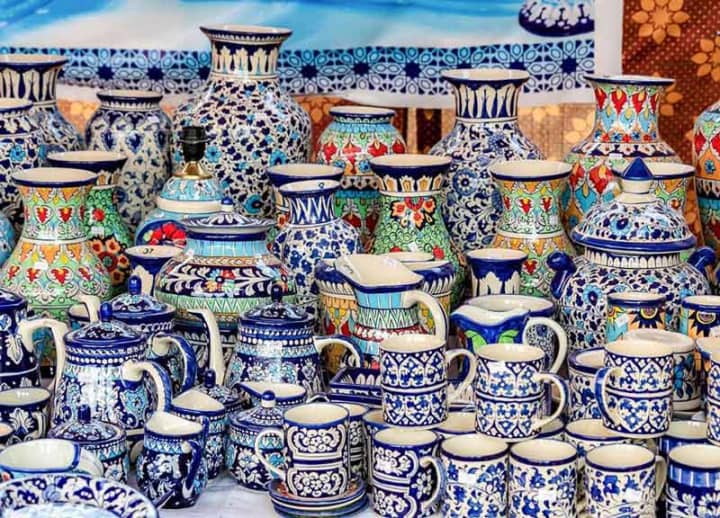 Picture Credits: okhai_org
Okhai is a foundation that embraces rural artisans from across India and offers handicrafts and lifestyle products. Their beautiful vases are one of the most delicately crafted products you've seen. Celebrating the traditional art skills originating from Jaipur, these eye-catching pieces showcasing excellence are perfect for your living rooms. Decorate your home with these antique hand-carved pieces which are extensively famous for their exquisite designs and exemplary craftsmanship!
Price | Rs 450