Top pick up trucks to get in 2020
Blending style and substance, pickup trucks are among the best-selling vehicles in America. With unrivaled configurations and unmatched capabilities, the pickup is one of the best transportation tools on the market. Here are our picks for the best pickup trucks on sale for 2019 and 2020.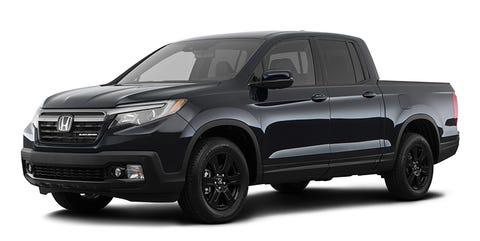 The Honda Ridgeline bucks traditional pickup trends such as butch styling and off-road capability in favor of comfortable accommodations and everyday practicality. Despite these atypical characteristics, the Ridgeline's innovative features and refined road manners helped it land on our 10Best Trucks and SUVs list as the best mid-size truck for 2019. The Honda pickup also provides a fuel-efficient V-6 engine and optional all-wheel drive (front-wheel drive is standard). While its minivan roots limit maximum towing to 5000 pounds and off-road adventures to mainly graded trails, its spacious back seat and clever features such as an ingenious in-bed trunk and useful dual-action tailgate make the Honda Ridgeline the best truck for common folk.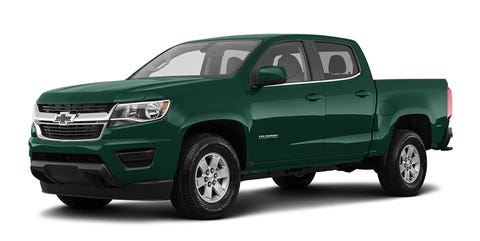 The Chevy Colorado doesn't shy away from its purpose as a pickup by offering premier towing ability and a badass off-road variant. The mid-size Chevy pickup truck has three distinct engine choices, including a speedy V-6 and a fuel-efficient diesel four-cylinder that can pull up to 7700 pounds. While the Colorado offers a feature-laden infotainment system and great interior cubby storage, it lacks contemporary driver-assistance technology, and even the crew cab's back seat feels cramped. Still, it's available with extensive off-road options that culminate on the lifted and widened ZR2 model. All this makes the Chevy Colorado the best truck for work duty and weekend fun.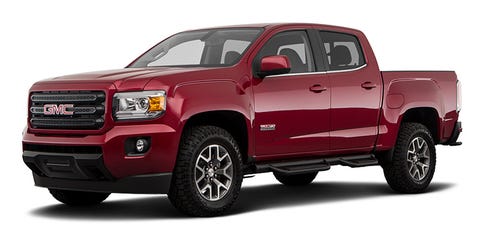 The GMC Canyon is essentially the Chevy Colorado's slicker counterpart—minus the outrageous off-road version. The mid-size GMC pickup instead offers the upscale Denali model that spruces up the interior and imbues the exterior with some bling. Otherwise the Canyon has the same three engine options as its Chevrolet counterpart, including a potent V-6 and diesel four-cylinder that can tow up to 7700 pounds. While the optional diesel and deluxe Denali make it unique among rivals, they also contribute to inflated prices and disappointing interior materials. Still, the GMC offers the best compilation of style and substance normally reserved for bigger pickup trucks.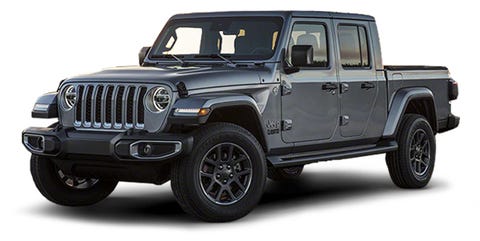 The Jeep Gladiator marks the return of a pickup to the iconic brand's diverse lineup. With similar trail-rated capability and increased towing capacity, the Jeep pickup capitalizes on the formula popularized by the Jeep Wrangler. The Gladiator is also the only mid-size truck with a convertible top and removable doors. While its styling and skills promote an adventurous lifestyle, the Jeep lacks refined road manners on the highway and during long trips. Still, its robust infotainment system and available driver-assistance technology help make the Jeep Gladiator the best truck for those prone to taking the path less traveled.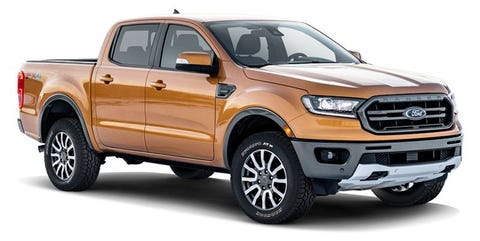 The Ford Ranger comes out of retirement to supplement the Blue Oval's already dominant truck sales. While the mid-size Ford pickup has fewer configurations than the Ford F-150, its smaller dimensions are more user-friendly, and it can still tow up to 7500 pounds. It also offers high-tech driver assists such as automated emergency braking and lane-keeping assist. SuperCrew models have four full-size doors and a bed just over five feet long, while SuperCabs have smaller rear half doors and a 6.75-foot bed. Every Ranger runs a smooth four-cylinder powertrain that can be paired with off-road equipment and selectable drive modes. Downsides include inferior build quality and poor braking capability.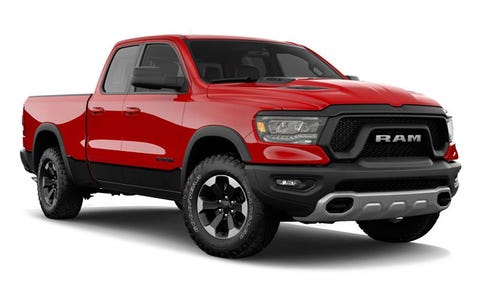 The Ram 1500 ascends the cutthroat full-size-pickup segment with its extensive capability and comprehensive versatility. The completely redesigned Ram truck offers a luxury-grade interior and multiple engines, including a hybridized V-8 powertrain that can tow up to 12,750 pounds. Its unconventional rear suspension and optional air springs deliver unmatched ride quality versus rivals. The Ram 1500 also offers the Rebel, a dedicated off-road version. A host of driver-assistance technologies and preeminent infotainment systems position it above Chevrolet and Ford pickup trucks and helped it earn a spot on our 10Best Trucks and SUVs list as the best full-size pickup truck for 2019.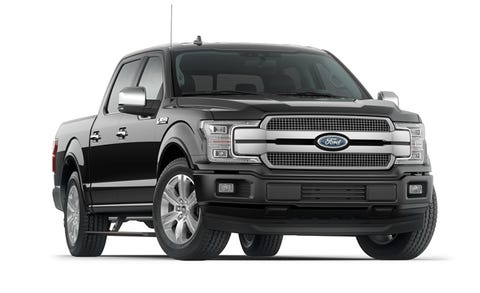 The Ford F-150 surrenders the full-size-pickup crown to the Ram 1500, but it still tops the sales chart and remains an exceptional alternative. The Ford pickup truck has the most diverse powertrains, including a torque-rich diesel and frisky twin-turbo V-6. The latter isn't more fuel efficient than most V-8 rivals but can tow a class-leading 13,200 pounds. Its myriad configurations and spacious crew cab satisfy workmen and families while the top-of-the-line models qualify as luxurious. With copious driver-assistance options and a user-friendly infotainment system, the Ford F-150 is still one of the best trucks and on our  list.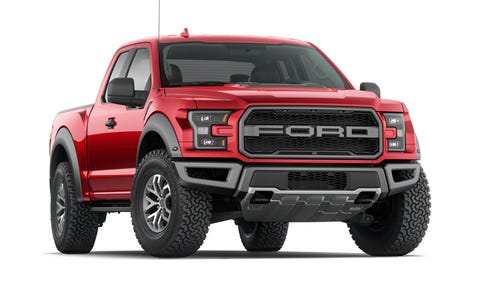 The Raptor is basically a mean-looking Ford F-150 that can fly through the air and perform other juvenile antics. The off-road-ready Ford pickup features a distinct mug and widened body that's supported by a sophisticated long-travel suspension and gnarly tires. The beast with a cargo bed is powered by a 450-hp twin-turbo V-6 that operates through a paddle-shifted 10-speed automatic. While the transmission can be challenged by swapping gears quickly, it helps deliver stupefying acceleration for a truck this size. Unfortunately, its oversized dimensions can be cumbersome. Still, the Ford F-150 Raptor is the best truck for being fun and functional—and ready to head to Baja when you are.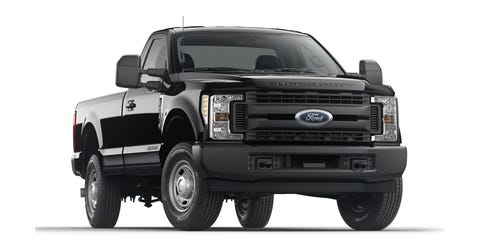 The Ford Super Duty, which includes the F-250, F-350, and F-450, is the Hulk to the F-150's Bruce Banner. The heavy-duty Ford trucks have a stronger frame and can tow up to 35,000 pounds. While the Super Duty pickups have a stiffer ride than the light-duty Ford, it offers the same cavernous crew cab and extravagant appointments. A host of high-tech driver assists and contemporary features are also available. Models with the legendary Power Stroke diesel—making 935 lb-ft of torque—have unholy power and help make the Ford Super Duty one of the best heavy-duty trucks on sale today.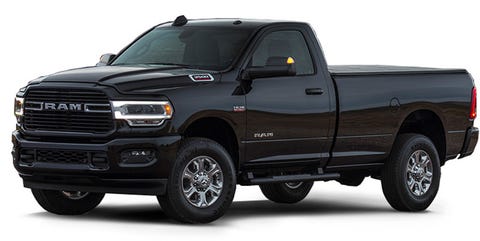 The Ram 2500 and 3500 are the burlier versions of the brand's half-ton truck and can handle virtually any job on the planet. The heavy-duty Ram pickup trucks are highlighted by a Cummins diesel that makes up to 1000 lb-ft of torque and can pull up to 35,100 pounds. Their beefy frames supports an optional rear air suspension that improves ride quality while a spacious crew cab can be outfitted for a king—and costs a king's ransom. With immense capabilities and high-tech features, the Ram 2500 and 3500 are the best pickup trucks for building kingdoms and shuttling royalty.