Before you purchase a surface cleaner, it is important that you know exactly how it works. This way, you will know whether it is suitable for your needs or not. This is a surface cleaner's operation method, explained in steps:
The unit will be spinning two nozzles, both of which will be spraying water jets on the surface that requires cleaning.
The nozzle's spinning action mixed with the water jets will create a clean path, without leaving behind any stripes or any spots that were not properly cleaned.
Once you switch the pressure washer on, the mechanism of the surface cleaner will be triggered and it will begin cleaning the floor.
So that the surface is properly cleaned, the pressure washer will have to be moved in circular directions.
If you feel any odd vibration or see that the surface cleaner is leaving behind stripes, you may want to switch the pressure washer and begin cleaning the nozzles. If it's not working, it might mean that there is something obstructing the flow of water.
top rated surface cleaners
1. SIMPSON Cleaning 15" Surface Cleaner 3600 PSI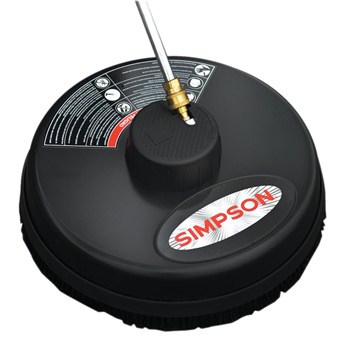 Finding an attachment that would be strong enough to fit a gas pressure washer is rather difficult. However, with its ability to withstand up to 3600 PSI, this one is perfect if you have some medium to heavy-duty work to do.
At 15 inches, this one can help you clean any surface at least four times faster than you would with your regular pressure washer nozzle. Moreover, unlike your standard 40-degree nozzle used for floors, this one will not overspray around you. It will all be contained within the dome of the surface cleaner.
This model features steel construction. All things considered, it might be rather heavy – but at the same time, it is very durable. You won't have to worry about it breaking, even if you use it for a prolonged time.
Pros
Durable construction that will not break even during extended use
Compatible with gas pressure washers
The dome keeps everything contained and mess-free
Cons
Rather heavy, considering it's made from steel
It does not support hot water use.
CHECK THE LATEST PRICE ON AMAZON!
2. Generac 6132 High-Pressure Surface Cleaner 15-Inch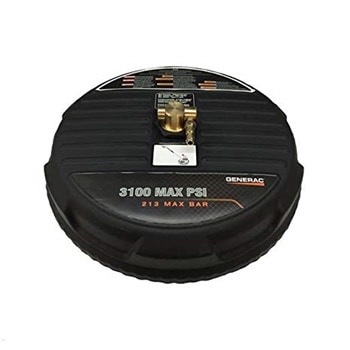 If you need something with even stronger cleaning power, then you might want to go for this surface cleaner. Unlike most cleaners that do not have this feature, this model has tough bristles that ensure better cleaning and prevent over-spraying.
Made from stainless steel, heavy-duty brass, and durable ABS, this model is perfect if surface cleaners tend to break easily as you use them. Plus, it has the ability to withstand up to 3100 PSI – meaning that it may be used for moderate to heavy-duty work.
Last but not least, measuring 15 inches in diameter, this surface cleaner is perfect for quickly cleaning large surfaces. Since it helps you clean 4-5 times faster, it also cuts down your water use quite significantly.
Pros
Flexible bristles help protect the area you are cleaning
It can easily connect to the pressure washer wand
Works with both commercial and residential-use pressure washers
Cons
Prone to developing rust
Is not suitable for hot water use
CHECK THE LATEST PRICE ON AMAZON!
3. Karcher T300 Hard Surface Cleaner for Karcher Pressure Washers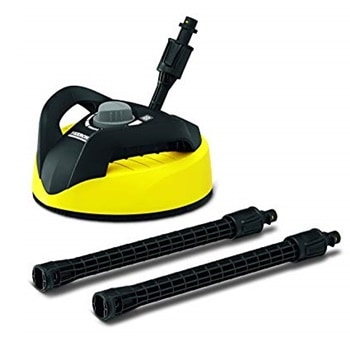 At 11 inches in diameter, this one is perfect if you have a small to medium-sized surface to cover. Plus, at 4 pounds, this one is very comfortable to use if you have a difficult cleaning task ahead of you.
This attachment features a PSI rating of 2300 – meaning that it is compatible with most light to medium duty electric pressure washers. Plus, with the variable pressure dial, you may easily adjust the pressure until it becomes something comfortable for you.
This surface cleaner can efficiently clean each area that it goes over with only one pass – therefore saving you on both time and water. Plus, it does not leave any streaks behind – which means you will not have to mop the surface every time you clean (although this will depend on the surface that you are cleaning).
Pros
Efficient when it comes to cleaning any kind of flat surface
The two spinning nozzles allow you to finish the cleaning task much faster
Compact and perfect for reaching into tight places
Cons
Does not fit ever Karcher pressure washer
Rather heavy, considering its size
CHECK THE LATEST PRICE ON AMAZON!
4. Greenworks Surface Cleaner Universal Attachment 30012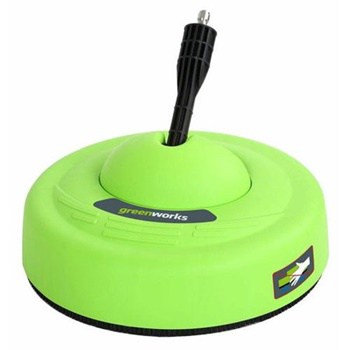 Many people do not care about the color of their pressure washer accessories. Still, if you want to bring some color in your life, then this Greenworks unit might be what you are looking for.
Made from a durable thermoplastic, this pressure washer is likely to resist for quite a long time. Moreover, since it's compatible with most electric power washers up to 200 PSI, it is also quite versatile.
At 11 inches, this accessory can efficiently clean small to medium-sized patios. Depending on the type of dirt that you are dealing with, it will take one pass (two, at most) to get rid of the stain.
Pros
Compact and very lightweight
Efficient when it comes to cleaning and taking out stains
A smart design that prevents the water from spraying around
Cons
Cannot handle deep cleaning
Construction is not its strongest point
CHECK THE LATEST PRICE ON AMAZON!
5. AR Blue Clean 10″ Deck, Patio & Flat Surface Cleaner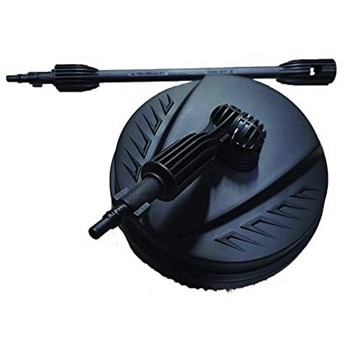 If you want something that looks fancy but does not have a price that will leave you bankrupt for the rest of the month, then you might want to give this model a try. With a 10-inch width, it is small and compact – and perfect for cleaning your average patio or driveway.
This product was specifically designed to prevent water from over-spraying – to which the nylon brush skirt ads further. It efficiently cleans any surface, without leaving streaks behind.
While it may be made from a durable thermoplastic, this unit can still withstand a maximum pressure of 250 PSI. Plus, it's more lightweight compared to other models – meaning that you will not get tired while using it.
Pros
It is highly lightweight and easy to use
Does not leave any streaks
It comes with its own extension lance
Cons
There is little tension at the swivel
CHECK THE LATEST PRICE ON AMAZON!
6. Briggs & Stratton 14-Inch Surface Cleaner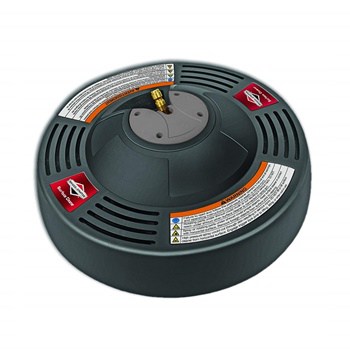 If you want to reduce your cleaning time by four times in comparison to using a standard 40-degree nozzle, then you may want to give this surface cleaner a shot. Measuring a total of 14 inches, it can easily clean a medium to a large-size surface.
This product is best used on floor surfaces such as driveways, garages, decks, and so on – but with the right pressure selection, you may even clean walls with this model (as long as it is not a material prone to chopping away.
The dome also prevents over-spraying – which will protect any walls and flower beds near the surface that you need to clean. It also gets easily attached, which means you can save a lot of time during the cleaning process.
Pros
Easily connected to the quick-connect wands
The dome prevents over-spraying and keeps everything contained
Superior cleaning power
Cons
It is not compatible with every pressure washer
Some users complain about poor construction
CHECK THE LATEST PRICE ON AMAZON!
7. Yamaha ACC-31056-00-18 Surface Cleaner -15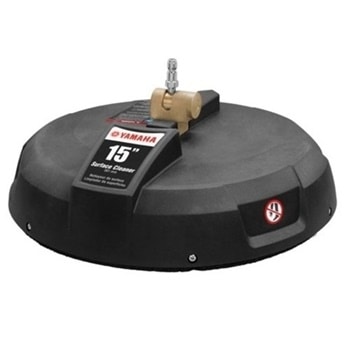 At only 4 lbs, this unit is lightweight – and will more or less glide over every surface without any particular effort. Having said that, its build is of very high quality, and it will snuggly fit on almost any pressure washer on the market.
Thanks to its gliding power, this pressure washer has a streak-free result. This means that you will no longer have to bother yourself with cleaning with multiple layers of water. All you need is just one pass – or two at most, depending on the nature of the stain.
This one can efficiently dislodge even the most stubborn of stains or dirt. Generally speaking, you will not even have to use detergent – but even so, it is still compatible with detergent use. With a maximum PSI of 330o, it is mostly suitable for electric units – but it can also be used on gas washers, as long as it's within these limits.
Pros
Streak-free results with little effort
Compatible with both electric and gas washers
Fits snuggly with most power washers
Cons
It needs a separate wand for cleaning the edges
You may still need to mop the surface after you clean it
CHECK THE LATEST PRICE ON AMAZON!