Over the years, water-resistance in phones has gone from being a luxury reserved only for top-end phones to a standard feature that's expected of any even remotely expensive gadget. In 2020, you really can't go wrong with any of these Waterproof Budget Smartphone models and affordable waterproof phones options.
So, if you're clumsy and have given your phone the whole rice treatment a time or two, it's time to check out these six water-resistant and waterproof budget smartphones.
Waterproof Budget Smartphone
1 BEST IPHONE Apple iPhone 11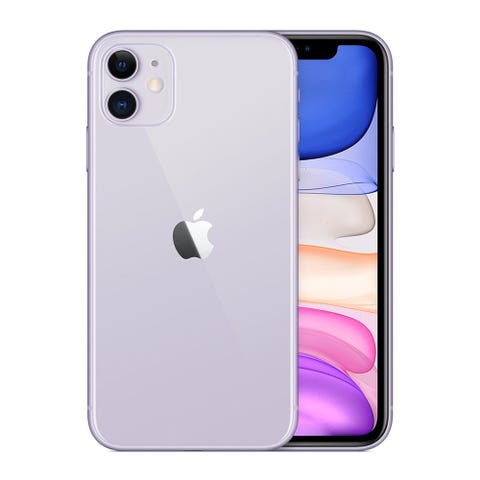 Our senior technology editor Stefan Vazharov says the iPhone 11 is the best smartphone in its price range by an overwhelming margin, because it's vastly more powerful and futureproof than its Android rivals. The device features a superb dual camera setup, a gorgeous high-resolution display, impressive stereo speakers, and excellent battery life.
The iPhone 11 has an IP68 water-resistance rating. What does that mean, exactly? It enables the phones to survive up to half an hour in 2 meters of water (almost 7 feet), along with spills from your favorite hot and cold beverages.
It starts at $699 and is available in six eye-catching colors: black, green, purple, red, white, and yellow.
Key Specs
• 6.1-inch Liquid Retina display with 326 pixels per inch
• A13 Bionic chip with all-new neural engine
• Up to 256 GB of storage
• Dual 12 MP camera with optical image stabilization
• 12 MP front-facing camera with Face ID
• Built-in stereo speakers
• Fast wired and wireless charging
• IP68 water-resistant
• Dual-SIM capable
More: Our Review of the iPhone 11
2 BEST BIG PHONE OnePlus 8 Pro Unlocked Waterproof Smartphone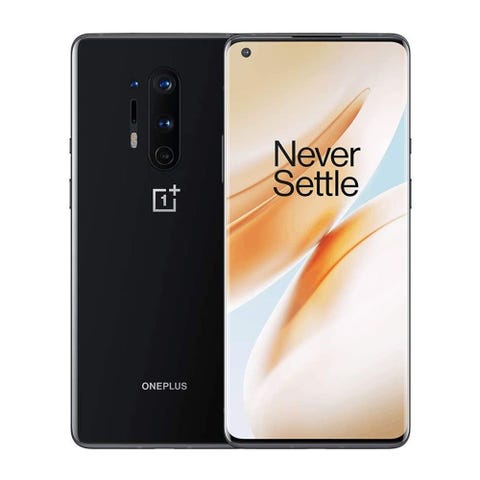 What once was known as a budget smartphone brand, OnePlus has finally delivered a smartphone that is a true competitor to the likes of Samsung, despite costing $300 less than the Galaxy S20+. The smartphone features a gigantic 6.8-inch AMOLED display that is sharp, vibrant, and even bright enough to be used in direct sunlight. It packs stereo speakers and new wireless charging tech that juices it up faster than the competition.
Plus, it sports a completely waterproof build. It has an IP68 rating, so it can withstand being fully submerged. If you want a powerful smartphone with plenty of camera sensors, storage space, and memory, but don't want to drop upwards of $1,200 on a Samsung Galaxy S20+ or Samsung Galaxy S20 Ultra, consider the OnePlus 8 Pro.
Key Specs
• 6.8-inch QHD+ Liquid AMOLED display with 120 Hz refresh rate, HDR10+ compatibility
• Qualcomm Snapdragon 865 chipset
• 8/12 GB of RAM; 128/256 GB of storage
• Quadruple camera (48 MP, 48 MP ultra wide, 8 MP telephoto, 5 MP color filter) with optical image stabilization; 16 MP selfie camera
• Built-in fingerprint sensor underneath the display
• Built-in stereo speakers
• 4,510 mAh battery, ultra fast wired and wireless charging


3 BEST BUDGET IPHONE Apple iPhone SE (2nd generation)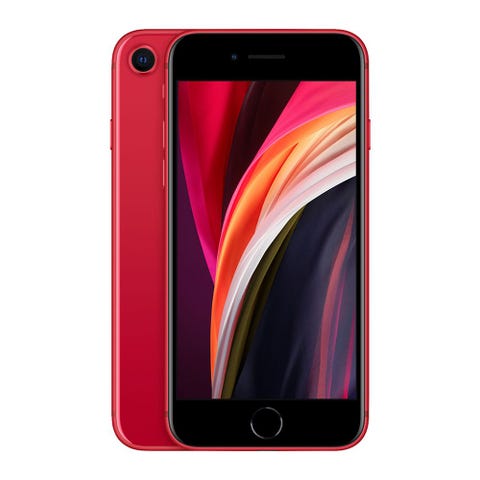 If you're on a limited budget and $400 isn't too out of reach, you should buy the iPhone SE. The smartphone sports a design and shape that's almost identical to the iPhone 8, but it is equipped with faster, more reliable internals. An editor from The Verge wrote that "no other phone that costs less than $500 can claim to be this good, nor last that long."
That's because the iPhone SE is powered by the same A13 Bionic chip that's found in the newest iPhone 11 and iPhone 11 Pro smartphones. Its camera captures crisp images and even 4K video at 60 frames per second. Other features include dual speakers, wireless charging, and a fingerprint sensor. It's worth mentioning that this device is only rated IP67 water-resistant, meaning that it can withstand a maximum depth of 1 meter (3 feet) for 30 minutes.
Key Specs
• 4.7-inch Retina display with True Tone
• A13 Bionic chip with a neural engine
• Up to 256 GB of storage
• 12 MP camera with optical image stabilization
• 7 MP FaceTime HD Camera
• Built-in stereo speakers
• Touch ID fingerprint sensor
• IP67 water-resistant

More: Our Review of the iPhone SE
4 BEST BUDGET ANDROID PHONE Moto G Power Unlocked Smartphone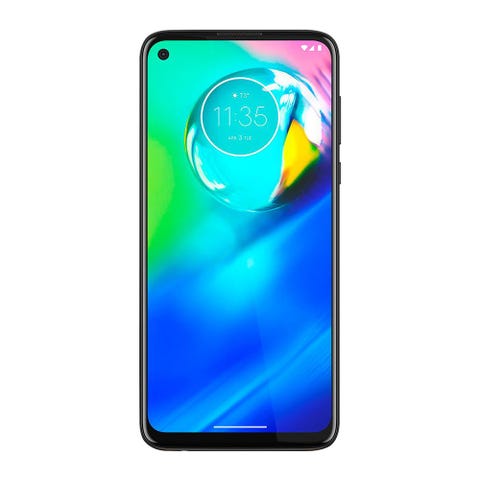 If you're looking for a cheap, splash-proof smartphone to take with you on vacation, Moto G Power is a great choice. It isn't as powerful or feature-filled as flagship devices, but it has a cool design, with nearly borderless bezels, and killer battery life. In fact, our senior tech editor said that its battery lasted longer than every smartphone he tested this year — over 2 days.
The phone features a 6.4-inch Full HD display, a decent Qualcomm Snapdragon 665 processor, and Lenovo says the phone is "water repellant," meaning that there's no IP rating. It even comes with a fast charger so you can expect hours of additional use after just 15 minutes of charging.
We appreciate its headphone jack, microSD card slot, and integrated fingerprint sensor. For shoppers on a budget who prefer Android to iOS, the Moto G Power is the smartphone to shop for.
Key Specs
• 6.4-inch FHD+ LCD display
• Qualcomm Snapdragon 665 chipset
• 4 GB of RAM, 64 GB of expandable storage (via microSD card)
• Triple camera with a 16 MP main, 8 MP ultra wide, and a 2 MP macro, 4K video capture
• 16 MP selfie camera
• Built-in fingerprint sensor on the back, stereo speakers, standard audio jack
• 5,000 mAh battery, fast wired charging
• Water-repellent design


5 BEST CAMERAS Apple iPhone 11 Pro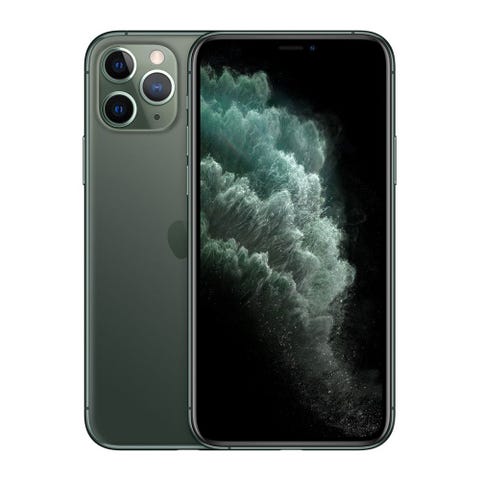 Whether you have deep pockets or you just want the very best, the iPhone 11 Pro is tough to beat. The premium smartphone flaunts a stainless-steel frame with a matte finish, and it's available in four colors: silver, gold, space gray, and our favorite — midnight green.
The device has the best triple camera on the market. The trio includes a wide-angle camera with a blisteringly fast autofocus, a sensor with an ultra wide lens, and a zoom lens. It takes stunning photos, sharp 4K videos, and there's even a dedicated mode for low-light conditions.
The 11 Pro is more water-resistant than any other iPhone to date. It's capable of surviving for 30 minutes in up to a whopping 4 meters of water (more than 13 feet). If you spill your drink at dinnertime next to this phone, trust us, you won't have anything to worry about.
Key Specs
• 5.8-inch Super Retina OLED display with 458 pixels per inch
A13 Bionic chip with all-new neural engine
• Up to 512 GB of storage
• Triple 12 MP camera with optical image stabilization
• 12 MP front-facing camera with Face ID
• Built-in stereo speakers
• Fast wired and wireless charging
• IP68 water-resistant
• Dual-SIM capable
6 BEST ANDROID EXPERIENCE Google Pixel 4 Unlocked Smartphone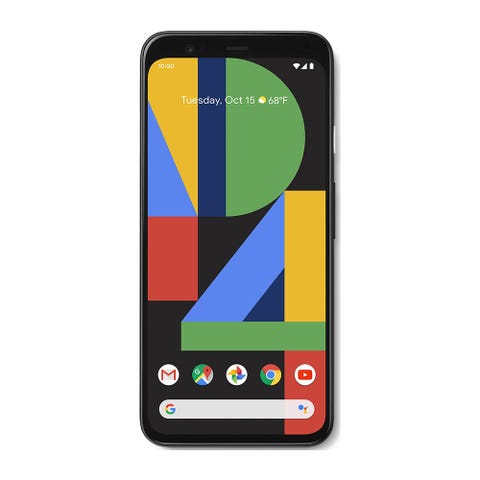 Since this smartphone comes directly from Google, it offers the latest and most advanced iteration of the Android operating software, without any bloatware. You can guarantee that this smartphone will be the first to get new Android features and critical security updates.
Software aside, the Pixel 4 has a nice-looking design, impressive hardware, and nifty gesture controls. The Pixel 4 also has one of the best smartphone cameras in the business. Even better: It features an IP68 rating for water and dust resistance, a powerful Qualcomm chipset, and a sharp edge-to-edge OLED display.
We like that Google's useful virtual assistant can easily be summoned with the phone. You have the choice to summon it with your voice, by swiping the bottom corners of the home screen, or even by squeezing the sides of the device.
Key Specs
• 5.7-inch FHD+ OLED display with 90 Hz maximum refresh rate (Pixel 4)
• Qualcomm Snapdragon 855 chipset
• 6 GB of RAM; 64/128 GB of non-expandable storage
• Dual camera (12 MP and 16 MP); 8 MP dual selfie camera
• Face Unlock
• Fast wired and wireless charging
• IP68 rating for water resistance