At a $50 base price, the XiangYu XY017HW offers many popular features and some extras. Compared to other cheap toy drones, the XY017HW brings more enjoyable 720P WiFi real-time image transmission. Drone's camera also provides much wider field of view (FOV) as most of its competitors.
When it comes to newbies, I find it useless to invest more than 100 bucks in their first drone. They can get used with the basic flight movement with any cheap drone. Later, they can decide to continue with a more versatile FPV racing quadcopter or a cruising drone.Sponosored AD
XiangYu XY017HW key features and technical specs
Compact design with fold-able arms;
Colorful LED lights;
6-axis gyro stabilization;
Altitude-hold with barometric air-pressure sensor;
Dedicated buttons for Take off/Landing;
Emergency stop button;
Headless flight mode;
3-level flight speed;
Multiple control modes (RC, APP – virtual sticks, APP – Smartphone Gyro);
720P, HD camera for aerial filming;
Wi-Fi real-time image transmission;
Up to 10 minutes of play time.
XiangYu XY017HW Falcon hands-on review
Disclosure: I received this XiangYu XY017HW as part of a product review collaboration with Banggood. Although the drone was offered for free, all opinions in this review remain my own and I was in no way influenced by my partner.
Lately, we've been contacted by many new possible partners who want to send us products for review. FirstQuadcopter.com started few years ago as a multi-rotor blog made by RC enthusiasts in their free time. Frankly, we didn't think at the time that we will became so popular. In the future, our goal remains the same: to delivery the latest drone news and to provide only honest drone reviews.
XiangYu XY017HW review: At a glance
Inside the stylish white box I found besides the drone and its remote controller: phone holder, 2 pairs of spare propellers, 1 set of blade protectors, 900mAh flight battery, USB charging cable, screwdriver and user manual.

Although this XiangYu drone features a different design, somehow still reminds me about the VISUO XS809HW. It adopts similar folding mechanism and sporty look, but in a more elegant way.
Build quality is nice. It uses only plastic, but you need that to keep it light, make it airborne. It comes fully assembled and ready to fly. Propeller protectors can be easily attached to the aircraft for safer indoor flights. Excepting the bulky transparent landing gears, everything brings to a premium class product.
During night flights you will be guided by 4 LED lights. Green LEDs in the front and blue ones in the back. Additional blue LED in front part will help you track the orientation of the aircraft.
The 900 mAh battery is loaded from the back of the fuselage. According to the manufacturer's specs, with a fully charged battery you can have around 10~12 minutes of fun time. A bit optimistic value taking into consideration the take-off weight of the XiangYu XY017HW (169 grams with blade guards). Power switch is located on the belly of the aircraft.
XiangYu XY017HW review: Transmitter and APP control
Like most of the 2017 WiFi quadcopters, the XY017HW Falcon also features dual control mode. It can be controlled with the included transmitter or through your phone.
The nice game-pad style remote controller comes with a detachable phone holder. Featuring alt-hold feature, both sticks are centered. The transmitter is powered by 4 pierces of AAA batteries (two in each handler).
All the buttons labeled. Using the transmitter is very simple even for those who are new in this hobby. Well done XiangYu!
There are two shoulder buttons on each side of the transmitter. While on left side you can find the "Speed selection" and "Light control" buttons, on the right side there is "Headless mode" and "3D flip" ones.
Emergency stop button is located in center of the RC, bellow the power switch. I noticed that you have to press it for about 3 seconds till halts all the motors instead of stopping all the motors instantly by short pressing, as it should be.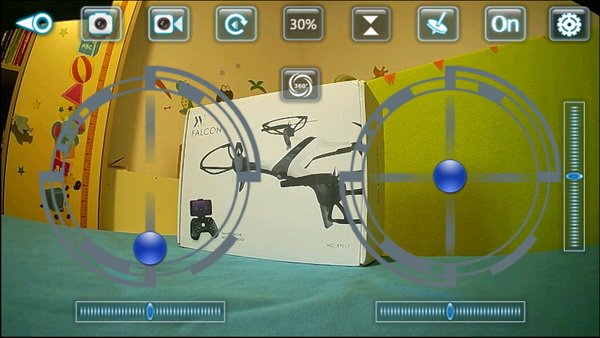 As I previously mentioned, the XiangYu XY017HW can be also controlled through the "WiFi-UFO" APP. You can control the aircraft's movements simply by tilting your phone. Kids will adore to pilot it this way.
XiangYu XY017HW review: Camera and WiFi FPV
The built-in HD camera is located in front of the fuselage and it comes with wide angle lens (at least 120 degree FOV). Slight angle adjustment is possible.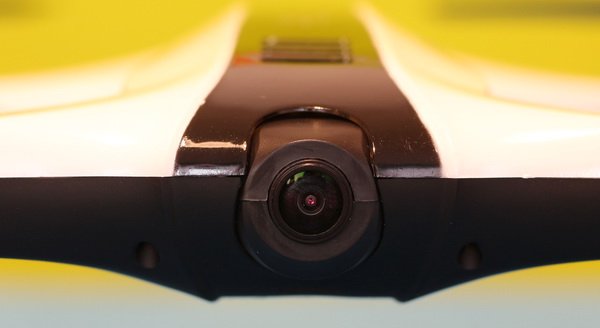 Good news, XY017HW Falcon has an integrated DVR. Videos and photos can be stored on both, drone's and smartphone's memory. "On-board" recording has better image quality than capturing from the WiFi live-video feed. Micro SD slot is located nearby the power switch. Yeh, could be everything perfect, if we could trigger the camera through RC, but NO. Only via APP can be started/stopped video recording.
Four minutes of recorded video (1280×720 @ 20 fps) occupies about 120 MB on the camera's micro SD card. Video quality is decent, especially during day light. Recorded videos are almost jellofree.
WiFi FPV works fine in a range of 30-35 meters. Around 40 meters the signal starts to freeze. Unfortunately, due to the high latency, it is not suitable for FPV flights with VR goggles.
XiangYu XY017HW review: Test flight
Yesterday was a perfect autumn day for maiden flight. Not too could and not too windy.
In order to keep it safe, the motors need to be armed by moving both sticks to lowest-outer position.
Starting your flight is very easy even for newbies, you just need to push once the "Take-off/Landing" button bellow the throttle stick. The drone will rise one and a half meter above the ground and start to hover. For "stealth mode" you can remotely turn On/Off the LED lights.
At full speed rate is surprisingly fast, but not as fast as a racing drone. As a result for the well working altitude hold feature you can easily control the aircraft even by one hand.
When the aircraft is out of the transmitter's range, in 3 seconds will slowly descent and land. If you have luck, it will not be above a river :D.
Price/performance ratio
Design and build quality
Transmitter / APP control
Camera / WiFi FPV
Flight autonomy
4
Summary
Surely, the nice flight time and stable altitude hold makes the XiangYu XY017HW an excellent learn-to-fly drone.
While the wide angle lens helps a lot to accommodate with the FPV flights, due to the WiFi latency and limited frame rate is quite risky to fly through VR glasses.
User Review
3.22 (9 votes)
Where to buy it?
Those who are in lack of Christmas gift ideas, this XiangYu XY017HW toy drone can be found on BG website here at $49.99 with free shipping. You can opt between white and black colors.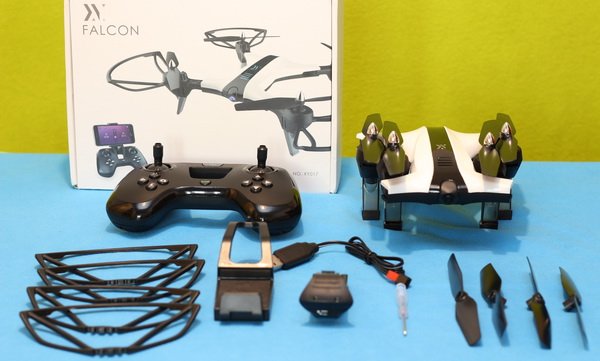 What I liked
Lots of features paired with nice foldable design;
On-board DVR with 720P video recording (JelloFree);
Sporty drone in "expert" mode;
Excelent flight time (about 8~9 minutes);
On/Off power switch.
What I didn't liked
Not possible to trigger the camera from transmitter;
Lack of frame rate (20 fps instead of 30 fps);
You will lose the prop caps on first crash.